We are very excited to announce Gidi's new build – the ALPHA G R35 GTR. Few people in the GT-R world haven't at least heard the name Gidi or Gideon. He has become ingrained in R35 folklore as one of the most passionate GT-R fanatics in the world. Gidi has had almost every iteration of Alpha Package installed on one of his cars at some point. He started with an Alpha 10 graduating to the Alpha 12, Alpha 16 and eventually the same turbo system as Alpha Omega, the Alpha 20. Each of these cars he has raced in multiple venues from drag racing to roll racing to standing half mile. Gidi doesn't build cars to just cruise out on the streets, he wants to race them. He probably has more seat time in competition under his belt than anyone in the GT-R scene.
The New Diamonds by Wire "ALPHA G" R35 GT-R
With TX2K16 coming up we thought we'd share some of the progress pictures of Gidi's latest project dubbed the Diamonds by Wire Racing "ALPHA G". The goal for ALPHA G was simple….Give her all she's got without making it a full blown race car. It had to be quicker and faster than anything we have built. So far it's shaping up to do JUST THAT!!!
Bigger, Better, Faster, Stronger
ALPHA G is going to be outfitted with our latest Alpha VR38 Billet Version 2 Engine Block and a host of other improvements we've learned along the way with our development car Alpha Omega. Where it goes further than Omega is in the turbo department. Our goal is to achieve 2500WHP and we needed space for 2 rather large forward facing Garrett GTX Turbos.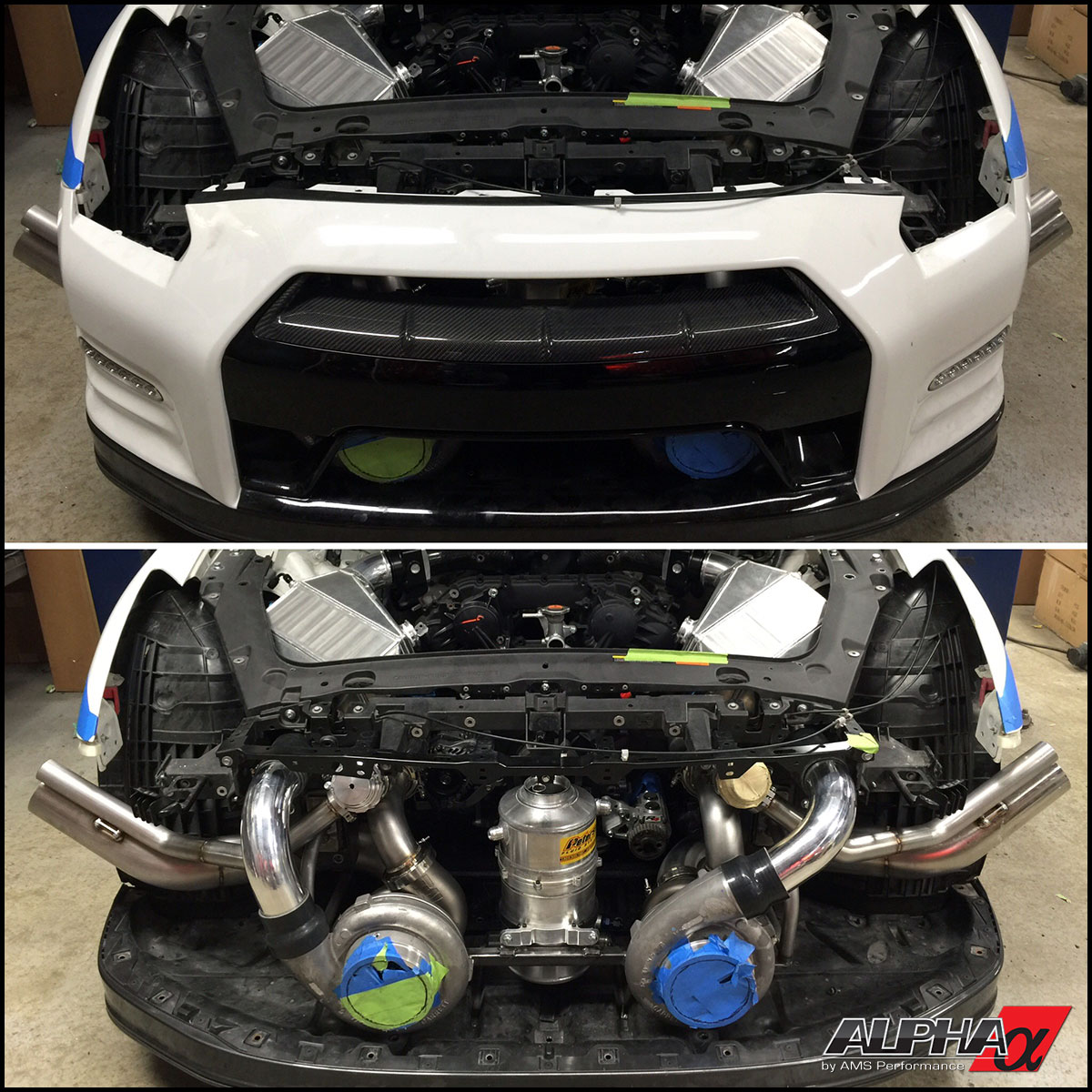 The one thing he wants to keep under wraps is a new Alpha VR38 Carbon Fiber/Billet GTR Intake Manifold anodized in a special color for this project. We were hoping to showcase it with the other manifolds we posted last week but he has asked us to keep this a secret for now until the build is a little closer to completion.
Stay Tuned For Further Updates
We still have a lot of work to do but for now here are some pretty wild pictures of what is shaping up to be our most monstrous Nissan GT-R build yet. Disregard the finish on the parts as most will be coated or anodized after they have been completed. Please also note the motor in the engine is simply a dummy motor for mock-up purposes.