Alpha G Debuts At TX2k16 Drag Racing Competition
"I love it when a plan comes together."  Those old enough to remember the 80's show "The A-Team" understand the reference. Well, this past TX2K event embodied every bit of that. Last summer, our friend and customer Gidi Chamdi suffered some unfortunate luck when his car made contact with the wall  when it was well on its way to a mid 7second pass. The damage was enough to put the car out of commission permanently but not his spirit. After a couple months near the end of 2015, he delivered us a new white donor car for what would become project "ALPHA G."
Over the next few months our own "A-Team" went to work creating what would be our boldest GT-R build to date. Applying what we have learned from our shop development car ALPHA OMEGA, we set out to build an even more capable car. Even with an experienced crew, a car at this level requires over 8 months to properly prepare and test. With TX2K just 4 months away, we knew we had our work cut out for us. We did NOT want to disappoint Gidi and his fans.
Alpha G TX2K16 (FULL VIDEO)
The All-New ALPHA G R35 GTR
Gidi is a stickler for the details. There is a reason he is doing this on a GT-R and not a platform far more reasonably priced. For him the GT-R embodies everything he wanted in a car and it was on our shoulders to do just that….and we did. Just about every area of the car saw new technology and equipment. With a fresh slate our guys went to work to create a car that was over 2500whp capable and had the looks to back that number up. This started with 2 large forward facing Garrett GTX series turbos and a host of other Alpha products such as the Carbon Fiber Intake Manifold and V2 Billet Engine Block.
The road was not easy though. Building a car at this level means you are going to hit some bumps. The problem was that with our time table we could not afford any "bumps." With two weeks to go we were in a position to start firing her up for the first time using our brand new Version 2 Billet Block….she fired right up! We were ecstatic! Sadly our team would be tested more than we ever have in the days to come.

Diamonds by Wire Alpha G R35 GT-R on the dyno the night before leaving for TX2K16
No Sleep Till Texas 2k
They say you don't really know a man's mettle until he's put up against adversity. Well the Alpha G team underwent a trial by fire. In the two weeks leading up to the event we experienced just about every problem possible when building a 2500+ HP car. Quite literally every single second we had available had to be used to get the car ready in time. The team was putting in 18 hour days working to try and get ALPHA G ready for TX2K. Final tuning was done the day the rig for TX2K was scheduled to leave and our team was forced to delay our departure by 24 hours so that everything could be buttoned up before loading her onto the trailer with her partner in crime ALPHA OMEGA.
It was Thursday March 17th at 6pm CST when ALPHA G left the lift and made its way into the trailer. Without a single mile of road testing ALPHA G was loaded into the AMS trailer bound for TX2K. In order to make the event our dedicated crew would have to drive 22 hours straight to Houston Texas in order to give us a chance for one test pass on Friday night…and they did just that!
The Big Public Debut Of Alpha G
Friday afternoon the track was a buzz with the arrival of ALPHA G moments away. Gidi paced in the AMS pit waiting to lay his eyes on his car for the first time since it was shipped to AMS Performance headquarters. As the AMS Team drove down the return road a mob of people followed. With barely enough room to lower the rear tailgate the TX2K crowd got their first look at ALPHA G. It took a solid 30 minutes for the crowd to die down enough so the crew could swap Gidi's wheels for its first 1/8th mile test hit. Cell phone cameras were everywhere!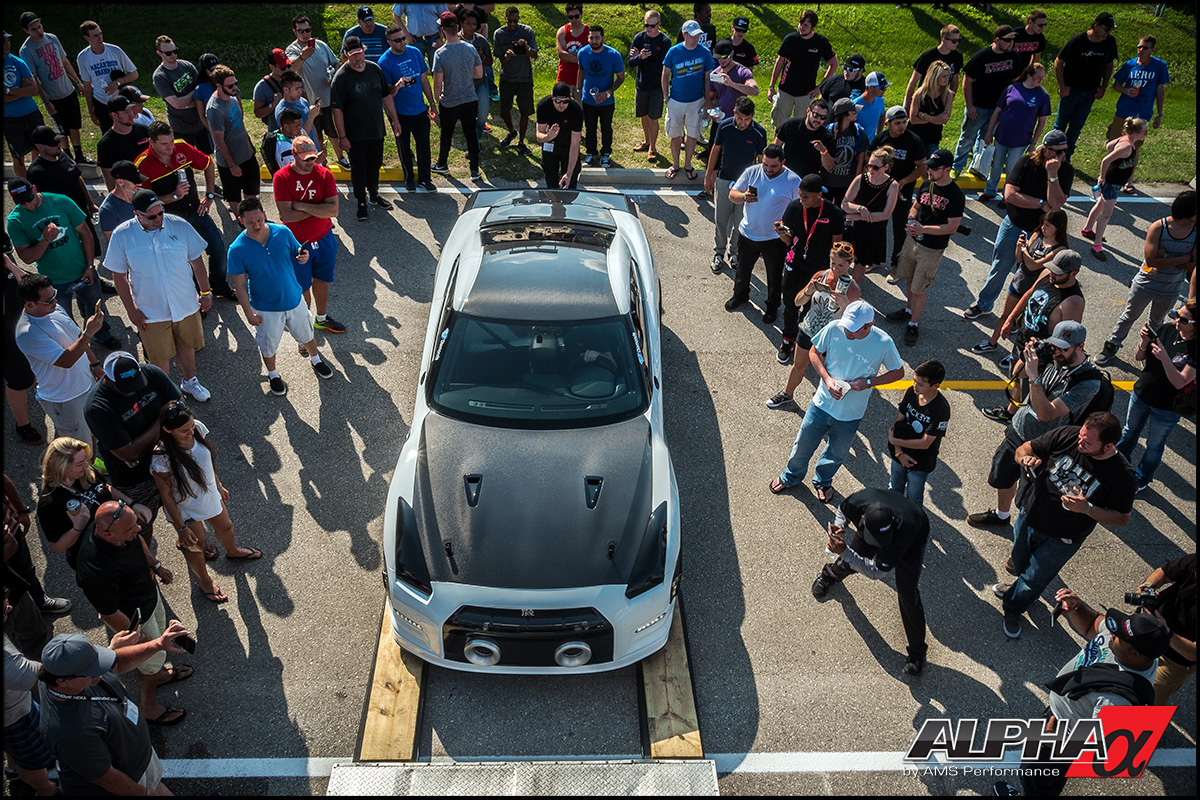 First Shake Down Pass
It had been roughly 24 hours since Gidi's ALPHA G was loaded into a trailer for Texas and it was about to make its first pass down the track. AMS President and head tuner Martin Musial set boost to roughly wastegate pressure (35psi) so Special Projects Technician Ivan Phipps could make an 1/8th mile test hit. This was critical as we had ZERO testing on this car other than on the dyno. Ivan's keen ear would be able to tell us if things were going smoothly. As the car left the line she clipped off a 5.2 second 1/8th mile pass at nearly 150mph. She then coasted to an 8.3 second run after shutting down just after the 1/8th. Not too shabby with over 1000whp still on the table.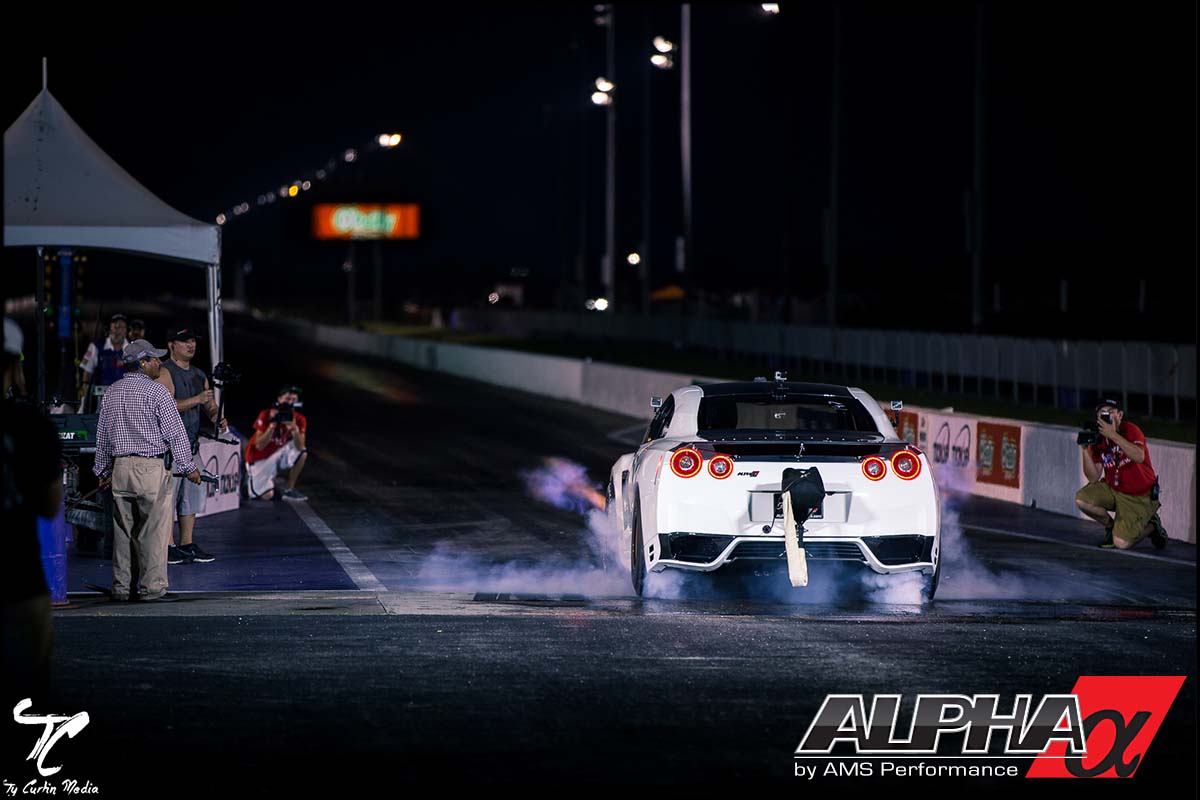 7's On The First Full Pass
Saturday would be our first day of full track testing. With boost unchanged Gidi set out to drive his GT-R for the first time. Still on that same horsepower level from the night before the car left the line drama free and clicked off a 7.85 second run. 7 second pass right off the trailer.. not too bad at all.
After some data reviewing Martin decided it was time to click up the boost a few psi. Still using under 40 of an available 70+ psi of boost Gidi set out for pass number 2…. 7.771! Two passes, two seven second slips. We could not be happier. Our shop car ALPHA Omega also dusted herself off for a mid-boost pass that day. Ivan nonchalantly drove up to the line and knocked out a 7.9 second pass on a mid-boost setting. The old girl still had it.

Sadly Sunday's racing ended early for us. Omega developed a transmission sensor issue that rendered it impossible to race. ALPHA G while having performed without an issue all weekend finally succumbed to some new car teething issues that we needed our facility to correct. Despite that we could not be happier with the weekends results. All the hard work and effort our A-Team had put forth was realized in its first trip down the track. With over 1000whp still on tap, the future for ALPHA G is incredible. Next on its schedule of events if the famous Texas Invitational King of the streets event in late April. There Gidi hopes to recapture the KOTS Crown for AMS Performance and Diamonds by Wire Racing.
In Other News
We weren't the only ones having a good TX2k16. We also want to acknowledge our friends and colleagues at T1 Race Development for resetting the US record for the GT-R with a 7.38 second pass and a trap speed at over 204mph! 2016 is going to be a fantastic year for racing and the team at AMS Performance and Diamonds by Wire Racing could not be more excited.
For those interested, we have some build pics in the gallery below! Be sure to check back next week when we have our complete video of the Diamonds by Wire Alpha G at the TX2K16 event!