We've had quite a number of extraordinary Alpha Performance products released recently – each backed by hours upon hours of development. If you haven't checked the AMS Facebook page regularly or subscribed to our AMS/Alpha Newsletter, they may have gotten lost in the shuffle. If that's the case, we have these 13 Alpha Performance products right here categorized by manufacturer (AUDI, BMW, MCLAREN, MERCEDES-BENZ, NISSAN GT-R).
AUDI
1) Alpha Performance Audi S4/S5 Supercharger Cooler System
Audi S4/S5 enthusiasts quickly come to realize the inadequacy of their stock heat exchanger system when operating in the summer heat, high performance driving situations or for extended periods of time. Acceleration begins to fall off noticeably the longer the car is driven.The Alpha Performance Audi S4/S5 Supercharger Cooler System is available in two versions to fit the Audi S4 B8 as well as the Audi S4/S5 B8.5. It keeps your charged intake air temperatures much cooler and your engine running strong no matter how hard drive, how long you drive for or how hot it is outside!

2) Alpha Performance Audi S6/S7 Turbo Cooler System
Just like the Alpha S4/S5 Boost Cooler, the Alpha Performance Audi S6/S7 Turbo Cooler System is available to improve performance of your larger C7 model Audi. Experience consistent acceleration between runs with the support of our larger coolant reservoir and triple pass heat exchanger. Our quiet brushless coolant pump runs in tandem with the stock pump, providing the additional flow necessary to maximize the potential of an extremely effective boost cooling system. No matter how hot it is outside, your Audi S6 or S7 will run much cooler, which translates into no loss of power no matter how hard you drive, how long you drive for or how hot it is outside!


3) Alpha Performance Audi R8 V10 Billet Intake Manifold
This Alpha Performance Audi R8 Billet Intake Manifold features integrated fuel rails, tapered plenums for even air flow distribution, interchangeable velocity stacks and a 100% 6061-T6 billet aluminum design. Indeed, our engineers thought of everything to give you the best performance on your high horsepower Audi R8 V10 Twin Turbo conversion. For inquiries regarding applications, please contact info@alphaperformance.com or call us at 847-709-0530.
BMW
4) Alpha 7 BMW M5 (F10) Performance Package

Like all Alpha 7's, the Alpha 7 BMW M5/M6 Performance Package is a minimally invasive upgrade that offers outstanding power and response while retaining the refined driving characteristics and function of the factory design. 765 horsepower and 750 ft-lbs of torque is brought to you courtesy of our Alpha BMW M5/M6 Downpipes, Akrapovic BMW M5/M6 Titanium Exhaust and a custom Alpha 7 ECU Calibration! It is important to note that unlike other M5/M6 tuning solutions on the market, our Alpha 7 calibration is a true ECU upgrade and not a piggy-back module used to trick the computer. This allows us to achieve safe and consistent power no different than the factory tune.
MCLAREN
5) Alpha Performance McLaren MP4-12C ECU Calibration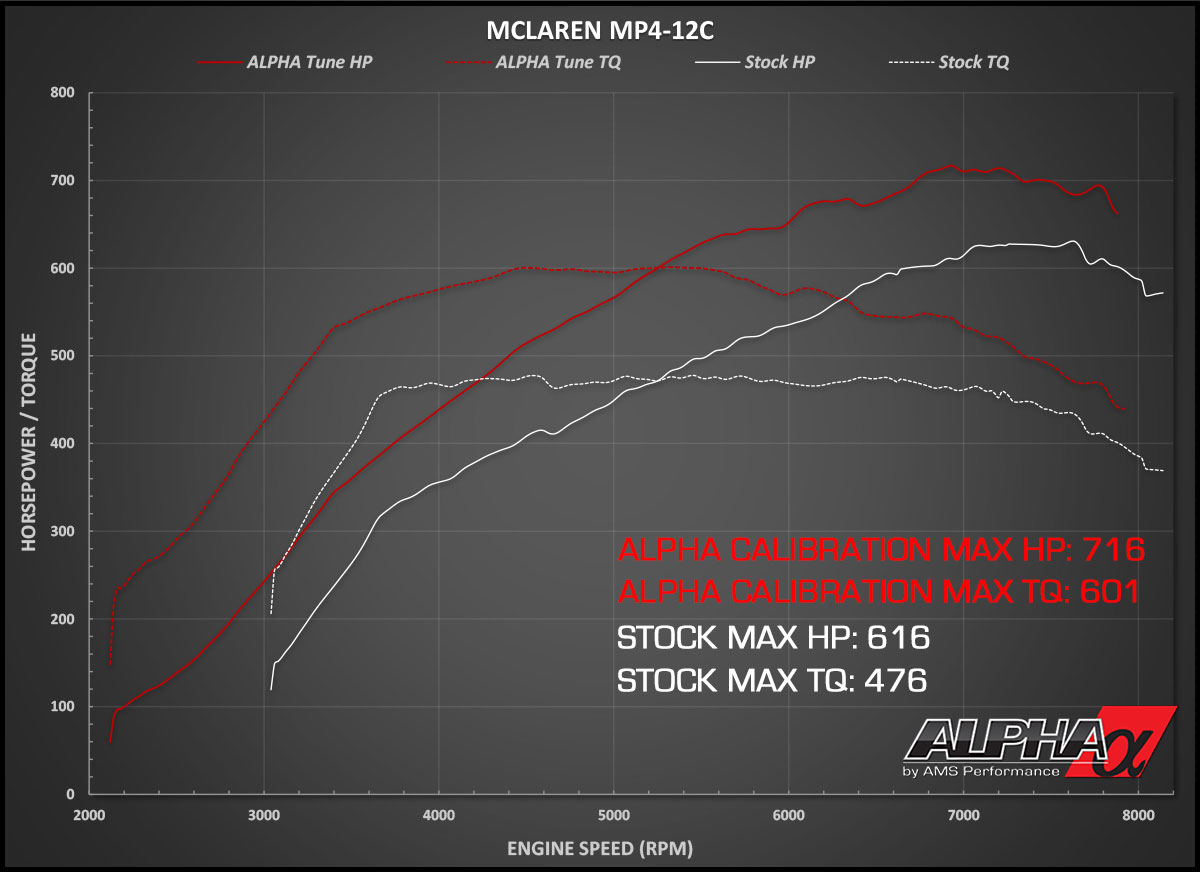 The Alpha Performance McLaren MP4-12C ECU Calibration provides you the quickest and fastest tune-only results you can find! With a 100 horsepower / 125+ ft-lbs torque increase over our baseline stock sample, potency is derived from a true ECU calibration written in-house at AMS Performance. Tuning methods used by other companies may likely involve the use of a piggy-back module that intercepts and sends artificial readings to the ECU – providing lackluster results and potential safety issues.  For the most consistent results no different than the factory tune other than improved power and torque, an Alpha ECU Calibration for your McLaren MP4-12C is certainly your best proven option.