A Solution For Your GT-R's Achilles Heel
Keeping your fuel cool is important. If you run your GT-R in warm climates, run track events or own a GT-R with power upgrades, the Alpha Performance R35 GT-R Fuel Cooler is a must-have safety feature that will significantly reduce the chance of damaging your fuel pumps or worse – your engine!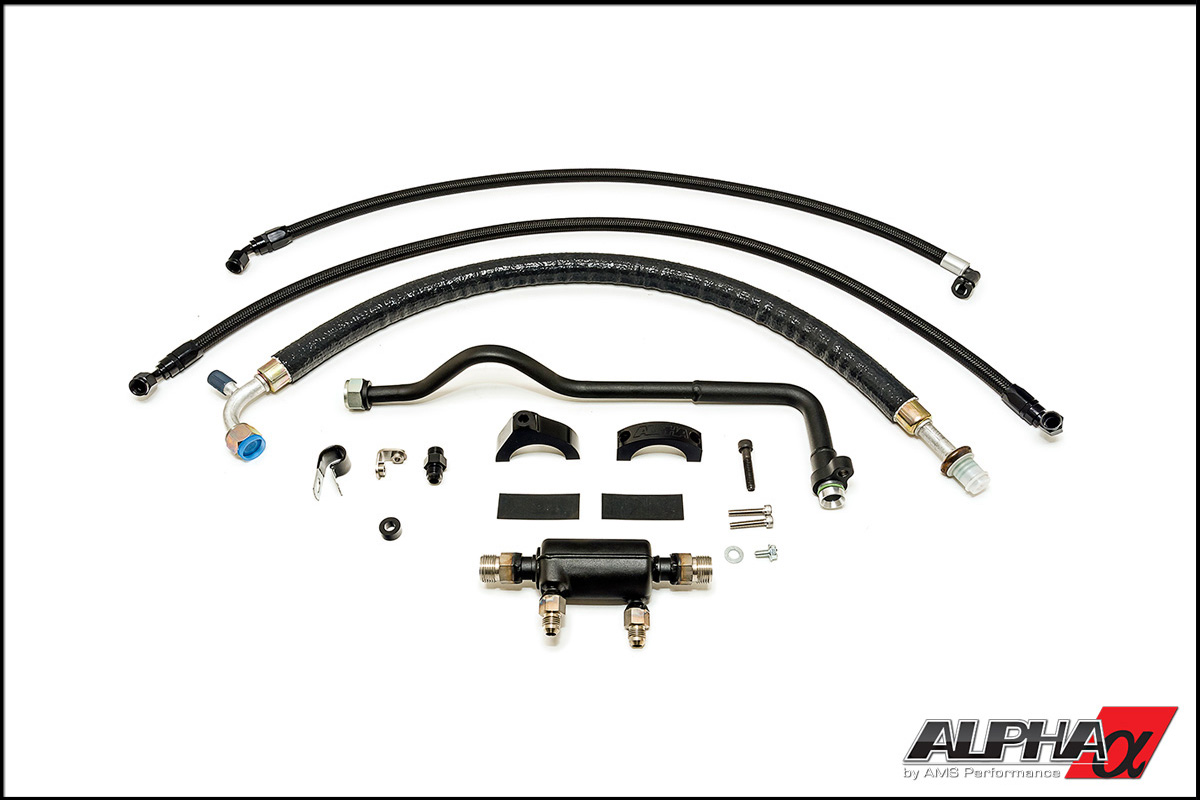 It uses your AC system to cool the fuel temperature.  It's simple to install and use – recirculating fuel from the fuel tank to the cooler and back again so that your fuel supply remains cool.  Outside of a quality tune, it's quite possibly one of the best engine safety component you can install to keep your modified or non-modified GT-R running safely throughout some of the hottest weather conditions.
Nerds Eye View
Our Engineers tested fuel flow characteristics in an effort to solve the fuel overheating problem of the R35 GT-R.  As fuel is pressurized by your fuel pump, it heats up from being compressed to as high as 100psi!  This has proven to be an issue with the GTR, especially with aftermarket fuel pumps installed. The larger the fuel pump and/or the less efficient it is, the more the fuel heats up.
In our testing, just flowing some of the less efficient larger pumps even without the engine running was enough to get the fuel very warm!  The fuel tank also sits above the heat-soaked GR6 transmission and exhaust. Couple this together with hot weather or a high performance aftermarket dual or triple pump system, temps can get hot enough to boil fuel at the fuel pickup! In this case, the lower pressure at the pump inlet, combined with the hot fuel will lower the boiling point of fuel and cavitation can occur.  When fuel boils, the pumps stop flowing – cutting off fuel supply to the engine.  The cavitation at the pump inlet is also very damaging – it can ruin your expensive upgraded fuel pumps.
It Can Also Destroy Your GT-R Engine
If you're lucky the lean condition will be quick and abrupt enough to cause a lean misfire and incomplete combustion.  Worst case scenario, the lean condition can run long enough to cause detonation or extreme combustion temperatures that can melt engine components.
Keep your VR38 engine and fuel system from failing, order your Alpha Fuel Cooler today! 
Exclusive Benefits:
Reduces overall fuel temperature
Helps prevent overheating and damage of fuel pump(s)
Lessens the possibility of detonation or running lean
Helps prevent damage to the engine from overheating
All components are compatible with ethanol (E85),pump and race fuel
Non-intrusive, bolt-in solution
Includes:
High quality OEM fuel cooler unit
Alpha CNC aluminum anodized mounting bracket
Fuel feed line
Fuel return line
AC hard line
AC soft line
All necessary hardware and fasteners to complete installation
Detailed installation instructions
Available Versions:
OEM Standard Fuel Rail Fitting
Alpha Performance Fuel Rail Fitting
Product Notes: 
We offer two versions that will fit either an OEM standard fuel rail or our Alpha Performance GT-R Fuel Rail. Choose one that fits your GT-R's setup.
Price:  $1399.95
Click Here for more info, pricing and images!