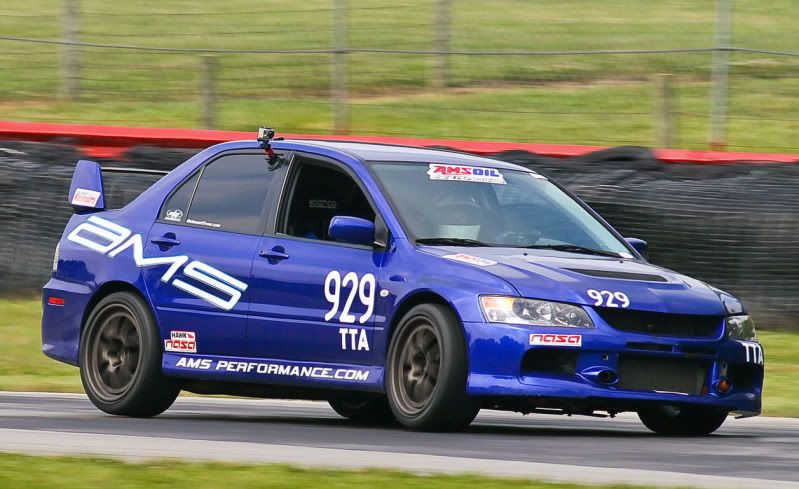 Saturday:
After nearly 600 miles 10.5 hrs of driving on Friday (to Ohio via Chicago)…
Sat warmup was pretty early! I did very little to prep the car, having not even started it since I left Mid Ohio in July! After unpacking it, I adjusted the tire temps a little, slapped on the camera and that's about it! I ran about 6 laps, each a little quicker than the last and qualified with a 1:35.0 – which was nearly as fast as I went in July; so I was excited. I was sitting 9th in grid and 2nd in class; squeezed tightly by 2 C5 Vettes.
I reset the tire temps for S2, made a few suspension tweaks and knew I'd need to push hard as the morning session would be the fastest – plus there was rain forecasted later. I pushed pretty hard, but safe, and ran a 1:33.2 which was a personal best! It landed me in 1st place and broke the TTA track record by a few tenths.

Sat Record Vid (2nd Lap):
We had a 2+ hr break until S3. I ate, rotated some tires, reset pressures, moved the camera, put in some fuel, tweaked the suspension – all really quick/minor stuff as the car felt pretty good and was rotating well to my liking. I went out with new front tires and they took a bit to scrub in. Around my 3rd or so lap things were hooking up with some 1:34's but I didn't better my time. Nobody really improved actually. Same story for S4 (which I sat out). S5 was like 5:30 and I was hoping for better conditions with less sun. The car felt good, but not great. I ran a few 1:34's but no improvement.
My time held up and I finished 1st out of 8 in class, taking the Pro Course TTA Track Record (to go along with the Club Course record I set in April)! The car felt really good all day, neutral, able to rotate a bit under hard throttle thanks to the Shep rear diff. AMS tuned power was good; although the Vettes still walk me on the straights – they've got to be right on the class power/weight ratio!
Sunday:
So somehow we avoided the rain on Saturday. We awoke to clouds but not rain. Lining up for the first session it was still dry. We were allowed to line up wherever we wanted, which I didn't agree with because I ended up behind a few cars that I was faster than on Sat. It didn't seem like a big deal until the pace lap started…. It stayed dry for… about 1/2 of the pace lap! Seriously.

Sun S1 (Rain Started):
So as we're gaining speed for the first timed lap of the day, I'm reaching for the wipers. (see video) Knowing full well I'm on Hoosier slicks as is nearly everyone else. I still hammer it and fly into T2 where I already see a yellow flag. There's 1 car off on the outside of the turn and another on the exit of the turn. I slide it through and hammer down the backstraight but brake early and pass a few cars. After that I take it easy to keep it on track to get a lap down – a 1:55x. They then black flagged the session to pull cars out. My time put me #3 in grid and first in class.
For S2 it was sprinkling, then started to pour in grid. I was already lined up and had a passenger jump in with me so I soldiered on out. I had heard there's a river across the backstraight when it rains. I found out… On the pace lap no less. I started to hydroplane and could not even make the kink. It was like slow motion; in a bad way. I went off, and thought I was going to find the wall with a passenger. As soon as I touched the grass I was able to correct with the wheel and all was good (with more hydroplaning). Disaster averted… Yah!

Sun Vid:
S3 at 1:40pm was going to be my last; no matter the weather. It'd been a long weekend and I had 450 miles to drive home yet. I prepped for it; and by that I mean reset tire temps; that's it. I packed up and ate a bit during the downtime. Turns out… it would start dry! I ran a 1:33.9 but the car wouldn't turn like I wanted – especially into Thunder Valley. Checking tire pressures when I came in, the RF was 5psi higher than everything else. It was a difficult situation with rain/sun/clouds/repeat for the first 5 hrs of the day and my guess at tire temps was only 3/4 correct!
While I a good time, it wasn't my best. Once I checked the results of the session, I found myself in 2nd. That's where I finished for the day.
All-in-All it was a really fun weekend. Learned a bit more about Mid Ohio, reinforced some ideas I had and confirmed a setup idea I was pretty confident in. I made nearly 0 changes to the car, so the stress level was low and I was able to visit with a lot of friends.
I've got a few ideas on how to better my times for Nationals next month. I've had a specific time goal in mind and I still think it's possible and probably needed to take the podium. 15 cars already registered for NASA TTA Nationals! Wish me luck…