Description
Benefits
---
Includes two rear 17″ beadlock wheels
As an option the wheels can be ordered race ready with tires mounted
The only choice for championship winning R35 GTR's
Design inspired by 50 years of the GT-R's heritage
Lighter. Rotational mass is reduced compared to the factory wheels
Faster. Utilized on some of the fastest GTR's in the world
Stronger. Features proprietary 6061-t6 forged billet aluminum centers
Alpha Beadlock construction prevents the tire from spinning on the rim
Cutting edge 15 spoke design inspired by the 2017 GTR
Spun 6000 series aluminum rims provide weight savings and superior strength
SAE J2530 tested and certified
Wheel finishes including polished, solid, transparent, and brushed are available
Each finish is tested to ensure the proper coating thickness for ultimate durability and longevity
Available in over 40 colors!
17″ rear wheel with bead lock weighs just 22.8 lbs
Includes new caliper bolts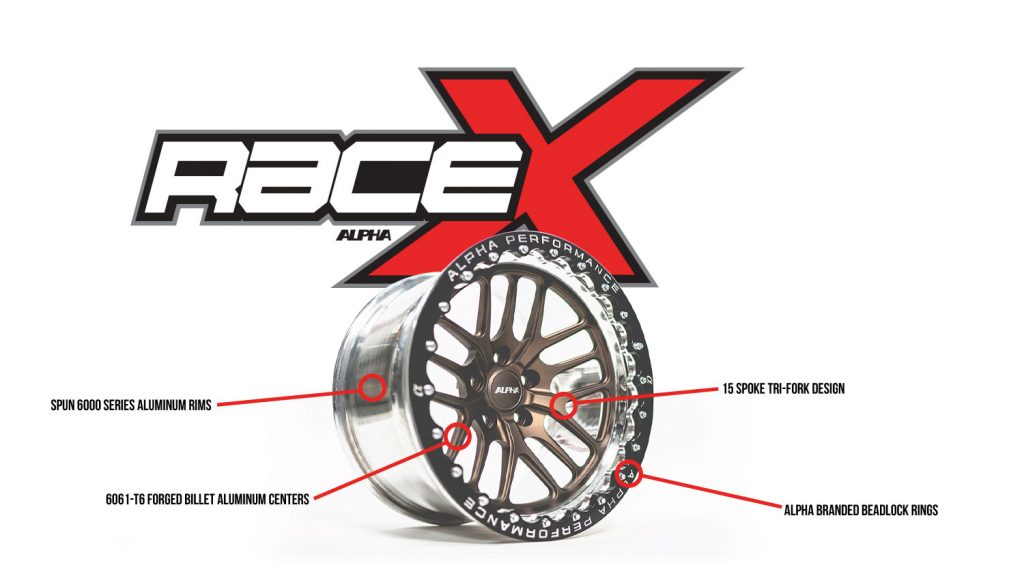 Applications
---
2009+ R35 GTR US, JDM, Gulf, and European Models (LHD & RHD)
Product Notes
---
FINISH OPTIONS :
ALL TRANSPARENT FINISHES AND STANDARD SOLID COLORS INCLUDED ON CENTER AT NO CHARGE
RIM MAY BE COLOR MATCHED ON THE SINGLE BEADLOCK FOR $200.00 EACH IN THE 17″X10″ F AND 15″X12″ ONLY
SINGLE BEADLOCK COLOR MATCHED LIP 17″ PER WHEEL ADD $200
POLISHED TRANSPARENT LIP POWER FOR 17″ PER WHEEL ADD $125
Tire Options :
Mickey Thompson 28 X 11.50 17LT ET Street R Bias or…
Hoosier Racing Slick 28 X 10-17″
SPECIAL INSTRUCTIONS :
AMS TIRE SERVICE MOUNT AND BALANCE 2 REAR 17'S WITH BEADLOCK AND SCREWS ON REVERSE SIDE ADD $250
INCLUDES NEW CALIPER BOLTS

HOOSIER SLICK NOT FOR USE WITH REGULAR RADIAL TIRES IN FRONT

. A low profile, high performance street tire has very quick steering response which is a really bad combination with the soft wall bias ply slicks in the rear.  Use only a soft compound drag radial in the front when running these rear slicks.