Description
Mclaren MP4-12C – Calibration
Looking to extract the highest level of performance from your McLaren MP4-12C's ECU? Alpha Performance now offers a true ECU remapping service that will unleash the potential of your MP4-12C. Unlike piggy-back (plug-n-play modules) that trick the ECU, we reprogram the ECU itself to produce a safe and robust level of performance that will pin you to the back of your seat every time you punch the throttle and let loose the 700+ horsepower on tap!
Unleash the power the factory held back. Order your Alpha Calibration today!
Our race winning experience creates higher standards
---
At Alpha tuning we write our own files and use our years of race winning experience to bring something new to the market. Such knowledge allows us to optimize every aspect of the way that your car drives. We calibrate your ECU with a level of expertise that most others simply do not possess. Making finely tuned adjustments to cam timing, fueling, ignition timing, load control, throttle mapping and boost with a real focus on the overall effect to the driving experience, instead of just loading in a canned tune that is commercially available. What's more is that we are able to provide you the highest level of performance with no sacrifice to reliability.
Incredible gains throughout the entire power band
---
As seen in the diagram below, power is significantly improved throughout the entire RPM range. You can expect (on 93 octane):
Average gains of 100 horsepower and 105 ft-lbs of TQ throughout the entire RPM range
Power increases of over 115HP compared to the stock tune between 4600 to 6900 rpm
Torque increases of 124 ft-lbs compared to the stock tune between 4500 to 5600 rpm
Alpha tune maximum HP output: 716 HP vs stock tune 629 HP
Alpha tune maximum TQ output: 601 ft-lbs vs stock tune 476 ft-lbs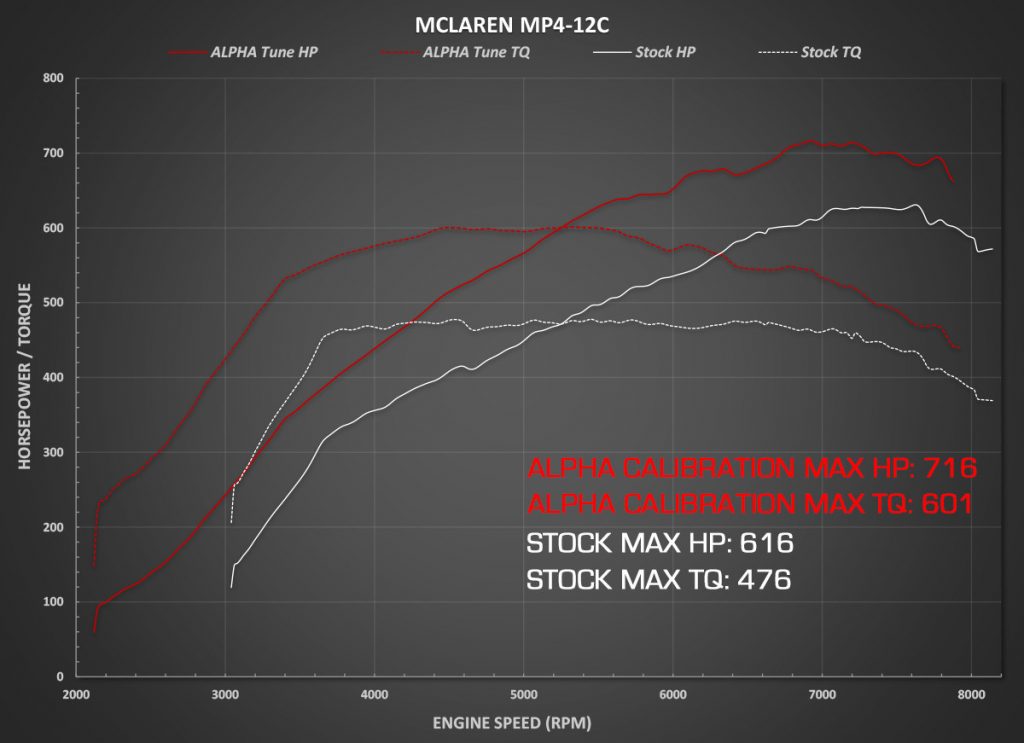 This quick upgrade will provide very noticeable results on a light and nimble vehicle like your MP4-12C. Even better, all of this is done with just our Alpha calibration file, no other modifications or special fuels needed!
No back seat driver
---
Your McLaren MP4-12C is equipped with a highly complex BOSCH ECU. This design uses a closed-loop system for air-to-fuel ratios, torque output as well as a number of other outputs. Sensors provide feedback to the ECU in regards to throttle position, ignition timing and boost where they are then balanced using the appropriate parameters programmed into the ECU. In addition, engine performance is mathematically modeled so that the ECU knows how it should be running in case of a sensor failure.
What does this mean?
Unlike our Alpha tune where our engine calibrators adjust the actual parameters in the ECU, a piggy-back module intercepts and sends artificial readings to the ECU. By doing so, there is risk of damaging your engine when relying on the intercepted (cheated) sensor outputs. Because we edit the ECU itself, the commands are true to form without any possibility of confusion.
Big benefits, No compromises
---
Just like all vehicles using an Alpha calibration file, your MP4-12C will exhibit smooth, stock-like drivability. The only difference is a dramatic increase in power and acceleration. What's even better is that you'll be able to enjoy all this with no detrimental effect to fuel economy at partial throttle or cruising speed.
Exclusive Benefits
---
716 HP / 601 FT-LBS Of Torque
Improved Throttle Response
Smooth Power Delivery
Stock-Like Driveability
OBD II Emissions Compliant
Safe, Proven & Tested Results