Description
AMS Performance Audi S6/S7/RS6/RS7 Downpipes are the ultimate solution for improving power, throttle response and exhaust note without sacrificing quality, fitment or design. If you are in search of the highest quality downpipes for your new 4.0L BiTurbo TFSI engine – look no further!
Computer Aided Design Yields Maximum Results
Each AMS S6/S7/RS6/RS7 Downpipe features a 76mm (3″) tubing for a massive increase in flow. This gives you maximum power as you fly through the gears of your 7-speed S-tronic dual clutch gearbox. Back-to-back tested on a Dynojet dyno – we saw improvements of 30WHP* (35 crank HP) over just a tune alone! Not to mention, an average gain of 20HP throughout the entire powerband while still retaining the factory exhaust system!
High Flow Design Removes Unnecessary Restrictions
From the factory, your S6/S7/RS6/RS7 downpipes cross paths like a pretzel creating unnecessary turbulence – disturbing flow and robbing horsepower. The Alpha design eliminates this restriction by routing each downpipe straight down allowing exhaust gases to escape faster. In addition, you'll benefit from a significant weight reduction in the front of your car.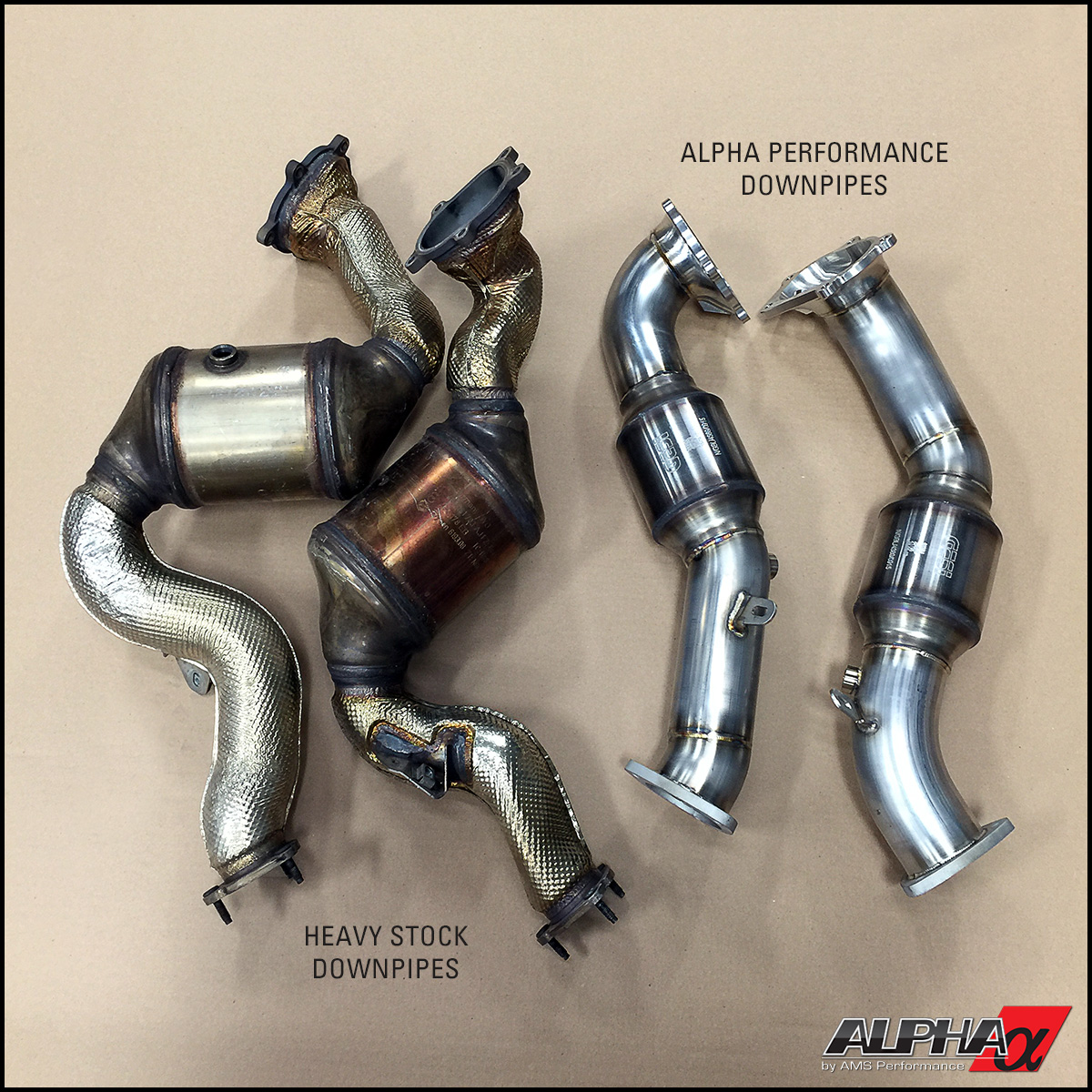 Exhaust Upgrade For Use With Stock or Aftermarket Cat-Back Systems
Knowing that most of the power is lost from the factory downpipes and that many people prefer to retain the factory cat-back exhaust system, our engineering team thought of a unique solution to ensure this would be the last set of downpipes you'd need to buy.  Since the factory exhaust diameter is smaller than our Alpha Downpipes (63.5mm vs 76mm), it required a neck down design to which could hurt flow if done abruptly.  To make the most free-flowing design,  our engineers designed a bellhorn style billet stainless steel transition for a smooth and efficient diameter change from the end of the downpipes to the factory. This allows for hot exhaust gas expansion and a smooth/direct path for exhaust gases to escape through the downpipes for maximum power output. 
Unparalleled Fitment Through Proper Engineering
The Alpha S6/S7 downpipes aren't something we quickly whipped up in a fabrication shop.  These are properly designed and engineered using a CMM Laser Scanner for a perfect fit and space optimization.  We took the time to integrate factory O2 sensors, heat shielding and brackets for a clean and proper OEM-like installation.  When you choose AMS Performance, there is no need to hack up your prized possession.
The Difference Is In The Details
Another unique benefit is our motorsports catalytic converter option.  These GESI brand 300 cell count Ultra High Output (UHO) units provide virtually no disruption in flow providing emissions control with no notable loss in horsepower.  For durability these converters feature a staked in design to hold the catalyst cores firmly in place.  Many competitors offer a low quality converter option to keep the cost low and profits high.  Often, these units fail due to poor construction and inferior materials.  When you choose Alpha Performance, you will remain worry-free for years to come.
Do it right the first time, order your Alpha Audi S6/S7/RS6/RS7 Downpipes today!
Exclusive Benefits
---
Big increases in power throughout the powerband

Improves turbo & throttle response

Eliminates turbo lag

Exotic exhaust note

Billet stainless steel adapter for use with factory exhaust system

Precise and proper fitment using factory heat shielding

Includes ALL necessary parts and hardware for installation
Specifications
---
100% 304 stainless steel construction

Billet O2 housing

.065″ thick tubing

Premium 300 cell GESI race catalytic converters (optional)
Applications
---
2012-2018 Audi S6 (C7 chassis with 4.0L TFSI)

2012-2018 Audi S7 (C7 chassis with 4.0L TFSI)

2013-2018 Audi RS6 (C7 chassis with 4.0L TFSI)

2014-2018 Audi RS7 (C7 chassis with 4.0L TFSI)
Product Notes
---
Fits the factory cat-back exhaust and Magnaflow system. Other systems may require fabrication to mate them to the Alpha Downpipes

For optimal results, an ECU tune is required

*Cat-less Downpipes are for OFF-ROAD USE ONLY. Using these will result in a check engine/service engine soon light. Federal and many state laws prohibit the removal, modification or rendering inoperative of any part or element of design effecting emissions or safety on motor vehicles used for transporting persons or property on a public street or highway.