Description
Although adequate under normal driving conditions, the stock heat exchanger system (responsible for cooling boosted air) under performs when your E63 or CLS63 is driven aggressively, in warmer climates or when subjected to extended periods of operation.
Get The Most Power From Your M157 5.5L BiTurbo AMG

Whether you are running stock or upgraded components on your M157 turbocharged engine, the Alpha Performance Mercedes-Benz 5.5L BiTurbo Auxiliary Heat Exchanger Upgrade offers greater efficiency – providing cooler temperatures while combating heat soak issues. Beneficial throughout everyday driving, this level of cooling is even more crucial to consistent performance on a road course or drag strip.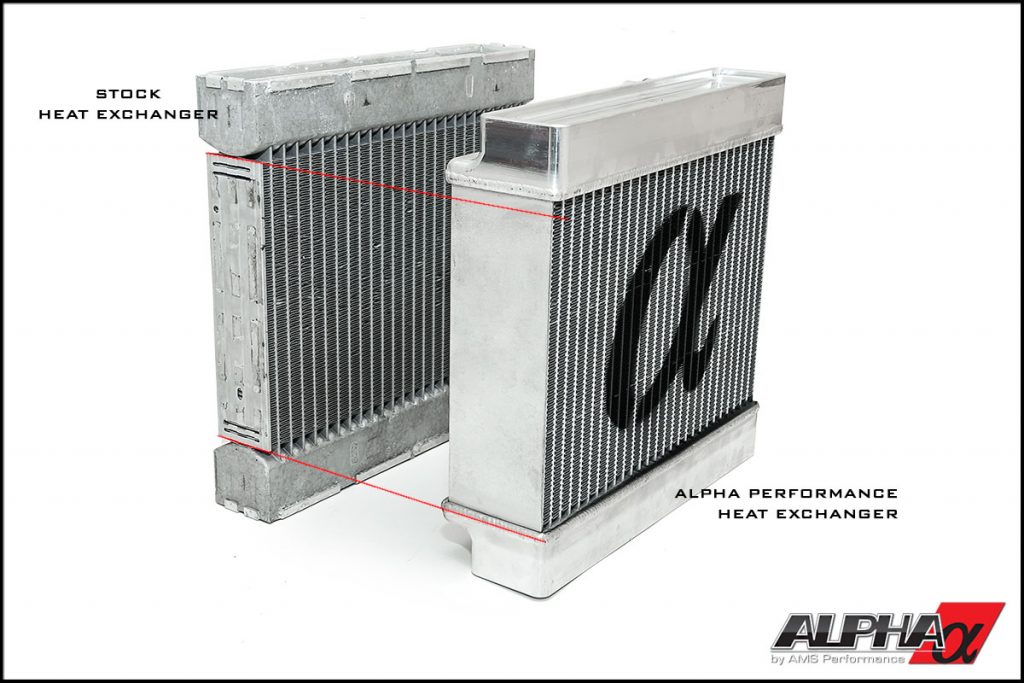 An upgrade to the factory auxiliary heat exchanger in both overall size and efficiency, ours offers better cooling of the system fluid. Being 38% larger than stock, our heat exchanger core provides additional liquid capacity for greater heat dissipation. This allows the system to maintain lower fluid temperatures throughout extended periods of high throttle operation. To improve flow and reduce pressure drop, our engineering team went a step further by tapering the inlet and outlet for smoother flow.

Larger CAD Designed Inlets And Improved Flow
While the coolant inlets that mate to the Alpha CNC billet end tank use the factory hose fittings, we made the inside diameter larger to increase the flow rate. Also, the inside of these fittings flare out creating a nice flow path for the water increasing effectiveness.
Unparalleled Fitment Through Proper Engineering
Our Engineering Team set out to make this auxiliary heat exchanger upgrade not only more effective but simple to install. It fits just like stock without any cutting or drilling. By using the factory lines and mounting points the core simply slides in locking into the factory mounts and gets connected to your existing factory lines. You don't get a cleaner installation than that!

Cooling Is Paramount For Performance
Although the Alpha 5.5L BiTurbo AMG Auxiliary Heat Exchanger is an effective upgrade, it is best to use in conjunction with the Alpha 5.5L BiTurbo Primary Heat Exchanger Upgrade or the total Alpha Boost Cooler System.

Do it right the first time, order your Alpha 5.5L BiTurbo AMG Auxiliary Heat Exchanger Upgrade today!
Exclusive Benefits
---
38% more core volume

22 fins per inch core made to Alpha spec

Motorsport quality heat exchanger core made in the UK

Core and tanks designed in CFD heat transfer software to allow for greatest heat dissipation

Increased flow rate

Billet aluminum end tanks

Installs without cutting or drilling

Can be used on stock or modified vehicles
Applications
---
W212 2014+ Mercedes-Benz E63 AMG 4MATIC 

C218 2014+ CLS63 AMG 4MATIC 

Replaces factory part number A 099 500 32 03

Compatible with S-Model only. Please note that S-Models have 2 auxiliary heat exchangers.
**Upside Down Logo for Left Side. Use for the Standard Auxiliary Heat Exchanger Upgrade for the Right Side**