Description
Alpha Performance Mercedes-Benz E550 AMG Carbon Fiber Intake System

Lightweight and aesthetically appealing, the Alpha Performance Mercedes-Benz E550 Carbon Fiber Intake System is also the most efficient choice you have for improving the air intake of your 2012+ Mercedes-Benz E550. It was designed, first and foremost, to improve performance and power production while offering a beautiful quality finish to truly complement your M278 4.6L Biturbo V-8 engine. With this air intake system you will gain over 40HP*!
Additional illustrations in the "MORE IMAGES" tab
Engineered To Achieve The Absolute Best Results
---
Our engineers discovered a significant pressure drop in the intake ducting located after the stock air filter box – a telltale indication that the OEM system was not performing efficiently. To improve air flow and eliminate restrictions, the process of designing a set of higher volume air filter boxes, filters and piping began with a CMM scan to determine the best use of space within the tight confines of the engine bay. With that data, a CAD design was developed and taken to a working prototype. The results confirmed our suspicions and rewarded us with HUGE power gains!
Optimum Airflow Unleashes Maximum Horsepower And Torque
---
In our design, the cross-sectional area of the air box filter was increased by a massive 41%. In addition, the cross-sectional area of the cold air intake was increased by 20%, while the turbo inlet was increased by 25%. Enlargement of these three sections reduced bottle-necking within the system. By creating a more balanced and less restrictive intake system, we were able to significantly improve the performance of your 4.6L BiTurbo equipped Mercedes.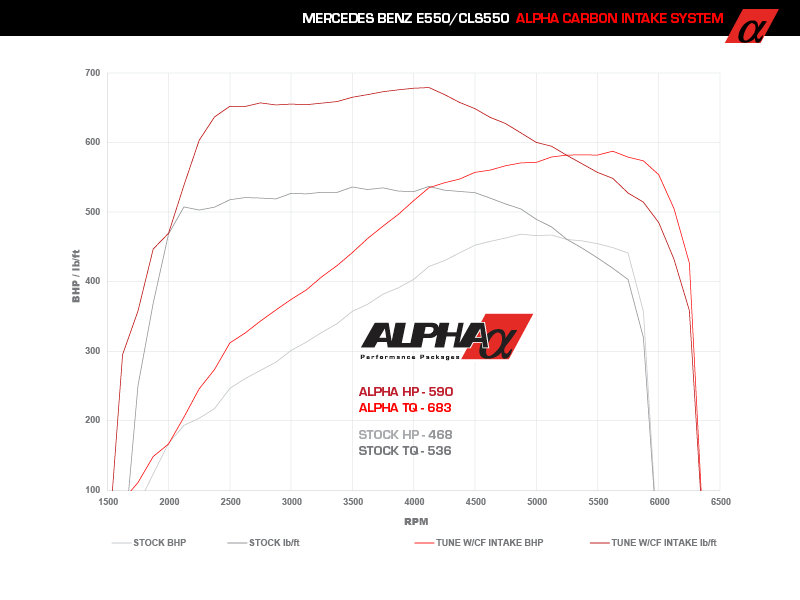 Much More Than Just A Fancy Lid And Different Filter
---
Unlike other intakes in the market, we redesigned the entire system – not just the air filters or the filter lid. Overall the Alpha system is considerably larger, makes more power than the competition and provides you with improved air flow dynamics for greater efficiency and maximum output! By using full carbon fiber construction, the air boxes, cold air inlets and tubing are incredibly strong, lightweight and look great. In addition, we supply wire reinforced, custom molded silicone couplers for durability and function.
Works On Both Factory And Upgraded Turbos
---
While other air box options are available, the Alpha Carbon Boxes offer far superior performance and are the last ones you'll ever need to buy. Rather than requiring replacement, if you decide on larger turbos down the road, our engineering team designed an innovative coupling sleeve. This allows you to transition from stock to upgraded turbos if you so choose – making this truly a one-time purchase.

Do it right the first time, order your Alpha 4.6L BiTurbo Carbon Fiber Intake System today!
 
Exclusive Benefits
---
40+ HP gains

20% increase in intake tubing size

25% increase in turbo inlet tubing

Wider and deeper air filter box with a 41% increase in cross sectional area

Elimination of the air flow obstruction created by the stock paper filter cartridge

A synthetic, multi-layer media filter with a MERV rating of 9 and 41% more surface area than stock
Includes
---
Carbon fiber upper and lower air boxes

High-flow air filters

Carbon fiber cold air intake tubing

Carbon fiber air inlets

Molded silicon couplers

All necessary hardware for installation

Detailed installation guide
Applications
---
W212 2012-2013 Mercedes-Benz E550 (RWD)

W212 2014+ E550 4Matic

4.6L (often noted as 4.7L) M278 Engines
Options
---
Carbon fiber computer/center engine cover
Product Notes
---
Inlets and other individual components are not interchangeable with factory components, and are not available for purchase separately.
For optimal results, an Alpha tune specific to your modifications is needed


**Optional carbon fiber engine cover is designed for the AMG vehicles but will fit this application. The only exception is the recessed area made for the AMG engine plate and MB logo will remain empty because the CLS550 does not have these.