Description
Your turbocharged Mercedes-Benz E63 AMG does not use the typical front mounted intercooler (FMIC) you may be familiar with.  Like many modern turbocharged European vehicles, this 5.5L BiTurbo M157 AMG engine uses engine coolant to cool the intake air charge through an air-to-water heat exchanger. While this method works, it can quickly become heat-soaked, robbing horsepower – a big problem for you as an enthusiast.
Your solution is the Alpha Turbo Cooler System which features a large, high efficiency heat exchanger located at the front of the car and an additional reservoir tucked neatly away in the passenger fender well that holds over a gallon of coolant. These components work in unison with the factory cooling system to greatly improve its effectiveness.  Whether you live in a warm region of the world, enjoy long spirited drives in the mountains or run long sessions at your local track day, the Alpha Turbo Cooler System will keep your intake temps low – maintaining your 5.5L V-8 twin-turbocharged engines maximum output.

 
Eliminate A Big, Power Robbing Restriction
 
We found through testing, the factory Mercedes-Benz center heat exchanger was very flow restrictive on the coolant side. This was hurting the heat rejection of the coolant, causing less efficiency and choking up the power output of your M157 engine.
 
Motorsport Quality Upgrade For Your Boosted Benz
 
For the core, we chose a motorsport quality heat exchanger core.  This high efficiency, dual pass core is much larger, featuring an additional 19 tubes (61 vs 42 stock) to dissipate heat quickly for maximum cooling. Through a larger design, added fluid capacity and significantly increased flow, your 5.5L BiTurbo engine benefits from reduced intake air temperatures (IAT) boosting power output.
 
Unparalleled Fitment Through Proper Engineering
Our engineering team set out to make this new heat exchanger upgrade not only more effective, but simple to install.  It fits just like stock without any cutting or drilling.  By using the factory lines and mounting points, the core simply slides and locks into place with no need for modifications. You don't get a cleaner installation than that!  As with all Alpha Products, everything needed to install the system is included – bolts, fittings, lines etc. Best of all, no cutting or permanent modifications of the body or chassis is required.  When you chose Alpha, there is no need to hack up your prized possession.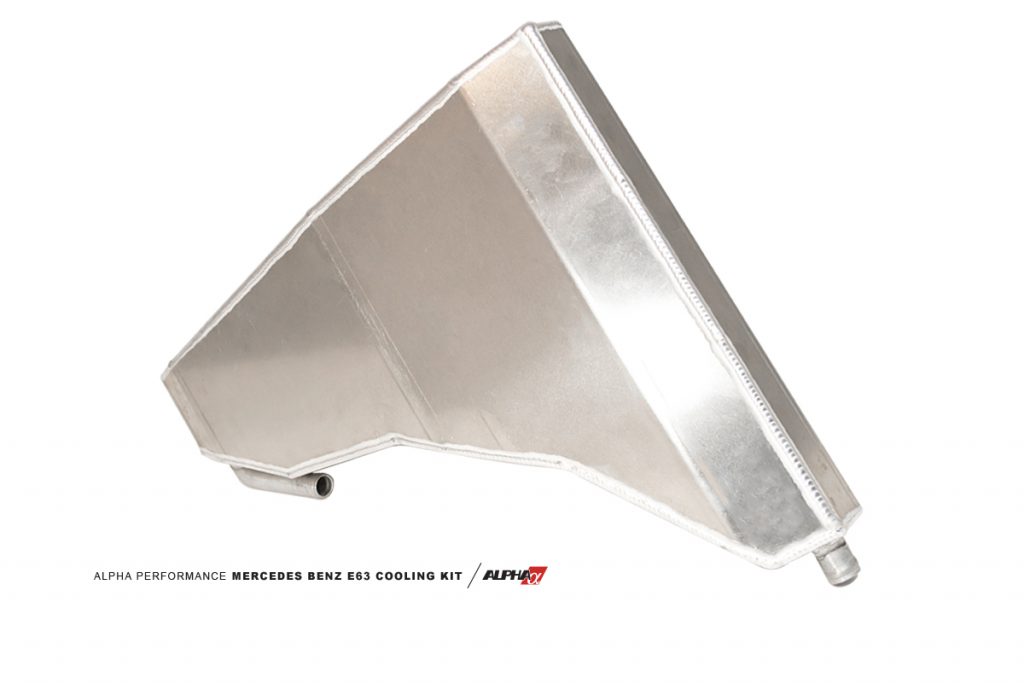 Innovative Reservoir Means Zero Lost Trunk Space!
 
Further improving performance is the hand-fabricated Alpha reservoir. It acts as a large heat sink to keep coolant temperatures low and stable.  With over a gallon of additional coolant on board, it increases the cycle time allowing it to dissipate more heat before being recirculated. This works as a large thermal reservoir keeping horsepower-killing heat soak at bay. With its trick mounting location in the passenger fender well, you don't have to worry about running lines to the rear of the car, drilling holes in your trunk's floorboard, or giving up valuable trunk space!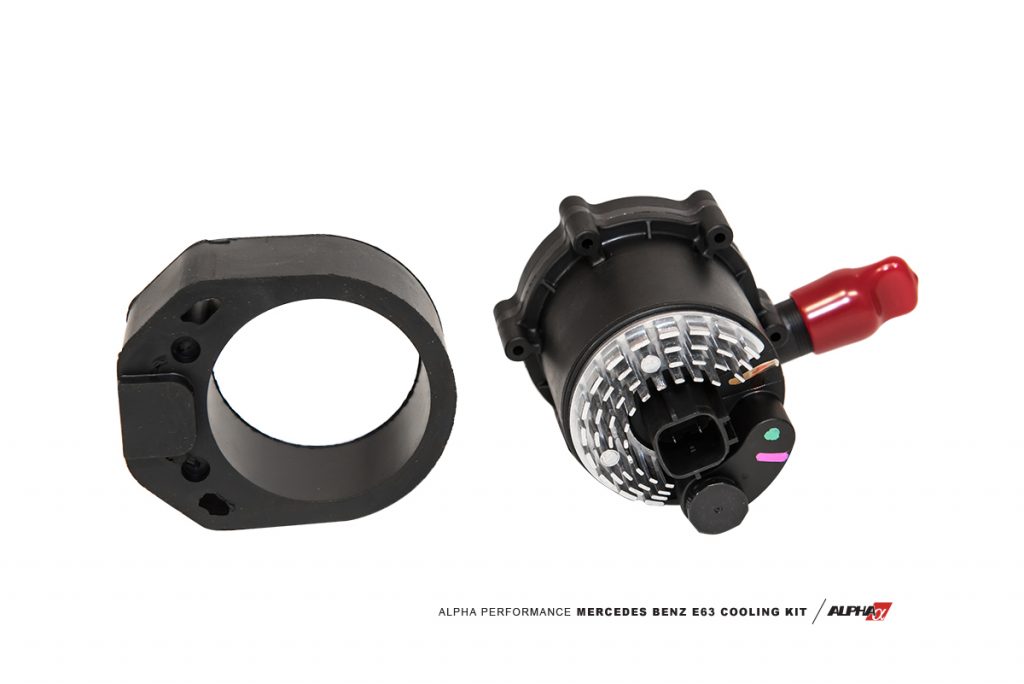 Do it right the first time, order your Alpha Turbo Cooler System today!
Exclusive Benefits
---
Unique passenger fender mounted reservoir

Coolant Pump

No cutting of the car chassis required

Short line routing

Works with both Distronic and Non-Distronic Vehicles

OEM fit and finish
Includes
---
Hand-fabricated reservoir

High efficiency double pass bolt-in heat exchanger

4 ply heavy duty silicone hose

High pressure coolant line

All clamps, fittings, bolts, brackets and hardware

Detailed installation instructions
Applications
---
W212 CLS63/

E63

AMG Turbo

Cooler

Upgrade 2012+ (Excl. S Model)(4MATIC & RWD)

Works on both divorced and non-divorced coolant systems.
Kit Instructions
---
Alpha Performance Mercedes-Benz E63 AMG Turbo Cooler System (Non "S") Install Instructions can be downloaded HERE.