Description
Alpha CNC Race Ported Cylinder Heads

The Alpha GT-R CNC Race Ported Cylinder Heads are the most developed design on the market.  After countless hours of testing we devised a port design that offers more than just peak flow numbers. And by utilizing Computer Numerical Control (CNC) machining processes, every cylinder head offers consistent and proven results.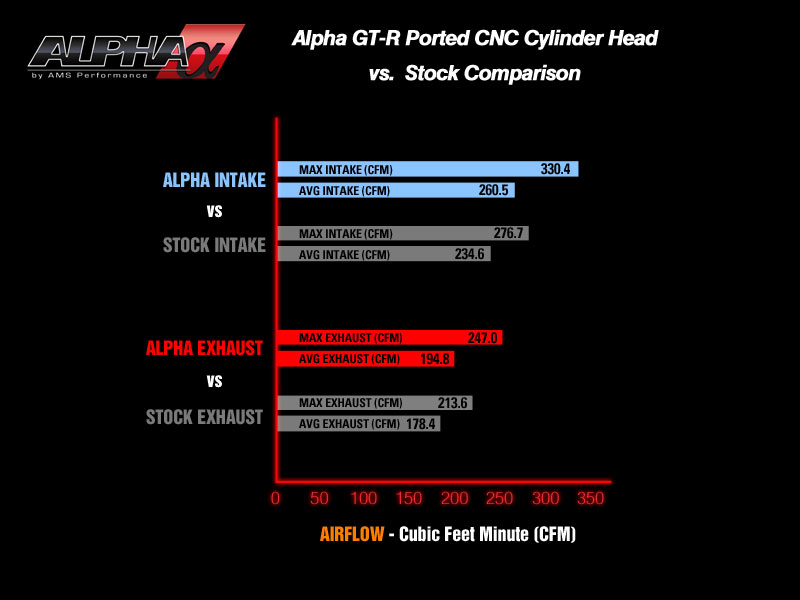 The Most Power Across The Whole Power Band
Flow bench numbers don't always tell the whole story.  Most vendors just state their peak flow at max lift. Their head may flow 270 CFM at .500 lift but what about flow at lower lifts? The flow at low, mid and high lift has to be balanced a certain way to achieve the most effective power curve.
The Alpha Cylinder Heads utilize the latest Ferrea Competition Plus components.  Their valvetrain components are made from exotic alloy materials to with stand high boost and RPM's.
Engineered For A Better Combustion Seal
Through our rigorous testing program we identified a weakness in the factory cylinder head under high boost conditions.  Our Engineering Team developed a proprietary modification that provides a better combustion seal which is applied to every set of Alpha Cylinder Heads
Record Breaking Results For Your GT-R
These are the same cylinder heads found in our own World Record holding, Alpha 12 & Alpha Omega GT-R's:
7.48 @ 193 mph in the quarter mile (Omega)


2.28 seconds 60-130 mph (Omega)
The Alpha GT-R Race Ported Cylinder Heads powered our 2000HP+ Alpha Omega GT-R on its record-setting 7.48 @ 193 mph quarter mile pass and 224mph 1/2 Mile Record!

Optimized Performance With Alpha Series Camshafts
These CNC cylinder heads have been maximized to work in harmony with the optional Alpha Series Camshafts.
Do it right the first time, order your Alpha GT-R Race Ported Cylinder Heads today!
Exclusive Benefits
---
40-60 HP increase

Proven to perform in our World Record holding Alpha 12 GT-R and Alpha Omega GT-R


Ferrea Competition Plus valve train

Fully CNC ported and then smoothed out by hand

Developed on the flow bench for maximum flow at useable valve lift
Includes

---
Alpha CNC Ported Cylinder Heads

High Quality Ferrea Inconel Intake and Exhaust Valves

Ferrea Single valve springs

Ferrea Military spec. Titanium retainers

CNC finished and black oxide seat locators

4140 chromoly steel valve locks

New Valve Guides


High-temp valve seals
Applications
---
Notes
---
Pricing assumes that a good working core is sent in to AMS to build with. AMS Core Exchange Program requires a usable pair of head cases complete with cam caps caps, and 24 buckets. A core charge of $3300 will be added if no core is sent in.