Description
Alpha Nissan R35 GT-R Extreme-Duty Pistons
The Alpha Nissan R35 GTR Extreme-Duty Pistons are not your ordinary replacement pistons. We teamed up with Manley Performance to engineer heavy-duty, yet lightweight pistons that are designed to increase power and perform flawlessly under extreme heat and PRESSURE.
To improve the output of your VR38, we've raised the compression ratio to increase horsepower throughout the powerband.  This increase also produces more low end torque which reduces turbo lag and improves boost response.
Because most Alpha series packages produce 1000+ horsepower and extreme torque levels, these pistons are loaded with special features for strength and reliability:
Forged 2618 piston material to handle the stress of over 1800+HP!
Offset wrist pins for quiet start-ups.
9310 alloy .210″ wall pin (instead of standard .180 chome moly)
Moly-Coated skirts reduce friction and prevent scuffing.
Premium Steel 1.2mm top ring set with 1.2mm Napier second ring and 9-13lb tension 3mm oil ring included.
Will accommodate +1mm valve sizes
These pistons feature skirt diameters that correspond to the OEM Grade 1, 2 or 3 bores (see pic below). Check the bore grades on the back of your block and order the appropriate quantities of Grade 1, 2 or 3 pistons.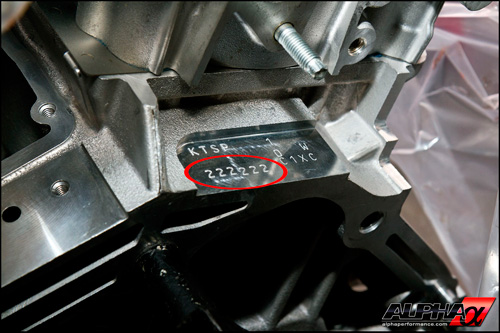 Exclusive Benefits

---
Increased compression ratio for added horsepower and torque

Forged construction to withstand 1800+HP

Reduced turbo lag and improved boost response

Offset wrist pin design is utilized for quiet start-ups

Works with stock or aftermarket connecting rods
Specifications

---
Raised compression ratio compared to stock


Alpha spec 9310 extra heavy duty pins

Moly-Coated Piston Skirts