Description
AMS Mitsubishi Evolution X STX500 Package
Building upon our successful STX400 program, we bring you the third stage in our power upgrades for your EVO X boosting output to 500+HP.
 
AMS STX500: The Ultimate Pump Gas EVO X
 
The goal was to create a 500+HP street and track terror, maximizing power on the stock engine with a goal to keep turbo spool time to an absolute minimum.  Running on standard 93 octane from the pump, we easily achieved our 500HP goal with low-end power characteristics nearly identical to the stock turbo.  By keeping the torque down low, you quickly hit the mid to high rpm range. When you punch the throttle, the 200+HP increase will be crystal clear while your competition is left in the dust!
 
The Heart of Your Beast
 
The STX500 was created to bridge the gap between a full bolt-on, stock turbo car like the STX400 and a built engine, full AMS turbo kit EVO X.  It is easy to bolt on a big turbo to make top-end power, but the extreme turbo lag associated with this method ruins your driving experience.  
 
We started with the tried-and-true GTX billet wheel, ball bearing 30R Turbo and tailored it to meet our goal of maximum usable horsepower on pump gas.  We spent considerable time testing turbos, exhaust housings and compressor inlets to find the perfect combination that will deliver you the best performing pump gas EVO X package while retaining the stock engine.  What we ended up with was a turbo that produces over 500HP without sacrificing the low end torque – making one fat and usable powerband.  This ensures you get a jump on your competition on the street while exiting turns faster on the road course!
 
Big Benefits, No Compromises
 
The AMS Mitsubishi Evolution X STX500 Package yields proven and repeatable results and boosts your EVO X to over 500HP! This is an ideal upgrade if your goal is to safely squeeze more power from your EVO X's stock 4B11 engine and drivetrain while maintaining reliability and drivability.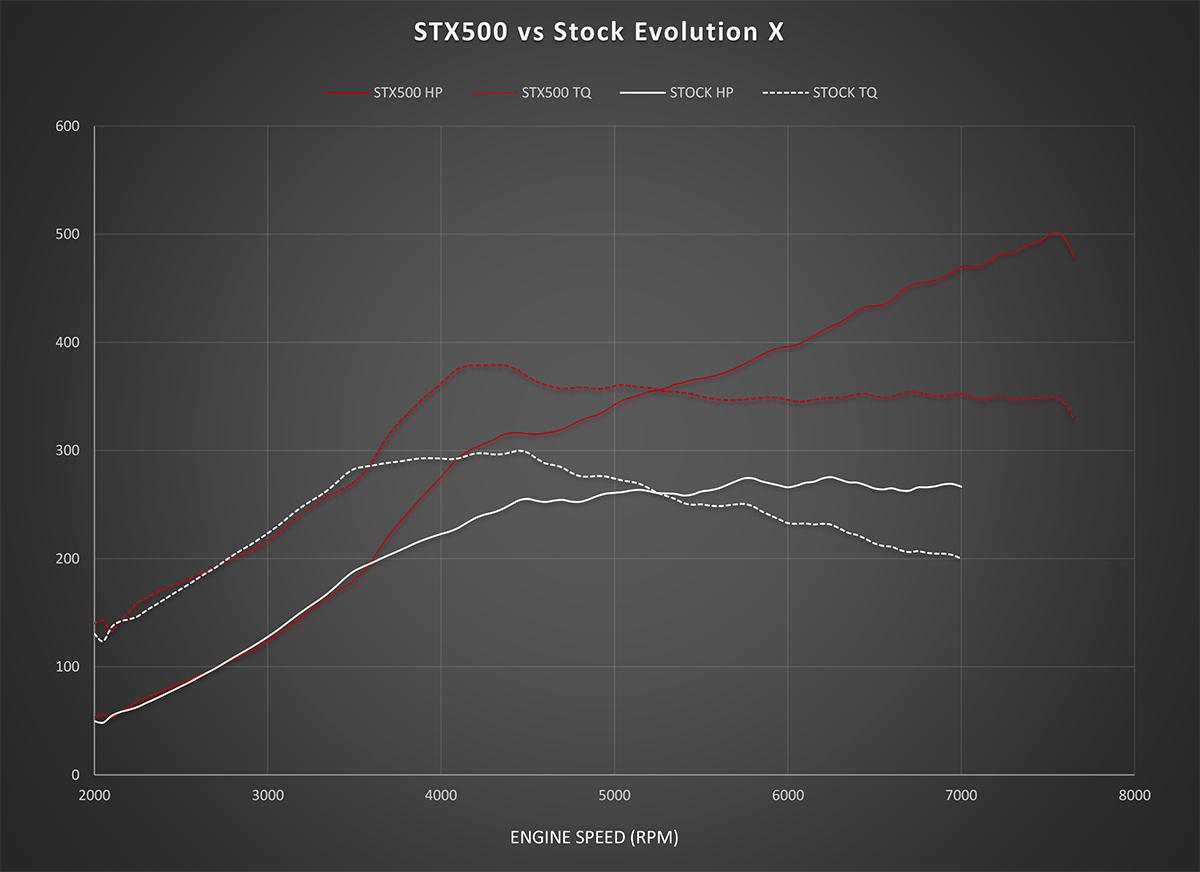 Once installation of this package is complete, the full potential of your EVO X's stock engine can be met. These components are the highest quality, best performing parts on the market. In addition, they look great while reducing weight and engine bay clutter.
 
AMS ECU Re-Calibration Unlocks the True Potential of Your EVO
 
By incorporating the proven and versatile Cobb AccessPort and the AMS custom tailored STX500 Flash, you will safely attain the maximum potential from your new bolt-ons!  Our safe and proven tuning calibrations work by optimizing the performance of your computer's fuel and timing curves along with the MIVEC system for improved throttle response, quicker spool-up and maximum power throughout your entire RPM range.   
 
Precise Fitment for a Hassle Free Installation
 
Another benefit of choosing AMS is that your car can be returned to 100% stock as our kit requires no cutting or permanent alterations.  Most importantly, as with all AMS parts, you get the benefit of unsurpassed craftsmanship, fitment and race-proven performance.
 
Room to Grow
 
The AMS STX500 package maximizes the potential of the stock engine and can even be used with a stock clutch (without launching).  If you add our AMS TMP Camshafts or our built AMS 4B11 engine down the road the GTX Billetwheel, ball bearing 30R turbo is capable of supporting over 600HP – giving you the freedom to further upgrade your EVO X.
 
Time to Upgrade?
If you already have some AMS parts or a whole STX400 package installed, we can easily adjust the parts list to get you up to STX500 status.  Simply call us and we will get you a tailored parts list.
 
Be the guy to beat, order your AMS STX500 package today!
Exclusive Benefits
---
200+HP increase over stock while maintaining reliability and drivability

Improved throttle response, quick turbo spool-up

Increased power throughout the entire RPM range

Seamless integration for easy installation

No cutting or permanent alteration to your car so it can easily be returned to 100% stock

Live Datalogging and OBD2 access

Safe, proven and repeatable results

Unsurpassed craftsmanship, fitment and race-proven performance
Includes
---
GTX Billet wheel, ball bearing 30R Turbo

Corsa Performance 3″ Polished Sport Dual Rear Cat-Back Exhaust

AMS 3" Stainless Steel Test Pipe

AMS 3″ STX500 Compressor Inlet Elbow

DeatschWerks DW65c Fuel Pump

Injector Dynamics 1000cc Fuel Injectors

Grimspeed Boost Control Solenoid

Cobb AccessPort

AMS STX500 ECU Flash

AMS STX500 Badging
Applications
---
Mitsubishi Lancer Evolution 10 GSR 

Fits all USDM and all other LHD Models

Notes

---
If you already have one or some of the parts listed in the package and would like to complete it, please call in to place your order.

Cobb AccessPort tuning only.  Open Source tuning is not available
---