Description
AMS is excited to announce the release of our VW MK7 Golf R Stage 1 Performance Package. This package includes the AMS MK7 Golf R Carbon Fiber intake, turbo muffler delete, and COBB Accessport with Stage 1 Tune. This package includes a COBB Accessport with off-the-shelf maps from COBB. AMS Performance does not include custom calibration with this package.
Our AMS Performance VW Golf R MKVII Carbon Fiber Cold Air Intake Upgrade was designed to draw a higher volume of cold air into the stock turbocharger. With this intake installed, bulky air filter boxes are replaced with our carbon fiber tubing and dry media filter. This eliminates clutter within the engine bay while drawing cold air from outside. The MK7 Golf R Cold Air Intake Kit is a vast improvement over the stock intake system and supports power levels up to 600HP!
Unmatched Construction
---
We selected a motorsports grade carbon fiber that is both hand-laid and high temperature resistant. Other options on the market use the typical gloss clear coated carbon fiber prone to discoloration and cracking. Our AMS Golf R MKVII Intake Kit uses 3-layers of 1mm twill weave prepreg carbon fiber capable of sustaining a 240C temperature threshold while maintaining structural integrity and aesthetic appearance with no worry of fading or yellowing over time. The AMS Carbon intake also eliminates the engine bay vents that are found on the factory intake. These vents allow the OEM car to pull in hot engine bay air for startup and fuel consumption requirements to the detriment of performance. By opening up the entire front grill and eliminating these warm air vents, 100% of the airflow is cold air being brought in from the front grill of the car.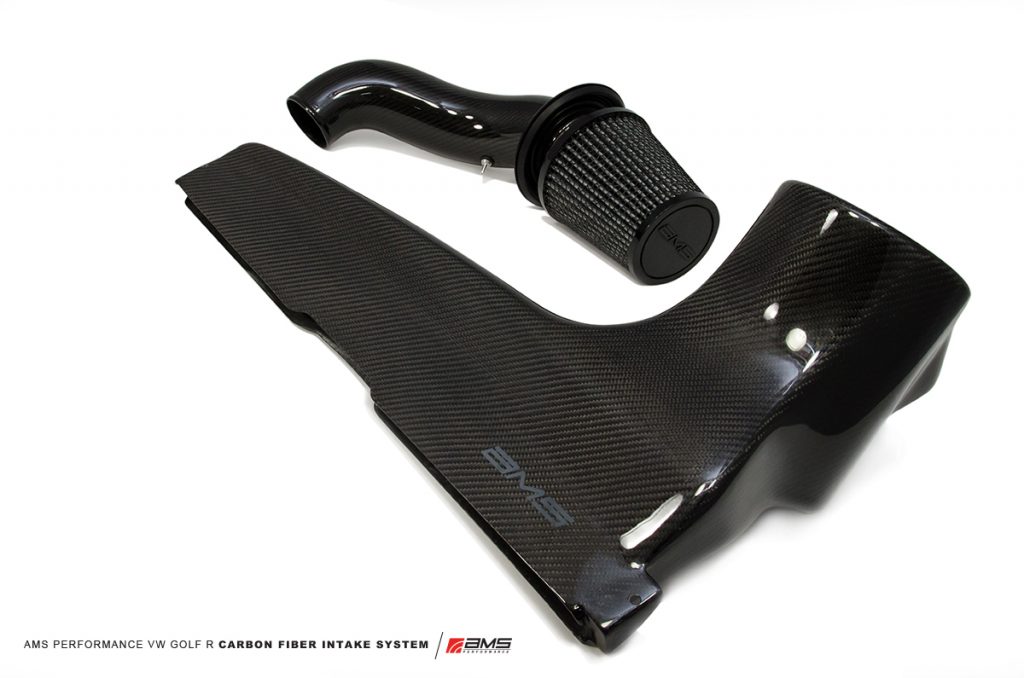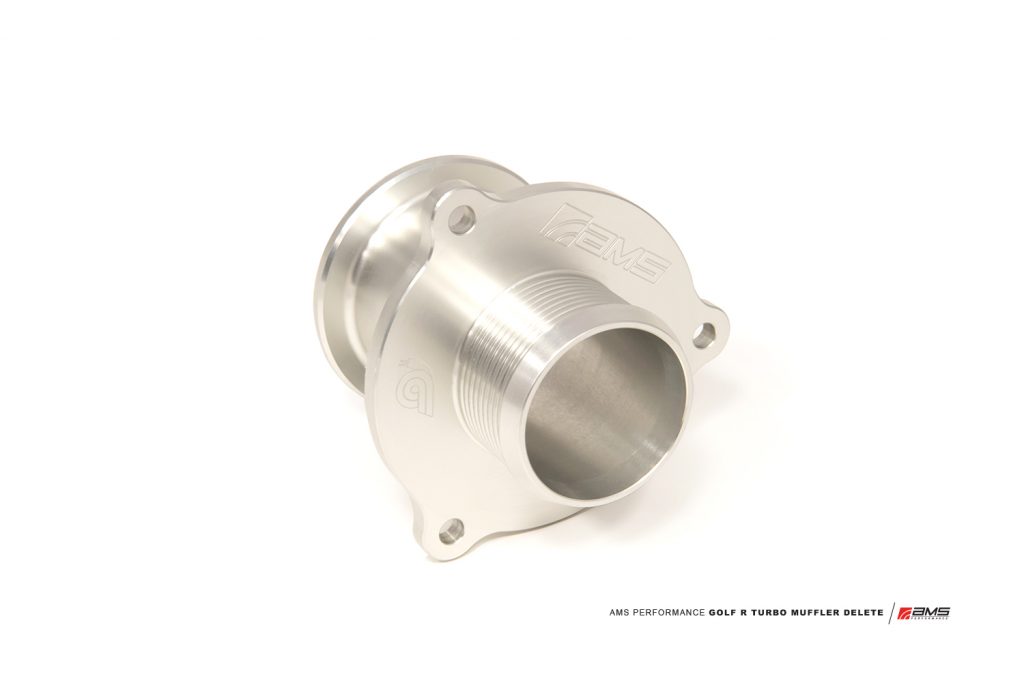 The Difference Is In The Details
---
You can expect an easy install without cutting, trimming or taking off your grill. It can be installed with basic hand tools in minutes! Couple that with a purpose built, reusable synthetic high-flow dry media filter, you'll no longer have to purchase cheap factory paper filters down the road. The "Dry Media" filter means just that, no more messy oiling of your filter. Just one more reason why our intake is the best option on the market. The AMS MK7 Golf R synthetic media filter was designed and manufactured specifically to fit this application. The filter is a washable, reusable synthetic media filter (no oil) that was developed for automotive use. The filter size and configuration was fine tuned to ensure that it will still provide all the necessary air for any MK7 Golf R, including upgraded turbo cars, without any substantial restriction or compromise in filter efficiency. Also, for vehicles equipped with Secondary Air Injection, AMS offers an optional SAI filter. Find out even more about our Carbon Fiber Intake here.
The COBB Accessport
---
Simple ECU flashing with gauge package! The in-cabin mountable Accessport V3 has a large, full color, high resolution screen which allows you to monitor up to six parameters in real time. Fully customizable from the look (multiple bezel colors), layout (set up race, street, or dyno gauge clusters), and mounting options (choose from 1,000s of standard vehicle mounts). And what's looks without brains? More processing power, memory, and storage to flash faster while saving all of your maps and logs. This is your new Accessport. For more information from COBB's web site please click here.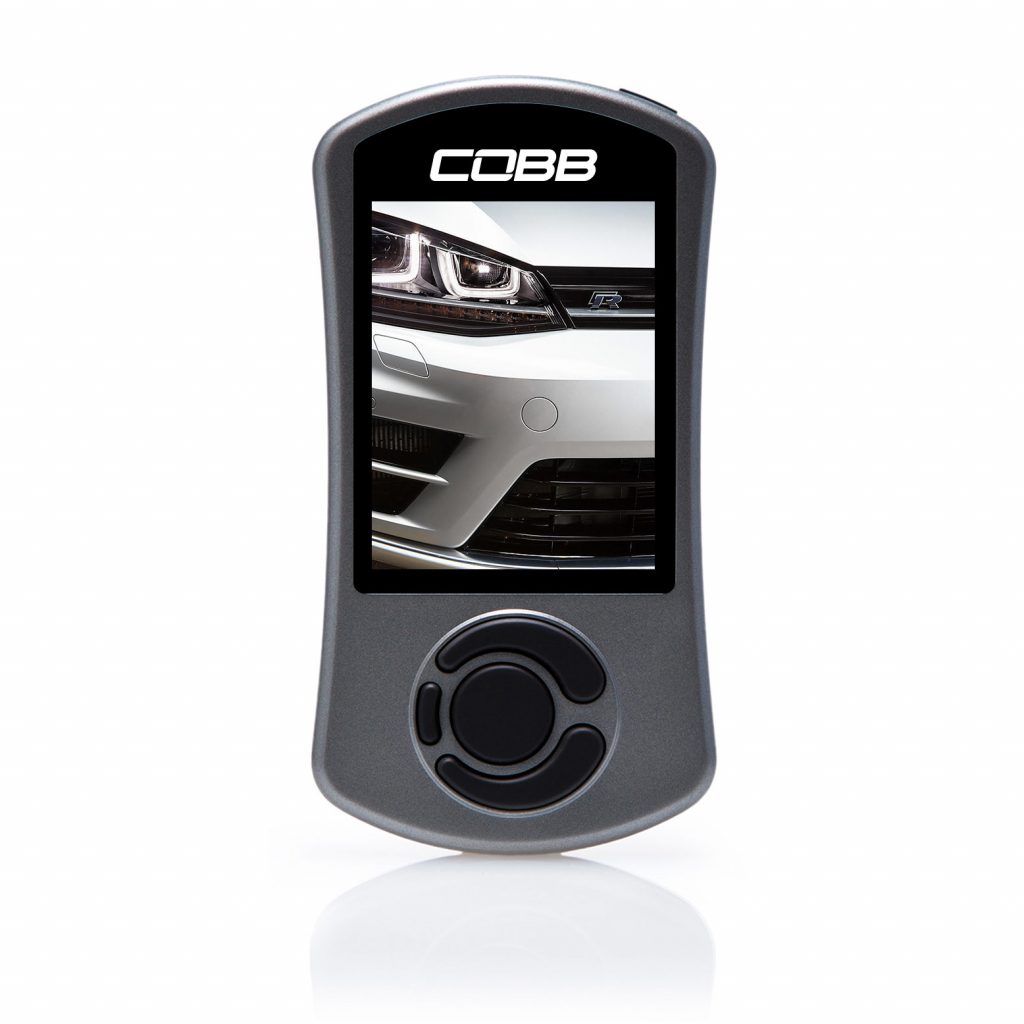 Exclusive Benefits
---
Stage 1 93
Peak Gains – 23.93% HP / +19.7% TQ
*Results may vary. Power as tested on 2016 Golf R w/DSG
Applications
---
Stage 1 Notes
---
This Stage uses COBB OTS Maps. COBB recommendations : ** Vehicles could require an upgraded/replacement clutch. **