Description
What's Included
---
Alpha Performance R35 GT-R VR38 3.8L Stage 1 Crate Motor
Shep Trans R35 GT-R THE ONE-K Stage 3 (For 2012+ w/ HD Gears. Drag Pack, 09-11, and extreme gearset extra if necessary.)
Alpha Performance R35 GT-R 90mm Race Mid-Pipe / Y-Pipe
Alpha Performance R35 GT-R Race FMIC Kit
Alpha Performance R35 GT-R Intercooler Pipe Kit
TIAL Q Blow Off Valve 11 psi Spring Black w/Flange
Injector Dynamics 1700cc High Impedance Injector Set
Alpha Performance R35 GT-R Dual Fuel Rail Kit w/ FPR & Lines
Alpha Performance R35 GT-R 4 BAR MAP Sensor
Alpha Performance R35 GT-R CNC Billet Oil Filter Adapter with Street Filter
Driveshaft Shop 2015+ Nissan R35 GTR Pro Level Rear Axle Kit
Alpha Performance R35 GT-R GR6 Transmission Filter Pickup Extension
COBB 2015 Nissan GT-R Accessport V3 w/ TCM Flashing Capability
and more!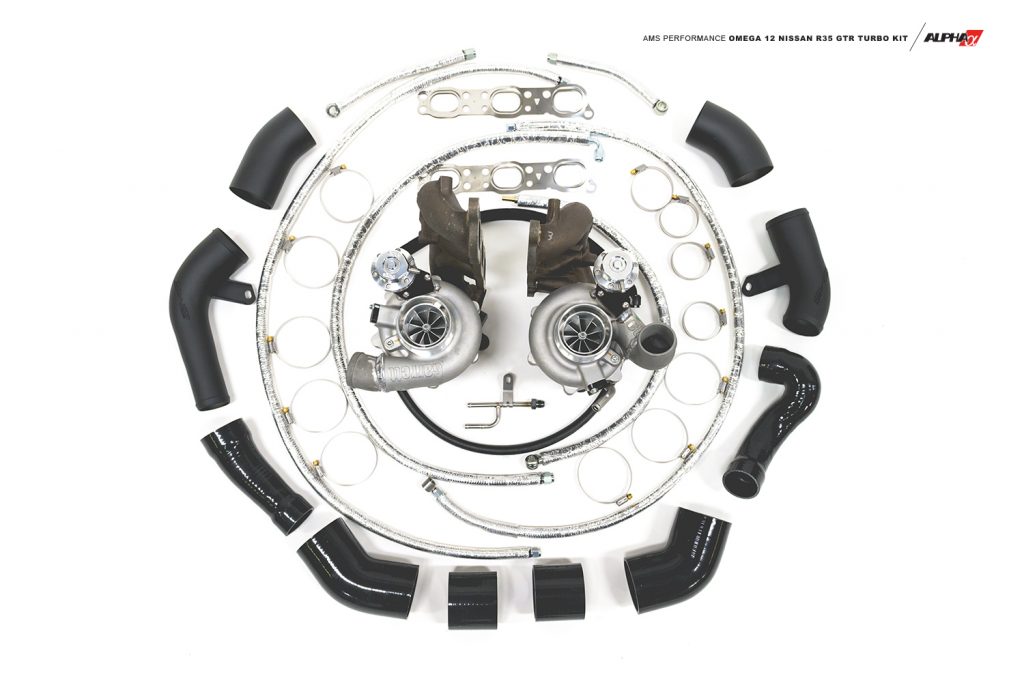 Introducing the New Omega 12 Performance Package from AMS!
---
With over 15 years of proven research and development in the forced induction field, AMS Performance has proven itself as a powerhouse in the automotive aftermarket. Our mission is to deliver the best performing, most reliable, R35 GTR performance packages without compromise. Enthusiasts rallied around the "ALPHA" brand and our flagship vehicle, "Omega," as it became the benchmark in R35 GTR performance. Now with countless world records, awards, and championships the "Alpha" brand is the name by which everything else is measured.
Today, we are incredibly proud to announce the next evolution in our R35 GTR performance packages, the Omega series and our first offering the Omega 12.
I don't think there is a single other turbo kit out there that can offer this level of drivability, enjoyment, and spool, while being able to make this much power, at any cost. I think with the Omega 12 kit AMS has hit the ball out of the park in creating the ultimate "Street Car"
Way more impressive than the peak power numbers though, is the fact that starting a run at 2000RPM in 4th gear, the car will hit 500ft-lbs torque at the wheels by 2750RPM, and 800ft-lbs before 3500! I have never seen a turbo kit spool this fast, and that includes the extremely high tech Borg Warner EFR 6758s I was running before; the previous fastest spooling turbos on the market; the Omega 12s blow them completely out of the water, outspooling them by 500-600RPM!  Compared to any other turbo I have tuned that has similar power potential, you are looking at peak torque coming, on average, 1000+ RPM later! 

The Omega 12 Stock Manifold R35 GTR Turbo Kit
---
Using Garrett Turbo's newest line of power producing turbochargers with new smaller packaging and cutting edge aero the Omega series of turbo kits from AMS puts BIG power down FASTER in the RPM range. Our first kit, the Omega 12, utilizes the stock manifold and puts you light years ahead of the competition. Time to power is almost instantaneous and leaves everything else in the dust. One of the best aspects of this revolutionary kit is that it can be used with a completely stock engine. Stay tuned for more information.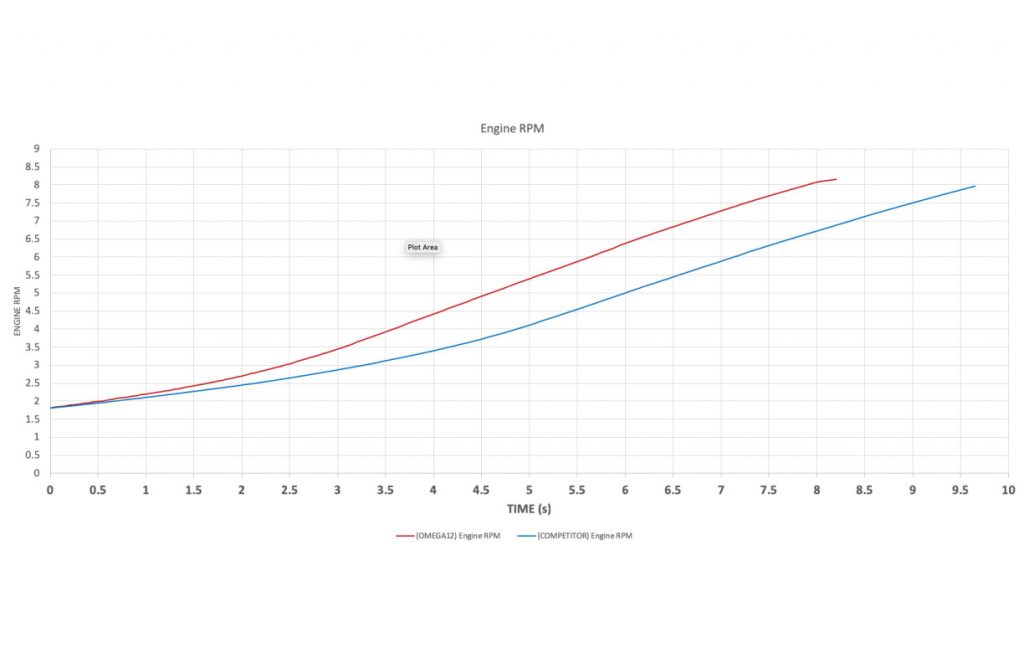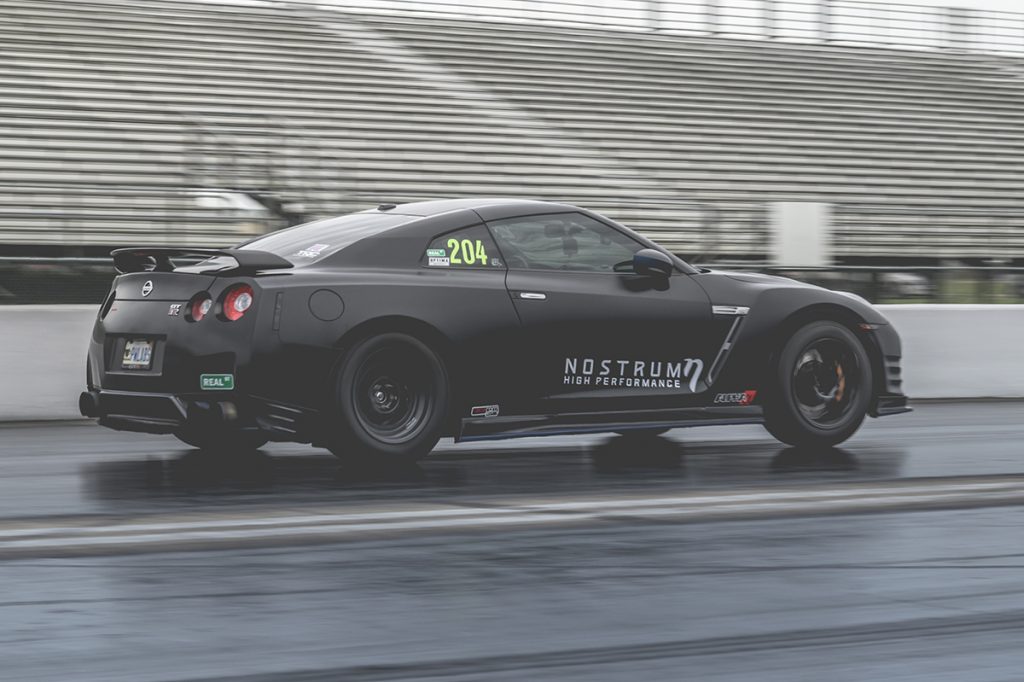 Applications
---
2009-2011 (CBA) Nissan R35 GT-R
2012-2016 (DBA) Nissan R35 GT-R
2017-2019 (Facelift DBA / "EBA") Nissan R35 GT-R
2020-Current (4BA) Nissan R35 GT-R
Fits all USDM, JDM, Gulf, and European Models (LHD)
Product Notes
---
Price includes freight shipping, handling and insurance
Core VR38 engine, core GR6 transmission, and turbo cores are required
A Shep Trans Drag Pack option is available for $3000 more