Last winter, Dave Bruzewski began work upgrading with his 2.3RR Evo VIII build in order to make it more competitive for the 2015 racing season. A bit wary throughout the changes because the old setup was extremely consistent. With over 400 drag passes without a single change, it was dialed in and consistent. In order to achieve the same consistency with his new, more powerful setup, getting to the track throughout the year was crucial and he had to make passes…lots of passes!
Because he wanted to maintain his Evo's appearance and functionality as a true street car, he could only run full bore at private track rentals. Without the required cage and chute needed to run public test & tune sessions at the local track, his season was busy searching out and attending private events throughout the Midwest. One of them being a Mitsubishi vs Subaru event hosted by his friends at Slowmotion Motorsports.
"So when I heard my friends at Slowmotion Motorsports were having a race near Columbus Ohio, I wanted to check it out. Then I saw they had a Mitsu vs. Subaru class and I knew I had to go! haha. The name of the track is Marion County International Raceway.
Here is a break down of the class:
SUBARU VS MITSUBISHI CLASS – 4/6 CYLINDERS. HEADS UP, PRO TREE. NO TUBE CHASSIS CARS. RUN WHAT YOU GOT!
We unloaded the car and the first pass off the trailer it ran 9.90 spinning hard out of the hole. So I switched to the right lane for the 2nd qualifier and was able to run 9.77@154 – still spinning, but when I got to the shutdown it was so bumpy that I stopped counting after I heard the car scraped over 5 times. But that was enough for the #1 qualifier. The right lane was definitely faster, but its probably the biggest "oh shit" moment at the track I've ever had. Even being #1 with lane choice, I decided to stay in the slower / safer lane. I know the car had more in it, but with the track conditions and being on top already, I just left the car the way it was.
Best pass of the day – 9.77@154mph
The class had 8 or more qualifiers (I'm not too sure exactly how many). I was paired with some slower cars and in the finals some how it worked out to be me vs a Subaru! I think something let go on his car because it wasn't even close. I ran a 9.90@152 and he ran a 16 something."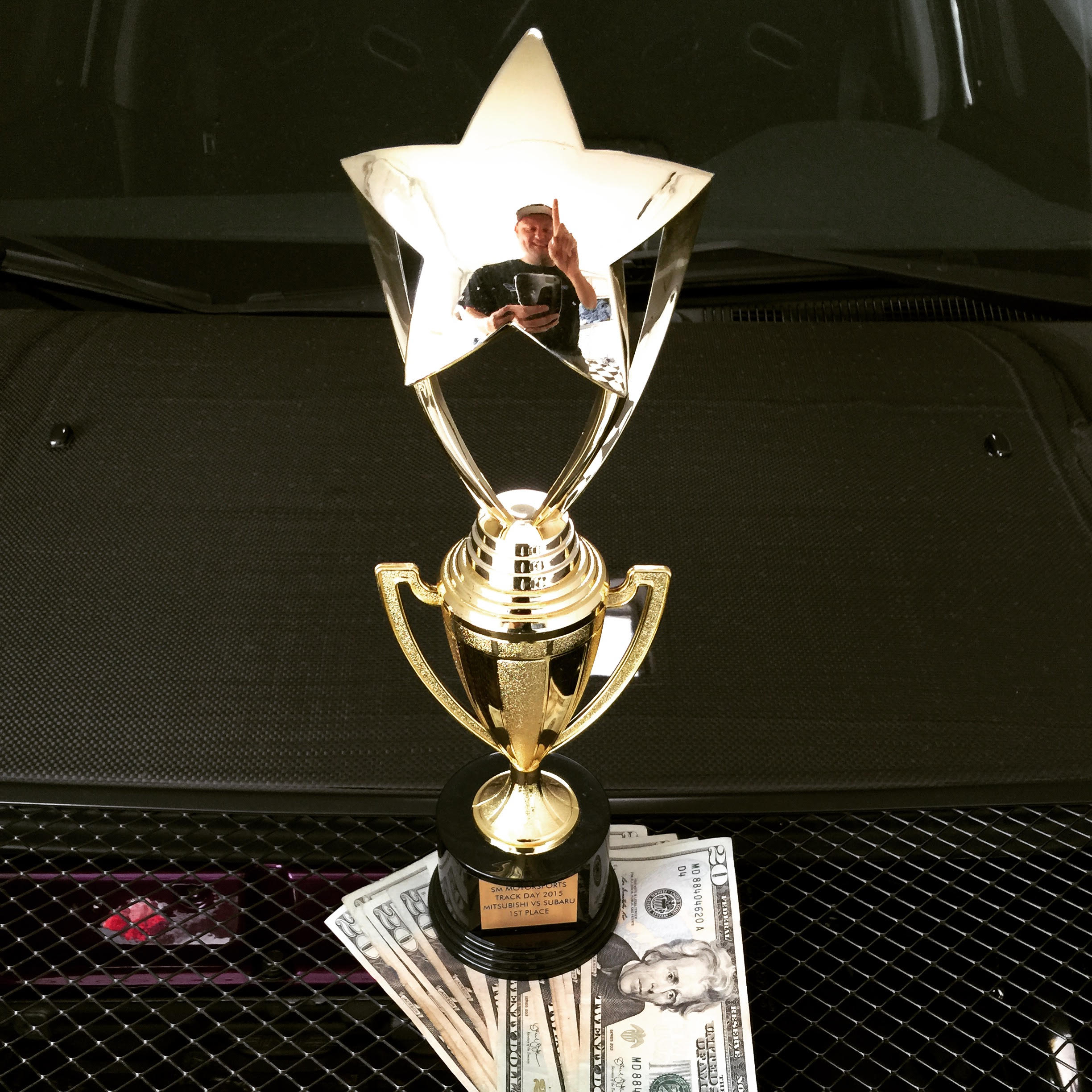 At the end of the event, Dave took home the 1st place trophy along with a small prize of $300. It was a hot,humid day and FAR from as smooth of a track as Summit Motorsports Raceway where he ran his personal best of 9.48@159mph, but another 1st place win along with now more than 40 passes on the new setup so far this year.
"The way I figure it if I can get the car too run ok at a track like this, then it will run great anywhere else!"
We're proud to have Dave as a long time customer and friend of the shop, and running our EVO VIII parts throughout the years. His passion for improving and dialing in his remarkable street EVO VIII is unrivaled as he just might show up at any drag strip anywhere in the Midwest to test out his car. Just another reason why he's so well recognized in the Evo community.