We know there's a fair number of GT-R owners only interested in bolt-on upgrades for their R35 GT-R. Let's face it, not everyone wants the power of an Alpha 9 GT-R or higher model Alpha package. Here are four Alpha bolt-on upgrades you can do over the winter to improve the performance and overall quality of your GT-R. What's even better – these parts can be retained if you choose to upgrade to a fully-built Alpha 9 GT-R later on down the road!
Alpha GT-R Widemouth Downpipe & Midpipe/Catted Midpipe


Our combination of downpipe and midpipe reduces exhaust back pressure nearest to the turbos where it is needed most.
The Alpha GT-R Widemouth Downpipe is the best-selling quality downpipe on the market for the R35 GT-R and for good reason. This downpipe was designed and manufactured at AMS to promote optimal exhaust flow. Developed using CAD 3D Software, we reduced backpressure at the inlet by implementing smooth cast inlets and outlets along with a 90mm (3.5") primary pipe. The result is improved spool time and throttle response.
Next down the line, the Alpha GT-R Midpipe or Catted Midpipe reduce backpressure even further by feeding exhaust gas from each downpipe into a large 3.5" primary pipe. The standard midpipe without catalytic converters offers a more aggressive exhaust note while the catted version keeps you in compliance with state and local emissions regulations with no notable loss in horsepower.
Unlike many GT-R catted midpipes out there, our special GESI racing catalytic cores are free-flowing and are designed for forced induction. We incorporated GESI catalytic converters into our midpipe because of their high quality and ability to withstand hotter temperatures without degrading or falling loose over time.
Alpha GT-R Front Mount Intercooler Kit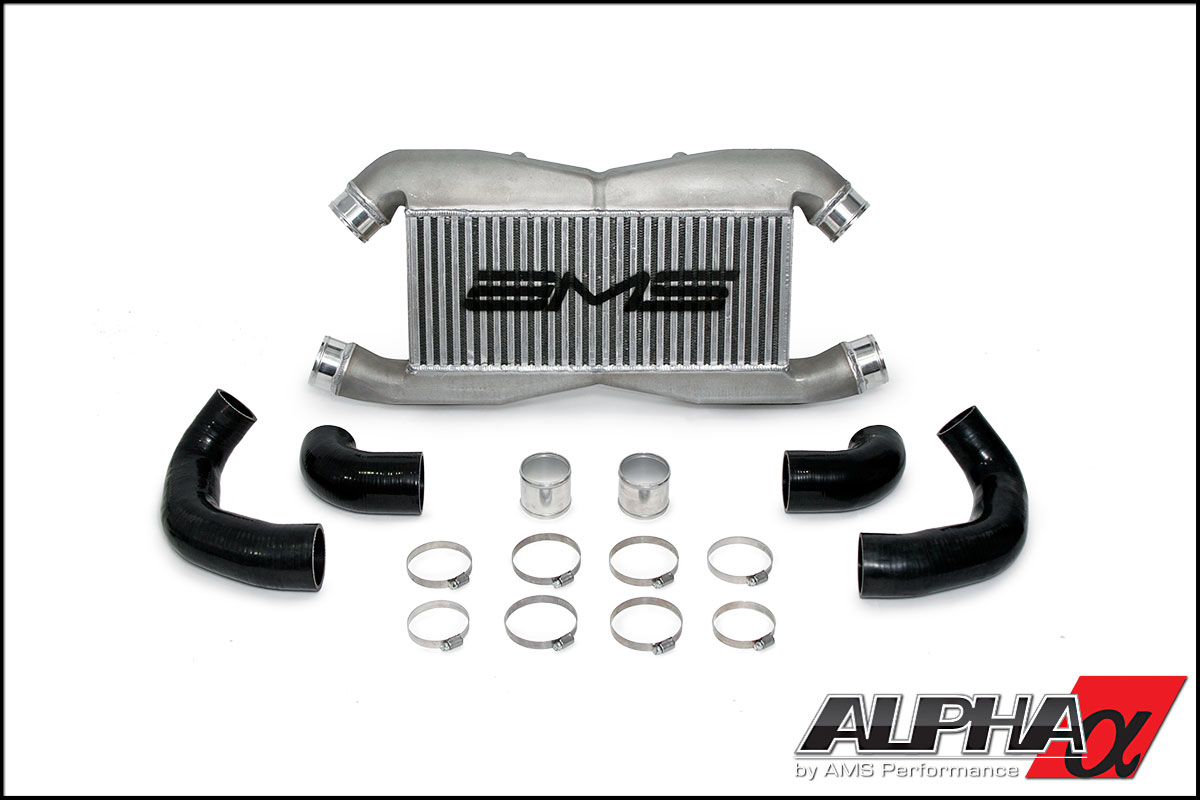 With over 75% more internal flow than the stock two-piece intercooler, the Alpha GT-R Front Mount Intercooler Kit provides enough boost cooling for GT-Rs up to 1000HP and is tested up to 50psi of boost pressure. It offers perfect fitment and requires absolutely no trimming or cutting for installation. Cast aluminum end tank design maximizes air flow and air flow velocity. With it, you will benefit from improved and consistent horsepower gains pass after pass.
Alpha 7 R35 GT-R Performance Package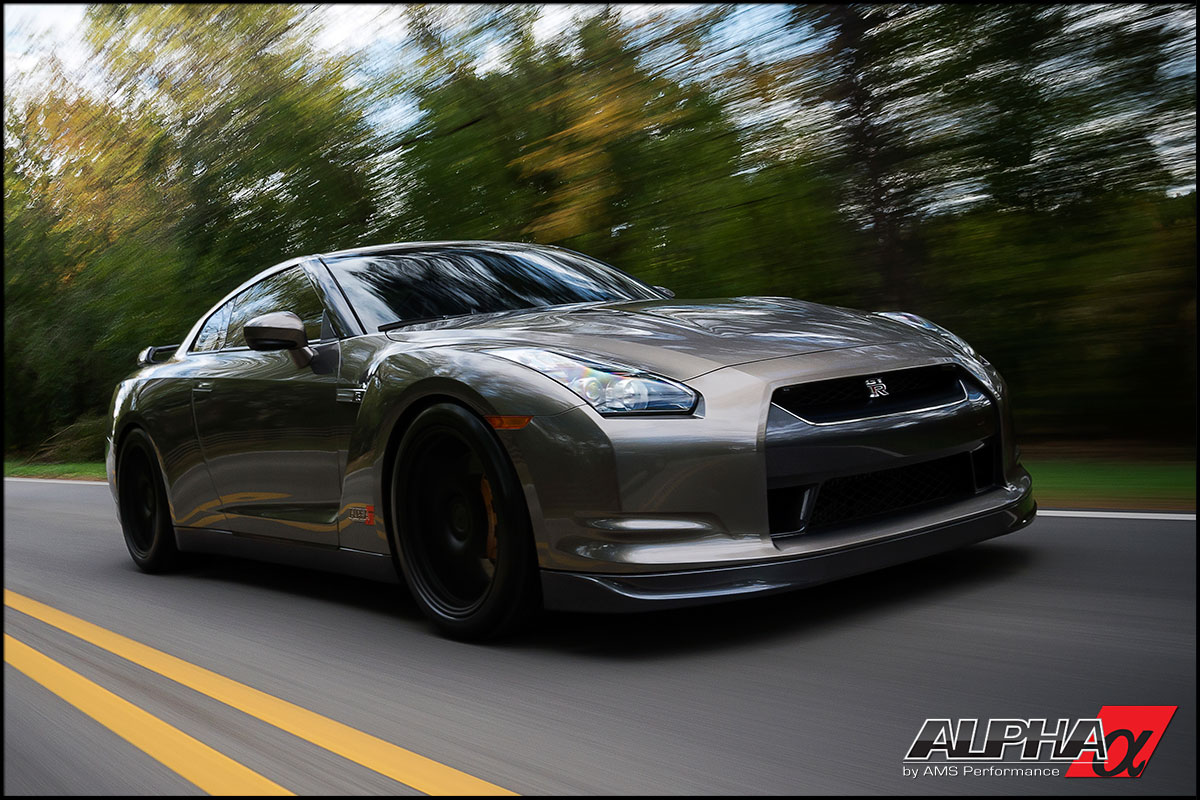 If you want a complete bolt-on system, the Alpha 7 GT-R Performance Package consists of the Alpha GT-R Downpipe, Midpipe and Front Mount Intercooler Kit (already mentioned in this article) along with the Cobb AccessPort V3, Alpha Calibration Map, Cobb Big SF Intake System, Injector Dynamics 1000cc Injectors, and HKS Legamax Exhaust* . This is our premiere full bolt-on upgrade for the GT-R which will improve throttle response, acceleration, powerband and will net you 700HP on 93 octane pump gas! Install an Alpha 7 Performance Package and call it the day! With it, you have the ultimate bolt-on setup for the street, strip and road course.
Almost all Alpha 7 components can still be used when upgrading to an Alpha 9 Package. Also, Alpha packages and parts will give you the best resale value if you choose to sell your GT-R later on.
*optional Akrapovic exhaust system available
Alpha GT-R Coolant Expansion Tank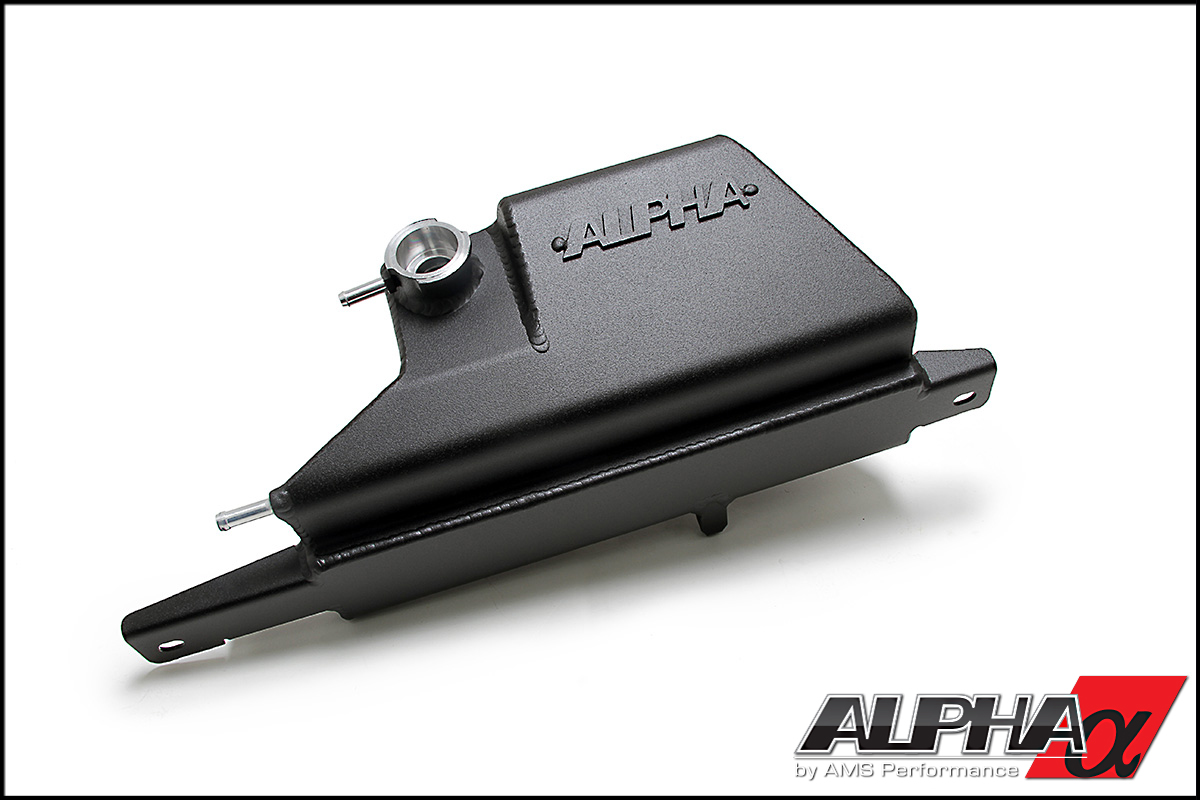 The OEM coolant overflow tank is probably the most unsightly component within your GT-R's engine bay. By simply replacing it with an Alpha GT-R Coolant Expansion Tank, you increase beneficial coolant capacity by 50% over the stock tank. Made of 100% aluminum and powder coated in black, it resists staining and will not warp or become brittle over time.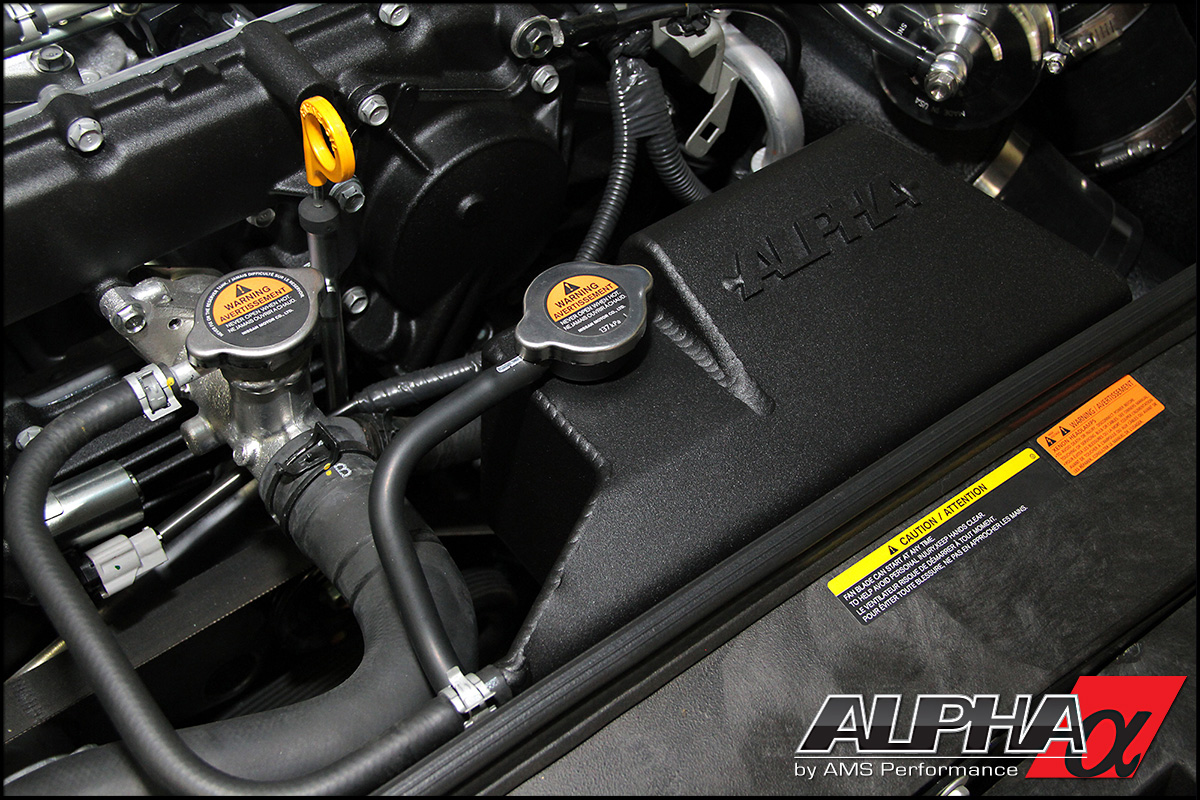 Alpha Quality Craftsmanship with Dealer Support Worldwide!
The winter months are a great time to upgrade! With our support or help from one of our over 250 dealers worldwide, now might be the perfect time to take your GT-R to the next level! If you have questions regarding our products, please send us an email: sales@alphaperformance.com  or contact your nearest Alpha parts dealer.