All too often being gearheads, we get wrapped up in what seems important only to be reminded of how trivial our little hobby can be in the grand scheme of things. We all take great passion in what we do, but every now and again we are brought back to earth and shaken to our very core. This is one of those times.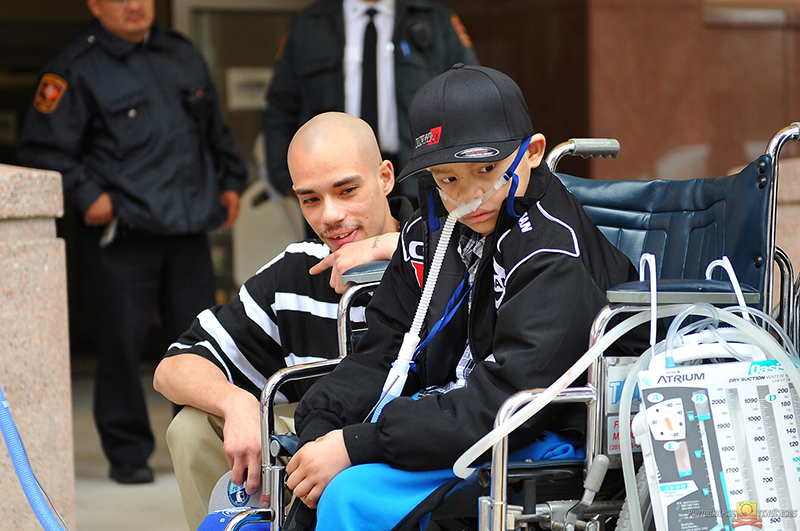 In Texas, nine year old Lazaro had been battling Osteosarcoma – a bone cancer for quite some time. The great people at the Make-a-Wish Foundation heard of Lazaro's terminal condition and wanted to do something wonderful for little Lazaro. What was his wish you ask? To be in a Nissan GT-R! Even before his diagnosis, Lazaro was a GT-R nut and his one big dream was to own and be in a GT-R. This is where ALPHA 16 owner and friend Mike C. came into the picture. Make-A-Wish contacted the local track, MSR Houston, looking for a GT-R owner. Immediately, Mike came to mind. Mike was contacted to take Lazaro out in his track-prepped GT-R for a short trip around MSR's facilities.
As the day grew closer, Lazaro's condition deteriorated.  A track ride-along would not be possible. Determined to give him his wish of being in a GT-R, Mike decided he would go to the hospital in his ALPHA 16 and get Lazaro in the car.
Friday February 28th, Mike was set to bring his GT-R to MD Anderson Cancer center to meet Lazaro. His condition had worsened yet again and everyone was fearful that he might not be able to come down curbside to see the car. Barely conscious, Lazaro was told there was a GT-R downstairs for him. Like a lightning bolt he shot up! The nurses said they had not seen him with that much energy in weeks!
Lazaro's family and the hospital staff wheeled his bed down curbside where Mike was waiting for him in his ALPHA 16 GT-R. Before anyone could act, Lazaro already started to climb out of his bed on his own. After introducing himself, Lazaro politely asked if he could sit in the GT-R. Of course, Mike obliged and got Lazaro all strapped in the passenger seat of the car.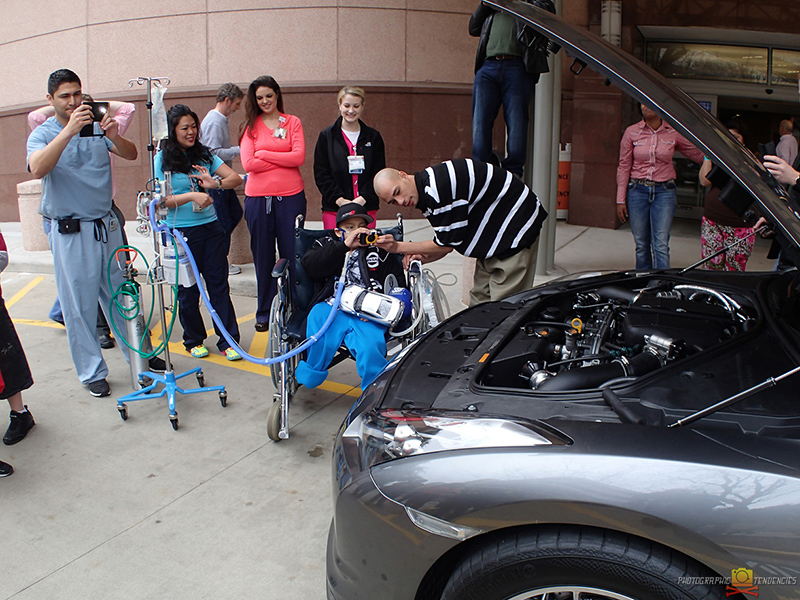 Inside the car, Lazaro lit up. Mike walked him through the touch screen and all the performance aspects of the car. At one point, Lazaro closed his eyes and leaned back a bit. Mike asked "Are you ok buddy?" Lazaro responded "Yes sir, I'm just a little tired. Can we stay here for a little bit?" Mike started telling Lazaro how fast the car was and now that he sat in it, it would be even faster. Lazaro responded with a huge smile! Before going back inside, Lazaro had one more request…to see the engine. A gearhead even at only 9 years old. As Lazaro and Mike said their goodbyes, they were both changed forever.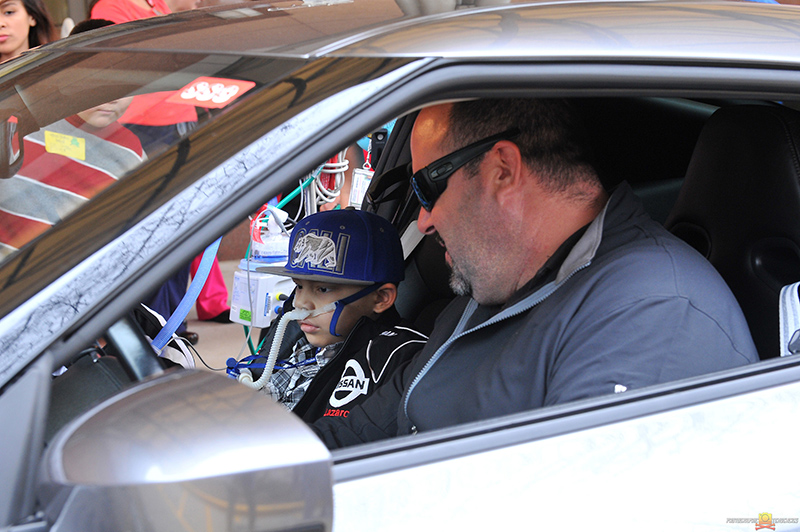 The following day, Saturday March 1st, Lazaro lost his battle to cancer. We are all devastated by this and our hearts go out to all the family and friends of Lazaro. Mike and the Make-A-wish foundation did a great thing for Lazaro. It honestly meant the world to Lazaro to see a GT-R up close and sit in one such as Mike's.
Sadly, there are kids all over going through similar tragedies like this. The Make-A-Wish Foundation grants nearly 500 wishes a year in the Texas Gulf region alone. These wishes are not without their costs. On average, a wish sets the foundation back about $6500.00. This is where all of us can help.
AMS Performance will be starting off with a donation of our own. Please join us by making any donation…big or small to the:
*Make-A-Wish Foundation – the Texas Gulf Coast and Louisiana Chapter or your local chapter at wish.org.
Your donation will help children like Lazaro. Let's see how many wishes we can grant by working together for this great cause. Thank you and God bless!
Special thanks and prayers to:
Lazaro's family, may your hearts mend and Lazaro's memory live on forever.
Mike C. for your generous donation of time and comforting words.
Anita Cook and Julie Baldwin from the Make-A-Wish foundation for doing what you do every day.
Tre Ridings for his wonderful photography donation to help bring to light Lazaro's story.
The Staff at the MD Anderson Cancer Center for their support.
Phillip Hurston of MSR for his donation of the rc car and contacting Mike.
Tony Gonzalez for his additional photos (not shown here).
All the wonderful past, present and future donators to the Make-A-Wish foundation.