AMS Performance offers high quality products for a number of high performance forced induction vehicles. Here are our most popular AMS/Alpha parts by vehicle make sold this year so far – many of which are simple bolt-on upgrades that offer excellent performance benefits and can be easily installed.
Alpha Audi S4/S5 (B8/B8.5) Supercharger Cooler System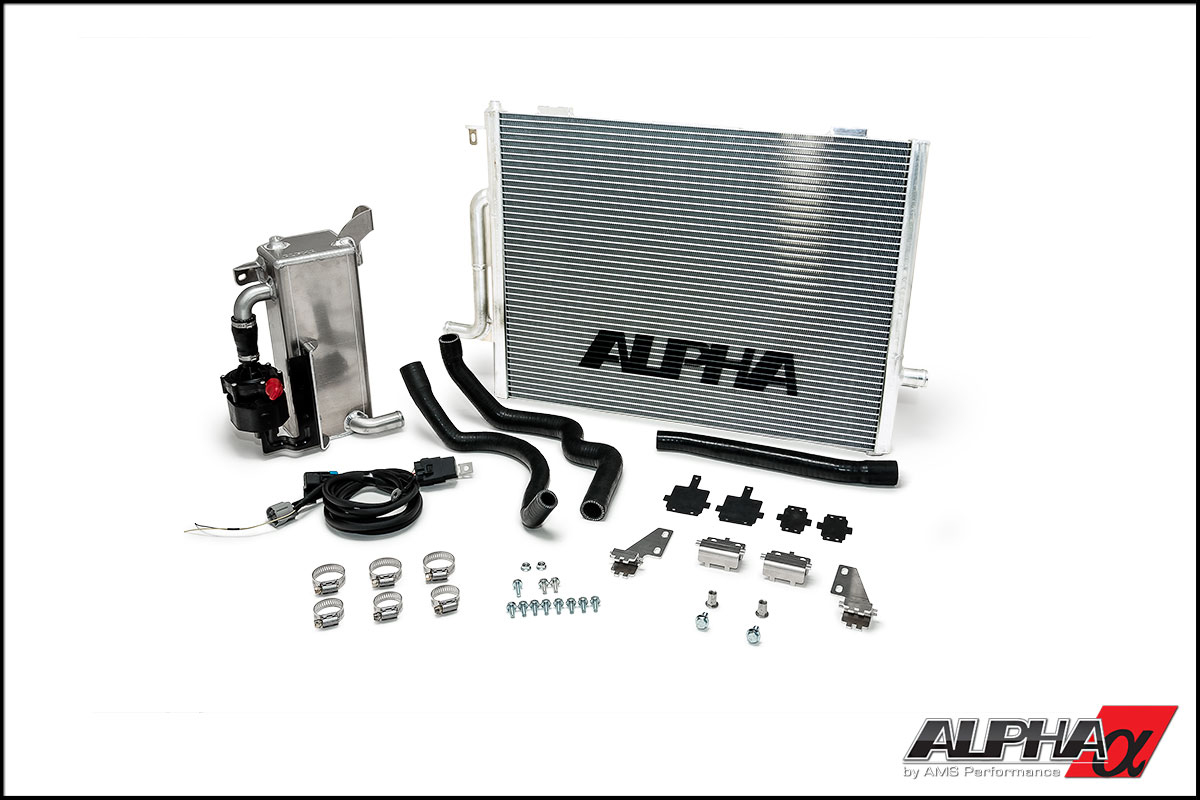 Our recently released Supercharger Cooler System for the Audi S4 / S5 (B8 / B8.5) offers a number of features that can't be found on any Audi S4 or S5 coolant performance system currently on the market. Aside from the OEM quality fit and finish, newer model Audi S4 and S5's will benefit from our more efficient Alpha triple pass heat exchanger core, brushless water pump, large (over 1 gallon) coolant reservoir, and plug-in jumper harness for added ease of installation. Is your S4 or S5 feeling a bit sluggish in the heat? The Audi S4 / S5 Supercharger Cooler System will keep you running cooler boost temps and maintaining power and acceleration in warm weather conditions over extended periods of operation.
Alpha BMW M5 / M6 Downpipes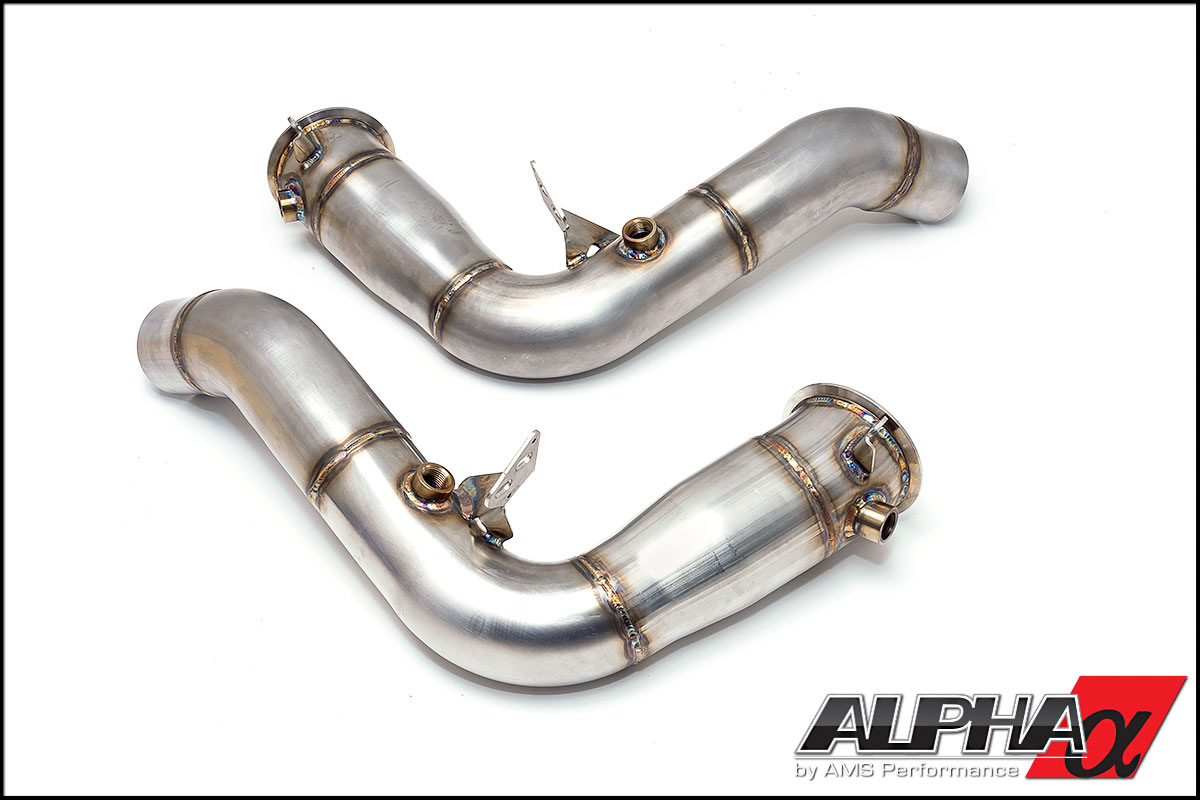 Available in both catted and non-catted versions, the Alpha BMW M5 / M6 Downpipes offers an incredible improvement over the restrictive stock pipes. By incredible, we mean 69 horsepower and 63 ft-lbs of torque with the non-catted version and that's without a tune! (Slightly less with the catted version). Constructed 100% of 304 grade stainless steel, our downpipes were designed to last the lifetime of your BMW!
Expect even more with our soon-to-be released Alpha M5 / M6 ECU tune!
AMS Mitsubishi Evolution X Widemouth Downpipe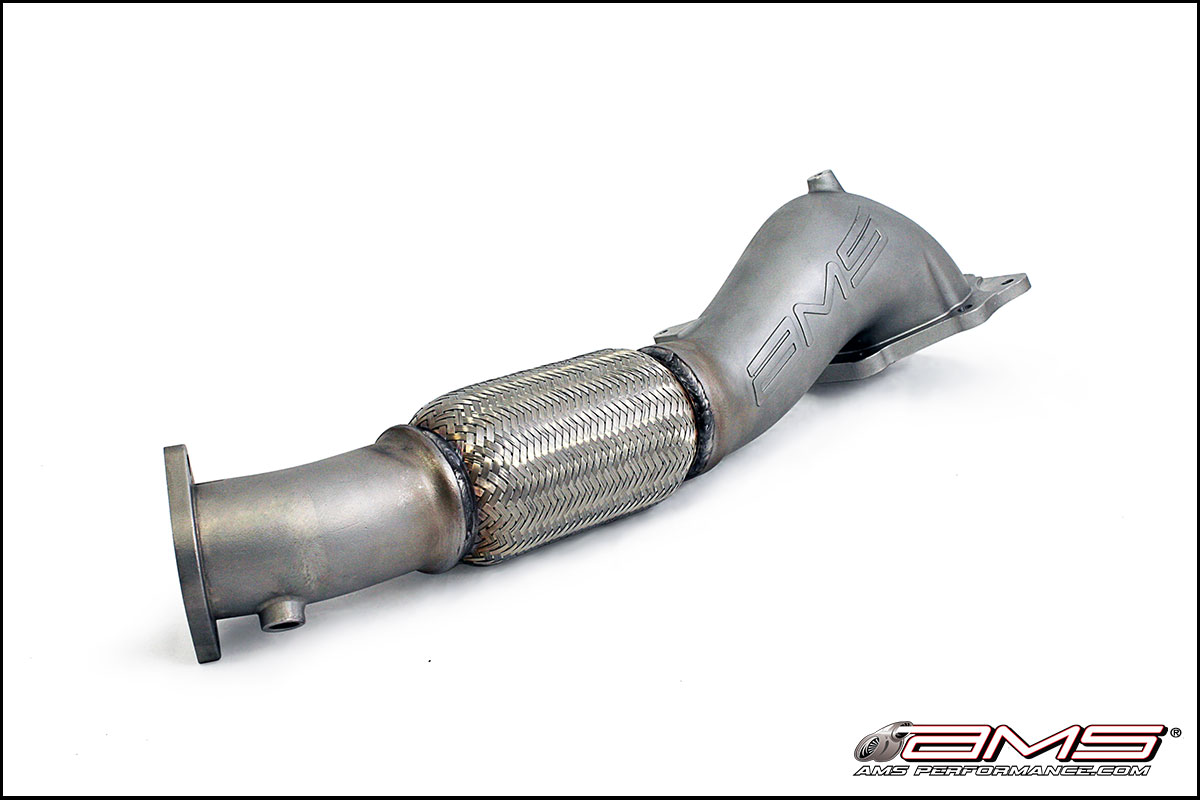 The AMS Mitsubishi Evolution X "Widemouth" Downpipe is hands down the best-selling high quality downpipe you can find for the EVO X and for good reason. Sturdy cast stainless steel 02 housing and outlet pipe in addition to a large, high flow flex section provide you with the best dimensions for performance. Using a CAD designed cast o2 housing, we were able to obtain every angle we wanted for maximum flow and perfect fitment. This downpipe provides more than enough flow for anything from stock to the biggest upgraded turbos available making it the last one you will ever have to buy!
Alpha Nissan R35 GT-R Downpipes

For unmatched power, durability and sound, choose Alpha Performance R35 GT-R Downpipes. The best-selling high quality downpipes for the Nissan R35 GT-R were designed to significantly increase horsepower and torque while reducing turbo spool-up time. 100% 304 stainless steel construction and TIG welded by hand at AMS, our downpipes will last the lifetime of your GT-R if not longer. Inlet and outlets are casted to maximize volume within the tight confines surrounding the engine's bell housing. Thicker flanges ensure a tight fit without leaks. Accept no imitations, Alpha GT-R Downpipes are the most recommended pipes on the market and make a profound statement as part of any upgraded GT-R!
Alpha Porsche 997TT Intercooler System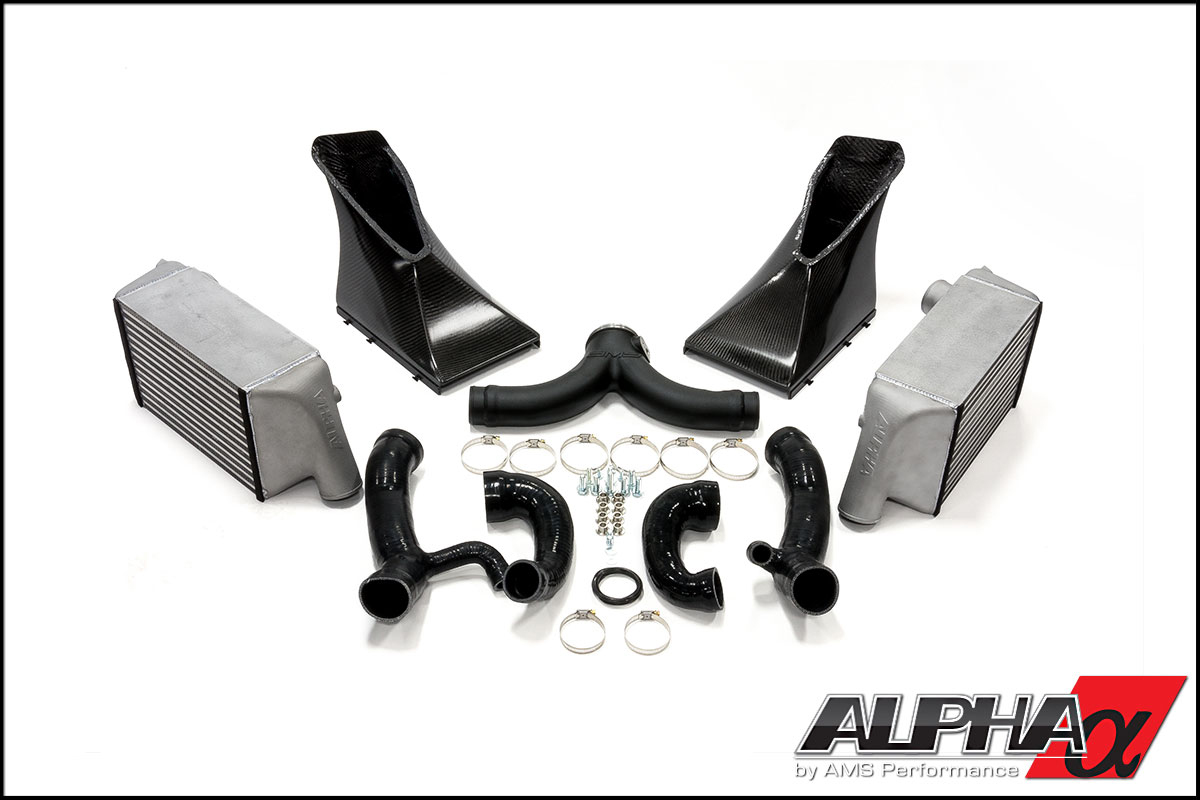 The largest production intercooler system for the Porsche 997.1TT and 997.2TT are also the nicest looking and best performing ones you can find! The Alpha Porsche 997TT Intercooler System offers an unrivaled fit and finish and is able to support the highest horsepower builds in existence. Unlike some intercooler kits out there, our system retains full use of the stock intercooler inlets in front of the rear wheel wells – channeling cool, dense air through carbon fiber shrouds. These shrouds fit snug against 5.5″ thick intercooler cores leaving no air gaps. Smooth flowing cast end tanks of the intercoolers ensure efficient transition of charged air to the cast y-pipe. The entire system truly eliminates bottle necks and undesired turbulence that would otherwise inhibit performance.
AMS Subaru STI/WRX Front Mount Intercooler Kit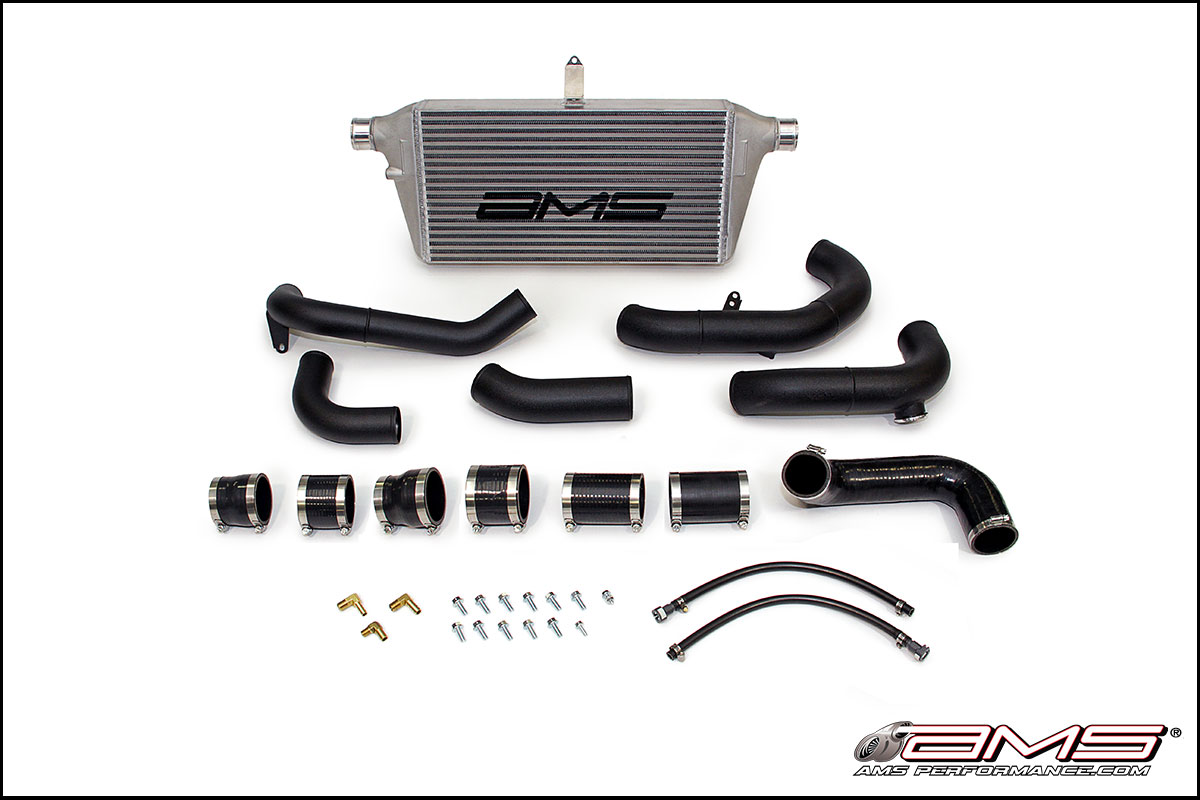 Able to support up to 800 horsepower and 160% larger than the stock intercooler, the AMS Subaru STI/WRX Front Mount Intercooler Kit goes beyond the competition to ensure quality and performance. Day and night compared to the stock top mount intercooler, our kit provides 1250 cfm of charged air flow with only 1 psi of pressure drop at 800hp! Features include cast end tank intercooler design, 4-ply reinforced silicone couplers, superior mounting provisions and fastening hardware as well as 2.5″ black powder coated 6061 grade intercooler piping.