The All New ALPHA 10X, 12X & 16X R35 GT-R Turbo System
Back in 2009 we set out to make the best Nissan GT-R twin-turbo system upgrade on the market. Over the next 3 years the ALPHA 10 and ALPHA 12 kit proved to be the world leader in aftermarket performance for the GT-R. Then you wanted more.
From there we modified our existing 10 (30R) and 12 (35R) kits to accept an even larger 70mm based billet turbocharger. With this we introduced the ALPHA 16 Turbo System which is still is considered one of the best big horsepower turbo kits on the market. The ALPHA line of turbos kits has set more records and put more smiles on GT-R owners faces than any other aftermarket kit on the market…still you wanted more.
Enter the ALPHA X Turbo Upgrade for the R35 Nissan GT-R. Knowing what we now know about the goals and aspirations of our GT-R customers we set our engineers loose on a kit that would redefine performance for the GT-R. The goals were simple…make more power but keep the power band where it needs to be. This was a daunting task but our engineers delivered!
The All New ALPHA X Series R35 GTR Turbo System
The new X kits are a total transformation from the widely popular AMS Performance ALPHA 10, 12 and 16 turbo kits. Quite literally every part of the kit is now improved. From the exhaust header to the intake to the downpipe, the kit was designed to pull more air in and get more air out making more horsepower than before.
The process starts with our totally redesigned tubular exhaust manifold. Gone are the 1.5" internal diameter runners found on the ALPHA 10 and 12 kit. 2.0″ external diameter runners (1.7" internal) feed the new ALPHA X line turbo kits. They are not just larger but designed in way to feed the exhaust gasses as efficiently as possible to the new X line turbos.
Garrett GTX Based Turbochargers For Maximum Horsepower
The new X line turbochargers don't just make more power but do so with no loss in spool vs their standard ALPHA 10 and 12 counterpart. By implementing proven Garrett GTX based billet ball bearing turbos we have successfully delivered you more horsepower throughout the entire powerband! These turbos also are able to sustain higher boost levels.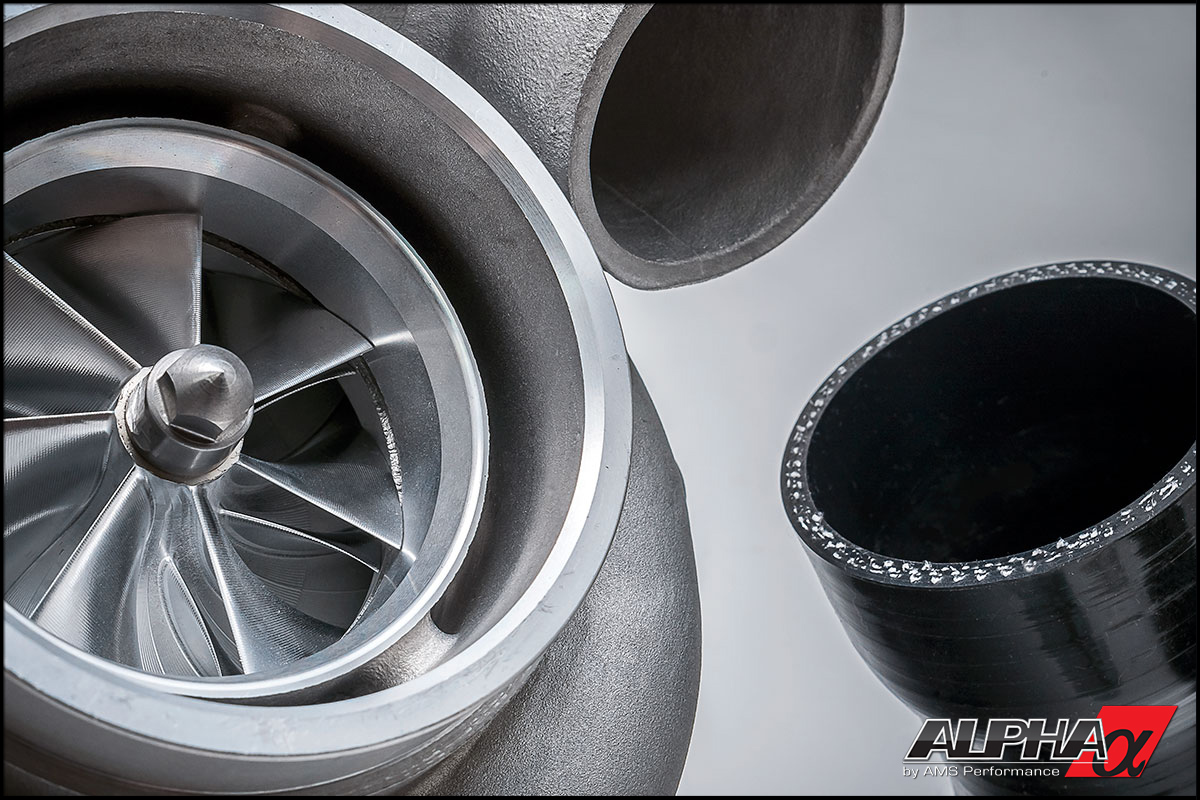 Custom ALPHA 4″ Compressor Covers And Other Improvements
To further improve power output we designed new custom casted 4″ ALPHA compressor covers. The new cover increases the compressor inlet size from 3" to a full 4" cover. The compressor discharge is also not only larger at 2.5" vs 2" but the routing of that discharge was maximized with a super smooth radius to allow the best possible flow given the space constraints of the GT-R. This is then fed into our high velocity cast 2.5" to 3" lower intercooler pipe. This new pipe offers you a drastic improvement in airflow vs its predecessor and transitions with the highest efficiency into 3" intercooler piping.
Massive 4″ Carbon Fiber Intakes
That large 4" turbo inlet needed some more air to feed it. Anyone that has worked on a GT-R knows how tight it is trying to get 4" piping to a 4" compressor cover on a GT-R. Thankfully here at AMS we have the best resources available. By thoroughly laser scanning the confinements of the engine bay and designing the intakes in Solidworks CAD (computer aided design) software, our engineers were able to develop an organically shaped carbon fiber intake pipe to utilize all of the space available. While unconventional in its shape it has an actual 4" cross sectional area throughout the entire pipe to deliver all the necessary air to the ALPHA 10X, ALPHA12X and ALPHA 16X turbo kit.
Motorsports High Temperature, Polished Carbon Fiber Piping
Typical clear coated carbon fiber used in this industry would discolor (turn yellow) and deteriorate over time if used in this application. To get around this we sought out a high temperature polished alternative found in hard-core motorsports applications. This Hi-Temp, PrePreg material features 3-layers of 1mm Twill Weave which will sustain a 240C temperature threshold while maintaining structural integrity and maintaining aesthetic appearance without discoloration.
3.5″ Titanium Downpipes
As another improvement we have added the option of a 3.5" (90mm) Titanium downpipe set that will perfectly match to our upcoming 102MM ALPHA Titanium Exhaust.
100+WHP Gains Over Previous Turbochargers
Preliminary testing of these new X turbos with our prototype kits without the benefits of the new compressor covers, 4″ intakes or larger downpipes have already shown a 100whp increase on the 10X vs the 10 and over 125whp increase on the 12X vs the 12. With the turbos alone we've seen 1200+WHP with the 10X and 1500+WHP for the 12X. All this is accomplished without sacrificing anything in terms of spool up time or power delivery. The future truly is now!
No Cutting Frame Rails, Works With A/C, Power Steering
Typically when you reach 1700+HP levels drastic measures must be taken such as cutting frame rails, losing air-conditioning etc… We developed the new ALPHA X Turbo Systems to directly bolt in without hacking up your prized possession!
Conclusion
What this all translates into is a turbo kit using the latest technology that offers the same turbo spool up characteristics, reliability and perfect fitment that you have come to love about ALPHA R35 GTR Turbo Kits with even MORE VR38 POWER!!
Production for these kits are already well underway and a release date of early March 2016 is scheduled. For more information please subscribe to our blog and follow us on all of our social media channels.