AMS Subaru STI/WRX Turbo Kit Produces Results
At AMS Performance, there's no doubt that our regard for producing the highest quality, best performing parts on the market transcends throughout every make and model we work with. We make no exception to this when it comes to manufacturing parts for the Subaru STI.  This was recently proven when AMS Performance New Jersey dealer, Prime Motoring, ran an incredible 9.68@147mph ¼ mile pass in their full weight 2015 Subaru STI using our AMS Subaru Rotated Mount 950 R V-Band Turbo Kit.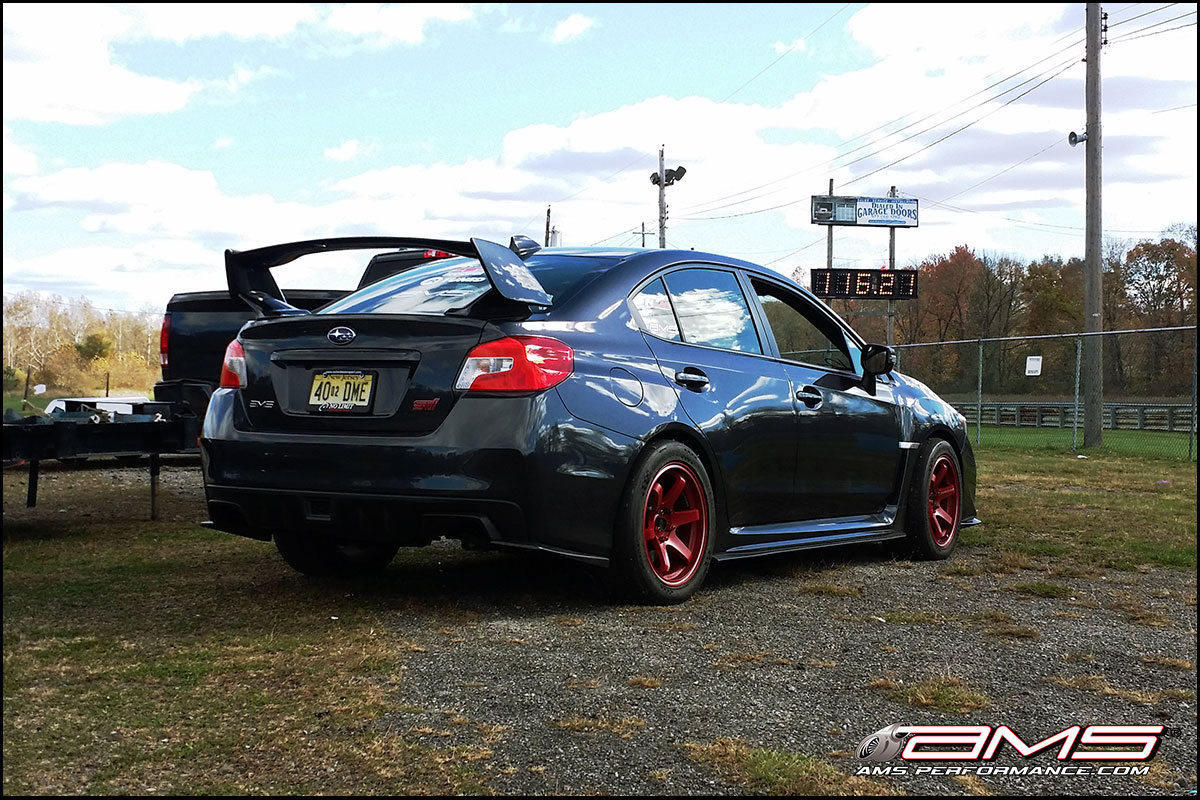 Really, there's no secret to such levels of performance. The key has always been developing parts that provide a vast improvement in efficiency and longevity over the factory OEM parts. An AMS Subaru Turbo Kit will not only perform beyond your expectations, it offers a clean look and is designed to last the lifetime of your STI. When you combine this level of craftsmanship with a quality build performed by a reputable shop like Prime Motoring, the results as shown in the video are nothing short of spectacular!
AMS Subaru STI/WRX Rotated Mount V-Band Turbo Kit
Our AMS Subaru STI/WRX Rotated Mount V-Band Turbo Kits can be purchased with your choice of three different turbochargers. With power output ranging from 350 – 950 horsepower, we have just about every Subaru STI owner covered. It's an excellent choice because unlike many kits currently on the market that are difficult to install, our kits are intelligently routed, provide perfect fitment and are much simpler to install.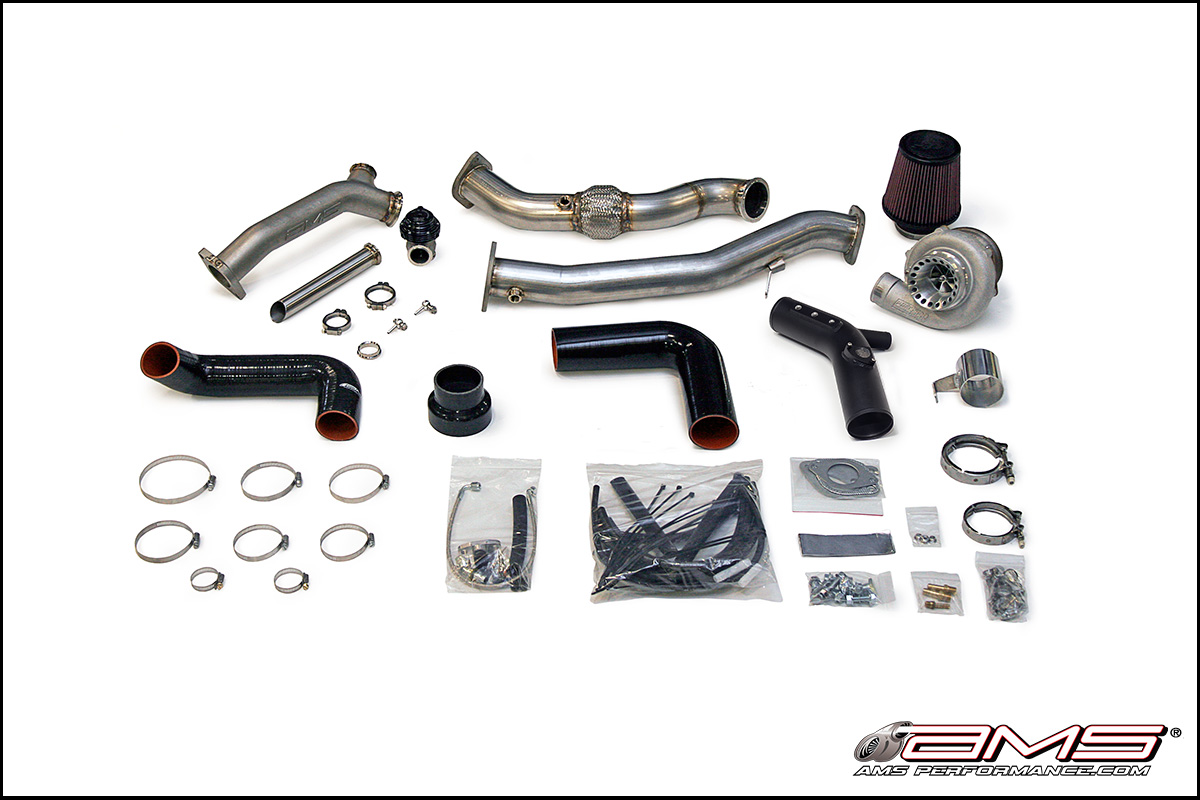 For their record 9.68 second pass, Prime Motoring opted for the 950R spec turbo along with the 4" Speed Density Intake option. This turbo and intake was chosen because it had the most potential for producing incredible horsepower and torque while retaining excellent spool characteristics – further enhanced by our AMS cast up pipe and stainless steel downpipe. Implementing CAD and casting designs, our Engineers have produced not only an extremely strong and reliable up pipe, but one that is not limited to the restrictions of a hand fabricated piece. Smooth transitions, optimal diameters for both up pipe and downpipe and a solid construction make these exhaust pieces key components to the AMS Subaru Rotated Mount Turbo Kit.
The AMS Subaru Rotated STI/WRX Rotated Mount Turbo Kit also comes in a 750R version for quick spooling road course response. It is also available in our 900X version for those who do a lot of drag racing but want better low to mid throttle response for the street. These AMS spec turbochargers are supplied by Precision Turbo with ported shroud compressor covers to prevent compressor surge.
Additional Features
2" ID rotated V-band cast stainless steel up-pipe for optimum flow and durability

5/8" thick flange on up-pipe to ensure a proper seal

Turbo support bracket maintains turbo kit reliability under any condition

304 stainless steel TIG welded construction

Lifetime Limited Warranty on the up-pipe

Wastegate feed strategically placed on the Up-pipe for precise boost control

10" stainless steel external wastegate dump tube

No gaskets needed for the turbo to up-pipe, up-pipe to wastegate or turbo to downpipe

Bolts up to any stock or aftermarket  header that fits the factory up-pipe

Downpipe fits AMS & most other aftermarket cat-back exhausts

Kit Utilizes 4 ply silicone tested up to 50 psi of boost!

New coolant lines for your coolant expansion tank for a clean engine bay

DEI heat insulation to protect OEM wiring from excessive heat

Kit includes ALL necessary fittings and hardware for installation

Class 10.9 fasteners & 4 ply silicone couplers. We use the best hardware and silicone so that it goes together right the first time
Kit includes:
Cast stainless steel Up-pipe

AMS spec Precision dual ball bearing turbo with ported compressor cover and Precision V-band turbine housing

Genuine Tial MV-R 44mm

Integrated turbo support bracket

AMS high-flow off-road test-pipe (high-flow steel core catalytic converter optional)

DEI Heat insulation for your electrical wiring

New lines for your coolant expansion tank

Stainless steel 3" downpipe with integrated Stainless steel flex section

Stainless steel oil feed line (fittings for both WRX and STI included)

4 ply silicone 2.5"" turbo outlet pipe, intercooler and intake couplers

Top quality hardware package including nuts, bolts, fittings and clamps

Detailed installation guide

.63 exhaust housing
As you can see, we take the manufacturing of our parts seriously. We also only choose the very best shops to represent our products.  If you take pride in owning your STI, why compromise on your build? Look no further than AMS Performance and one of our reputable dealers throughout the world. If you live on the East Coast, USA, we certainly recommend Prime Motoring to help you out!

Prime Motoring
411 Railroad Ave #1
East Rutherford, NJ 07073
Ph: (201) 935-2910
Email: info@prime-motoring.com