With the tremendous success of our Alpha Performance Porsche 997.1TT Intercooler System, we are pleased to announce the release of the Alpha Performance Porsche 997.2TT Intercooler System!

Porsche 997.2TT owners now have the opportunity to support their builds with the efficiency of our 5.5" thick intercooler cores, a 2.5" cast aluminum y-pipe, carbon fiber ducts and high strength custom 5-ply silicone couplers.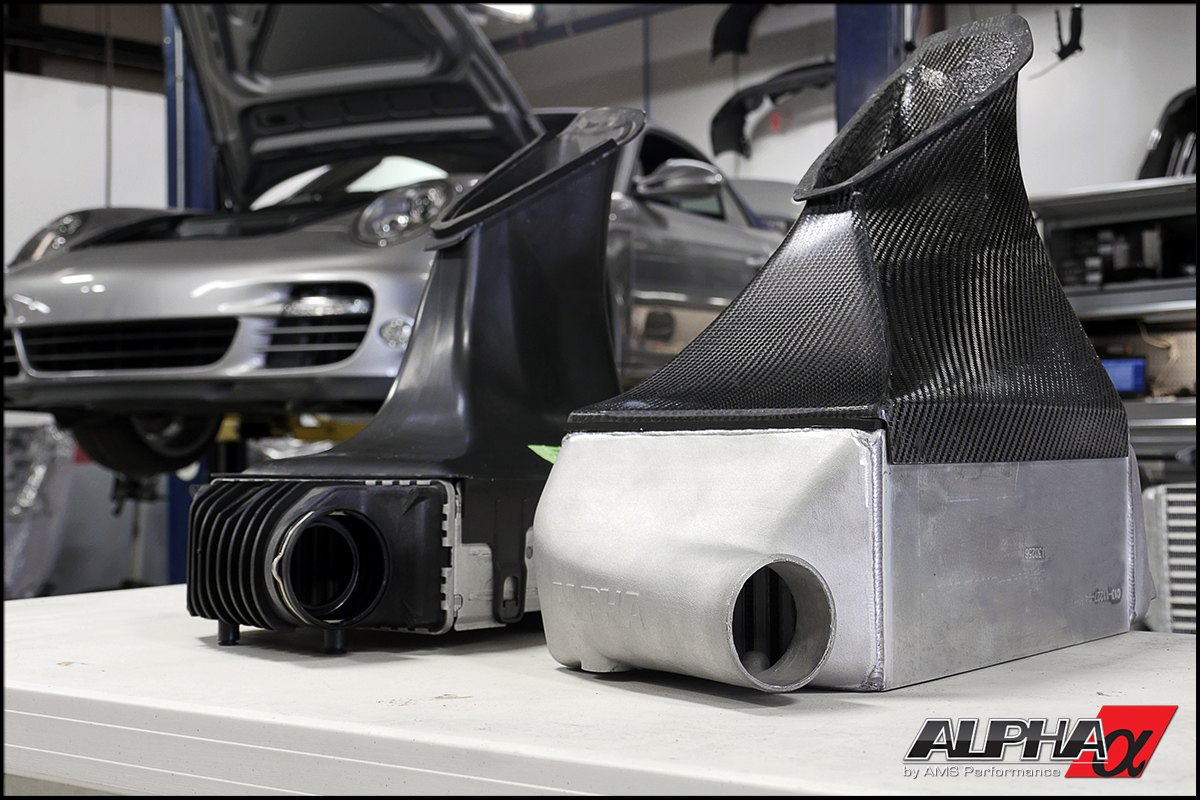 Just like the 997.1TT system, our 997.2TT system follows the same factory routing, drawing cool dense air from outside the vehicle and is designed to fit just like stock. With it, you can support over 1000 horsepower without the invasive modifications required by other intercooler kits on the market.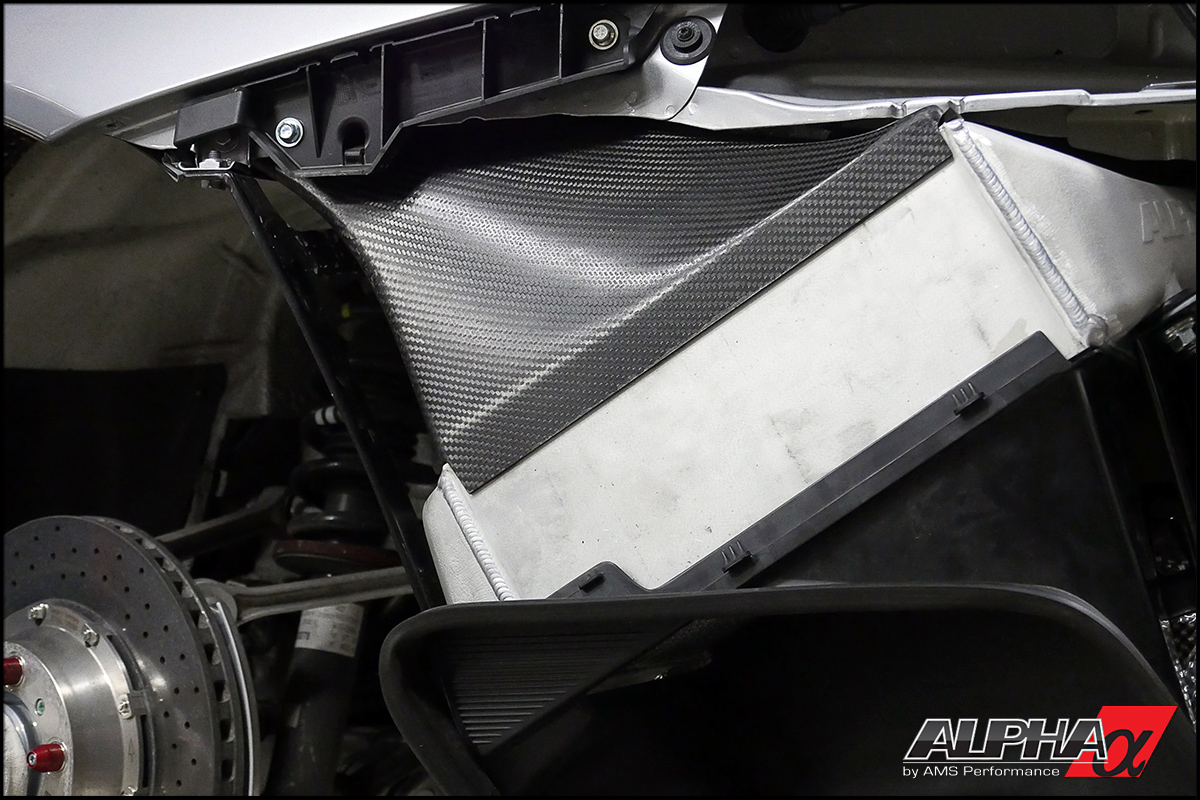 Massive reduction in intake air temperatures (IAT's)
A clean fit and quality finish is exactly what you have come to expect from the Alpha Performance line by AMS, but so are the numbers! Below is a side-by-side intake air temperature (IAT) comparison with the stock intercooler system done on the same day using identical ambient air temperatures and air flow velocity on our Mustang dynamometer. Our test vehicle for this comparison is a mildly modified 997.2TT outfitted with an aftermarket exhaust system and Alpha Performance Tune.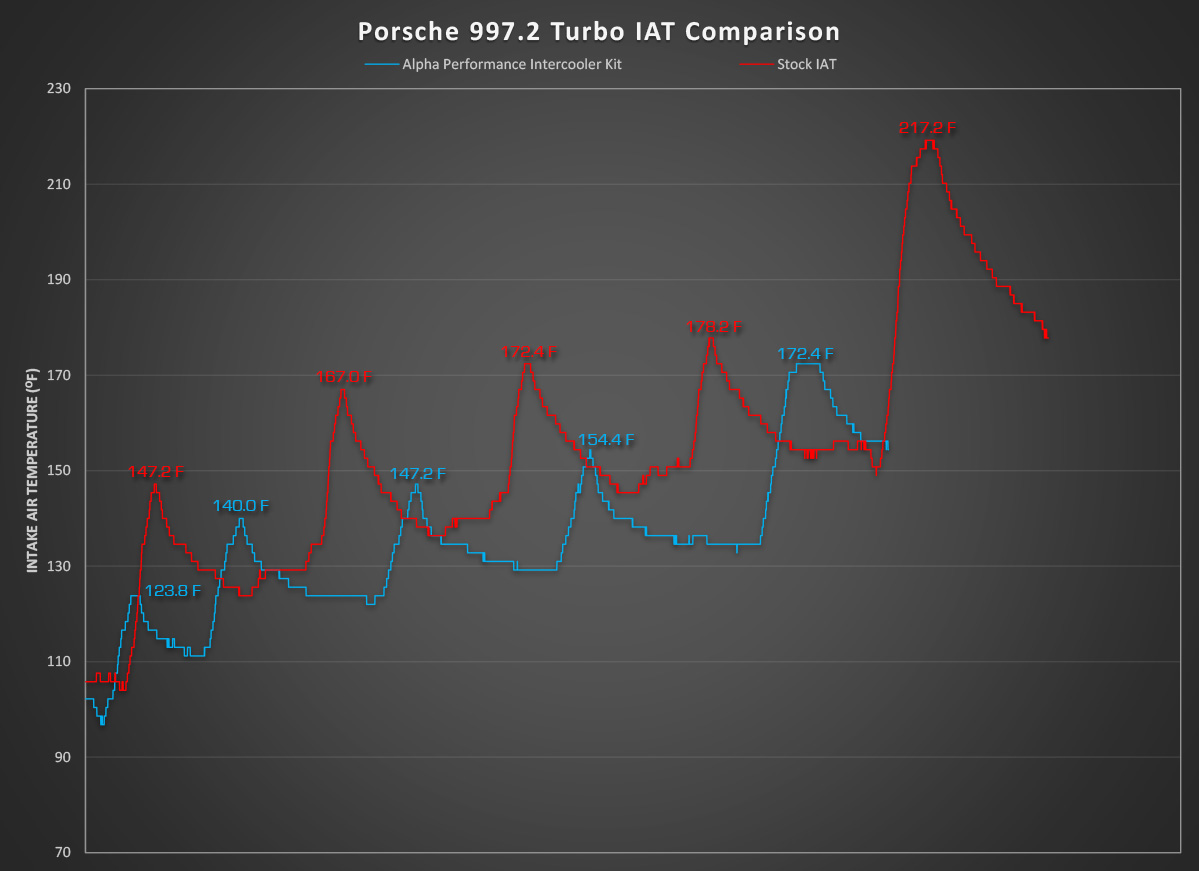 Our test vehicle experiences a remarkable decrease in IAT's throughout each gear with just the installation of the Alpha Performance 997.2TT Intercooler System.

Excellent gains throughout the entire powerband
Conclusive results indicate improved horsepower and torque gains throughout the entire powerband as can be seen in the graph below. Again, comparison testing was performed under the same ambient air temperatures with all other climate conditions being equal – all tested within hours apart!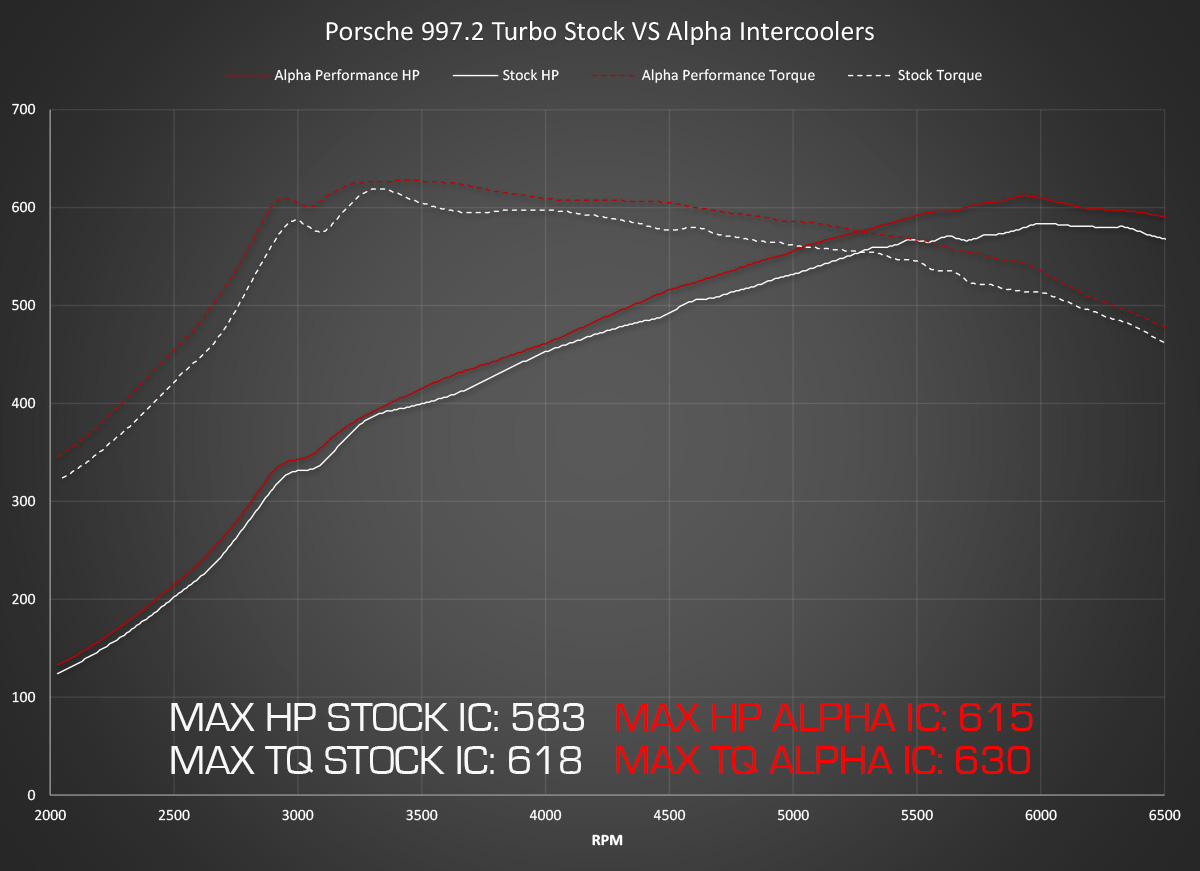 Maximum horsepower increase with the installation of the intercooler system resulted in a 30+hp gain with notable gains throughout the rpm range, while maximum torque increase netted a 30ft-lbs gain at 5750rpm with similar gains at just over 3000rpm! No adjustments in the tune were made!
Even better, this system maintains cooling efficiency as more power producing upgrades are added to your Porsche 997.2TT! It improves the effectiveness of your other power upgrades and only gets better the more horsepower you make!

What makes our Alpha Performance Intercooler System the right choice?
Our system offers the largest production intercoolers on the market. Even so, it does not deviate from the original stock routing providing the excellent fitment and quality that you would expect from an OEM piece. Not to mention, the performance gains!
With its contemporary styling, it's certainly worth upgrading your 997.2TT's performance to meet or exceed that of the new Porsche 991 Turbo! Beginning with our Alpha Performance Porsche 997.2TT Intercooler System along with a custom Alpha tune and performance exhaust is a great way to start!
For images of the installation, click on the gallery below! To learn more about the Alpha Performance 997.2TT Intercooler System and to place your order, please visit this link:
http://www.amsperformance.com/cart/alpha-performance-porsche-997.2tt-intercooler-kit.html