An In-Depth Look at the AMS Turbo Kit
Written by AMS Performance
Manifold
Some of you might notice that some other turbo kits have larger diameter runners than our kit. Bigger is better right? In this case wrong. If you go top big on the diameter of the runners then all you are doing is losing exhaust energy and increasing turbo lag. This is because if the exhaust gas comes out of the head port and into a larger cross section area it slows down and the pressure changes, and as it meets back in the turbine it has to speed up and the pressure changes again (Bernoulli principle). The more the speed and pressure change the more energy is lost, giving our turbine less potential. Again these are things that we have tested in the past and why we use custom mandrel bend tubing to our specifications rather then much cheaper cast weld-els which are available in very limited sizes. Our Manifold has forged transition pieces that take the oval port of the head and transition it to the round runners. This smooth transition is better for flow. We've also tested a lot of variations of our turbo kit back in 2003. It took us over 6 months of testing out kit to finalize our design. We've tried different collectors, bend angles, etc. and what we came up with fit the best in the car and performed. The angle of our merge collector is what it is because it doesn't hurt flow and allows for better fitment of the runners.
O2 Housing
As you can see this is a very complex part that is expensive to manufacture. You have a turbine housing that now you custom machine and port, a more complex flange to make, and a proper wastegate dump tube with a double slip fit joint and return that is further downstream as to not disrupt post-turbine gas flow. The header, turbine housing, wastegate piping, and o2 housing all heat up at different rates and grow differently, as the car goes through thermal cycles this needs to be addressed because it can cause a failure. Our design allows for this and can take years of punishment and thousands of road racing miles (like our Time Attack car). Just look at Burns Stainless site and see what they say about double slip fit. Their stuff is used on many pro race teams and it's very expensive! If you do see any leaks it's because when the pipes are dead cold they sometimes allow some leakage and as soon as it heats up the joint expands to form a tight seal, that's how they work. It takes roughly 5-6 hours to make one of our o2 housing, it's very labor intensive.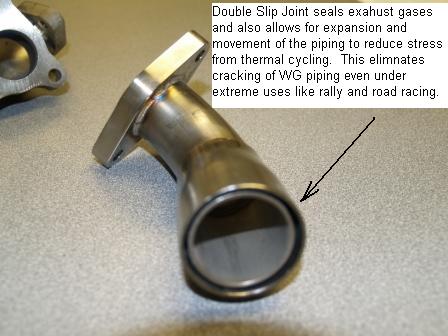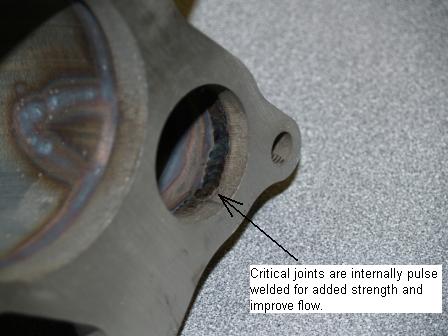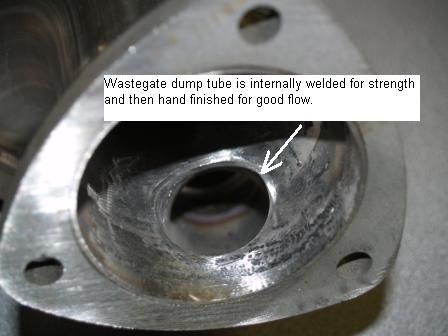 All of our flanges are surface ground flat, this ensures no leaks on the manifold or O2 hsg. Upon inspection, even after 1 year of 10+ events, testing, dyno, ect our kit on our time attack was sealed tight and mating surfaces were clean.
Downpipe
The downpipe incorporates a flex section, why you ask? Well the 4G63 in the EVO is a transverse mount, meaning the crankshaft is perpendicular to the direction of the vehicles motion. If you've ever seen an EVO on a dyno you'll notice how much the engine & trans (they are mounted together) rock back and forth under accel/decel. The factory OEM turbo setup used a ball & socket type swivel with a doughnut gasket on the o2 to downpipe transition. The downpipe is bolted up with some spring loaded fasteners to allow for movement between the engine and the exhaust system. The factory uses a heavy duty cast manifold and small turbo and it still uses this flex system and a support bracket! If there is no provision for this movement your turbo kit and exhaust system will want to rock back and forth together, putting a lot of stress on those part which will eventually lead to some sort of failure.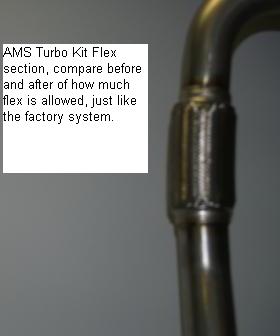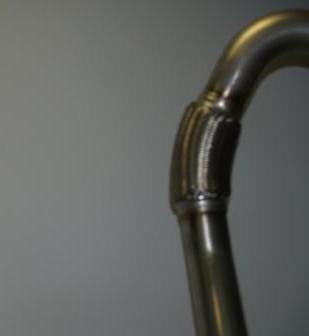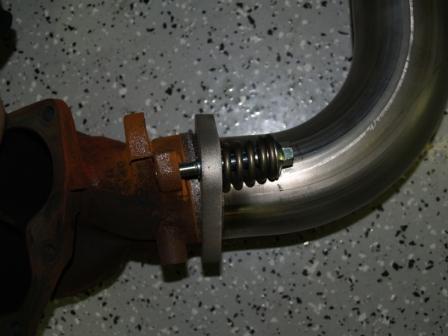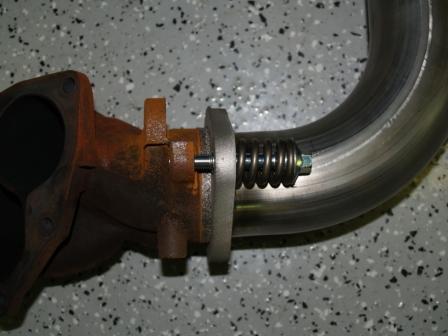 All the feed and return lines are high quality and high temperature material. Oil feed line is a s.s. braided teflon line. The oil return line is an Aeroquip industrial hose (not just rubber) that is multilayer and braided for strength and heat resistance.

Water lines
The water feed and return lines are 3ply braided silicone lines that will not burst and hold up to the most extreme applications (rally and road race)
Turbo Support Bracket
The importance of a turbo kit support bracket cannot be stressed enough! we've put over 3000 miles of road racing our time attack car and have had no issues with any cracks or leaks. Our kit even outlasted a Garrett GT35R turbo, which failed a few events ago after two years of abuse. If you look at the FACTORY turbo setup you'll notice they also include a support bracket!
The proof is here!
These are just some of the examples of race cars that run our turbo kits & engines. A rally or road race car is the ultimate testament to product durability, if it can survive hours and hours of abuse and hundreds if not thousands of miles of race stress, it has proven itself for a lifetime of road and drag use. Drag racing in particular does not reflect on product durability, it pales in comparison to even daily street use. It may take a year of street driving to reveal any issues with durability, but on a road race or rally car, it may take only 30 minutes of heavy abuse to find issues. Ask any racer and I'm sure you've heard the quote, "hey it works fine on the street?"
Predator Performance road race car with our turbo kit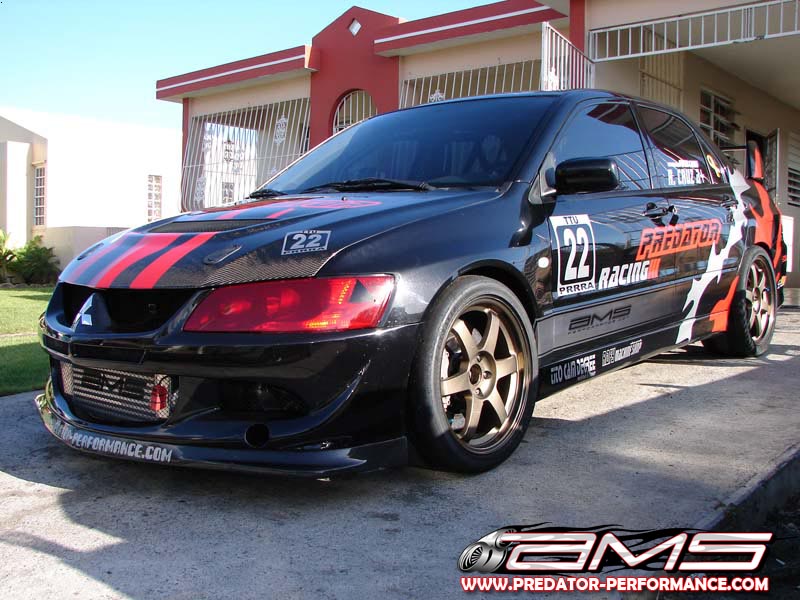 Roger Feghali's winning Rally car with our turbo kit and engine
Our Time Attack car with over 4000 miles of road racing on it's odometer!