Winter is a great time to install performance upgrades that you've been putting off throughout the summer and fall months. If you are looking to improve the performance of your Mitsubishi Evolution X, we have a list of seven quality AMS bolt-on upgrades (or combinations of upgrades) you can do to improve the power, function, sound and reliability of your beloved Evolution X.
AMS Evolution X Single Tip Exhaust or Corsa Dual Tip Exhaust System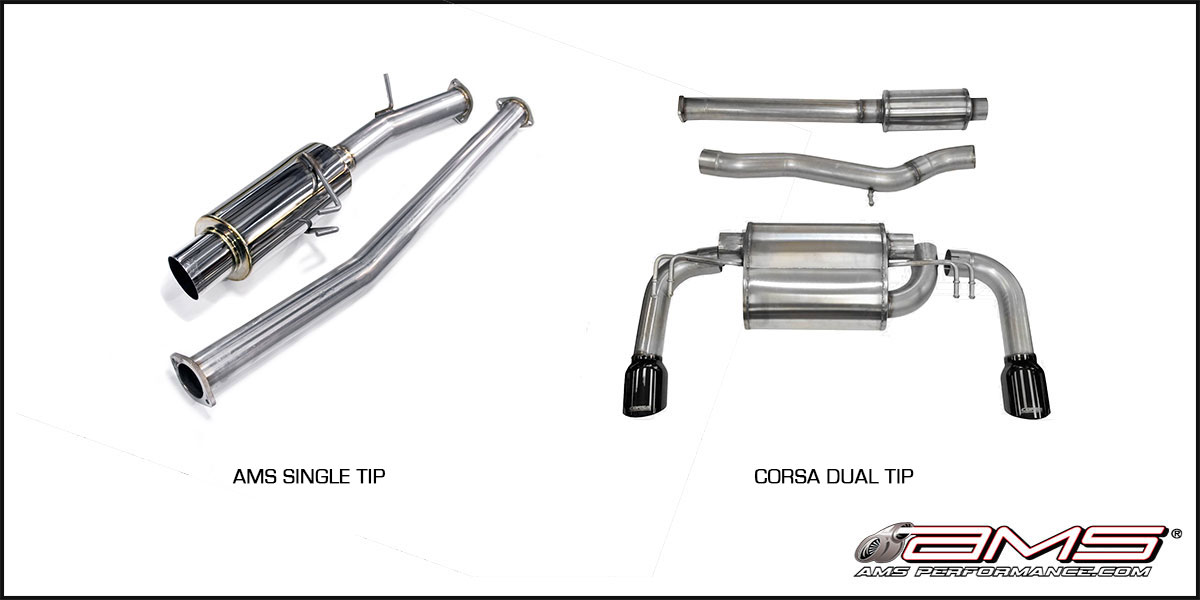 When it comes to upgrading your Evolution X, the exhaust system is a great place to start. More specifically, start by switching out the stock catback exhaust section to free up some back pressure and present a throatier, more aggressive sound.
If you wish to gear up more for racing, choose our AMS Evolution X Racing Series Catback Exhaust System. This 100% 304 stainless steel TIG welded exhaust runs straight – eliminating bends and exhaust restrictions. It can provide as much as 15whp over stock without a tune and shaves off 24lbs of weight when compared to the stock catback section!
If you're in search of improved performance but wish to retain the dual tip style of the Evolution X, look no further than the new Corsa Evolution X Dual Tip Catback Exhaust System. Their patented straight-through design reduces back pressure for increased horsepower. Unlike other dual tips on the market, Corsa offers their RSC™ technology which eliminates "problem" frequencies that cause interior drone/resonance at cruising speeds. You can add a CORSA and enjoy your car at idle, on acceleration and while cruising down the road. Constructed of 304 stainless steel and guaranteed to last the lifetime of you EVO X.
AMS Evolution X Widemouth Downpipe and Cat Pipe or Test Pipe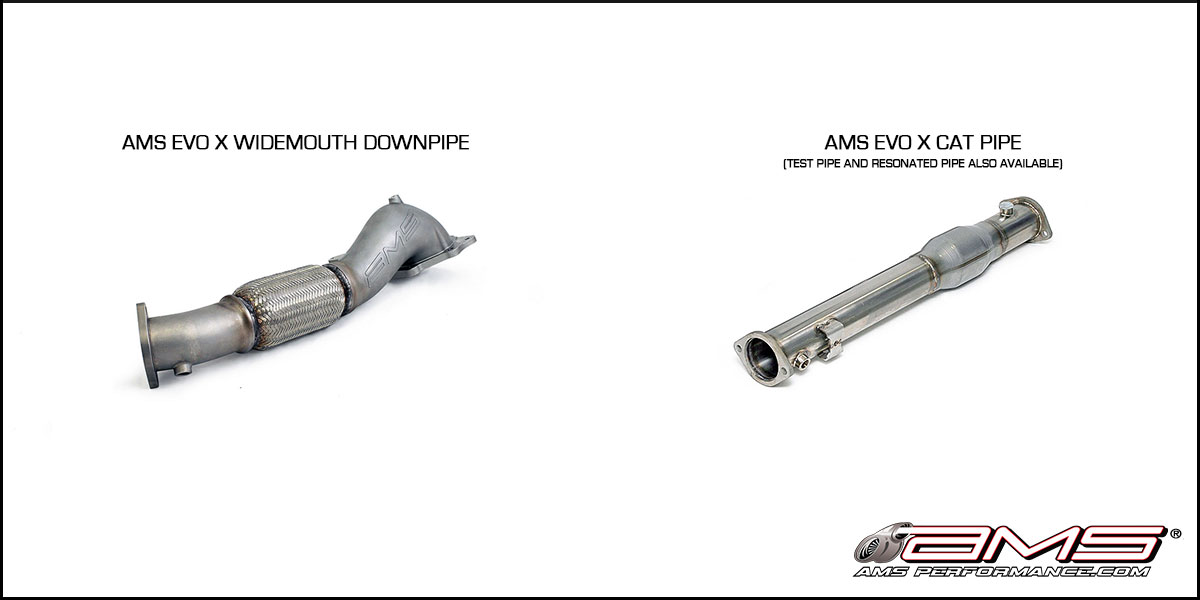 Combine our downpipe and cat pipe to relieve even more exhaust backpressure for more horsepower.
The AMS Evolution X Widemouth Downpipe is the best-selling quality downpipe on the market because it produces power! The cast 02 housing was CAD-designed using Solidworks – ENLARGED, with the inner walls contoured perfectly to reduce back pressure where it's needed most. This reduction in pressure allows the turbine wheel to spin more freely which, in turn, allows the turbo to produce boost quicker. Exhaust velocity is improved through a large 3" diameter flex section and cast primary pipe. Constructed of 100% 304 stainless steel, it was designed to last the lifetime of your Evolution X!
On its own, the stainless steel AMS Evolution X Cat Pipe is good for freeing up around 12whp without re-tuning the ECU! By implementing a steel core catalytic converter instead of a ceramic core that can crack and dislodge, this piece was designed to last much longer than the competition under extreme driving conditions. Remain emissions compliant with state and local regulations with no noticeable loss in horsepower by installing this AMS cat pipe.
AMS Evolution X Front Mount Intercooler and Upper Intercooler Pipe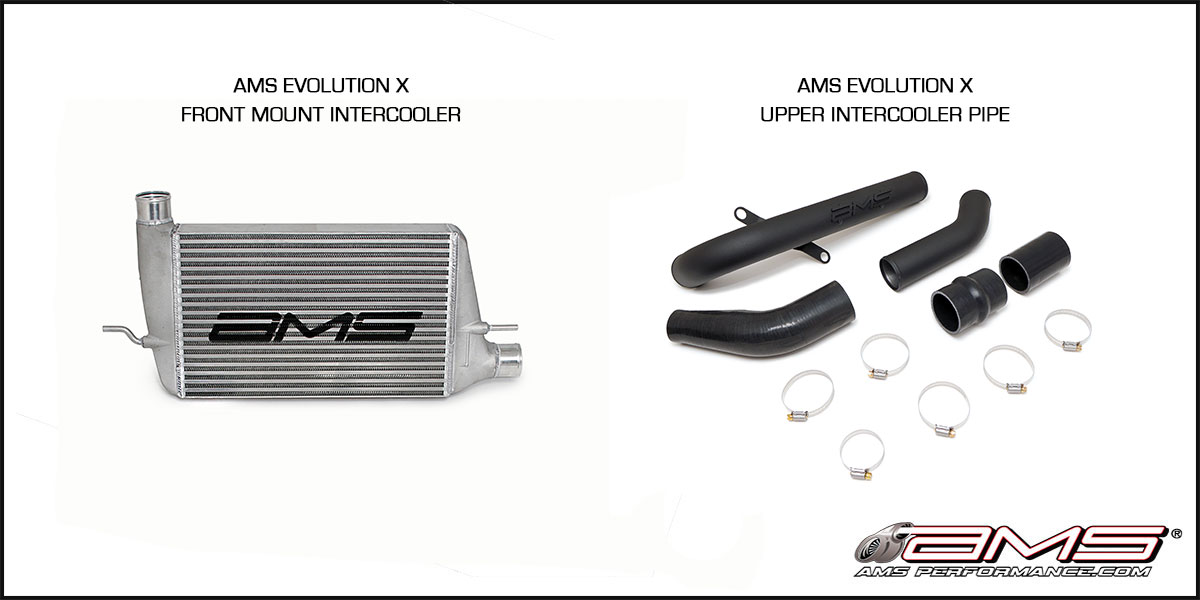 Upgrade to our front mount intercooler and upper intercooler pipe for improved boost cooling efficiency. Even without a tune, this combination will provide you with a 20+HP gain. In addition, benefit from more consistent throttle response pass after pass by reducing heat soak.
The AMS Evolution X Front Mount Intercooler was designed by our engineers using Solidworks CAD 3D software and features cast aluminum end tanks with smoother geometry for optimal air flow. Much more durable than hand-fabricated sheet metal designs, they are pressure tested to withstand 50psi. Since it's a direct bolt-on piece, it requires absolutely no cutting or trimming when installed.
As the perfect complement to an AMS intercooler, the AMS Evolution X Upper Intercooler Pipe enhances the function of the intercooler system by freeing up bottlenecks in boosted air flow. Made from lightweight 2.5" mandrel bent aluminum tubing linked together with 4-ply reinforced silicone couplers, it was designed to withstand 50psi of boost pressure just like our intercooler. Intelligently designed, we provide proper-sized bead rolls to keep all connections tightly sealed and a hump hose coupler to accommodate any flex with engine movement.
AMS Evolution X Cold Air Intake System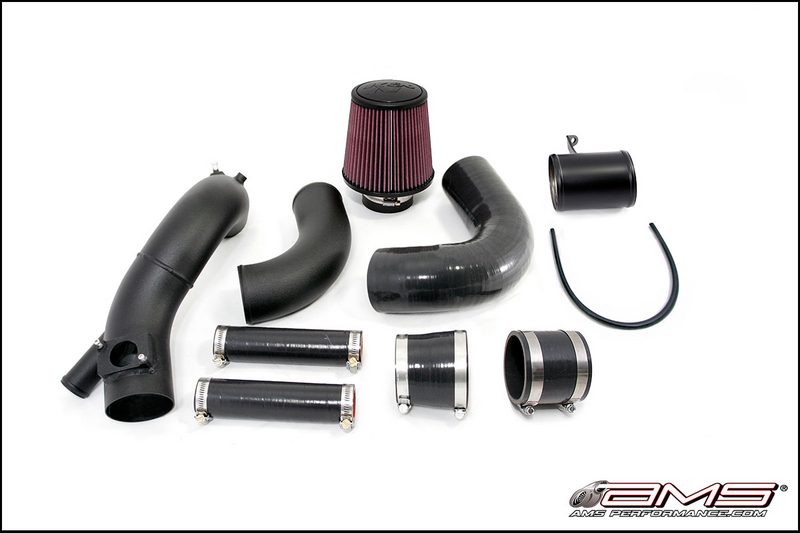 The AMS Evolution X Performance Cold Air Intake offers the best performance gains available – drawing cool, dense air from behind the driver side front bumper. Horsepower is increased by pulling cooler ambient air and improving air flow. Our cold air intake for the Evolution X is professionally TIG welded in-house at AMS. Other features include a high flow K&N filter and reinforced 4-ply silicone couplers all secured with high grade stainless steel clamps and hardware.
AMS Evolution X STX400 Performance Package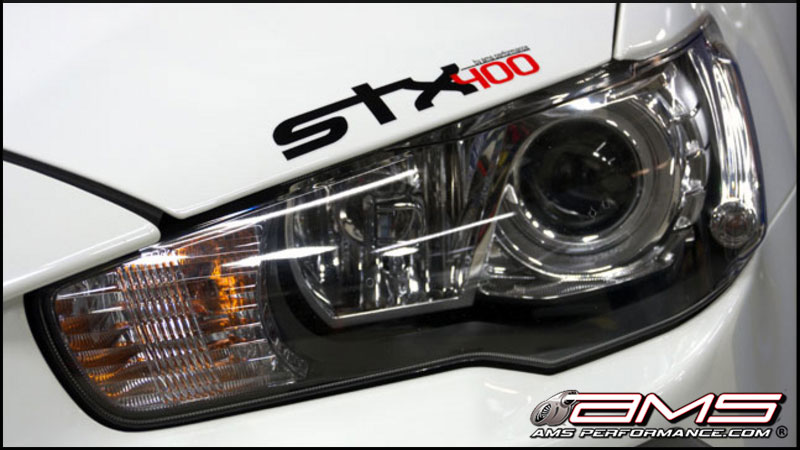 Not every Evolution X owner wants to go as far as upgrading to a built engine with forged internals. The AMS Evolution X STX400 Performance Package improves throttle and boost response while maintaining reliability and drivability. With it, you take advantage of a full AMS bolt-on system and 400 horsepower! By replacing the exhaust, intercooler and intake system with high quality AMS components along with a Cobb AccessPort V3 and custom AMS calibration file, your Evolution X's performance is safely optimized without having to upgrade your engine. The level of power it produces makes it an excellent performance package for use on the street and for track days.
Included
• AMS 3" Racing Series Catback Exhaust System – Single Tip Stainless Steel
• AMS Performance Intake System
• AMS Front Mount Intercooler Kit
• AMS Upper Intercooler Pipe
• AMS Widemouth Downpipe
• AMS 3" Stainless Steel Cat Pipe
• Cobb AccessPort V3
• AMS STX400 Calibration for the Cobb AccessPort V3
AMS Evolution X Clutch Master Cylinder Upgrade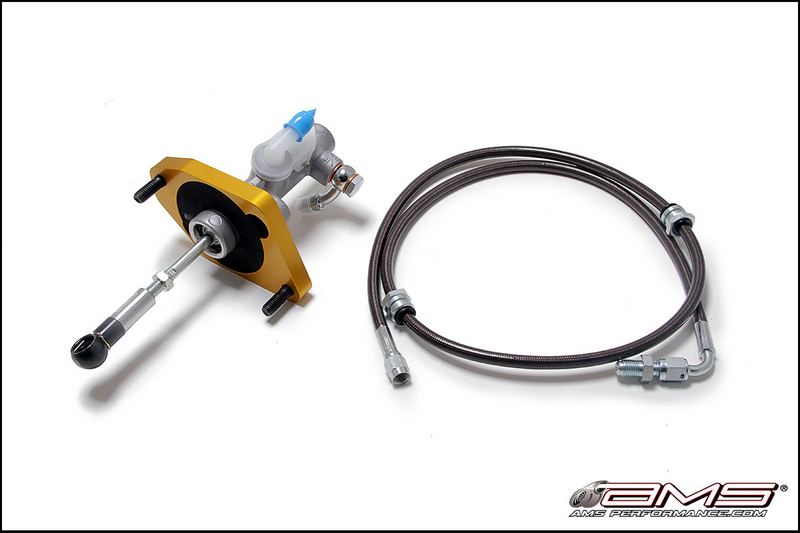 The plastic stock clutch master cylinder is prone to cracking under pressure leaving you stranded on the roadside or at a dead stop on the track. The AMS Evolution X Clutch Master Cylinder works by adapting the stronger factory steel unit from an EVO VIII/IX – preventing failure associated with increased fluid pressure from aftermarket clutch kits and aggressive driving. Our steel braided AMS Evolution X Clutch Line is included as a stronger, more responsive replacement to the stock nylon clutch line. If you push your Evolution X to the limit often or if you installed an aftermarket clutch, our clutch master cylinder upgrade is something you should really consider.
AMS Evolution X Stainless Steel Brakelines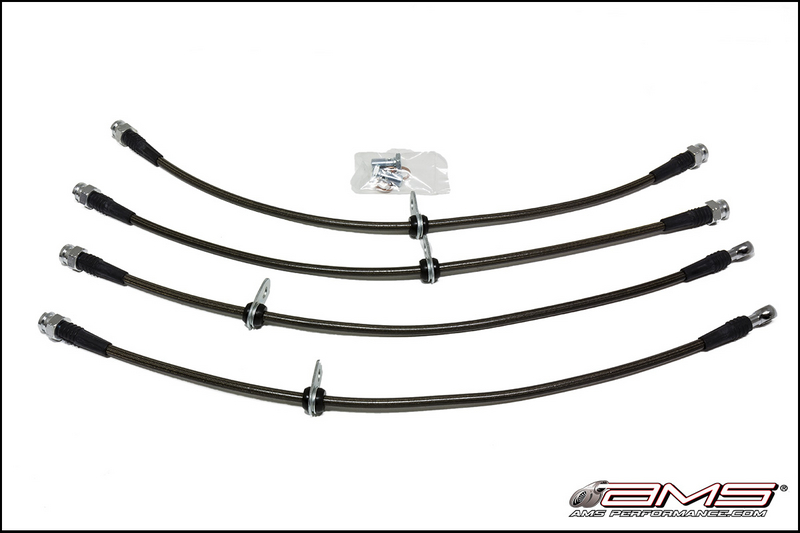 Improve reliability and brake responsiveness by replacing stock rubber lines with AMS Evolution X Stainless Steel Brake Lines. Stainless steel braid reinforcement eliminates unwanted line flex/expansion – giving you better consistency and pedal feel while the nylon coating provides protection against salt corrosion and the elements. For racers and high performance drivers, this is a great initial step to upgrading your Evolution X brake system.
AMS Quality Craftsmanship with Dealer Support Worldwide!
The winter months are a great time to upgrade! With our support or help from one of our over 250 dealers worldwide, this may be the perfect time for you to upgrade your Evolution X to the next level! If you have questions regarding our products, please send us an email sales@amsperformance.com or contact your nearest AMS Dealer.