Volkswagen MKVII Golf R owners can expect parts from AMS Spring 2016!
Throughout 2016, AMS Performance will be introducing two new product lines – one for the highly anticipated Ford Focus RS and the other for the Volkswagen MKVII Golf R currently available throughout the world. With Mitsubishi no longer making the Evolution, it was important for us to research new vehicles in order to fill the void under the AMS brand. Both the Golf R and Focus RS were chosen for their excellent power potential as well as fit within our criteria of AWD, forced induction performance.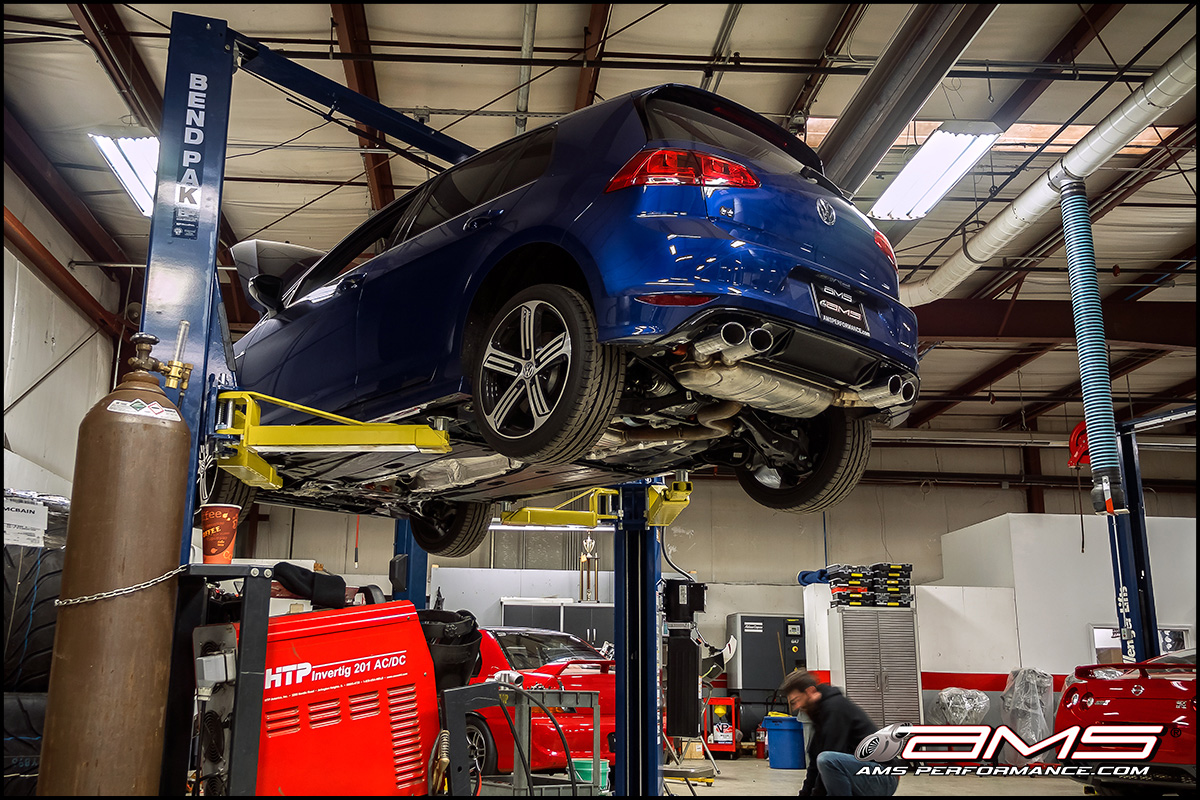 Work has already begun and we're pretty excited to be pushing the limits of the sport compact scene once again with the Golf R. The high-output third generation EA888 2.0T motor is a sturdy and efficient platform that has been responding well to everything we've thrown at it so far. The overall fit and feel is fantastic. Acceleration is swift, the DSG transmission shifts smoothly and the power seems to be planted firmly into the pavement through the fifth-generation Haldex coupling. However, we've noticed some tweaks and improvements that fall right into our wheelhouse and a plan has already been set in motion.
Currently, we're developing foundational hardware for the Golf R which includes a cast downpipe, front mount intercooler, intake and titanium catback system. Owners can expect these products as early as Spring with the titanium catback available later on in the year. (Many of these components will cross over onto the Audi A3/S3 platform).
MK7 Golf R Exhaust Downpipe & Catback Exhaust System
Our Golf R downpipe will actually consist of both the downpipe and a midpipe section. The downpipe begins with a cast stainless steel upper bell-mouth design which gradually transitions from 3.25" to 3". The thick cast stainless steel bell-mouth retains heat, which improves exhaust gas velocity as it travels further down the exhaust line. Improved velocity equals quicker turbo response and low-end torque.
The same style of stainless steel shielding found on our Alpha Performance GT-R turbo kits will also be included to suppress radiant heat transfer within the engine bay as well as provide an added measure of safety.
The midpipe section will be available in:
stainless steel catted
stainless steel race catless (for off-road use only).
titanium race catless (for off-road use only).
Customers can expect a complete titanium quad tip cat-back exhaust later on in the year.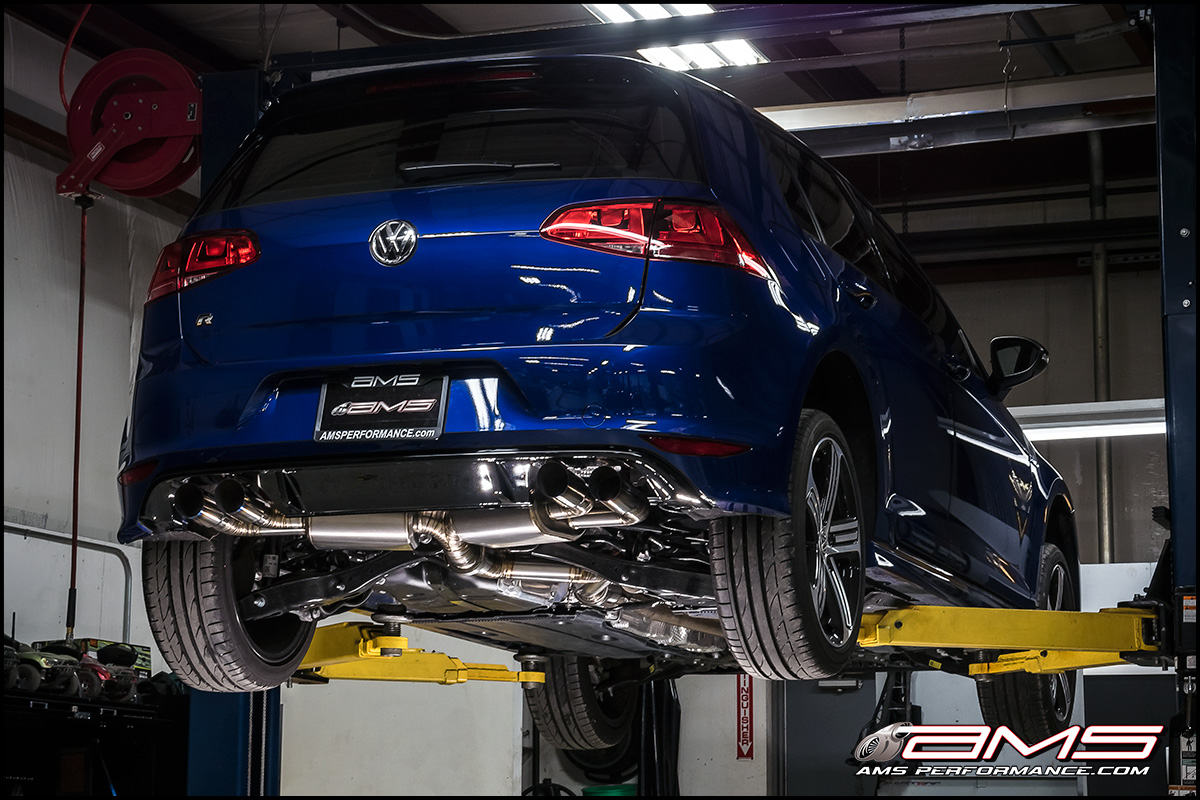 Prototype AMS Golf R Titanium Catback Exhaust

MK7 Golf R Cast-End Tank Intercooler
The AMS front mount intercooler will provide superior cooling with a 64.37% higher volume core than the stock Golf R unit at a density of 22 fins per inch! Our engineers designed cast aluminum end tanks offering a geometrically smooth transition from inlet, to core, to outlet. CFD casting process is shown in the animation below.
We eliminated sharp angles throughout the end tanks in order to reduce low pressure pockets that would inhibit efficient air flow. Both tanks feature a 32% larger diameter inlet and outlet. The inlet (side) tank features a CFD designed directional vanes for improved flow distribution across the intercooler.
MK7 Golf R Carbon Fiber Intake System
As far as the intake side goes, a large carbon fiber system is already in the prototype phase and replaces the restrictive factory panel filter with our high flow synthetic media filter. This filter provides the same outstanding qualities found on our Alpha A45/CLA45/GLA45 AMG Performance Intake and will support up to 500 horsepower. Our intake doubles the width of the factory inlet duct and feeds into a 3.5" diameter inlet tube eliminating pressure drop while increasing intake air velocity.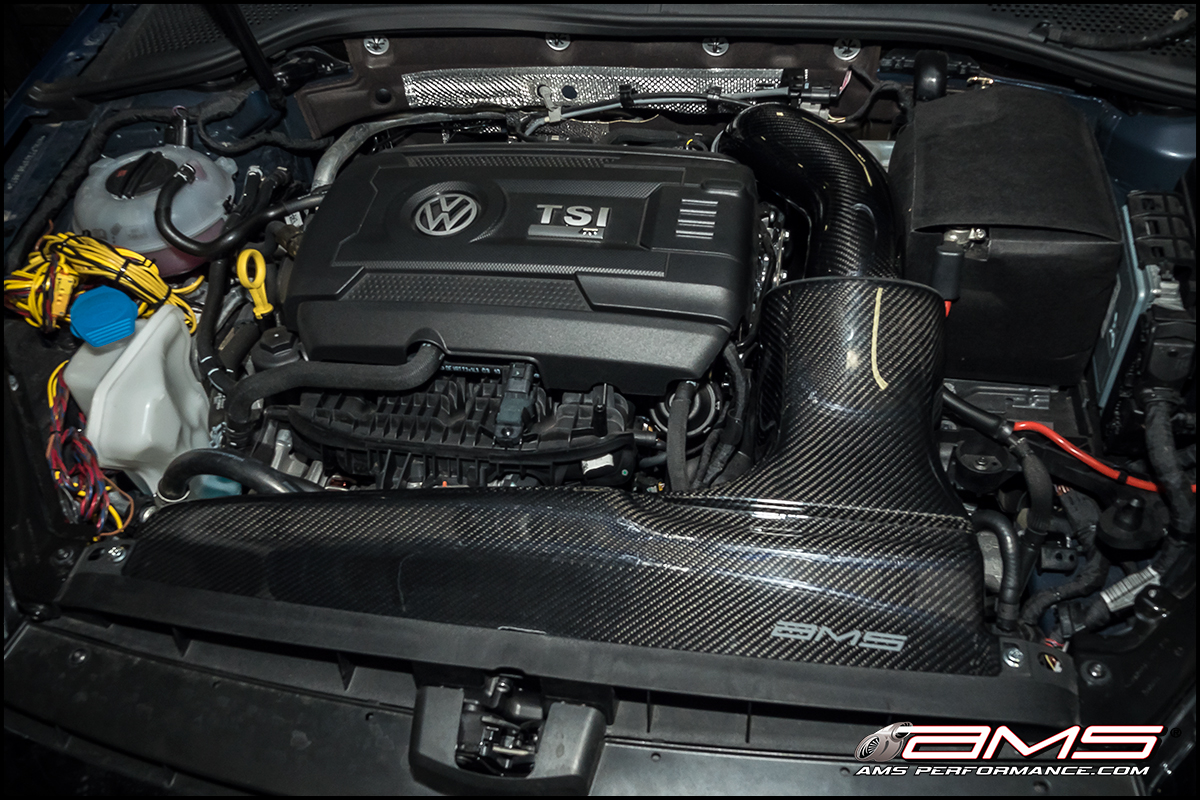 MK7 Golf R Tuning and Performance Packages
We are currently working on tuning to support all components and/or combinations herein. Complete stages will classified under the same series of designations as our STX400 and STX500 performance packages for the Mitsubishi Evolution X. Follow us on Facebook, Google+ or sign up for our Volkswagen Newsletter in the right-hand column of the AMS Performance home page and we'll be sure to keep you posted on our latest developments.