The quickest & fastest 2015 Subaru STI ran an even more impressive 1/4 mile time this past Labor Day weekend. That particular STI, capable of over 1000HP, belongs to Jr. Barrios (JRTuned) who laid down a low 9.13@152.33mph pass in his 2015 STI sedan.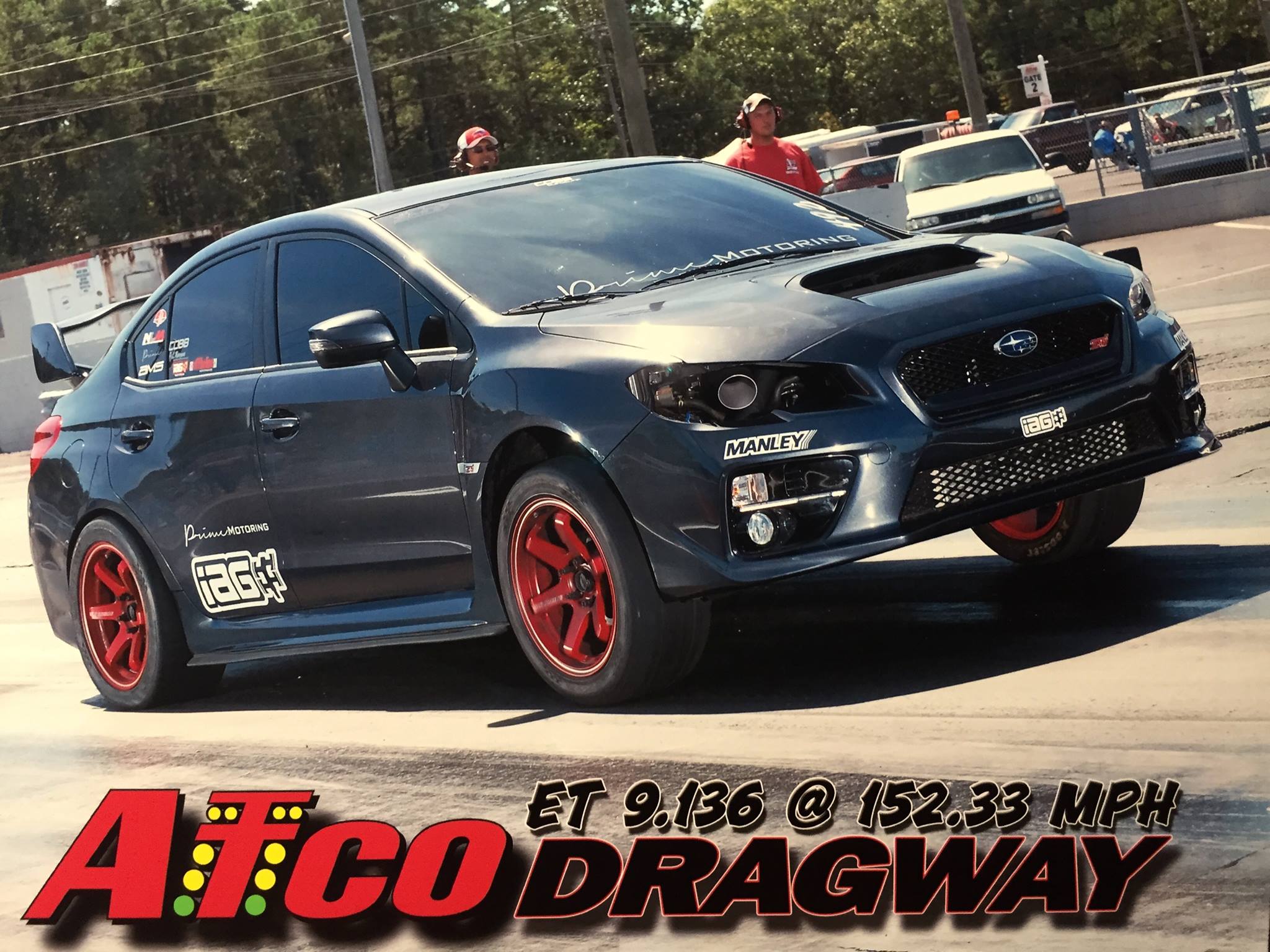 Last year, Prime Motoring and Jr. completed the build using our AMS Subaru STI/WRX 950R Turbo Kit and AMS Intercooler System – proving it was possible to run mid 9 second passes in a full weight 2015 Subaru STI. Naturally, Junior and the team at Prime wanted to go even quicker. So, this year, with some modifications to our turbo system, they were able fit a larger Super 99 turbocharger which brings us to the video below.
JRTUNED

"This was turned up to about 48-49psi, and looking at the 1/8th she was well on her way to glory until she hit boost cut in 4th. Not mad at all with what she ran today before I got the boot. It also probably didnt help I had the AC on because it was hot as shit out lol
My goal was to run 8s on the 17s/Drag radials and I am starting to see the light at the end of the tunnel.
I really need to thank all the people that believed in me and made this happen for me. The car works well and is an absolute brute on the road without compromising or turning it into a race car.
IAG Performance hit a home run with these closed deck blocks. This car has a COMPLETE IAG long block in it.
Manley Performance Products rotating assembly and cylinder head parts with Kelford Cams big AVCS cams. IAG AOS, TGVD, RAILS and lines as well as engine bay dress up stuff. I actually have a nice engine bay now lol
COBB Tuning for the Cobb/EBCS/Map Adapter and tons of support for the guys. Car runs a V3 on Full SD, idles at 950rpm and drives like stock Visconti Tuning for the awesome PNP SD/AIT kit.
Killer B Motorsport for the header.. still the best header you can buy, and I think this just drives that point home again. Also the ultimate pan/pick up that keep my motor happy.
AMS Performance for the 950r turbo kit and FMIC… Which we named the 1000x kit after putting down over a 1000 lol.
Forced Performance Turbochargers and Robert Young for the sick turbo. I love this super 99.. I went 9.6@40-41psi today and then turned it up to see a 7mph jump to the 1/8th and I know it has MORE left in it. Best turbo I have ever had the chance to run.
Off The Line Performance, Flat 4 Motorsport, LLC and Injector Dynamics for rounding out the fuel system.
Driveshaft Shop for the rear axles and CF driveshaft James for making sure I had the DS in time as well.
Competition Clutch and P&L Motorsports for the triple disk
P&L for the oil pump and other misc things like the fuel reg
Rob @ KB Motorsports for all the powder coating work, even on short notice it comes out beyond perfect.
SMY Performance for the cluster and cool JDM goodies on the car.
No Limit Motorsport for the support and asap parts delivery lol
Last but not least the team Prime Motoring for always getting it done. Could not have gotten this far without a strong and dedicated team like we have. Plus Demetri makes sure I wake up in time to go racing lol Love you guys!"
A 1000 Horsepower AMS Subaru STI Turbo Kit?
Now, the AMS Subaru STI/WRX 950R Turbo Kit is the most powerful turbo kit AMS plans to offer for the STI but the piping and design is adequate to support a larger turbo as JR and Prime Motoring demonstrated.  We guess you can call it the "AMS Prime 1000X Turbo Kit" which Prime Motoring is willing to build so long as the customer understands and is in agreement with the supporting modifications needed to run their STI at this level.
Those looking for an AMS 750R, 950R or even more powerful STI build capable of up to 1000HP on your STI, you're definitely in good hands with JRTuned on the calibration and Prime Motoring on the build! Congratulations Junior and Prime for building this monster street STI!