R35 GT-R Engine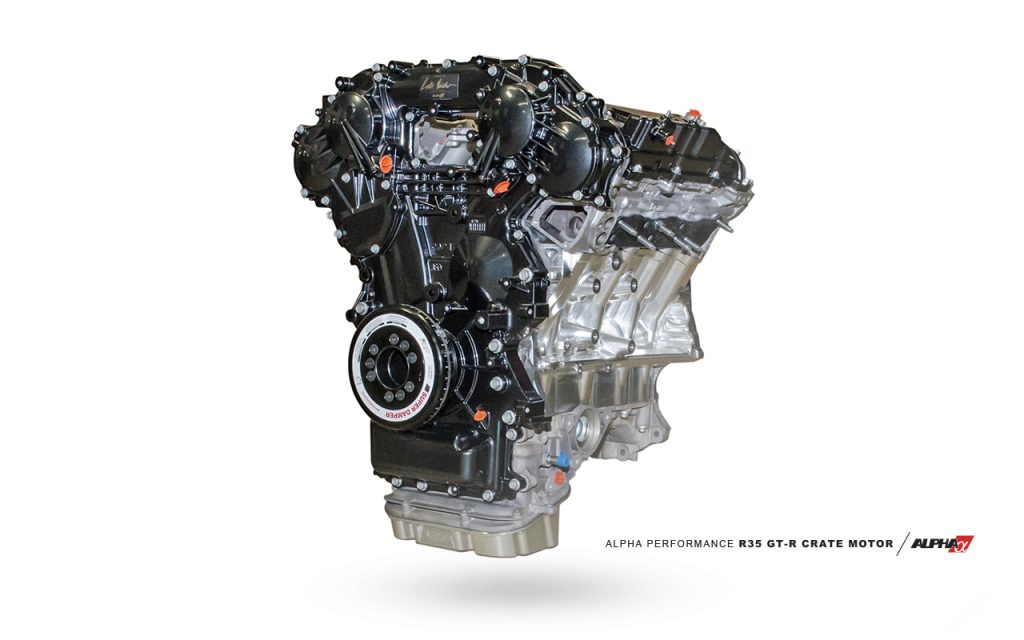 Alpha Performance Nissan R35 GT-R Crate Engines
We have successfully applied our World Record race-winning experience to the R35 GT-R's VR38 V-6 to bring you the pinnacle in engine programs. By developing Alpha proprietary engine components we have engineered the strongest, most advanced motor program available for your GT-R along with the multiple World records to back it up. When looking for a high performance crate engine look no further than AMS Performance.
VR38 Engine For Upgraded Turbos
By adding an Alpha billet stroker crank to our already potent 3.8L VR38 engine we have raised the bar once again. When changing to larger turbos there is always a tradeoff of low end grunt for increased top-end power.  To remedy this, our 4.1 liter Stroker Engine increases displacement by 8% which adds horsepower and most importantly asphalt shredding torque. The increased stroke coupled with an elevated compression ratio produces more low end torque which considerably reduces turbo lag and improves boost response.  The Alpha 4.1L achieves a 300-500 rpm improvement in turbo spool up time when compared to its 3.8L counterpart! You can now have your cake and eat it too!
Alpha Engineering Provides The Most Fortified Engine Block Available
The Alpha Performance Crate Engine is the strongest, most advanced VR38 engine currently available.  Each Alpha Race Engine has been strategically strengthened in multiple ways to support the monstrous power and torque produced by our Alpha Performance twin turbo packages. Our latest improvement is using a computer designed Alpha VR38 CNC PRO Series Billet Block.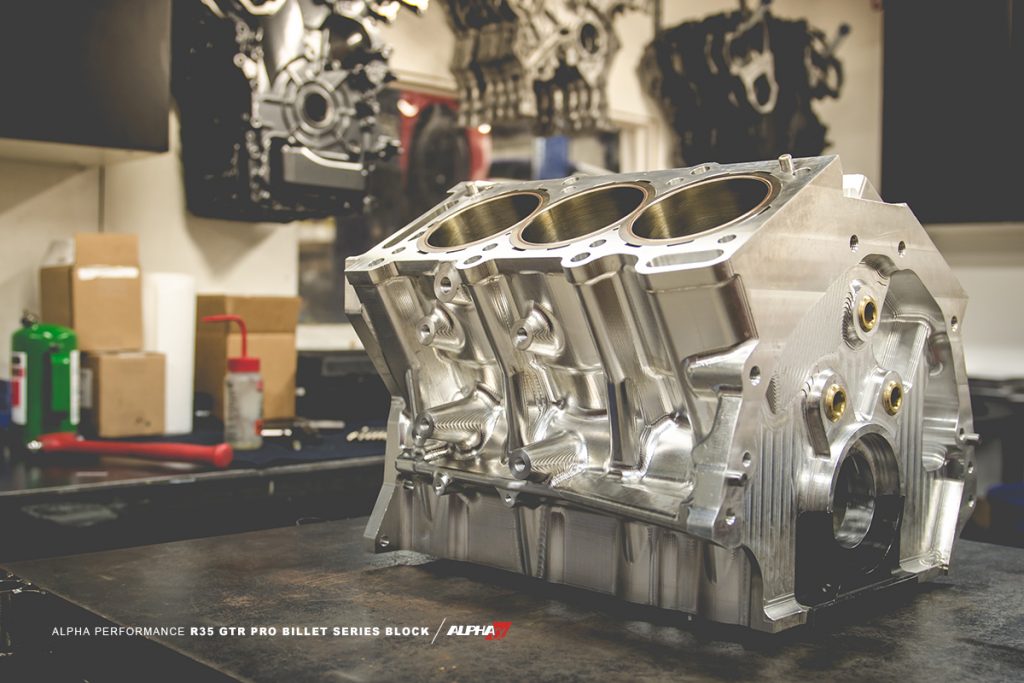 VR38 Exclusive: The Alpha Performance Pro Series Billet Block
As the power increases so does the stress on the factory cast aluminum VR38 engine block. We've found through extensive testing that the factory VR38 engine block has weak links once you are making over 1500HP.  At these power levels the factory block actually starts to deform eventually causing main bearing failures and even contributes to head gasket failure.
The Alpha Performance R35 GT-R Billet Block is simply the best. Whether it is in the Ultimate GT-R race car, the World Record setting Alpha G, or the most celebrated street car ever, and back to back "King of the Streets" Champion AMS' Alpha Omega, our VR38 R35 billet block is the centerpiece of winning. The Block features alloy steel main caps with splayed bolts for better load distribution and skirted block design for the highest levels of crankshaft support. The cylinders feature custom designed Darton© sleeves and extra thick walls to withstand extreme cylinder pressures, allowing for an increase to 4.0 liters of displacement. This increase in displacement allows for quicker spool times and better low end torque over the standard 3.8 liter factory engine. If you are building a Nissan GT-R to compete against the world's best then the Alpha Performance VR38 R35 GT-R Pro Billet Series Block is where to start.
Our Race Winning Experience Creates Higher Standards
This race proven power plant uses only the best off the shelf and custom designed Alpha spec components. Combine that with the latest in machine and assembly practices and you are assured only the best! Each Alpha Performance Race Engine is precisely balanced, blueprinted and hand assembled to AMS' exacting standards.  Before assembly each block is checked for correct dimensions, cylinder bore, mains, block flatness, etc… to guarantee you get the best foundation for your new engine.
Not Your Standard Off-the-Shelf Rotating Assembly
We worked closely with Manley to specially design engine components worthy of the Alpha program. For the pistons we added larger and stronger pins and other key features including increasing the compression ratio to boost horsepower throughout the power band.  This increase also produces more low end torque which reduces turbo lag and improves boost response.  The connecting rods are also unique to the Omega-Spec engine and bolt up to an Alpha billet stock-stroke crankshaft.
The Perfect Combination for Alpha Power
Our engines are hand built by AMS with components you cannot get in any other VR38 engine.  We apply all of the advancements we've made on our record holding Alpha Omega R35 GTR such as an o-ringed block deck, timing chain system upgrades for high RPM operation, oil system improvements and a host of other VR38 secrets we've learned over the past 7 years.
Alpha CNC Cylinder Heads And Camshafts Offer The Most Power Across The Whole Power Band
Included in our 4.1L Omega-Spec Crate Engine are Omega-Spec Camshafts tailored to the turbo system and other components you are planning to use.  Using knowledge gained from years of Motorsports victories we select the best camshaft for your specific combination giving you the competitive advantage of the most effective and broad power curve.  That means you get the most power off the stop light, at the dragstrip, or on the road course and the confidence to leave the competition in your dust!
The Alpha CNC Race Ported Cylinder Heads utilize the latest Ferrea Competition Plus components.  Their valve train components are made from exotic alloy materials to withstand high boost and RPM's.  In addition, our engineering team developed a proprietary modification that provides a better combustion seal. To top things off the Alpha Performance Camshafts work in harmony with the cylinder heads to offer you the most useable power throughout the entire power band.
Complete Crate Engine For Ease Of Installation
Our Crate Engines come complete and sealed from valve covers to oil pan. The engine is timed and the front covers installed so all of the hard work is already done for you making your engine swap a bolt-in affair.
Do it right the first time, order your Alpha Performance R35 GT-R Crate Engine today!
Choose an Alpha Performance VR38 Crate Engine Displacement Option
Showing all 4 results