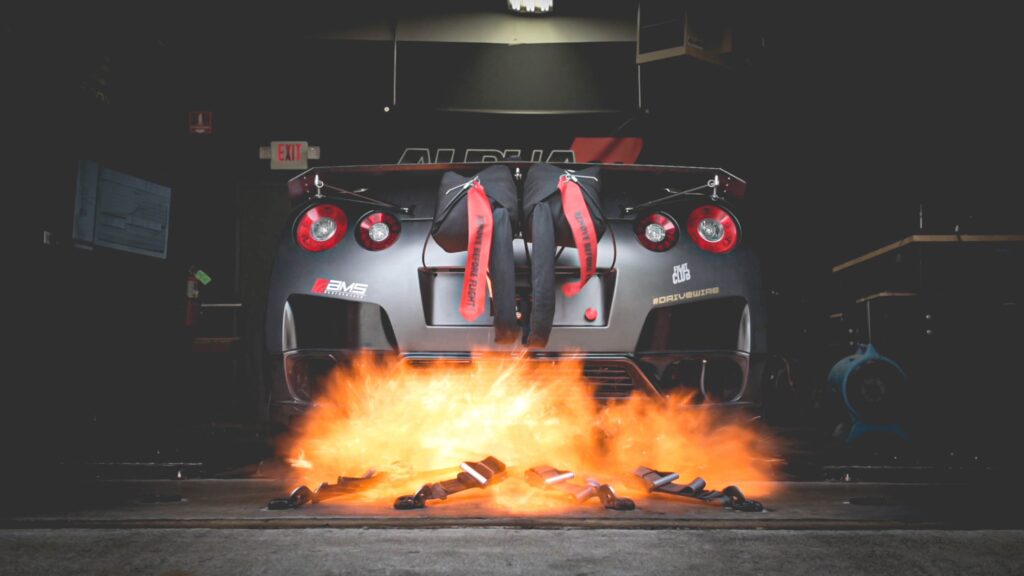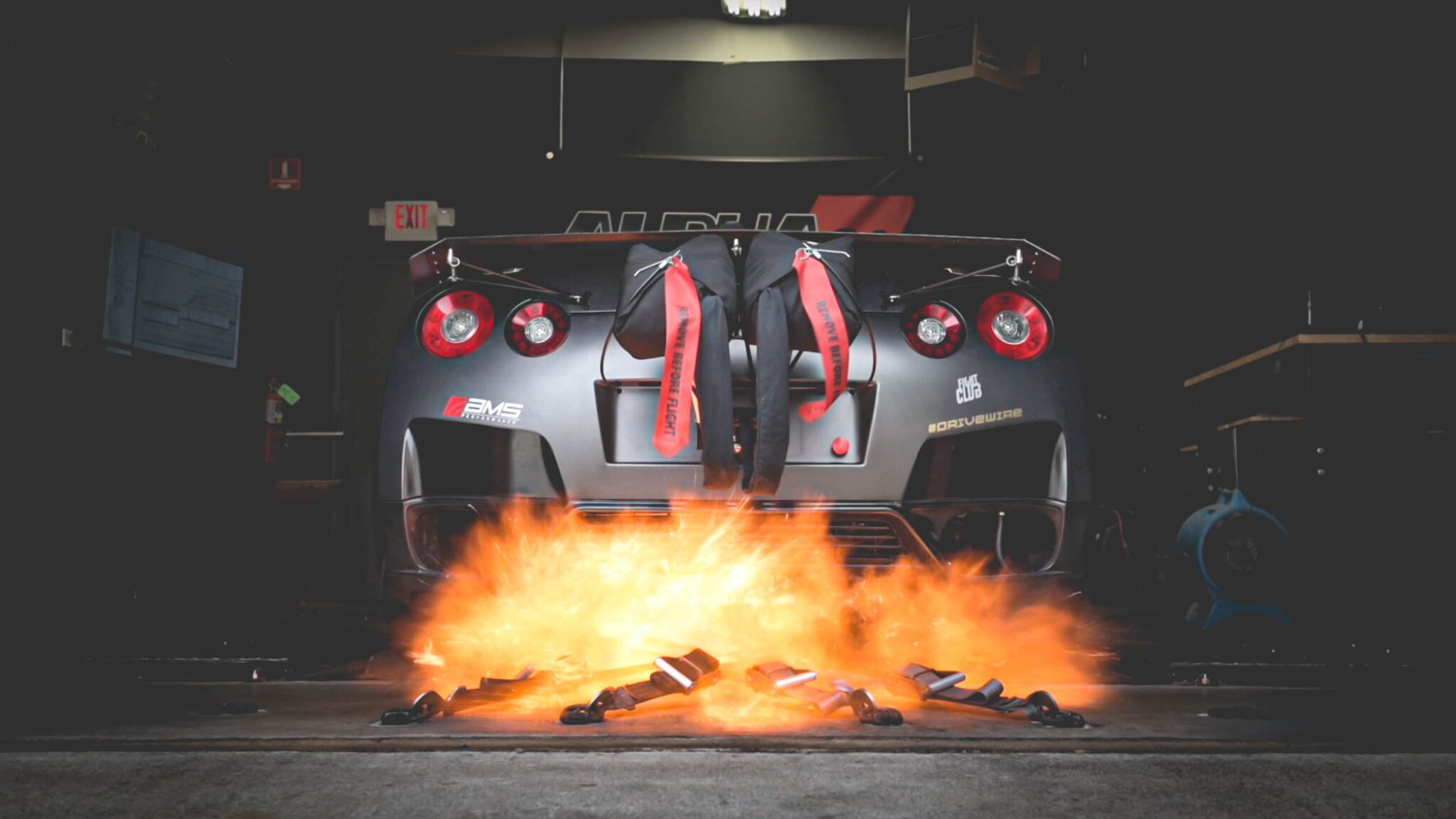 Solid and accurate principles are the basis on which we have built our calibration knowledge. Using a careful and deliberate approach to each engine management solution, we are able to extract the most horsepower, driveability, and consistent results out of virtually ANY system. Our experience has led us to tune many race winning cars, which exceed expectations on motor reliability, easily gaining their owners 50-100% more time than expected on a single engine package.
Factory ECU Calibration is presented as a flat rate fee for your first visit to AMS. Generally, most cars are finished within the 2 hours included in the flat fee. Additional time, if necessary, will be billed at $300/hr. Any subsequent returns to our dyno will vary based on the amount of work needed for the new tune, please call or email for a quote. All dyno tunes include a print-out of your dyno chart.
Audi R8 & Lamborghini Huracan w/ 5.2L V10 Engine
INFINITI Q50/Q60 w/ VR30 Engine
EcuTek Custom Calibration for 3.0L Biturbo Engine – Starting at $799 for the first 2 hours ($300/hr. each additional if needed) or $799 for e-tuning
Mercedes-Benz 4.0L, 4.6L & 5.5L Biturbo Engines
Nissan R35 GT-R
Cobb AccessPort Custom Calibration – $995 for the first map and $595 for each additional map.
EcuTek Custom Calibration – $995 for the first map and $595 for each additional map.
Toyota MKV Supra
Ecutek Custom Calibration – Starting at $799 for the first 2 hours ($300/hr. each additional if needed)
Stand Alone Engine Management Custom Tuning
Tuning Appointment Deposits
Monetary deposits are required for all dyno tuning appointments with AMS tuners. Due to the overwhelming number of cars tuned daily here at AMS, we must adhere to a strict schedule to ensure all customers have the greatest level of support. Your deposit will ensure you are guaranteed an appointment with AMS to have your vehicle dyno tuned. A deposit of $200 for standard ECUs and $300 for standalone engine management systems is required to finalize an appointment setting.
Appointment Cancellation & Late Arrivals
With this strict schedule we must adhere to, we ask that our customers help us maintain this level of service by having their cars fully prepared for tuning beforehand and arriving on time for their dyno tuning appointment. Customers who cancel or reschedule appointments within 7 calendar days of their appointment will not be eligible for a deposit refund. Arriving more than one hour late for an appointment can possibly invalidate an appointment as well, which would also void a deposit refund.
Pre-Dyno Inspection
Another important part of having your vehicle tuned is to be sure that the intake tract is free of leaks both when in positive boost pressure and under engine vacuum. The vast majority of modern day cars use an extremely sensitive mass airflow sensor which can be thrown off by these leaks. AMS offers a pre-dyno inspection for all vehicles being tuned, and it is highly suggested for most cars. Included in this inspection is a pressure test of the intake tract to be certain there are no leaks to hinder the your ECU calibration. This service is offered at $125 and can be performed prior to the car being tuned. Please be sure to inform your service representative as soon as possible if you intend to have this inspection performed before your dyno tune.
Mechanical Issues on the Dyno
As with any vehicle, you may experience mechanical issues during a dyno tune. These problems range from faulty injectors to improper installation of parts. If the tuner experiences any of these problems AMS will either attempt to correct them while the vehicle is still strapped to the dyno or the issue may be severe enough that the vehicle will need to be removed from the dyno altogether. In either scenario, the vehicle owner will be responsible for any labor necessary for repair, and in some cases may need to forfeit their deposit if the car is not able to be tuned during the scheduled appointment.
As true leaders in the field of GTR tuning we have been able to stay ahead of the competition at every horsepower level. Our never ending development has allowed us find fault in each system and work on solutions to correct them. We offer consistent and smooth driveability tailored to your specific uses for your GTR. We have worked to develop custom sensors for the GTR which solve complex problems with the original engine management. Through our continued development we were able to work with COBB Tuning directly to develop the speed density system for the GTR and have worked with EcuTek to develop support for the 2MB ECU found in the 2019+. We will continue to work with these companies to tweak and improve the current calibration systems as the need arises.
Consistent leaders in development of engine management
Helped to develop Speed Density system in conjunction with COBB
First to find a need for and also offer custom sensors which are essential to the proper operation of the GTR
Number 1 in driveability, long before the competition was able to achieve similar results
Close relationship with automotive industry leaders allows us to develop the best component systems in conjunction with the correct software modifications early on – ensuring full optimization of your high performance vehicle.
Custom tailored mapping to suit the drivers style, (road race/drivability/drag racing/linear power band/etc.)

Fuel
Timing
Boost
Intake cam timing
Exhaust cam timing
Rescaling load
Rescaling other axes as necessary
Knock sensor sensitivity tuning and adjustment
Proper scaling of torque related parameters for smooth driveability from the transmission
Adjustment of factory presets for fan temperatures
Idle speed adjustment
Multiple maps in single tune file (when necessary or requested)
Throttle mapping to adjust driver input for smooth torque output
Custom sensor calibration
Per gear and per throttle boost adjustment to make a fully manageable torque output throughout the range of the pedal.
Adjustment of boost limitations to a safe level
Launch control adjustments
Traction control strategy implementation and adjustment
Rolling boost implementation
Rev limiter type and style adjustments
Combining all of these changes together to make one cohesive system with NO drawbacks!
Martin Musial has been involved with engine tuning for decades and has done thousands of vehicles ranging from road race competition cars to 3000+ HP drag cars. His approach to tuning emphasizes reliability while extracting the most out of engine performance.
"What many people don't realize is there is so much more to an engine tune than just wide open throttle (WOT) and peak horsepower. If the car is a dedicated drag car that might be ok, but for 99% of car owners it's not. Everything from driveability, cold start, fuel economy, and even idle quality make any car enjoyable and safe to operate. These areas of tuning are many times overlooked and are actually the most time consuming and difficult to perfect. WOT tuning can take a few hours, while driveability and running quality of the car can take a whole day sometimes. OEM engine calibrators literally have hundreds of hours in tuning the factory ECU so that it's as perfect as it can be, this cannot be replicated in one hour of dyno tuning no matter what anyone tells you. I do my best to make sure a car will drive, start, and idle the same if not better than a stock ECU. The only limiting factors of driveability sometimes involve engine management systems with limited functions and extreme engine modifications. A piggy back ECU controller or radical camshaft selection can prevent 'OEM like' driveability. Another tuning aspect I'd like to discuss is reliable horsepower. I'd rather enjoy 1000 horsepower for the life of my car rather than 1050 horsepower for 10 passes, wouldn't you? Since most of our customers run on standard octane fuel, I carefully take into consideration the ability to make horsepower while minimizing detonation. Detonation will kill an engine, and the severity of it will determine when the fun will stop. It's a ticking time bomb and my goal is to diffuse it. My tuning process involves starting conservatively and then increasing power while carefully monitoring the knock sensor output and reading spark-plugs. I make sure that with my tune, the customer can throw almost any kind of abuse at the engine and it will survive." – Martin Musial, AMS President and Chief Calibrator
Our ability to offer a linear driving experience, an amazing high horsepower car, a dedicated race vehicle, and literally everything in-between means that we can tailor the results of your calibration to meet your specific needs.