Description
RA Stage 3 Includes
---
AMS Performance Red Alpha Intakes
AMS Performance Red Alpha Heat Exchanger
AMS Performance Red Alpha Lower Downpipes
EcuTek ECU Connect Retail Programming Kit (Bluetooth Connect)
EcuTek Flash Points (300 pts)
AMS Performance Red Alpha Calibration Service for the Infiniti Q50/Q60 VR30
AMS Performance Red Alpha Trunk Badge
Installation Labor Not Included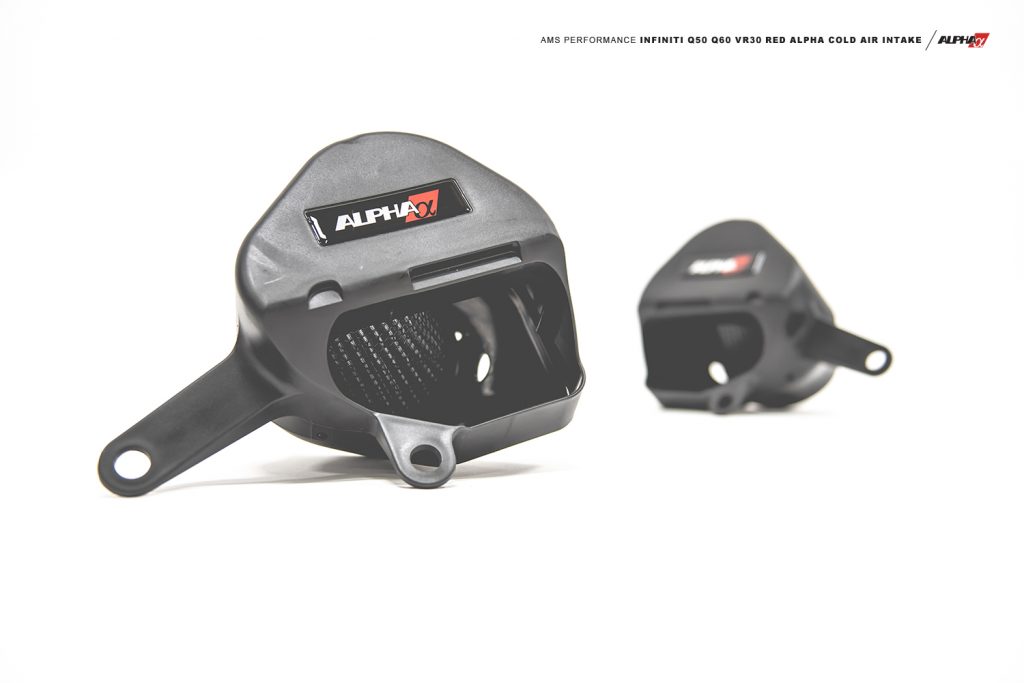 Red Alpha Cold Air Intakes
---
The Red Alpha Cold Air Intake System is simply the best engineered, best performing, cold air intake system available for your INFINITI VR30 equipped Q50 and Q60. By letting the turbos ingest all the cold air they need, our intake system boosts power exactly where you want it, high in the rpm range. In addition, it allows you to hear your twin turbos spool up which is something you as an enthusiast can really appreciate. AMS Performance is excited to introduce the INFINITI Q50 and Q60 Red Alpha Cold Air Intake System!
The main components of the Red Alpha Cold Air Intake System are the sealed cold air intake boxes. Our SnailWorks© Engineering Team knows that heat is the biggest power robbing factor that plagues other inferior intake systems. That is why they designed the Red Alpha air boxes to seal out blistering engine bay temperatures. They then took advantage of your car's existing intake cowl that funnels fresh air into the intake boxes by designing air box openings that match up perfectly to its air ducts. Our Engineers did not stop there. When they focused on the other system components they found even more places to improve the design.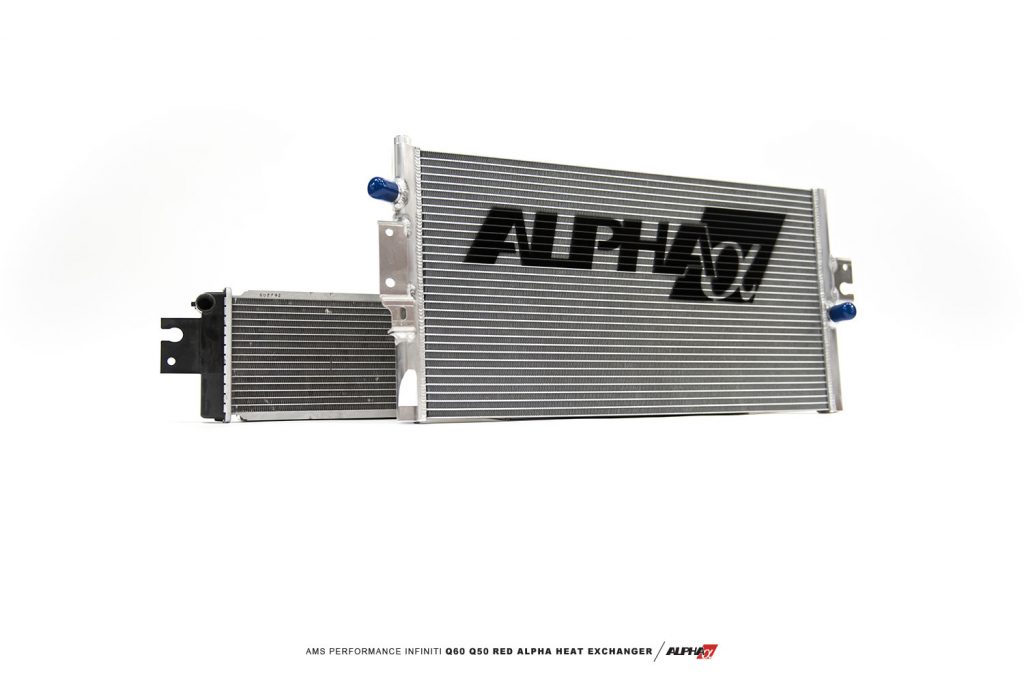 Red Alpha Heat Exchanger
---
Whether you live in a hot climate region, enjoy drag racing, or long high speed pulls on airstrips the Q60 and Q50 Red Alpha Heat Exchanger will help keep your intake temps lower and maintain your INFINITI's maximum power output no matter the conditions.
Your VR30 twin turbocharged engine does not use the typical air to air front mount intercooler (FMIC) you may be used to. Like many modern turbocharged vehicles the INFINITI Q60+Q50 3.0L use coolant to cool the intake air charge through an air to water heat exchanger. While this method may be sufficient for a stock vehicle under ideal conditions, it can quickly become heat soaked robbing horsepower.
Through extensive testing, we found the factory INFINITI heat exchanger restricts coolant flow. This restriction slows the flow of coolant though the air to water intercooler minimizing the cooling of your intake air.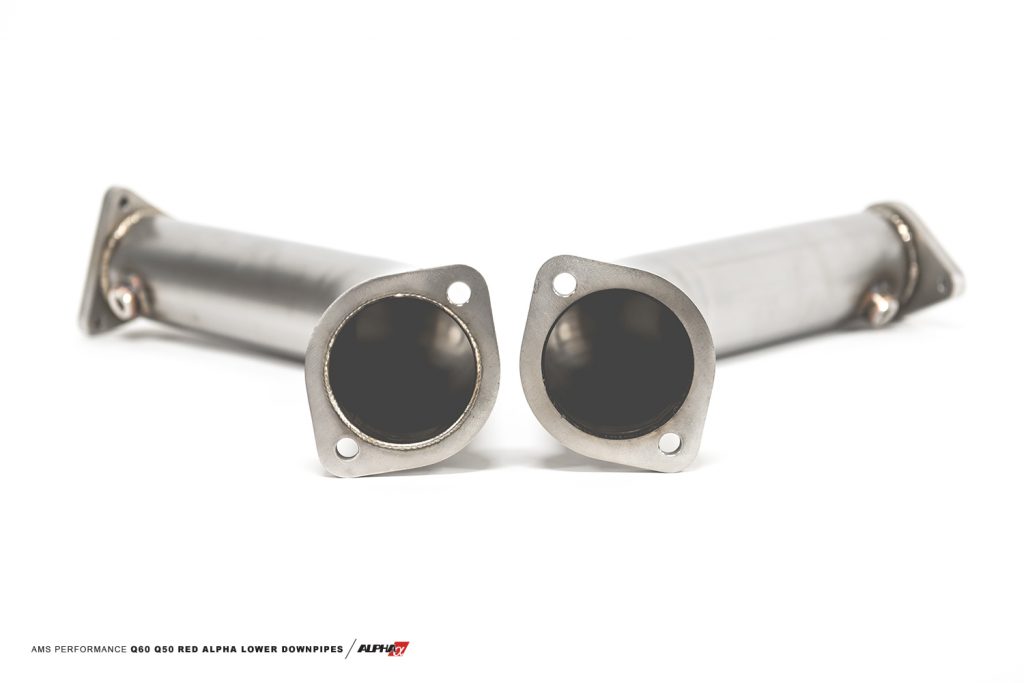 Red Alpha Lower Downpipes
---
The Red Alpha full 3″ stainless steel mandrel bent downpipes are the best performing and most durable on the market. During testing our shop Q60 with our Red Alpha Downpipes, and Red Alpha Tune, our Engine Calibrators saw gains across the power band in both wheel horsepower and torque and all with no CEL! The power came on earlier and the twin turbos spool-up was significantly improved. The long gradual transitions within the mandrel bent pipe section allows exhaust gasses to maintain velocity without a buildup of back pressure inside of the system. We were able to design a superior product because of our superior engineering.
The Red Alpha Downpipes feature heavy gauge stainless steel to retain as much heat in the down pipe as possible. Our Engineers 3D printed the downpipes to ensure an OEM level of fitment. Our threaded O2 sensor bungs allow the use of factory O2 sensor. Our downpipes perform better and are not prone to cracking like the alternatives offered by some of the competition. Weight savings are also improved. The Red Alpha Lower Downpipes are over 62% lighter than the stock components. AMS' Engineering Team produced a product that doesn't just perform better, they made it sound better too.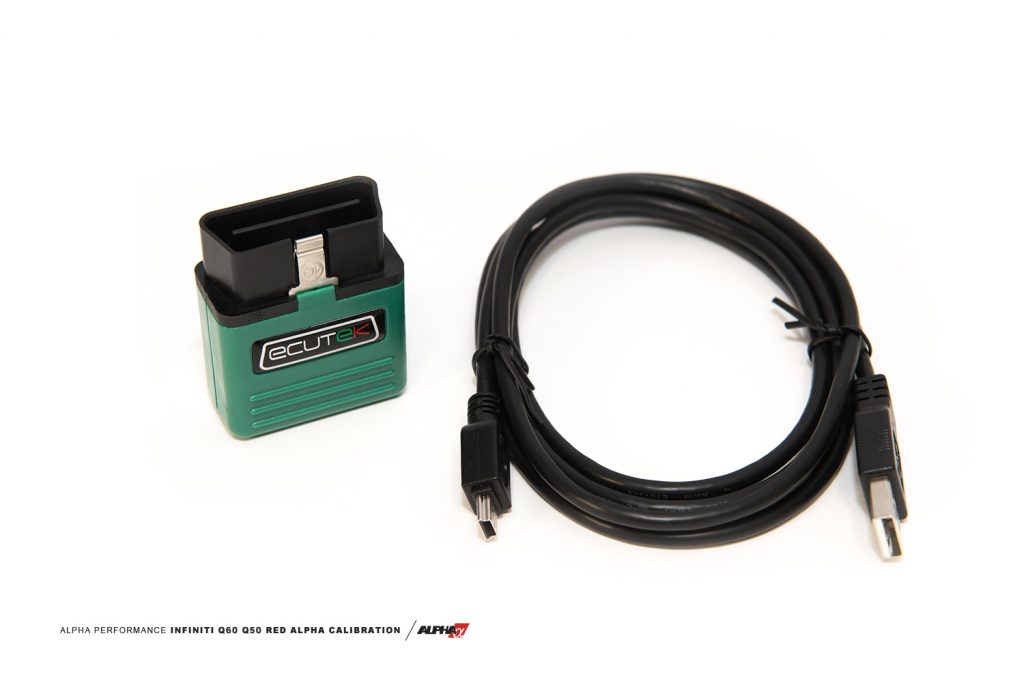 RA Ecutek Tuning
---
With its ground breaking design, the INFINITI Q50 and Q60's VR30 engine provides excellent, entry level, luxury class power. Alpha Performance measured the stock horsepower output of our RS 400 at a respectable 366 WHP and 350 ft/lbs of torque. AMS knows OEM's are handcuffed by power robbing factors they have no control over. That is where we come in. AMS Performance found a way to tap into the hidden horsepower and torque of your INFINITI VR30 Q50 and Q60!
Our Red Alpha calibration file takes full advantage of your INFINITI VR30's untapped potential. By precisely adjusting camshaft timing, boost output, and air/fuel ratios, your 3.0L twin turbo equipped INFINITI will produce over 450 wheel horsepower and a pavement shredding 500+ ft/lbs of torque with just the Red Alpha Tune! Be the INFINITI VR30DDTT owner to beat. Order your Red Alpha Stage 3 Performance Package today!
Red Alpha Badge
---
When you purchase the Red Alpha Stage 3 Power Package from AMS you will receive the "Red Alpha" exterior badge. The Red Alpha badge is a symbol that you have chosen the most power producing, most reliable performance components for your Q50 or Q60. Join the Red Alpha Team today!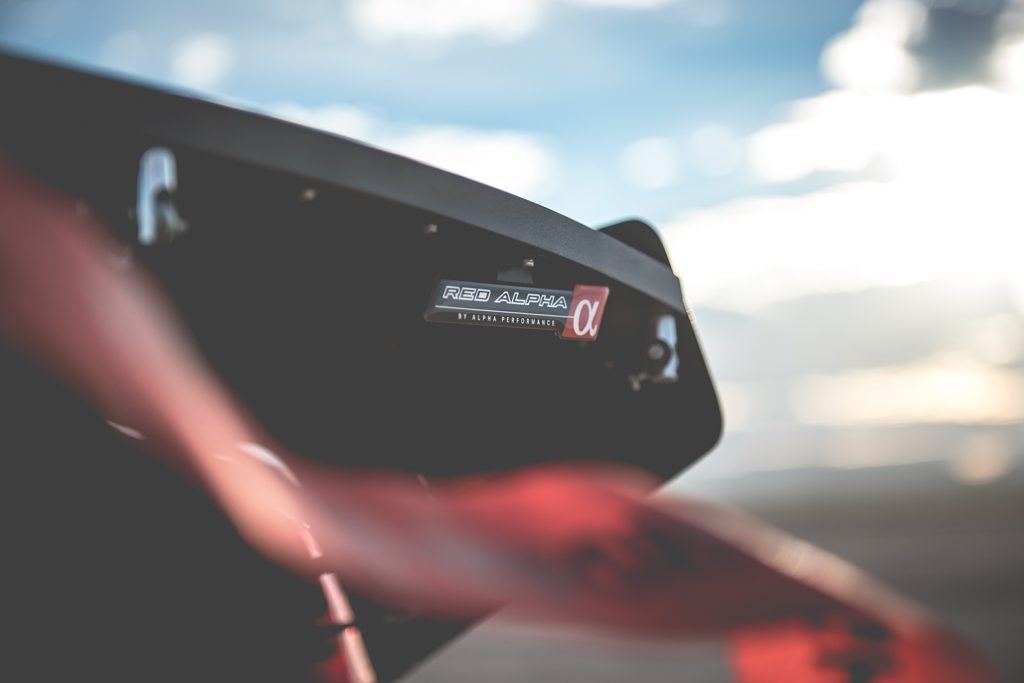 Applications
---
2017+ INFINITI Q60 VR30 Twin Turbo
2016+ INFINITI Q50 VR30 Twin Turbo
*installation not included
Notes
---
Performance may vary by vehicle. Power output may vary depending on many factors including, but not limited to; altitude, temperature, fuel octane, engine tolerances, tune, and dyno. Performance numbers aren't guaranteed but are common results seen by our customers.