Description
Finding specialized technicians and experts to guide you through the process of building your advanced 7-speed DL800 Dual Clutch Transmission (DCT) can be hard, which is why AMS has developed the all-new AMS Gearworks program! With decades of high-performance automotive experience, the products and services AMS has offered have dominated every single platform they've been aimed at. Countless world records and motorsport championship wins prove to our customers that they are getting the absolute best the performance aftermarket has to offer. It has been a natural progression for us to now accommodate gearbox building services in addition to our award winning performance packages, all under one roof. As part of our AMS Gearworks DL800 build program, AMS can provide transport logistics to ship your gearbox to us to start the build process. Alternatively if you would prefer to have our technicians handle the complete process, we can even arrange to transport your entire vehicle for a total door-to-door solution.
The Alpha Stage 4+ upgrade for the DL800 is the perfect option for added strength for your R8 or Huracan, with high reliability in mind. Designed for high powered twin turbo applications, the Alpha Stage 4+ trans allows for piece of mind when pushing your supercar to the limit. Our AMS Gearworks technicians utilize a Dodson Promax clutch kit which is a complete billet baskets and clutch pack unit for the ultimate in engine torque handling. The Promax allows for the highest level of engine torque holding capability for the DL800 while still keeping the car mild-mannered and streetable. Also featured in the Alpha Stage 4+ is the addition of a billet second gear from Dodson, which alleviates another common failure point at higher power levels. We then add both the Drag Pack and the Billet Pack to the build which gives the Alpha Stage 4+ its "Plus" designation. Both of these packs add crucial functionality and strength when hitting the race track or drag strip. The Alpha Stage 4+ also adds proprietary AMS Gearworks internal modifications which aid in reliability and add strength to failure prone oiling system components.
Complete turn-key transmission solution
Send your transmission fully assembled and we'll take care of the rest
Zero compromises – Stock-like drivability and no additional NVH
Estimated 900 lb-ft rating
Capable of withstanding 8 second quarter mile runs and heavy drag launches
Direct bolt-in components, no irreversible modifications
Less money and quicker turnaround than the competition
The Dodson Promax 9/9 Plate Clutch Kit
---
Stepping up from a standard "street" clutch solution, the Dodson Promax clutch assembly is a complete unit with a full billet housing, making it nearly bombproof. This comprehensive design includes upgraded 9/9 friction disks and steels, machined billet high-grade hardened baskets, and a high-grade billet steel lid and splines with a billet turned cover. If you're looking for the best clutch upgrade available for the DL800 transmission in your high horsepower R8 or Huracan, look no further.
Dodson Second Gear Upgrade
---
One of the more common failures seen when making over 1000 HP is the OEM second gear stripping teeth due to the high level of torque the engine is putting out. Because it is not caused by a driveline shock, like many other driveline failures are caused by, this can happen even to R8s and Huracans that never see the drag strip. Dodson has provided a solution with a second gear-only upgrade unit that matches your existing gearbox's ratios. This upgrade helps make the Alpha Stage 4+ transmission one of the most robust gearboxes available.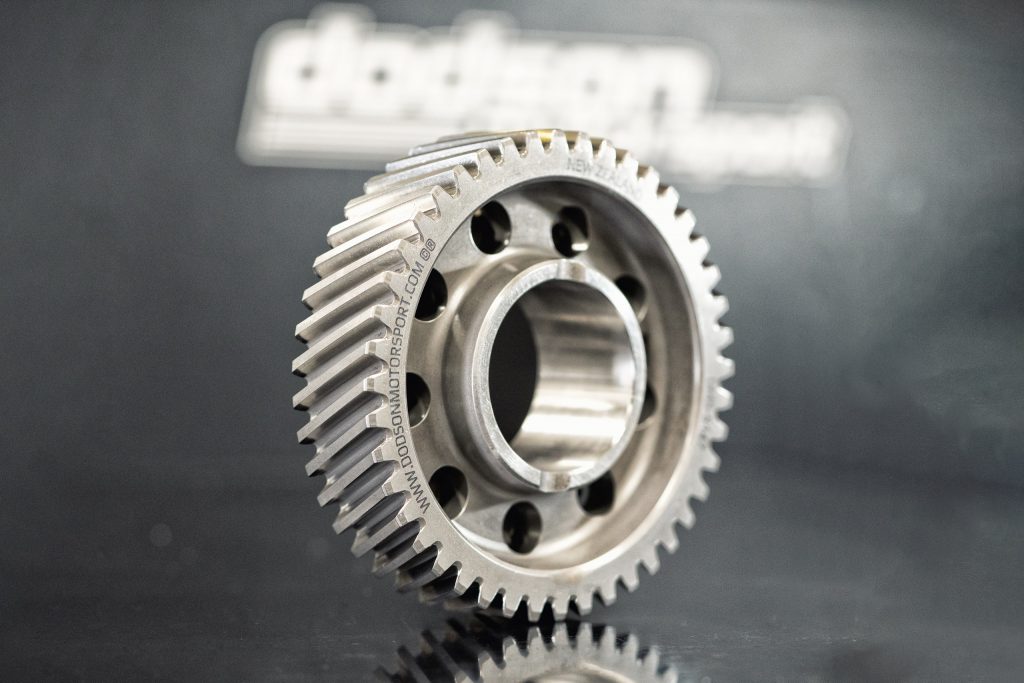 Included Billet Pack Upgrade
---
The Billet Pack does add some much needed shiny aesthetics to your gearbox, but make no mistake – these pieces add some very usable features and additional strength to your transmission as well. The Dodson Billet Differential Cover replaces the factory cover with a fully billet aluminum piece with gusseted design for additional reinforcement. This added stiffness helps strengthen the gearbox case to prevent flexing that can misalign the gears, shafts and other components inside. In addition to improving case rigidity, the Dodson Billet Sump Pan provides for a replaceable upgraded oil filter element, instead of the non-serviceable stock pan/filter. It has been designed to reduce aeration in the oil before entering the oil filter and increase heat dissipation, helping to keep your transmission running at cooler temperatures. Both kits include high quality hardware for a secure mounting solution.
Included Drag Pack Upgrade
---
One of the most severe use cases for a transmission will always be drag racing, and specifically the act of launching the car from a complete stop on a sticky track surface. This is why we add both the Wavetrac Rear Limited Slip Differential upgrade and Dodson Half Shafts to all of our "Plus" builds. The Dodson short and long half shafts are extra strong replacements of the factory shafts to better cope with the loads associated with high horsepower drag racing so you don't have to worry if the stock shafts will leave you stranded at the track. In addition to these shafts, we add the Wavetrac LSD for exceptional traction during hard acceleration, as well as increased reliability over the OEM unit. Simply put, if you plan on doing any kind of racing with your R8 or Huracan, the Drag Pack is a must-have addition.
Stage 4+ Build Includes
---
Dodson Huracan / R8 DL800 Promax Clutch Kit (incl. billet baskets and Dodson 9/9 clutch pack)
Dodson Sensor Kit
Dodson Billet Second Gear
Dodson Gearset Mechanical Clip
14 Quarts of DCT Fluid
1 Replacement Oil Filter
Billet Pack – Includes Dodson Billet Rear Differential Cover & Billet Trans Pan w/ Serviceable Filter
Drag Pack – Includes Dodson Half Shafts & Wavetrac Rear Differential
Proprietary AMS Gearworks Internal Modifications
AMS Gearworks Disassembly, Inspection, Cleaning, and Assembly Service
Applications
---
2014-Current Audi R8 w/ S-Tronic (Incl. Plus & Performance models)
2015-Current Lamborghini Huracan (Incl. Performante & Evo models)