AMS Alpha Sets New CLA World Record!
Alpha CLA 45 AMG runs wild at Byron
Alpha Performance goes 11.6
Alpha Performance is very proud to announce that we have captured the Mercedes-Benz CLA 45 AMG world record in the quarter mile! With an incredible run of 11.68 at 117 miles per hour AMS launched itself into the top spot as the quickest and fastest CLA 45 AMG. The track conditions were almost ideal. The sun was shining and the air was a perfect 68 degrees. Density Altitude on dragtimes.com measured in at 1162 feet and the Relative Density was at 96.64%. The weather was not the only factor allowing the Alpha Performance Team to grab the top spot. We were able to achieve this blistering time using the Alpha Performance line of product upgrades and race gas.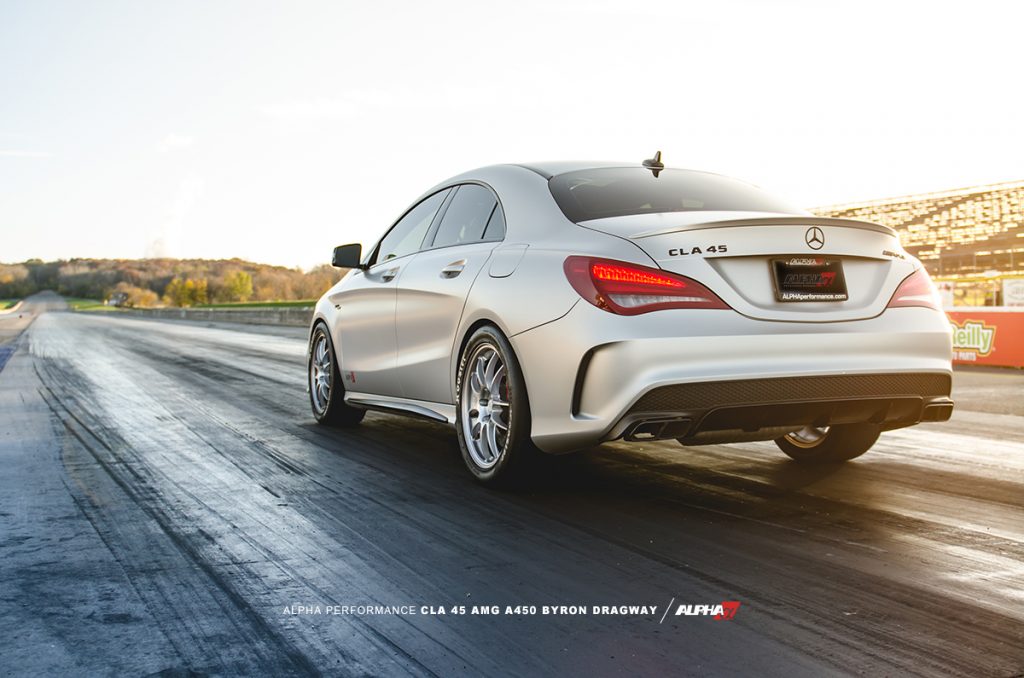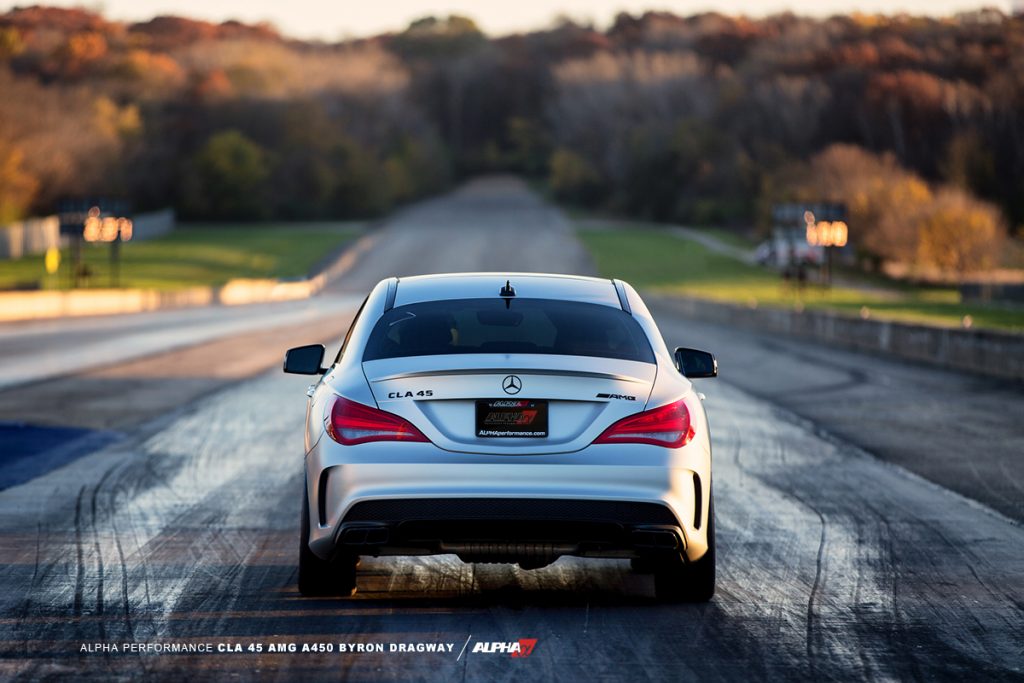 Alpha CLA/GLA/A 45 AMG Performance Upgrades
With its stout design, the Mercedes-Benz CLA/GLA/A 45 Series AMG engine provides excellent entry level luxury class power. Mercedes-Benz rated the stock horsepower output of their 45 Series AMG at 375HP and 350ft/lbs, but these engines are very under rated from the factory. AMS found a way to tap into the hidden power of your A-Series AMG!
After studying the car the AMS Snailworks© Engineers found an obvious restriction in the AMG's intake. There was a lot of performance to be gained. We are extremely pleased to see the number of people that were interested in our Alpha Mercedes-Benz 45-Series AMG Performance Air Intakes after the initial release! With hundreds of these intakes now sold it's clear to us that A45, CLA45 and GLA45 owners are fervently in search of aftermarket upgrades to improve upon the stock AMG design. With AMG being such a great base Alpha Performance is able to build our customers the ultimate CLA 45 AMG!
Alpha CLA 45 AMG Cooling
You already know that compressing (boosting) air creates undesired heat. The function of the liquid-to-air intercooler is to reduce intake air temperatures so that more consistent power is available at all times. Unfortunately, the problem with the 45 Series AMG heat exchanger is that it can only reject so much heat before fluid temps become too hot to effectively cool the charged (boosted) air. The longer you drive, the more aggressive you drive, or the warmer the weather is – all these conditions will affect acceleration and performance of the A 45 Series AMG. By doubling the thickness of the OEM core you gain an extraordinary amount of added cooling by increasing efficiency. The Alpha Center Heat Exchanger core and end tanks hold an astounding 222% (58oz vs 18oz) more coolant than the stock intercooler! That's close to a half gallon! You gain an increased thermal capacity over the entire intercooler system by accommodating the added coolant. The Alpha Engineering Team actually designed the core with 20 fins per inch rather than the factory 23 fins per inch. The lower fin density allows more airflow, and thus more heat transfer through the thicker core.
The Alpha Mercedes-Benz CLA 45 AMG Cast Downpipes are the best performing and most durable on the market! During testing our shop CLA with our Alpha CLA 45 AMG Downpipe, Filter, and Alpha CLA Tune our Engine Calibrators saw amazing gains across the power band in both wheel horsepower and torque! The power came on earlier and carried over 100 ft lbs of torque gains from 2900rpm to 4850rpm!!! Turbo spool-up was significantly improved! The long gradual transitions within the cast downpipe section allows exhaust gasses to maintain velocity without a buildup of back pressure inside of the system! All Alpha downpipes also include the EPA approved GESI brand 300 cell count Ultra High Output (UHO) units provide virtually no disruption in flow providing emissions control with no notable loss in horsepower.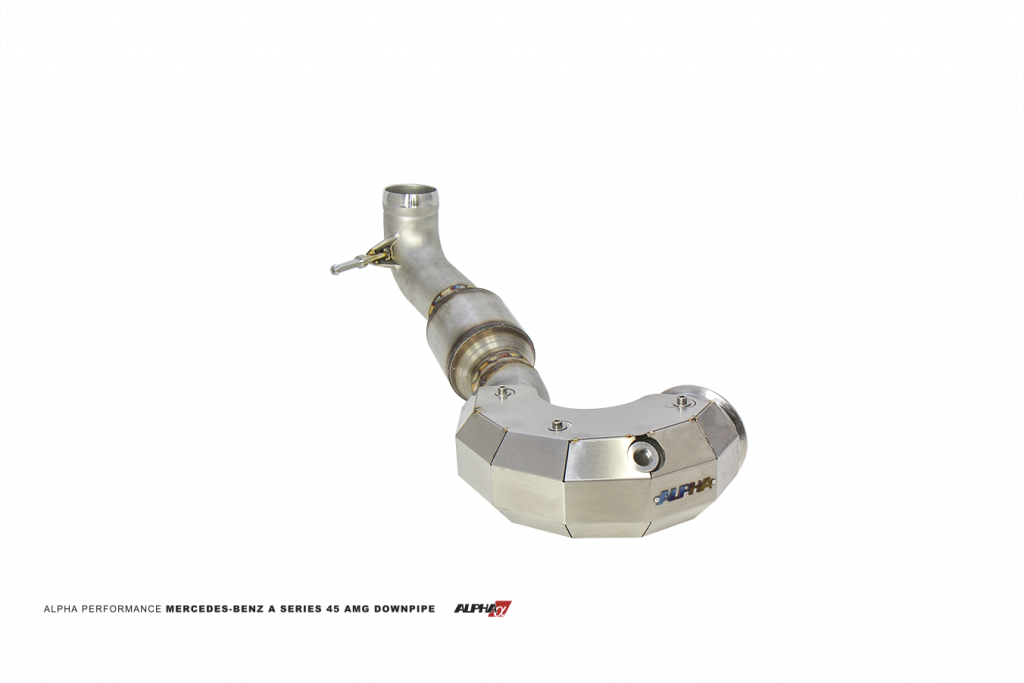 Alpha CLA 45 AMG Tune
An Alpha calibration file paired with the Alpha Performance Downpipe, Center Heat Exchanger, Auxiliary Heat Exchanger, Carbon Fiber Intake, and Alpha A Series Dry Media Filter will take full advantage of your AMG's untapped potential. By precisely adjusting camshaft timing, boost output and air/fuel ratios, your 2.0L turbo equipped AMG will produce an astounding 454 horsepower on race gas and is proven to be capable of running 11.XX second quarter mile passes!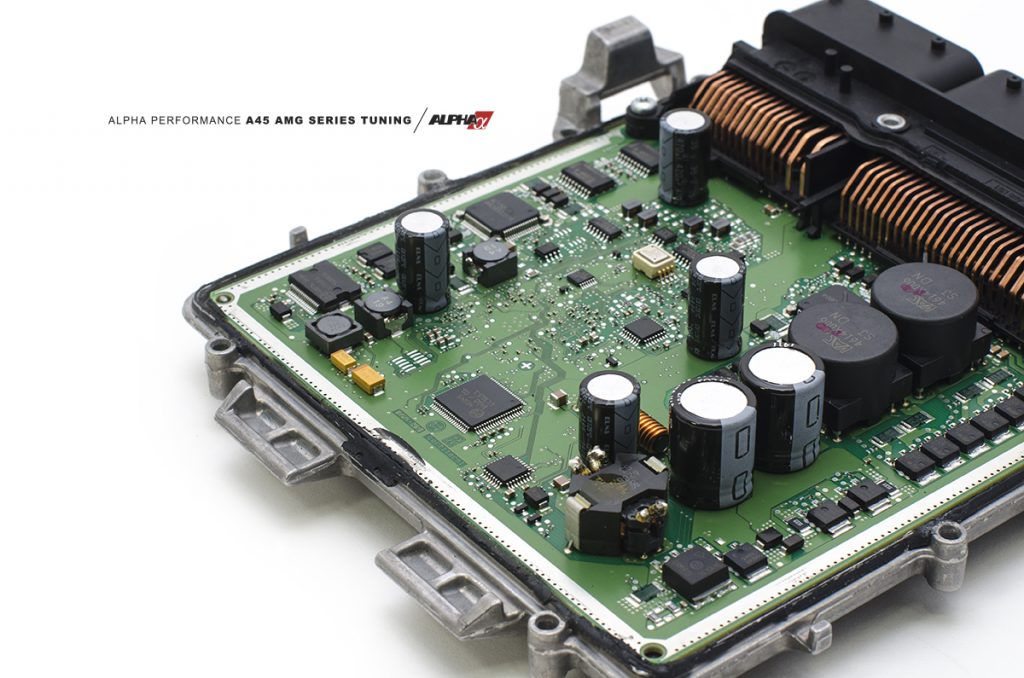 Alpha CLA 45 AMG Future