Another Texas2K event is in the books! From podium drag racing finishes, to 200 MPH roll race runs, the entire AMS Race Team has had a successful week! Despite some hiccups, we're off to a great start to the 2022 racing season.
— Drag Racing Runner Up DCT/GTR1 Class
— Quickest Stock Engine V10 at TX2K
— 200+ MPH Roll Racing (/w a Stock Engine!)
— More than a Dozen V10 Cars with AMS TCU Calibration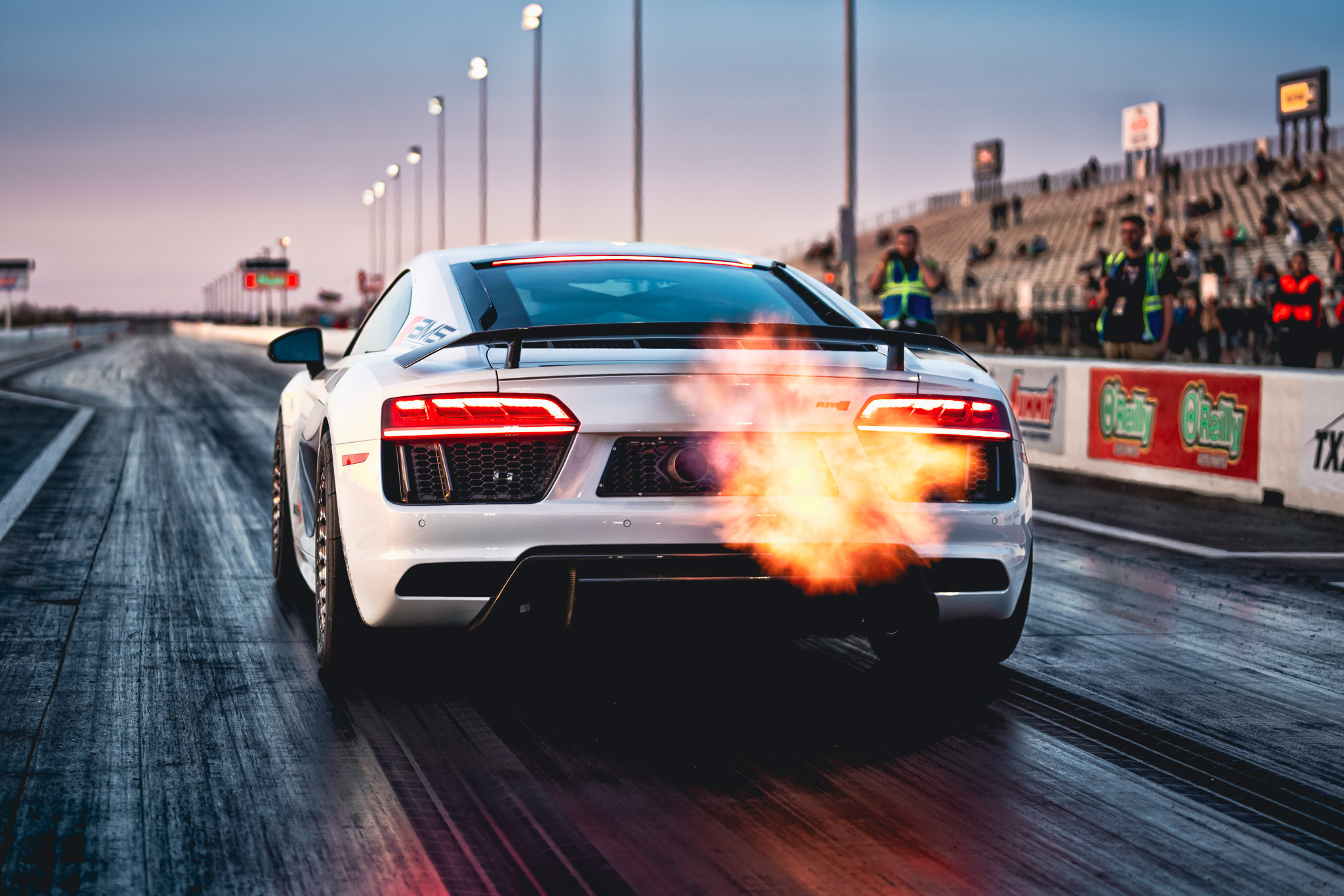 AMS R8 Takes the Podium
Our AMS R8 put up an incredible fight all week, running a blazing 197 MPH roll race speed, and clicking off an event best time of 7.98 @ 181 in the drag racing competition, securing a runner up spot in the DCT/GTR1 class! Continuing its tradition of being the only stock engine V10 running 7s at all of the events it attends, the AMS R8 continues to exceed our expectations for reliability of the factory OEM engine. We've gained an unbelievable amount of knowledge from our AMS R8 racing program that will soon trickle down to commercially available stock-engine ALPHA performance packages.
V10 Transmission Tuning
Our AMS Calibration Team was working double time in Texas, supporting more than a dozen V10 cars with our AMS DL800 TCU Calibration. Similar to an ECU calibration, this cal file is loaded directly to the transmission control unit, manipulating a number of trans-specific systems. Our team is able to make improvements with the transmission's torque holding capabilities, around-town drivability, and overall reliability by smoothing shifts and launches — reducing the likelihood of mechanical drivetrain failures like broken axles and shattered second gears.
Dave Rohrschneider ALPHA 20x GTR
For the second event in a row, Dave Rohrschneider and his ALPHA W GTR entered the GTR3 class bracket as the number one qualifier, but was unable to continue to the finals as a mechanical issue knocked him out of the competition. Running an event-best time of 7.10 @ 204MPH, Dave continues the search for a six second pass on 68mm turbos.
The ALPHA Princess Brooke Berini
Over the past few years, the DCT and GTR1 classes at TX2K have evolved to the point where the ALPHA Princess GTR is at a huge disadvantage compared to a 1500+ HP built engine, twin turbo V10 car. Because of this, Brooke knew she was in for an uphill battle that unfortunately saw her knocked out in the early rounds of competition. Nonetheless, the ALPHA Princess GTR is always a crowd pleaser, with hundreds of fans coming to see the car in the pits between races. Brooke, being the legend that she is, always makes time to chat about her car and take selfies with fans. She is truly an inspiration and role model to young racers that look up to her, and an advocate of motorsports for the next generation.
ALPHA V10 TT Kits Abound
It was truly remarkable to see all of the ALPHA powered V10 cars at the TX2K event this year. From the 200+ MPH roll racing pass in the stock-engine Iroz R8, to our own AMS R8 running multiple 7 second passes and taking podium, AMS had their mark on what seemed like half of the R8s and Huracans on the property. Iroz, Ostar Motorsports, GoAuto, and DME all represented AMS with their ALPHA TT kits and we couldn't be more proud of our team and the V10 program we've built in such a short time frame.
ALPHA 20x NISMO GTR
Jordan Martin's Prime Cuts Chop Shop ALPHA 20x NISMO GTR made its first appearance at the track at TX2K, piloted by Prime Cuts' own Brian Hood. With 1800+ WHP on tap from this build, we knew we were going to have to get Brian some preliminary seat time before letting him go for a full pass with the car. Unfortunately, with a number of rain and track clean-up delays, the test and tune schedule was cut short and we were only able to make two introductory runs. We're looking forward to getting back to the track with Brian and the ALPHA 20x NISMO in the near future!
For even more TX2K22 coverage, check out our 2-part YouTube video series showing you behind the scenes as the event unfolds!