GT-R World Cup 2021 is in the books! We always set extremely high goals for our customers and ourselves and always come through in the end. This event was very different as buggy electronics, driveline components, and a quick foot kept us from reaching those goals. One thing we did learn from this is that winning is in the process. All is not lost though. You can take a measure of a team not by what they do in times of success but by what they do in the face of adversity. For that reason, we are going to buckle down, review the logs, make some minor adjustments and come out with guns ablazing for TX2K21 in March! We look forward to showing you just how resilient we really are. Even with some of the setbacks our team still made a sizable impact on the event…
— Brooke sets, resets, and re-resets her PR in Alpha Princess
— Our shop R8 sets PR
— David Rohrschneider just misses a 6-second pass
— AMS' V10 race program officially launches
— Chicago Motor Cars debuts Alpha Huracan Performante
— CMC Alpha 22X GT-R is back!
— Prime Cuts Chop Shop Alpha Omega Drag Huracan makes GTRWC debut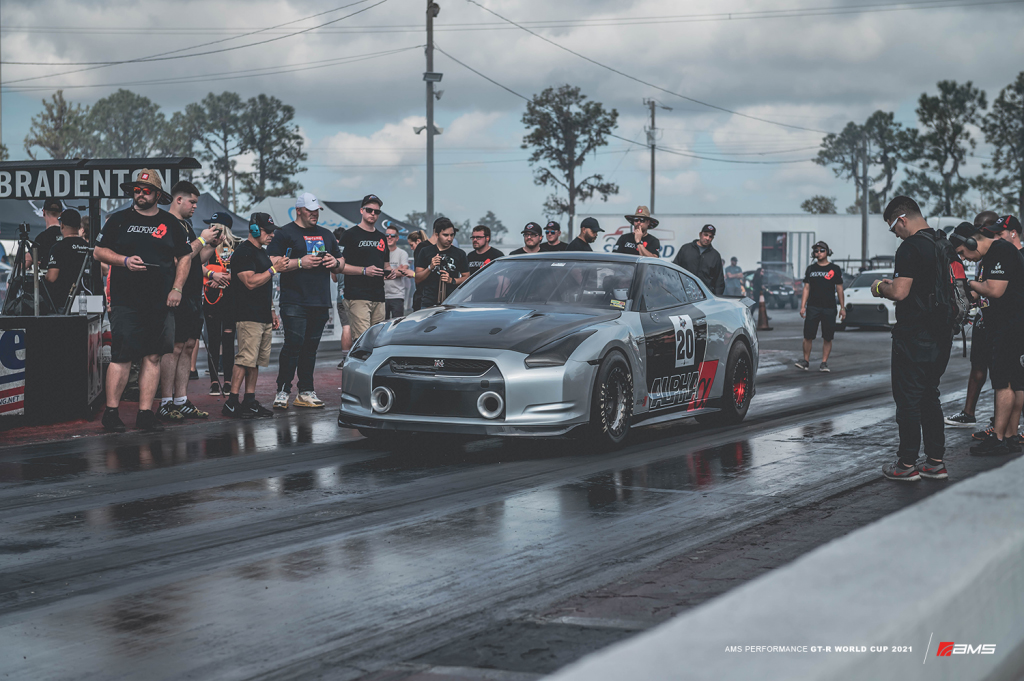 GT-R World Cup: CMC's Alpha Huracan: 8.83 @ 162 MPH
Chicago Motor Cars have been campaigning their AMS built and supported Alpha GT-R for years to much success. Countless wins, records, and podium finishes always seeming to battle in the finals of each race with their Alpha teammate Jordan Martin. When CMC, being the country's leading supercar reseller, learned that AMS would soon be launching a V10 twin-turbo program they were ready to take the next step and repeat the success of their GT-R in something with a few more cylinders. Enter their absolutely beautiful black Lamborghini Huracan Performante. Parin brought his Huracan to AMS to get an Alpha twin-turbo kit with a prototype titanium exhaust, MoTech M142 ECUs, and billet V10 intake manifold installed. He is planning on going even bigger rather quickly so he also took advantage of our new DCT program. We installed a Stage 5+ DCT in his Performante to handle all of the newfound power. There was one catch though. Parin wanted the car to be ready for the first event of the year, GT-R World Cup's new DCT class. Our team was ready for the challenge.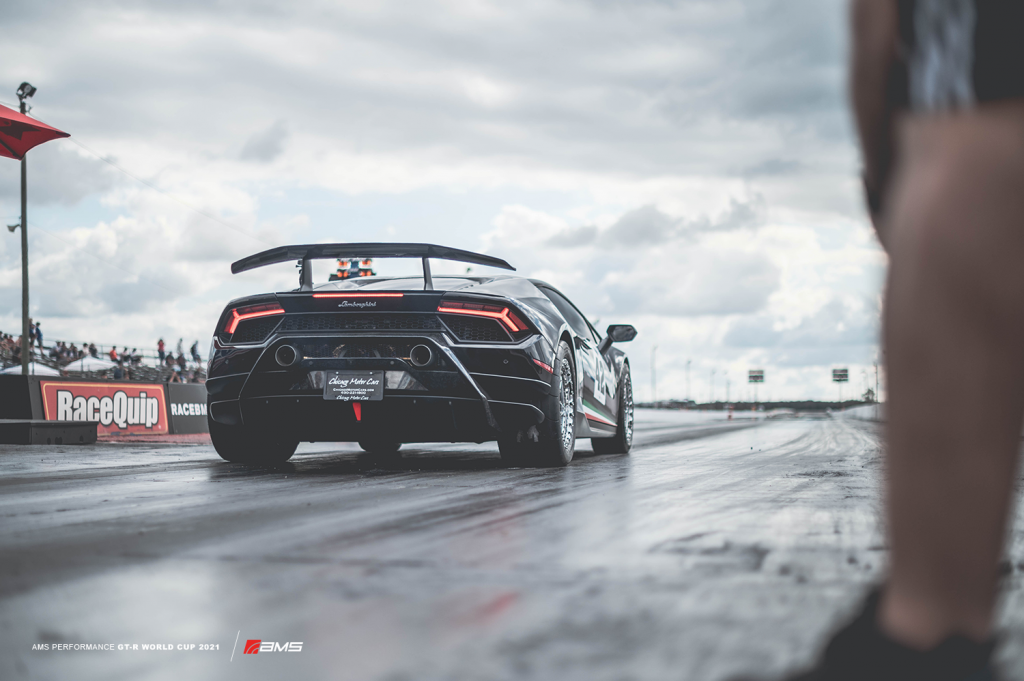 When the transport showed up to load the fleet of AMS-supported vehicles for GT-R World Cup CMC's Huracan was ready to go. The techs had put in the extra hours and built the car in no time. The tuners had it running strong making 1355 WHP and 967 ft-lbs of TQ. It drove onto the transport bound for beautiful Bradenton Motorsports Park. When it arrived in Florida it was still on the 3-year-old wheels and tires. The new T1 Race Development Beadlock wheels by BelaK Industries would be arriving the next day. So, Parin piloted his fresh AMS build down the track for the first time running a 9.04 at 152 MPH on 3-year-old street tires! When the new T1 wheels arrived the techs swapped them onto the car and Parin drove the car into the staging lanes. On Parin's very next pass the car went into the 8's going 8.83 @ 162 MPH! Parin and the CMC team are not stopping there. What's next? You will have to wait for TX2K to find out! Stay tuned!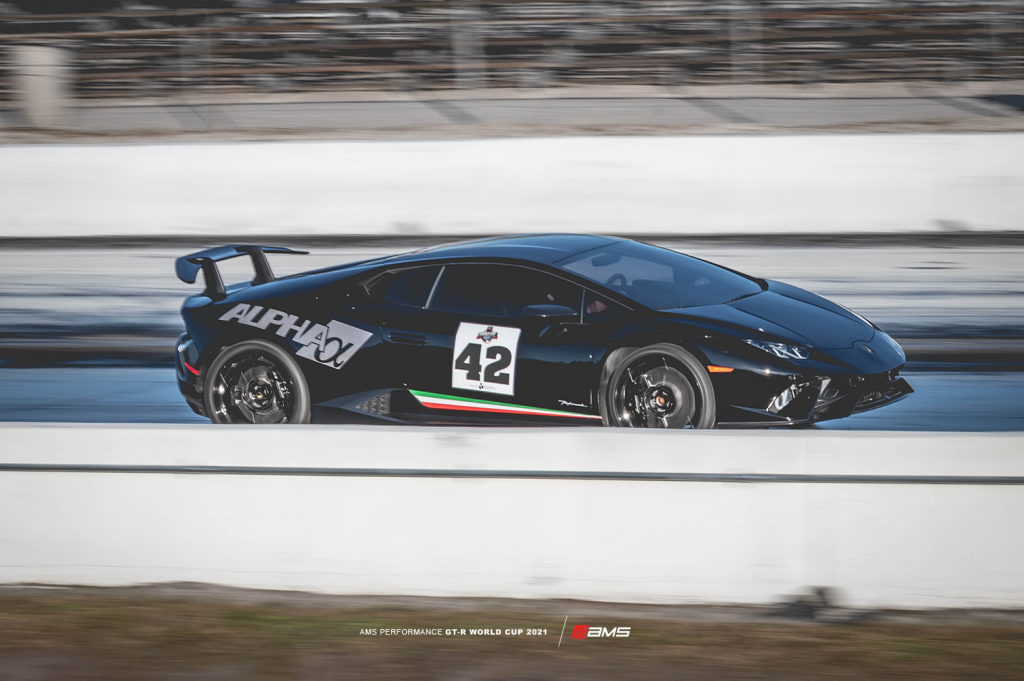 ? GT-R World Cup: Brooke's Alpha Princess GT-R: 8.49 @ 160 MPH
A little over a year ago we started a collaboration with a GT-R driver that wanted to push the stock turbos to their absolute limit. When the car arrived at our shop it had this crazy hot pink mirrored wrap. The entire shop stopped dead in their tracks to get a look at this unique GT-R. With the shop abuzz upon the arrival of this new project, there was one thing that was very clear. We needed to get this GT-R's performance to match its looks and the lofty goals of its driver, Brooke Berini.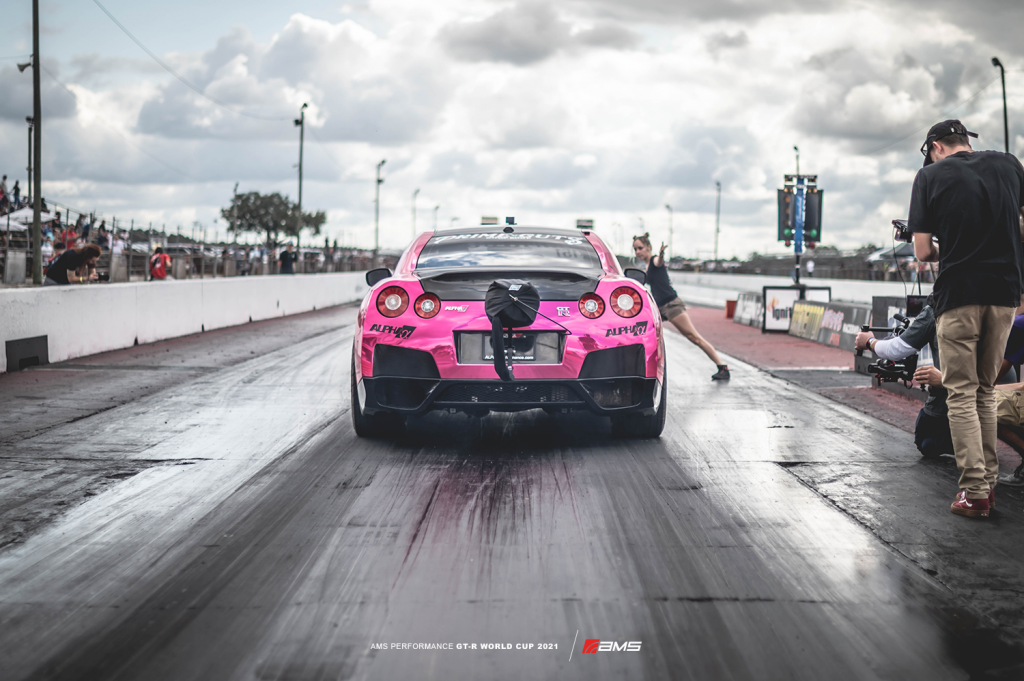 We dug into the car as soon as it rolled off the trailer. In the last year, we added a 4.3L Alpha-built VR38. We installed the stock Nismo turbos. We added a roll-cage and parachute. We added an Alpha Cast Aluminum Intake Manifold, an Alpha Fuel system, Alpha Race X Drag Wheels, and carbon brakes. We added a Shep trans. We Installed a custom titanium exhaust. This, the expert tuning, new stock cover turbos, and the other components have the Alpha Princess sitting at 1233 WHP and 1071 ft-lbs of TQ. When we say "we" we really mean it. Brooke has been right in the middle of each upgrade with a wrench in hand doing the work. Because of all of her dedication, sacrifice, and hard work Brooke has set, reset, and held onto the record for the fastest stock turbo GT-R in the world. She has stood on podiums at all of the big events. Race after race she works her way through the field and GTRWC21 was no different. She went 8.7 @134, 8.6 @ 141, 8.5 @ 161, 8.5 @ 161, and 8.4 @ 160. The only thing that has been able to stop her march to a string of first-place finishes is an anxious right foot.
To win big races drivers have to live right on the edge. Sometimes this leads to breaking out when going a little too fast or leaving the line a little too early triggering a red light disqualifying you from the competition. It happened last year to Brooke when she broke out at GTRWC20. She red-lit as she raced in the finals of the DCT class at TX2K20, and unfortunately, both happened at GTRWC21 as she went faster than the 8.5 breakout and she left -.032 of a second early. We are excited for the future of Brooke's GT-R and running at TX2K in March. She will be racing for a spot at the top of the podium if she can just slow down a little. 🙂
GT-R World Cup: The AMS Alpha 12 R8: 9.17 @ 152 MPH
Our shop Alpha 12 R8 had a wildly successful GTRWC! Driven by our Engineering Manager Lance and competing in the DCT class it clicked off extremely consistent runs of 9.17 @152, 9.18 @152, 9.29 @151, 9.38 @ 148, 9.66 @145, and 9.66 @120 MPH. This R8 is our testbed for many of the V10 products that we are now offering to our customers. Components like the Alpha V10 turbo kits, V10 Billet intake manifold, Alpha fuel system, the Alpha DCT program, and more all started at AMS' Snailworks R+D on this car. Exciting too is the fact that our R8 is still on the stock ECU, stock engine, stock injectors, and stock emission controls including the stock cats!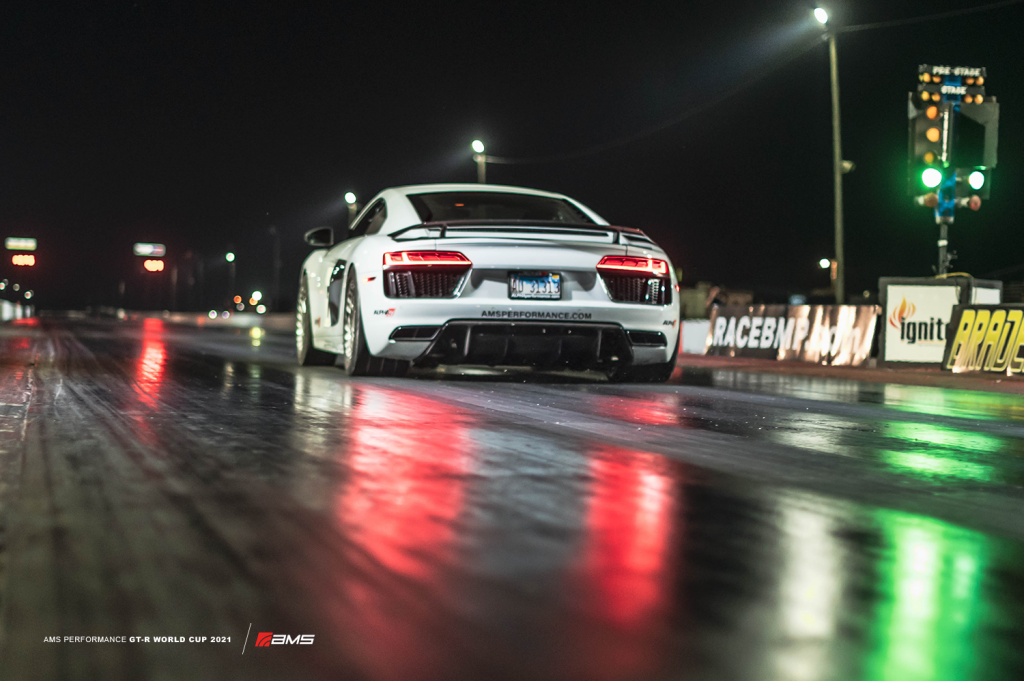 Our calibration team is able to tune the newly released Alpha V10 Fuel System to work properly with the stock ECU's fuel flow and pressure demand control strategies. They can control the launch RPM and how much boost the engine will build, which is helpful when trying to dial in the car at the track. They also can adjust the shift points to help keep the car from hitting the rev limiter when launching and auto shifting. With all of that in mind and all of the stock aspects still being utilized on the vehicle, the graph shows our Alpha 12 Audi R8 is making a healthy 1218 WHP and 791 lb-ft of TQ! Stay tuned for more!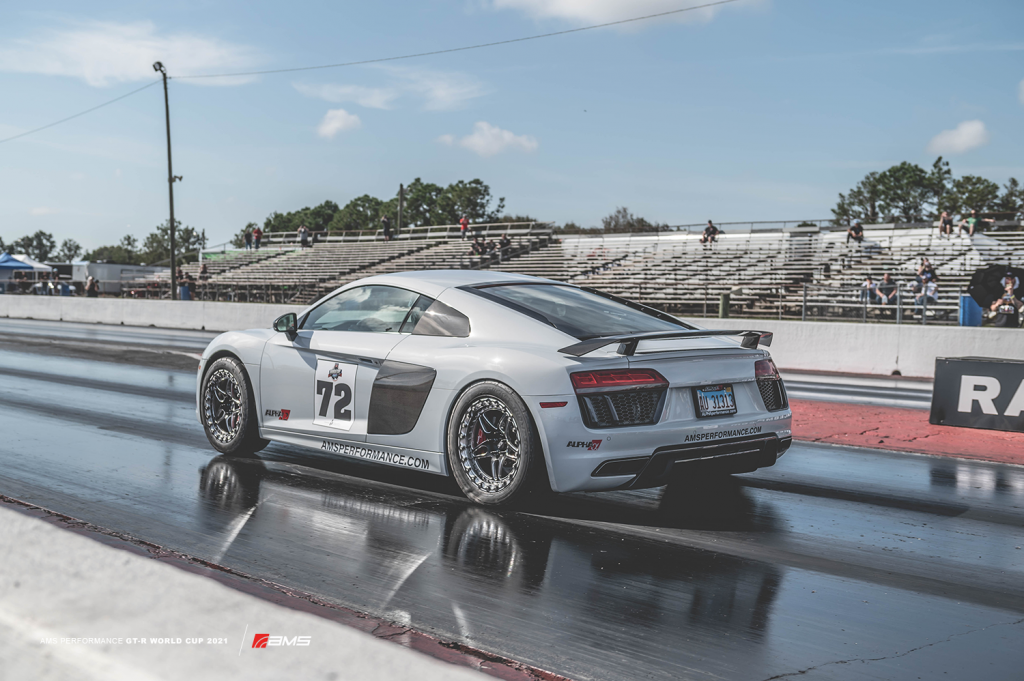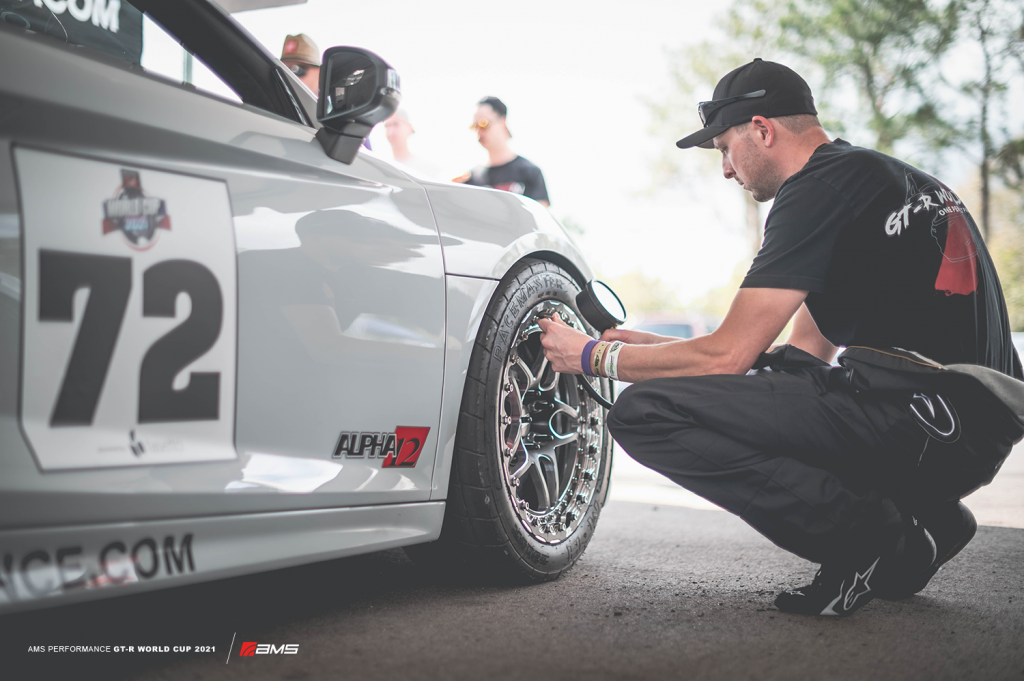 GT-R World Cup: David's Alpha R35 GT-R "Wally"
David Rohrschneider went into GT-R World Cup 2021 looking for one thing, to finally get that 6-second pass in his R35 GT-R "Wally." He had just missed the elusive milestone during his last two events each time bettering his PR and holding onto the record for the fastest 68mm R35 GTR. Jacob, our engine calibrator, had finished tuning the car and had it at over 2100 WHP and over 1300 lb-ft of TQ! The car was ready. David was ready. The AMS team was ready. Together we were determined to finally reach David's goal.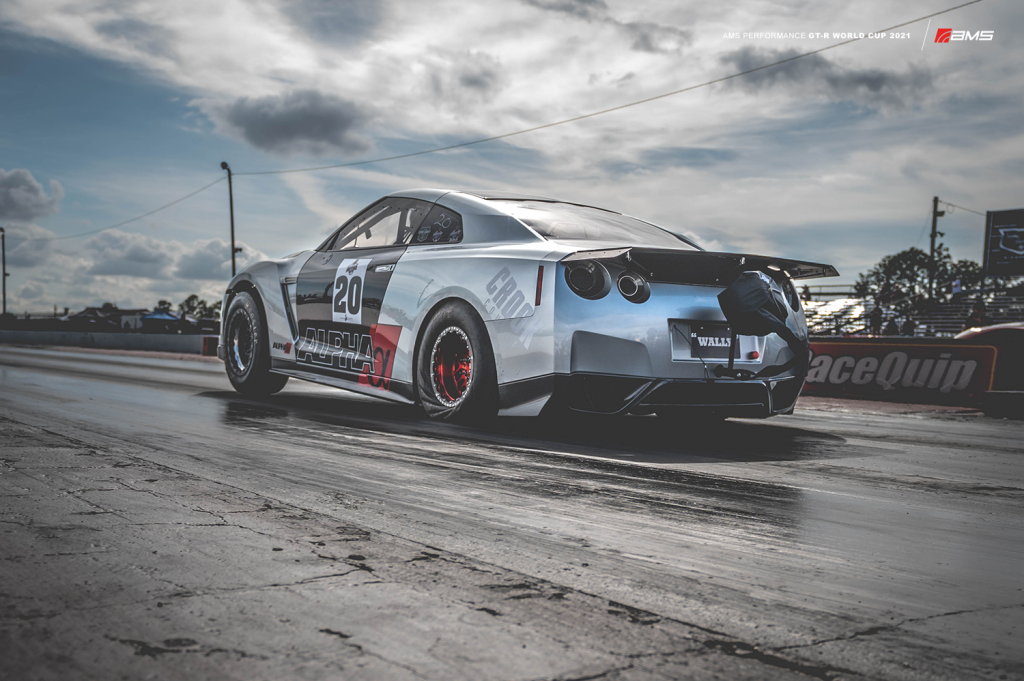 During qualifying for the Pro Street class, which David had won the year before, he ran a 7.20 @196 MPH seeding him as the number 1 qualifier a position he is very familiar with. During his second qualifying pass, "Wally" suffered a setback. As David finished his second qualifying pass he noticed a wisp of smoke rise up from the front of his hood. The wiring in the engine bay had overheated melting some connectors. It was fortunate that he had already qualified number one but unfortunate as the team would need to work through the night to get it ready for the first pass of eliminations.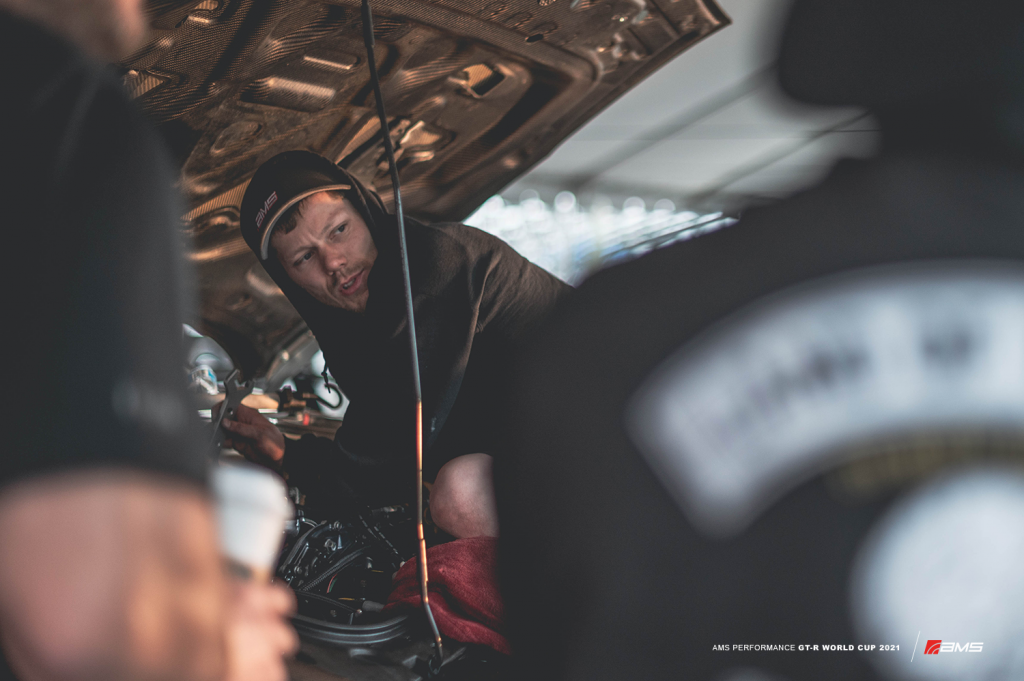 When the sun peaked over the horizon the morning of eliminations day the AMS techs were buttoning up the car. Dave was back in the game. He was still eyeing that 6-second pass and the entire team was going to do everything they could to make it happen. In the first race of eliminations, David ran a 7.122 @ 205 earning him a win and a second-round bye. In the third round "Wally's" electrical gremlins returned and David was eliminated from the competition as his traction control malfunctioned. It was extremely unfortunate on a couple of different levels. David would not repeat as Pro Street class champion, and would not get his six-second pass.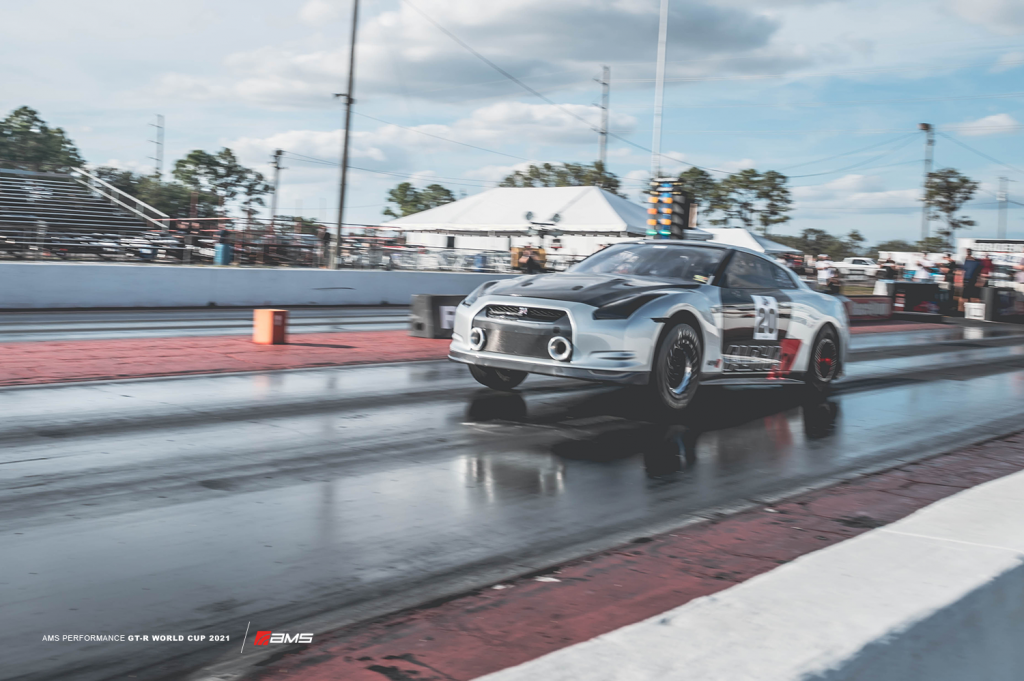 Next up for David, "Wally," and the AMS team is TX2K21 in March. You can bet we are going to come out with guns ablazing making a run for 6's. Stay tuned.