Hey hey my fellow SpeedHunters, my name is Ryan Gates and I'm here to share some pretty rad info with you all! First of all, I'd like to thank the awesome crew at SpeedHunters for letting me post the whole rebuild and refresh process of my Modified class Evo X. It's taken a beating over the last two race season… it's been a track rat pretty much since the day I bought the car in early '08. Running across the US competing in both US-based Time Attack series Redline Time Attack, and Super Lap Battle.
Each event was used as development for new parts, tuning, testing different setups etc… the entire time running the all-new and unproven OEM 4B11T engine from Mitsubishi. Needless to say the car was due for a refresh after a hard 10,000+ track miles over the past two seasons. When the stock engine finally let go during practice in the first event of 2010, that refresh process began ASAP and was handled by none other than my boys at AMS Performance.
Anyone not familiar with my car, here is a shot from Super Lap Battle 2009. You can see my co-pilot Mumphrey and I (lonnnng story haha) railing a corner at Buttonwillow. Last season went really well for our team – we were undefeated the whole season and set lap records at each race! With so many new teams campaigning in Modified class for the 2010 season, it was about time to get more serious with the car. We focused on chassis setup and safety upgrades to start… these included a full custom roll cage, fire safety gear for me, and some careful fine tuning of the current JRZ Race 3-way shock setup. Heading into the Redline Time Attack season opener at Buttonwillow I was confident in the car setup, even though we were still running the well seasoned OEM engine…
Here's a shot from that event taken a day before the fateful engine failure. Although I wasn't able to run an "official" lap time, my 1:47.4 laptime was a huge improvement over the record I set last fall during Super Lap Battle… 2.4 seconds to be exact. To make things even better I had to deal with a "decal malfunction", haha. Shipping things overnight across the country isn't always reliable I guess. As much as I appreciate all that my sponsors do for me, I really wish I could run it clean like this once in awhile!
This was the last shot taken of the OEM 4B11T engine in the car. I'm still kinda bummed that our run with it had to end with a massive failure at Buttonwillow, resulting in a pretty nasty fire. My extinguisher took care of things in the engine bay pretty well though. Other than some wire damage and a burnt manifold it was all relatively unharmed.
Here's a shot of Scott Priebe from AMS having his first look under the car. Scott was the lead tech during the rebuild process for my car, responsible for almost every aspect of the build. Props to you Scott and thanks again for getting everything done so efficiently.
You can see things didn't end well for this guy. Here is one of two holes in the block…
The timeline for the whole rebuild was less than two weeks, so things had to happen quickly. Check out that nice fire damage on the rear bumper. Oil from the engine sprayed the complete underside of the car causing some serious fire damage all the way back to the bumper. My fire extinguisher was just enough to put of the fire in the engine bay, but I had to kick some dirt underneath the car to contain the fire while Buttonwillow's safety crew was on it's way from the other side of the track. It was just enough to keep things under control… it could have been so much worse. Carbon hood, trunk and doors +  fire probably wouldn't have been a good mix.
Definitely not a beauty shot. Sad to see it end this way. The OEM 4B11T is a beast though. Most everyone was overly critical of Mitsu because of their choice to go with an aluminum block design (vs. the iron block of the 4G63 in all of the previous Evo generations), but after 10,450 hard track miles over two full race seasons, it more than proved it's worth. At it's peak my car was making 550whp, more than double the HP it put down stock back in early 2008. All on a 100% OEM 4B11T!
With the oil pan off, you can see completely through the engine. Looks abused.
Mumphrey checking out the carnage, it was the first time he was reunited with his friends (horespower………) since the engine failure.
A fresh AMS 2.2L sleeved engine block waiting in the wings. The future is bright!
A set of AMS-spec JE pistons arrived right on time. Thanks for getting these sent out so quickly Sean!
Tim is in the zone…he's the man responsible for all of AMS' engine builds.
JE + AMS = An amazing 4B11T engine.
You can see the semi-closed design of Mitsubishi's 4B11T engine pretty clearly here. Like mentioned earlier, there have been many skeptics of the engine, but so far the new design has been nothing short of amazing.
Final assembly of the brand new AMS 2.2L short block. What a nasty engine….
All ready to go back into it's home. The Carbonetic Triple Carbon clutch lasted all season without issue. But before putting it back into the car it was thoroughly inspected, and amazingly the plates looked like they were brand new! Gotta love carbon clutches and heel toe downshifting.
A cool photo before the engine went back into the car…looks like he's super pumped to get things going!
Scott asking for some advice from the wise Mumphrey.
The lightweight combo of OEM Brembo calipers and Girodisc rotors have served me well for the past two seasons. There was no need to swap them out for something bigger/heavier. My favorite part about the car is the amount of parts that are still stock. Yes there are some crazy parts on it, but 90% of them are bolt-on's that anyone can get a hold of. I like to keep things simple and only upgrade as needed… for the most part haha. Keep it simple.
A fresh set of the new Project Mu Club Racer pads about to go in for some testing.
The last thing needed before the car headed onto the dyno for it's "break-in"….
The car is all buttoned up and ready to rock! That 3″ intake and K&N filter were later changed out for a 3.5″ intake and filter…ahhh the joys of running an OEM ECU and MAF sensor haha.
The wizard Chris Black doing his thing. There were a few issues that took us a bit to figure out…apparently the boost solenoid we run for ECU controlled boost likes to run backwards… nice! After some problem solving things would resume a bit later in the evening.
A shot of the car between dyno runs.
There's something about CE28's (in the proper offset) that I just can't get over. These were the first set of wheels I bought for the car way back in the day and I still love them. Hellaflush or Hellafunctonal? I prefer both.
Late nights at AMS…always funky. Joe and Danny chillin in the back of a CRX.
Squatting on the dyno during a pull. So violent…even the brand new 275/35/18 Nitto NT01 tires had a hard time clinging on!
And the result of all that work over the past two weeks? 737whp on e85 at 35psi, while revving all the way to 9,300rpm. Did I mention the car still tuned on the stock ECU?!? We're running AMS' newest turbo, the 850X. It's amazing! Especially when combined with AMS's badass 2.2L. The transient response of this thing is just unreal. It should be a fun setup for Las Vegas at Round 3 of Redline Time Attack this weekend!
After the dyno sesh, the car headed straight for the alignment rack. Justin from AMS dialed in the freshly rebuilt JRZ's as he corner weighted and aligned everything… thanks dude! While the car was down during the engine rebuild I had AMS send out the JRZ 3-way Race shocks to my main man Bryan Hise from JRZ Suspension. After a full season it was time to get them rebuilt so I could start this one off right.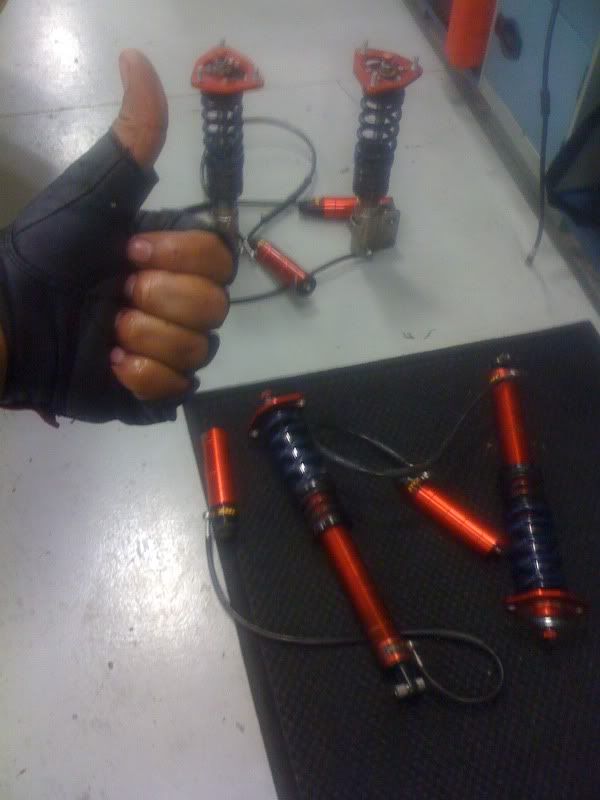 Bryan added some secret sauce, wore a fingerless glove, and made a few minor changes during the rebuild, but overall the setup will be similar to last season. My all time favorite mod to the car? The JRZ suspension. I can't tell you how amazing these things are. They're firm, yet plush, and can take a beating like no other. Don't skimp on suspension if at all possible, a proper suspension setup is priceless.
Just as important as the suspension itself is getting it set up properly. Justin did a great job getting things setup right. It's nice to have access to a full race prep facility…. AMS is really a step above when it comes to US based tuner shops. It's key to have a well set up platform to build from with all of this newfound power I've got. Things are going to be a little wild for the first few laps out there in Vegas haha!
All done and ready to finish this refresh process – time for a proper livery. I loaded up the car and headed up to the Stickerdude to get the car wrapped in it's super fresh, and Speedhunters own Andy Blackmore, designed livery.
Arrival and prep at Stickerdude…the anticipation of the new design was really killing me at this point. We worked super hard together to make the new livery and fresh and clean as possible.
During the wrap process….white? Yep. But wait, there's more.
Ahhhhh there's that familiar blue! Andy and I tried so many different color combos and designs, but ultimately decided that it was best to stay true to my roots. The classic blue, black, and white theme of my car from years past was always so clean and we wanted to keep it that way. We finally came up with what you see here, a color split livery design! I think it's super rad, especially in how Andy did the actual split utilizing Mitsubishi's famous Diamond logo.
And here's a sneak peak at the final product. A few of the decals are on the car, but there are still more to come. As you can see Nitto Tires is now the title sponsor of my Evo X, now formally known as the Gates311.com / Nitto Tires Evo X! I'm so pumped on how it turned out. Thank you Nitto for your AMAZING support!
You'll have to wait a bit longer to see the final product…unless you head on out to Las Vegas Motor Speedway this weekend for Round 3 of the Redline Time Attack series! Come chill with us and see the car live… it's pretty nasty in person! I can't wait to get out on track. With 740whp it should be at least reasonably fun haha. Wish me luck!
Thanks again to the SpeedHunters crew for giving me the opportunity to post this.
– Ryan Gates
For more on the car, Ryan, or Nitto Tires check out these links: