Alpha Performance R35 GT-R Pro Billet Series Block Upgrade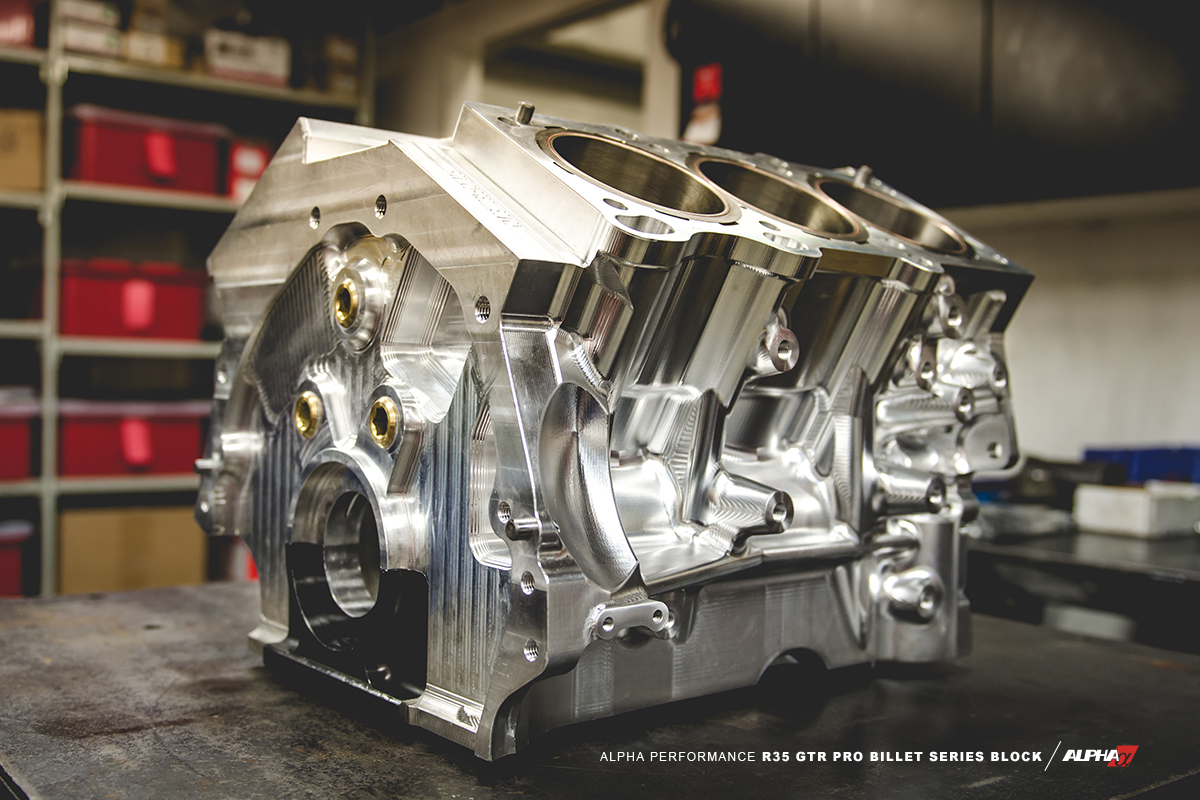 This is the most highly anticipated product release in our 15 year history! We have successfully applied our race-winning experience to the R35 GT-R's VR38 V-6 to bring you the pinnacle of GT-R engine blocks. Introducing the Alpha Performance R35 GT-R Pro Billet Series Block Upgrade! By developing an Alpha proprietary aerospace grade billet block we have engineered the strongest, most advanced block ever created for your GT-R. And, we have the world records to back it up. When looking for the ultimate engine block for your GT-R look no further than Alpha Performance.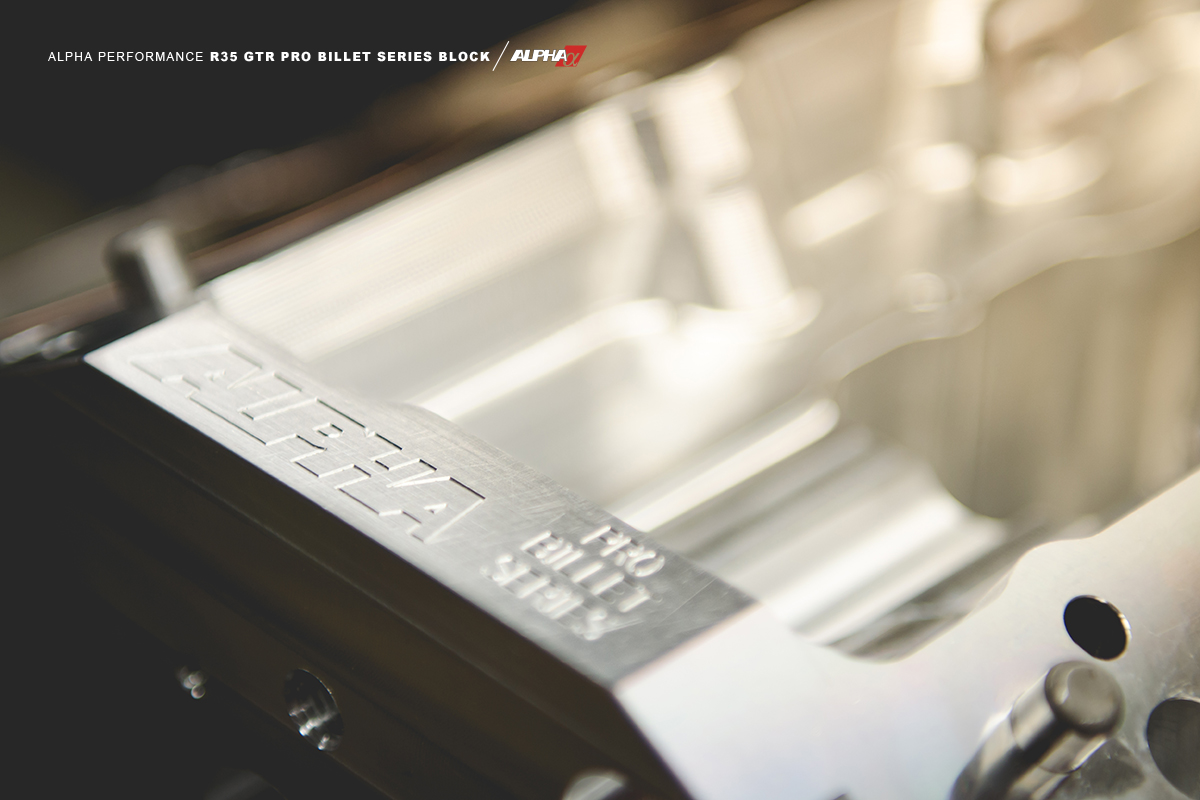 Unmatched Construction
When AMS Engineers started exploring the concept of creating the ultimate GT-R block they had two primary goals: 1. It had to be able to handle the most power ever produced by a GT-R, and 2. It had to make that power reliably. Our Engineers chose billet aluminum because of its superior strength and excellent ductility. Each block is CNC machined in America from one solid piece of billet aluminum. This material's ability to withstand the extreme pressures and heat produced by 2500+ horsepower is unmatched.
The Pinnacle of Performance
The Alpha Performance R35 GT-R Billet Block is simply the best. Whether it is in the Ultimate GT-R race car, the World Record setting Alpha G, or the most celebrated street car ever, and back to back "King of the Streets" Champion AMS' Alpha Omega, our VR38 R35 billet block is the centerpiece of winning. The Block features alloy steel main caps with splayed bolts for better load distribution and skirted block design for the highest levels of crankshaft support. The cylinders feature custom designed Darton© sleeves and extra thick walls to withstand extreme cylinder pressures, allowing for an increase to 4.0 liters of displacement. This increase in displacement allows for quicker spool times and better low end torque over the standard 3.8 liter factory engine. If you are building a Nissan GT-R to compete against the world's best then the Alpha Performance VR38 R35 GT-R Pro Billet Series Block is where to start.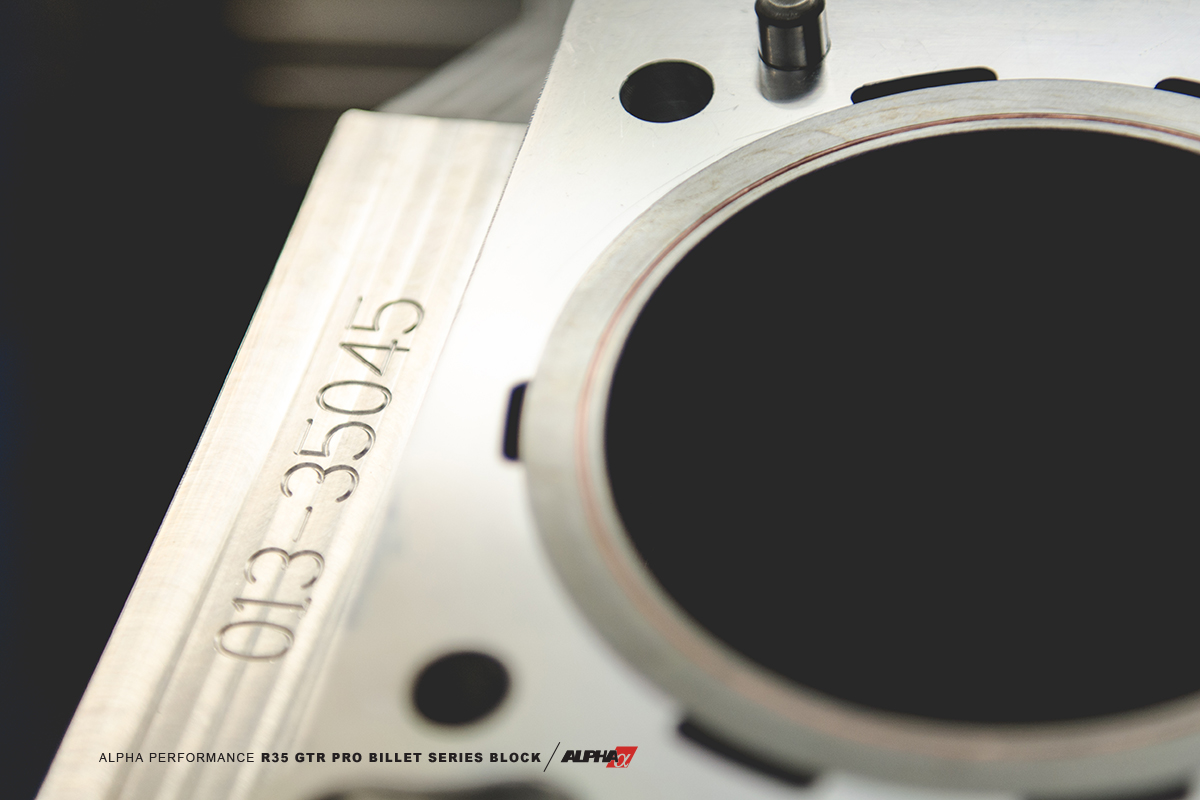 Ultimate Efficiency
At the power levels this block is capable of producing, extreme heat can rob the engine of horsepower. This is where the billet aluminum block material comes into its own. Billet aluminum's excellent thermal dimensional stability can take all the heat that you can throw at it and asks for more. We've always prided ourselves on having a tried and true engine program. Our engines have powered many of the world's fastest R35 GT-R's with 7 second quarter mile passes becoming a regular occurrence. The Alpha Performance VR38 R35 GT-R Pro Billet Series Block upgrade is what you need if making extreme power is your goal.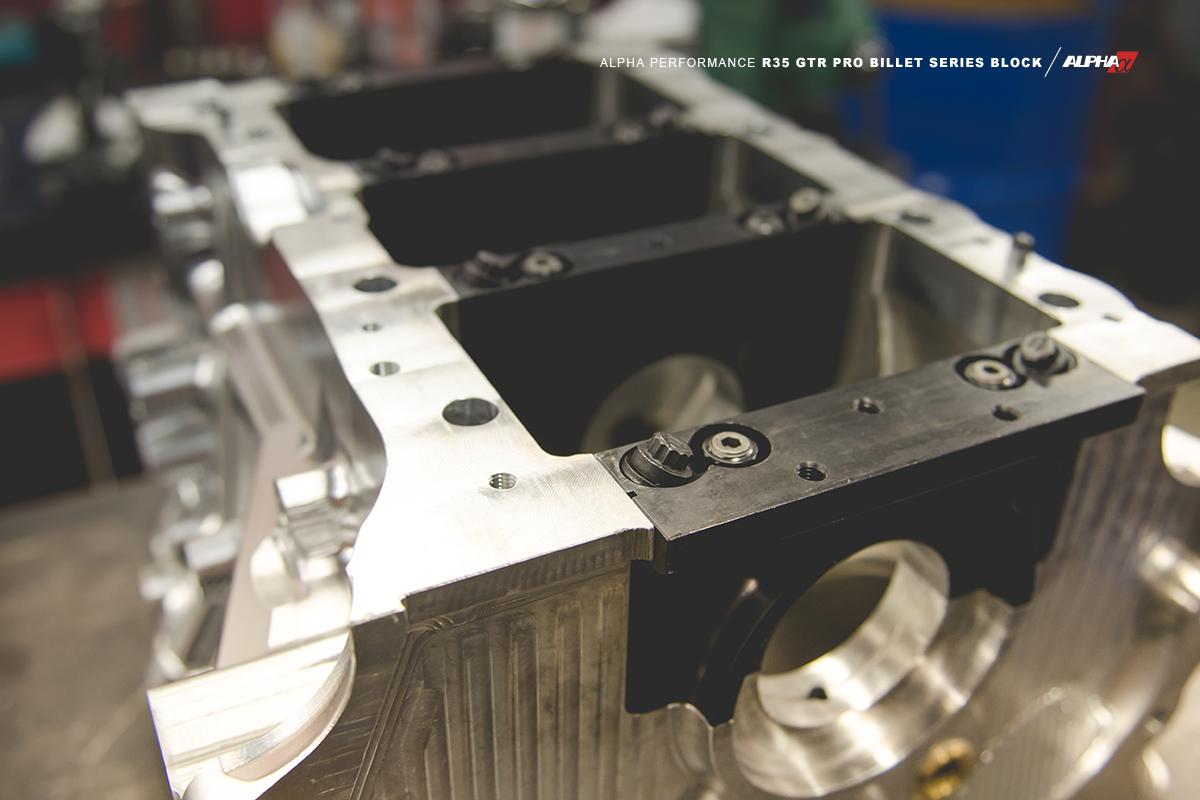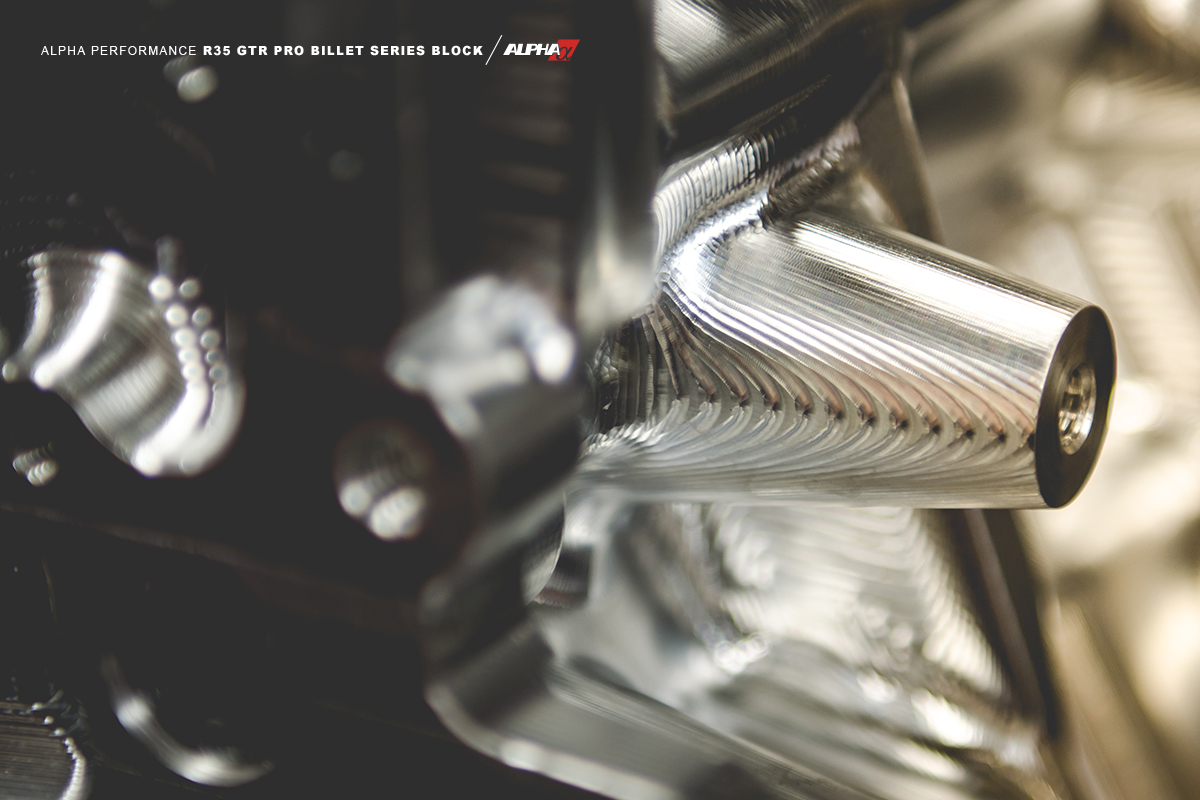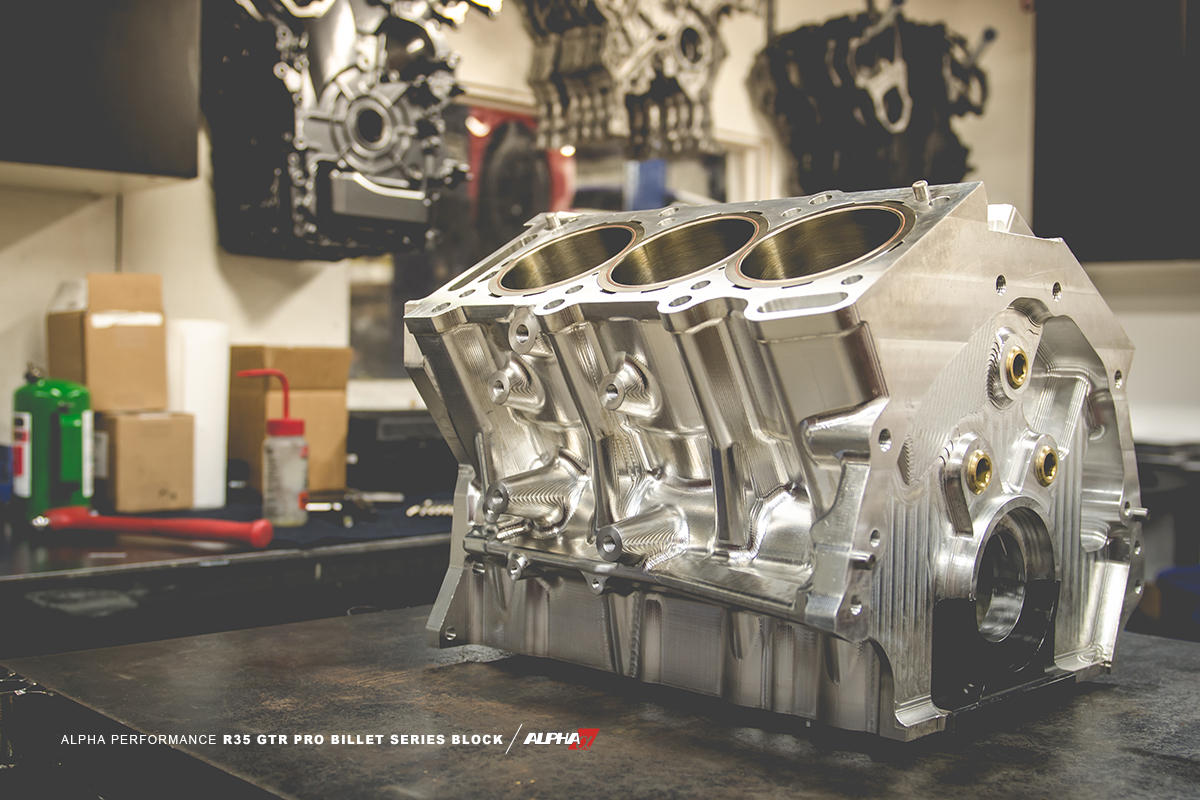 Exclusive Benefits
Proprietary Aerospace Aluminum Billet Block
Excellent Thermal Dimensional Stability
High Strength with Excellent Ductility
Alloy Steel Main Caps with Splayed Bolts for Better Load Distribution
Extra Thick Wall to Withstand Extreme Cylinder Pressures
Custom Designed Darton Iron Sleeves for Excellent Ring Sealing
Skirted Block Design for Added Crankshaft Support
Weldable for Repairs
Good Corrosion Resistance
4.0 liter standard (Custom displacement available upon request)
Made in America