NASA Mid-Atantic Event
Fresh off my first day at VIR (see thread on GRM UTCC Event) I was just getting started on the weekend's festivities!
Saturday Morning:
The call was a 7:30am meeting at the track. Because of the heat from the previous day, I felt like I had been up partying all night long even though I wasn't. Great way to start the day and along with the Gatorade and water I was drinking I had to mix in some caffeine as well to get me going!
I had just enough time to tighten everything down and make the morning warmup for TT. I was going to be running my usual TTB trim which is ~300whp & 3280lbs with 245 Hoosiers. For a total list of my setups, check out my webpage HERE. Practice went fine although I did pop off a boost line and was overboosting on the last lap so I came in a bit early as I already had a few hot laps in for a good grid position.
NASA Mid-Atlantic does their TT program scheduling quite a bit different from what I'm used to in the MW/GL division. Where I'm used to 5 total sessions; here I was only going to get 2! So that's a lot less track time, and a lot more pressure to have your setup right and a good clean flyer of a lap w/o any offs (4-wheels off = DQ)! I thought I did well, with a 2:13.7 but that stuck me in 4th out of 7! Fortunately I had nearly 4 hrs to figure out where to pick up time. In looking at my data, basically I lost the 'balls' I picked up at the end of the previous day through and at the top of the climbing esses – so I knew what I had to do. Even though this was only my 2nd day ever on this track, I wanted at least a podium finish!
The final – other rather the 'other' timed session was around 5pm. I lined up very early and went out and just kept my foot in it. Just like the end of the day Friday, the track was pretty greasy. Did I mention Sat was even hotter than the UTCC event?? I think the high was 103 Saturday and the track conditions showed it. I was clicking off lower times on each of my laps as I struggled through some traffic. My last lap was my best – 2:11.8 which vaulted me into 2nd place; just .5 off the win. I was pretty happy with that outcome. In a sense, I picked up a 1/2 second from the previous day even though I was running 50whp less, thinner tires and more weight! Not bad… I secured 2nd out of 7 and felt pretty good about my chance on Sunday as well.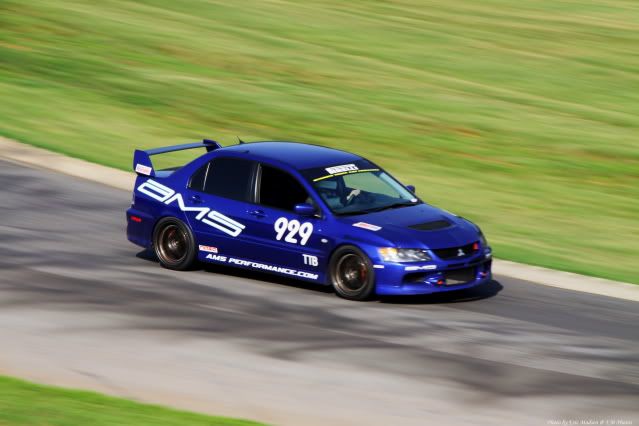 Sunday:
Only prep work was rotating the tires and tightening everything down. The practice session went just fine and in the 3hr gap before our 11:30am timed session I started packing up for the long trip home. We had an 11:30 timed session and then something like a 4:30pm session which I was not planning on sticking around for – not when I had a 900 mile trip home!
Again I lined up pretty early for the time session to make sure I wasn't late. The hottest part of the day has got to be sitting on grid in your car in your firesuit with zero air movement just waiting for your session to begin. At least once your moving you get some air!
Anyways, once the session started I clicked off a few laps and had a 1:11.2 which was my best to date. I took a partial cool-down then hammered out a final lap. I had to pass 3 cars on this lap and still came away with my best ever – my traqmate showed a 2:11 flat. I did about the best I could and hoped it would hold up.
After about 30min of chugging water and packing I went to check the midday results. And this was how close it was:
1st place: 2:10.998
Me: 2:11.028
Yep, that's just .03 off the win… I was sooo close to taking down the win in TTB from the locals! But, I needed to get home so I packed up the car, said a few goodbyes and took off.
All-in-all I was insanely proud of the car. I punished it in 100+ degree temps all weekend to the tune of 200+ track miles and it never flinched at all. I ran both a 100oct 26psi and my normal 93oct AMS Performance tune and kept everything in check with AMSOIL fluids. Thanks again for the great products guys!

Also a shoutout to Forgeline rims and Hawk pads; great products.
Here's vid from my only timed session on Sunday. 2 of my best laps; both 2:11's.
So I packed up and started the EPIC Journey home. If you want to read about it, check it out:
929 Evo – NASA TT @ VIR?