Saturday:
I went out for the morning practice session with a passenger. I lined up with my buddy Jarrod behind me as it was his first time in TT; 2nd time at the track and I wanted to show him the lines. I ran a 1:37 and qualified 7th in grid.
I went to switch in 2 grippier tires for the first timed session, but realized an issue: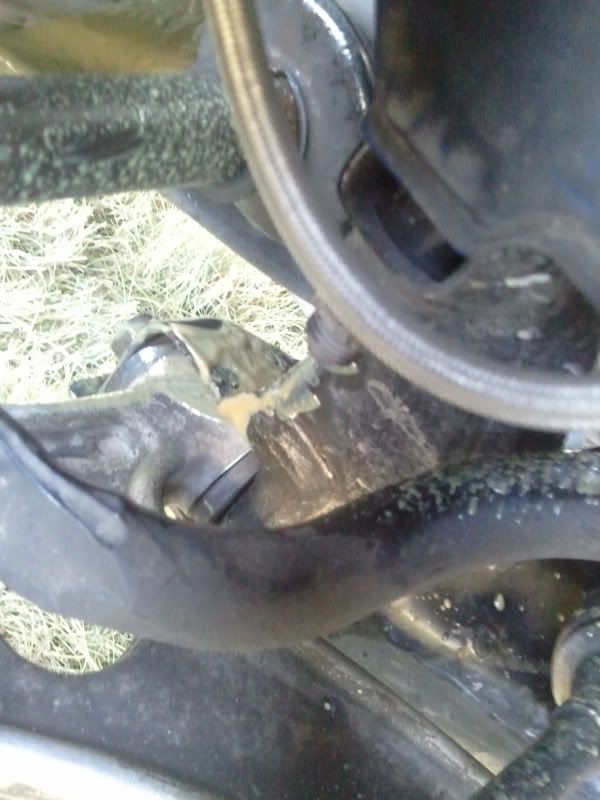 The car was covered in thick fluid by the driver's front tire. I figured out it wasn't fluid, but axle grease – apparently from when I had my trans pulled recently. I cleaned everything up as best I could and decided to go out for just 1-2 laps in the 11am session before the heat really set in as I needed a time.
I ran something like a 1:33.8 but the car was pushing in the turns; at turn-in and I had to get out of the gas more than once as it pushed mid-corner when I went back to the throttle as well. I had the Kognition wing on and it set to the lowest AoA. I also had some sloppy lines as I was bothered by the axle boot issue and was getting used to the new shiftpoints in my new longer 4th gear. I was sitting in 2nd of 5 cars.
But the real fun was a very near incident during the session that caused me to take some evasive manuevering! I was following another Evo; we were running 1:33-34 laps and we came up on a much slower Miata with a passenger. The other Evo passed him between T4 and T5 and I was setting him up for an inside pass in T5. While the other Evo was completing his pass, the Miata started to spin sideways mid-corner. I left off to not T-bone him as he caught it. But as I reached back for the gas, he jerked left again and I jerked left and went off-track to avoid him again. The guardrail was insanely close at this point as well as an upcoming flagstand. I turned right but the car kept going straight! I brought the wheel back straight and slowly turned right and it took that input and I was able to avoid hitting anything. Fun… Vid below!
I checked the car after the 11am session and it messier yet. I decided to let it cool and try to figure out a fix (if there was one). I was posting to facebook for advice and texting with Boostin Performance; who pulled the trans. I got a few suggestions including tape, superglue, zipties, trashbags, more tape, etc. I also sourced some fancy volcanizing 'fire' tape from the paddock area.
I let everything cool and went to work on the car. I started with superglue; let it dry; then went with electrical tape (sticky) and the fire tape back-n-forth. Then 2 zipties at the end with some electrical tape over them! I skipped the 1pm session as I didn't want to rush things.
Well into the mid 90's by now, I lined up for the 3pm session with no other changes. Went out and the track wasn't great but I put down another 1:33x and the car was clean underneath! That in itself was a success for me! The car pushed worse being things were hotter and greasier at this point. I chalked it up mostly to the high afternoon temps and took 2nd out of 5 for the day. 1st was a 132.8 that went to the reigning 2010 TTA Nat'l champ who happened to put his car in the wall in the 3rd session. We'll see if he can get it fixed for next weekend at Mid Ohio so we can battle again!
Sunday:
For Sunday I knew I needed to make a change. I decided the simplest was to pull the Kognition rear wing and put the stocker back on. The car felt much better when I was there in April and I ran the stocker back then. The Kognition was definitely producing downforce, but since I don't have a front splitter to balance it out, with my current alignment/settings it's just too much for this track right now I guess.
So I lined up Sunday with the stock wing and ran a 1:33.4. Car definitely felt looser in turns 3&4 where I had to left off the gas earlier. And the bandaid was still holding! Still though, I wasn't as fast as I was in April. I looked over my traqmate data and see I was loosing time in the braking zone of T1 of all places! So I set out to correct that in S2 and ran a 1:33.4 again! I assumed at this point the tires much be nearly shot.
I was going to run at least 1 more session and I wanted to make some change. Talked it over with a friend and I made a 1-click rebound adjustment – note this is the FIRST TIME this YEAR that I've touched the suspension settings on my new AST's since they were installed (they've been that good). Amazingly enough I felt the 1-click adjustment! The car rotated better through 2 specific corners and I was able to drop a 1:32.5 to end the day. That time held to win TTA for Sunday – although I wasn't able to reset my April track record of 1:32.1
Pic & Vid from Sunday. The vid is me and Jeff in his Evo; running nose-to-tail 1:33's.