GARRETT PERFORMANCE PRODUCTS ANNOUNCES NEW TURBO DISTRIBUTION PARTNER FOR UNITED STATES
Garrett by Honeywell to partner with aftermarket and tuning leader Automotorsport, Inc. to distribute its aftermarket performance turbo technology in the United States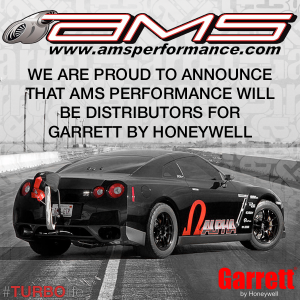 TORRANCE, Calif. – July 9, 2014 – Garrett® by Honeywell (NYSE: HON) is announcing it has formed a distribution partnership with Automotorsport, Inc. (AMS) for its Garrett Performance Products aftermarket line of turbos in the United States.
Established in 2001 and based in Chicago, Ill., AMS has built a reputation as a leading performance and tuner aftermarket shop in the United States by developing its own rigorous testing as well as research and development programs. They are also widely known for delivering personalized customer service.
Garrett is a recognized aftermarket technology leader as the Honeywell global brand for performance turbochargers. Garrett leverages Honeywell's global engineering resources to develop innovative performance turbos and products specific for the racing, tuning, and enthusiast markets. Garrett turbochargers can support engine displacements from 100cc up to 12 liters, — the widest range in the industry — providing more than 2,000hp in race conditions
"We are excited to fill a need in our distribution channel in the U.S. with a pioneer in the aftermarket performance industry," said Olivier Rabiller vice president and general manager of Honeywell Transportation Systems Aftermarket. "AMS is a partner that prides itself on customer service and delivering quality experience without cutting corners. It is a partner Garrett is proud to have representing its line of industry leading aftermarket turbos."
AMS specializes in manufacturing parts and packages for factory turbocharged vehicles, including specific models from Nissan, Mercedes AMG, Porsche, Audi, Mitsubishi, and Subaru. The AMS team has demonstrated its performance capabilities with more than 200 first place finishes, 40 class and track records, and 15 championship wins across multiple competitions run under the Sports Car Club of America, National Auto Sport Association and Redline Time Attack competition banners.
Beginning in July 2014, AMS will offer the full line of Garrett performance products for its customers and will also incorporate Garrett turbochargers into all future performance packages they develop and race cars they build. See their web site https://www.amsperformance.com/ for further information and product availability.
More information regarding Garrett's performance products, its global distributors, and its motorsports programs can be found at www.turbobygarrett.com or at www.facebook.com/TurboLife. More detail on Honeywell Turbo Technologies can be found at turbo.honeywell.com. You can also follow HTT on Twitter @Honeywell_Turbo.