Christopher Nelson of Automobile Magazine came by the shop, swiped the keys to our Alpha 7 E63 AMG 4Matic and took it on a road trip to Great Lakes Dragaway. Check out what he had to say about the Alpha 7 and watch the video of Chris running his first ever 10 second quarter mile pass!

Related Video: Watch the Alpha 7 E63 AMG 4Matic make ELEVEN 10 second passes in one night!
Automobile Magazine Tests Our Alpha 7 E63 AMG 4Matic
2014 Mercedes-Benz E63 AMG Alpha 7 by AMS Performance Review
By Christopher Nelson
Photos bySandon Voelker
Aug 28, 2014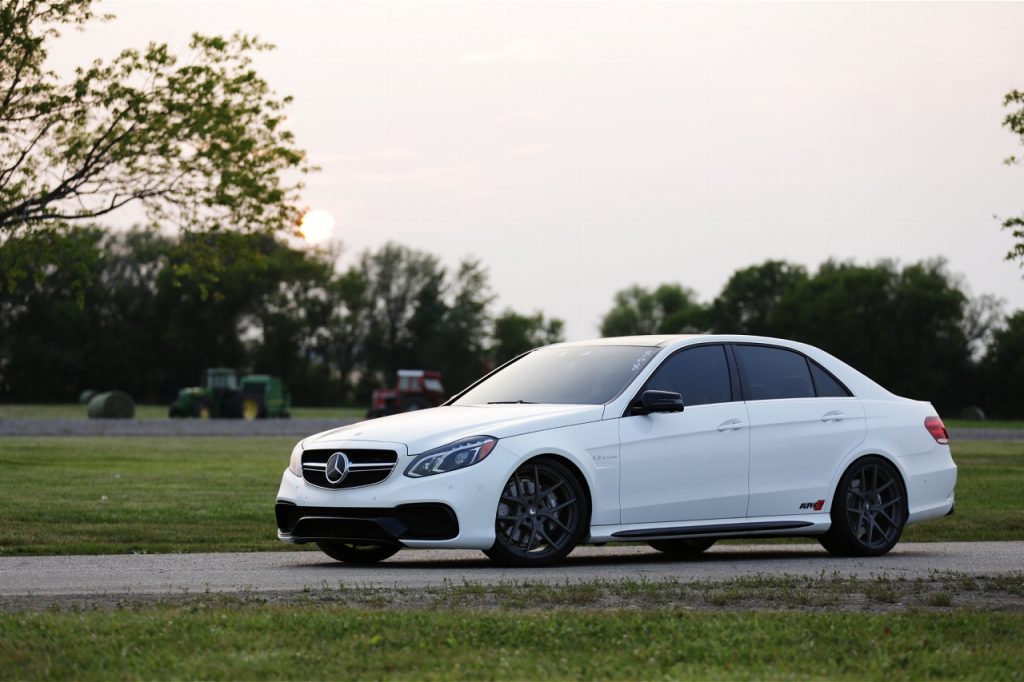 After finishing my second run down the quarter-mile drag strip at Great Lakes Dragway in Union Grove, Wisconsin, I stroll onto the VHT-covered blacktop and stand by the Christmas tree of starting lights just before a trick Plymouth stages.
When the lights drop and the musclecar takes off, its slicks wrinkling under the torque twisting the rubber, this thought pops into my head: "Crap, I forgot to turn on the massaging seats before my run."
The Mercedes-Benz of bracket racing
There are plenty of big-block drag cars here, but none of them can touch me in AMS Performance's 2014 Mercedes-Benz E63 AMG 4Matic outfitted with the tuner's Alpha 7 power-adding package. The Alpha 7 package, which includes exhaust down pipes, a cat-back exhaust, and 20-inch Vorsteiner aluminum wheels wrapped in Michelin Pilot Super Sport tires, costs about ten grand before labor.
Seems like a lot for a pretty simple package, no? No, because the Alpha 7 boosts the 2014 Mercedes-Benz E63 AMG's power output from 550 hp and 531 lb-ft of torque to 730 hp and 830 lb-ft.
Let's put some racing numbers on the windows with white shoe polish
AMS says its 2014 Mercedes-Benz E63 AMG 4Matic Alpha 7 will go from zero to 60 mph in 2.9 seconds, and reach 100 mph from a standstill in 6.7 seconds. The drag cars parked next to the AMS-modified Benz in the pits are turning quarter-mile times between 12 and 13 seconds; I'm doing passes in 10.9 seconds, and doing them run after run after run. "This thing would be perfect for bracket racing," I say to myself as I watch a few more cars make passes.
I head back to the pits from the starting line. The Alpha 7's hood is open, and a big blue fan is sitting on top of the engine's air intakes, forcing cool air into the engine bay. People are standing around the 2014 Mercedes-Benz E63 AMG, taking pictures with their phones.
"AMS lowered it a bit to make it stand out, sure," I think to myself, "but it doesn't really look that special." Then I remember the 10.9-second time slip in my pocket, and that everyone had seen a big, four-door sedan do what stripped-out drag cars on slicks couldn't. Guess I should go and tell them that it has massaging seats, too.