At TX2K'17 the crowd was laser focused on the car that they had been following for over a year, Alpha G. As Gidi lined up the R35 GTR for that fateful first ever 6 second pass the next car in line went mostly unnoticed. It looks like a brand new penny. The rose gold wrap reflects everything in its environment. Alpha G's 6 second pass could be seen dancing across its hood. After Alpha G's run into the record books the "Alpha Queen," as its owner, OB Prestige Auto, has dubbed her, clicked off the 7th fastest GTR 1320 foot run on its very first competitive pass. The Queen is rising to Alpha G power levels, and its fit and finish, even higher.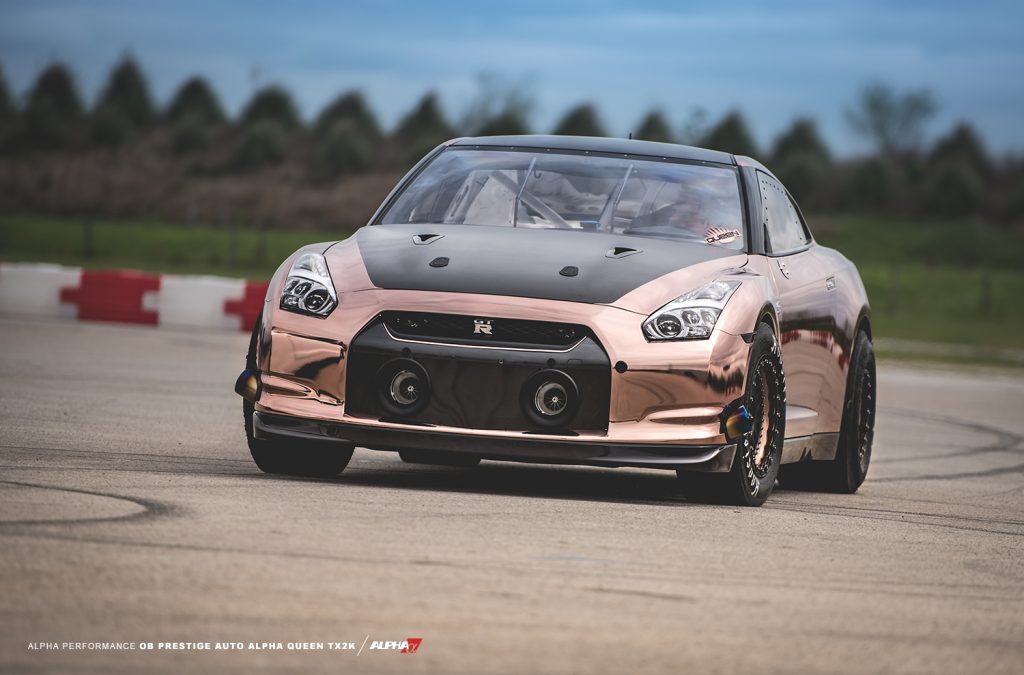 "We worked hard to make sure the aesthetics matched the performance of this car. Queen is as much a piece of artwork as it is a race car."
The Queen, like Alpha G, was built by the team here at AMS Performance from the ground up. We take the lessons of each of our previous builds to improve the next build, and the next build, and the next build. Alpha Queen is the culmination of 8 years of AMS' GTR knowledge and 30 years of the lead tech, Ivan Phipps,' automotive building experience. It shows in the smallest of details. You get distracted by the car overall, but the excellence of this build lives in the smallest details. Ivan said, "We worked hard to make sure the aesthetics matched the performance of this car. Queen is as much a piece of artwork as it is a race car." There are a number of those small jewels that separate it from the pack.
INTERIOR
25.3 cage.  Alcantara wrapped front bar
RaceTech Carbon Kevlar Racing Seat
OMP 6 point belts
Alpha Performance Carbon dash
Stroud window safety net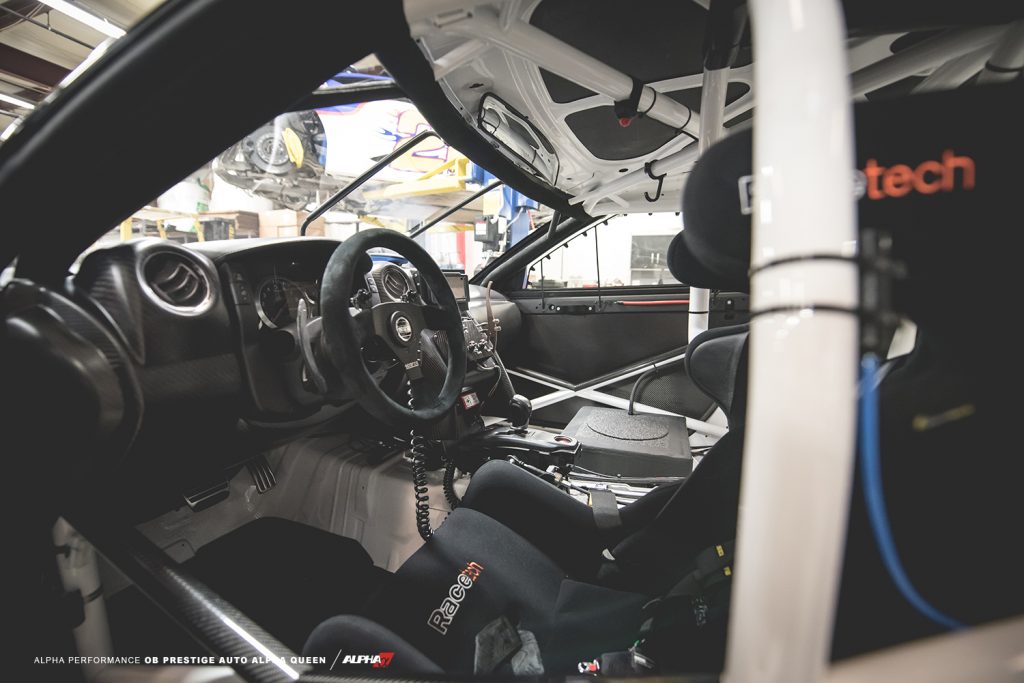 MECHANICALS
Alpha Spec – Bryant Billet Crank
BME Custom Rods
Alpha Performance CNC Ported Heads
Ferrea Custom Valves
Garrett Liquid IC cores 4x750HP
Shep trans Stage 6+ Transmission
Billet Front Differential
Custom Long Tube Headers
Custom Pie Cut Ti Exhaust
5 Stage Peterson Dry Sump Pump
Custom Sumped Pan and Engine
Fuel Safe Fuel Cell
SPA Fire Suppression System
PLX Display
Custom Trans / Traction / IC Pump  Panel
Custom Valved AMS Drag Suspension With Extra Front Droop
Custom Dual Rate Front Springs and Custom Rate Rear Springs
Custom Rear Pillowball Upper Shock Mounts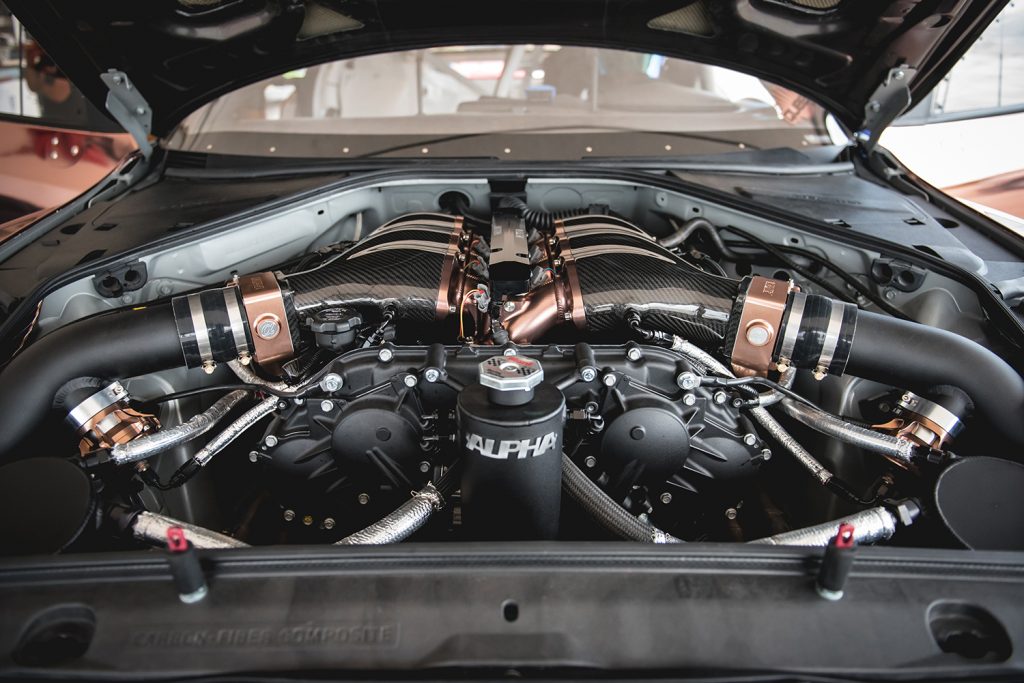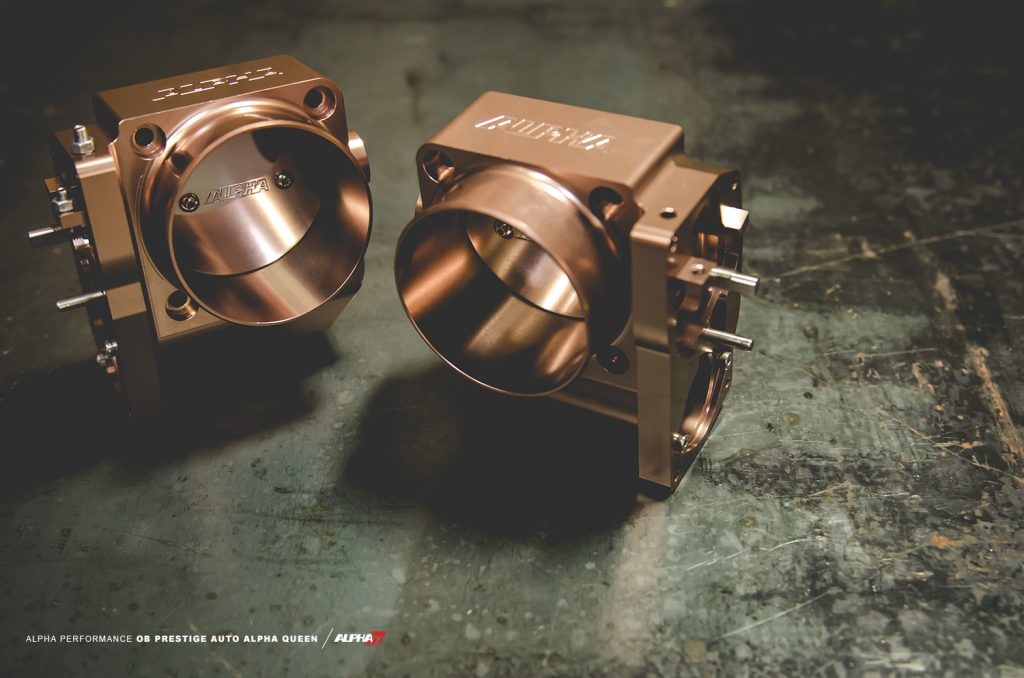 Linear Potentiometer at all Four Corners
Individual Cylinder EGTs
Dual Wide Band
Bank to Bank MAP
Custom Fast Acting Bank to Bank AIT
G Sensor
GPS Sensor
Coolant Pressure Sensor
Crankcase Pressure Sensor
Fuel Pressure Sensor
Battery Cutoff System
T1 Ignition System with Dual M&W Pro Drag 6 boxes
Magnacor Wires
SYVECS S8
SYVECS S8R
SYVECS 4wd Controller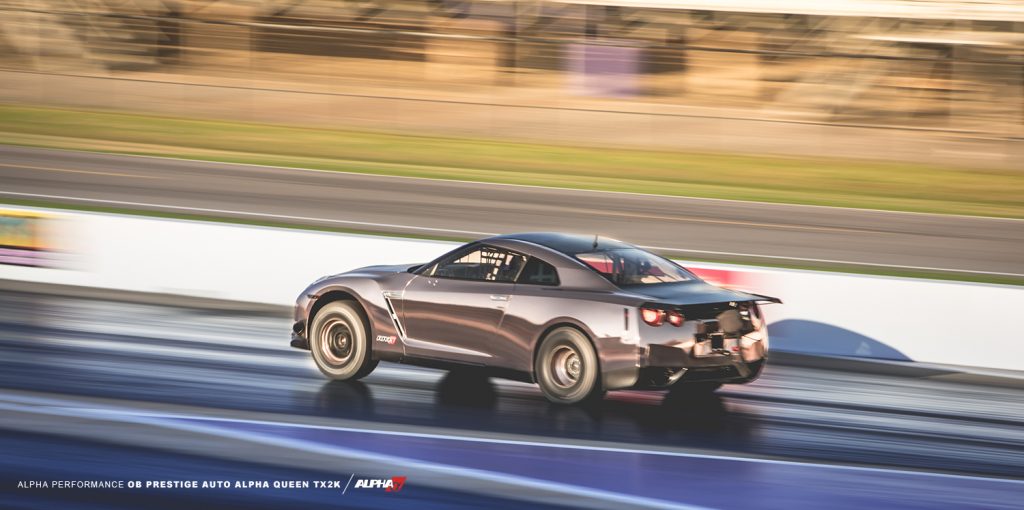 EXTERIOR
Alpha Carbon Kevlar Hood (Custom Extra Strong)
Alpha Carbon Roof (Custom Extra Lightweight)
Alpha Carbon Kevlar Trunk (Custom Extra Strong)
Seibon Carbon Doors
MT ET Drag Rear
Hoosier Drag Front
T1 / Belak Wheels
T1 Front Brakes
Alpha Performance Tinted Lexan
DSS Modified Front Prop Shaft
DSS Pro Level 33 Spline Axles
Stroud Dual Parachutes
Custom Wrapped Chrome Rose Gold by Xposé Montreal.
The OB Prestige Auto Alpha Queen is the newest BIG GT-R build and arguably, the finest. Look for this GTR to start competing for R35 royalty, and fighting to be crowned the new King, or rather, Queen of the R35 GTR kingdom sooner than you might imagine.