As the sun broke across the staging lanes on Friday morning we learned this was going to be a TX2K like no other before it. Concerns over the spread of COVID-19 and the City Council of Baytown, TX had forced Peter and his team to shorten the event by a day and to close it to the public. No fans. No stands full of spectators. No tours of the cars. No interviews. No fan rides. No deafening roar as racecars launch down the track. Even with all of the changes some things still remained the same.
TX2K Domination
TX2K has always been where our star shines the brightest. We love being at events. We get to put names with faces and build a relationship with our customers and fans. Events like TX2K are the ultimate team building experience for our staff. TX2K is where AMS' reputation as the leading sport compact performance shop in the country was born and this crazy year's wins and record setting runs just added to the legacy. We brought a whole stable of cars to the event. We had Jordan Martin's Alpha 22X and Alpha 9 Performante, Chicago Motor Cars' Alpha 22, David Rohrschneider's Alpha 20X "Wally," Joseph Nunez's brand new Alpha 20X R35 GT-R Nismo, our Red Alpha Q60, and Brooke Berini's stock turbo R35 GTR.
Brooke Berini – GTR1, DCT, Roll Racing
You can spot Brooke Berini's GT-R in its signature pink chrome wrap from anywhere. You can spot Brooke standing on the top of the podium at most races and TX2K20 would be no different. She backed up her title from GTRWC as the quickest stock turbo GT-R in the world by laying down more 8 second quarter mile passes and took home first place in the GTR1 Class. Winning one class was not enough so she entered the DCT class and a roll racing class.
In the DCT class she raced her way all the way to the finals where a red light signaled her spot in second place.
Halfway through the roll racing event, Brooke had an unfortunate transmission issue, but our friends from Chicago Motor Cars were kind enough to step in with a full gearbox to borrow. Brooke is no stranger to a wrench and helped us to swap it in before the next round.
At the end of the event she walked away with two trophies; First place in GTR1 and Second place in the DCT class. Congratulations Brooke!
Joseph Nunez – GTR3 – Alpha 20X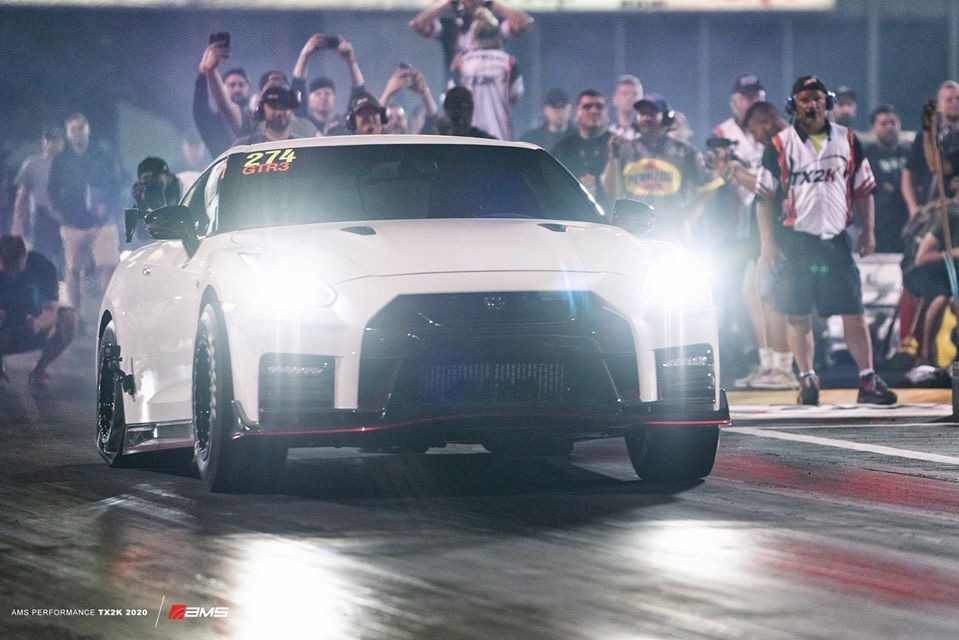 Joseph Nunez debuted his Alpha 20X Nismo GTR at GTRWC where he took it down the strip for the very first time. At TX2K20 he made a few 8 second shakedown passes. As we dial in the car and Joseph gets some more seat time, we're looking to turn this car up to the 2000 hp, mid 7 second range, hopefully making it the highest horsepower and quickest Nismo in the world! Stay tuned.
David Rohrschneider – GTR3 – Alpha 20X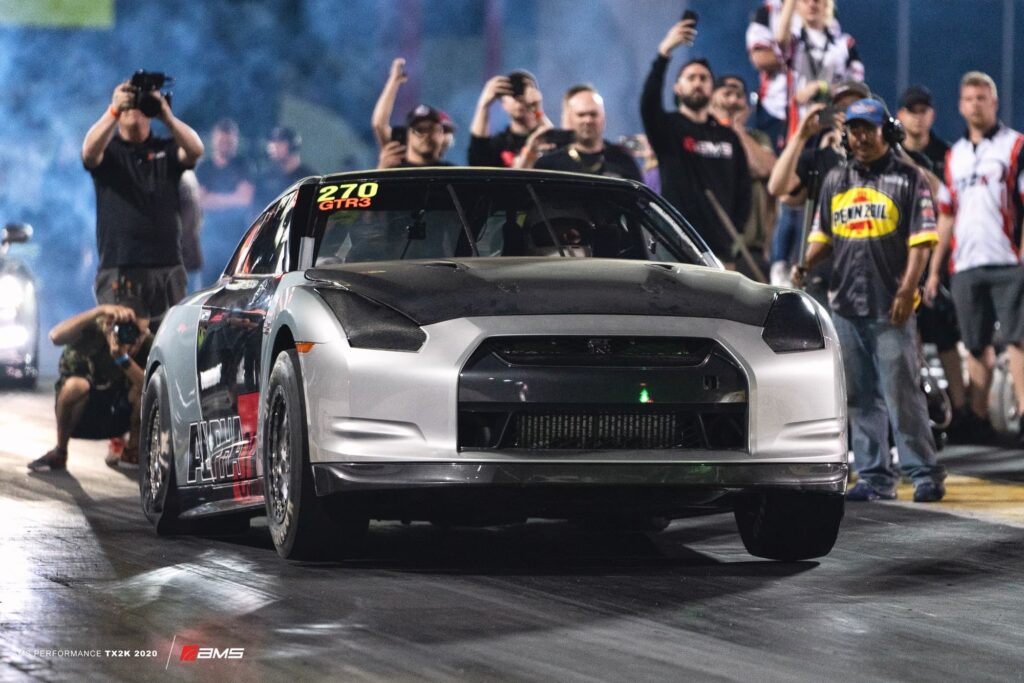 After enjoying an incredible amount of success with his GT-R "Wally" setting and resetting the 58mm record the year before and setting the 68mm record the month before TX2K at GTRWC, we ran into a snag. During testing for the GTR3 Class David lost a motor. In true AMS tradition two team members loaded his spare engine into the AMS F-150 in Chicago and drove through the night the 1,077 miles to the track to get him ready for racing. Again it was not to be. As he launched "Wally" on his first pass a transmission issue ended his competition.
Jordan Martin – GTR4, DCT – Alpha 22X, Alpha 9 Performante
After capturing second place at GTRWC behind the Alpha 22 of Chicago Motor Cars Jordan Martin (@drivewire) was anxious to get back on top of the podium at TX2K. Racing in GTR4 Class with his Alpha 22x Jordan brought home first place. He was not done there, Jordan also brought his Huracan Performante to compete in the DCT Class. Jordan went round for round, jumping back and forth between cars in the staging lanes. He finished up the event with a new personal best in his Huracan of 9.23 @ 156 MPH!
AMS Performance Red Alpha Q60

The shop was buzzing when we were loading up the shop Q60 for TX2K. We had been pushing hard to focus on getting a lot of new parts out to our INFINITI customers and taking time off of getting the Q60 to the track. Everyone knew that it had a 9 second pass in it. Our previous record of 10.01 still stood as the record to beat. Dan, one of our Engine Calibration team members took the Q60 up to the line and became the first VR30 powered vehicle to go 9 seconds in the quarter mile with a 9.96 @ 139 MPH pass!