It's never fun to tow in inclement weather, but that's what happened on this trip. While there was already snow on the ground when we left, there was about 1″ that fell in Chicago the evening we drove up. I actually had to scrape the windsheild of the Evo before I could unload it off the trailor Friday morning! That was a first. And again on the way home, we drove threw more snow just N of Bloomington, IL.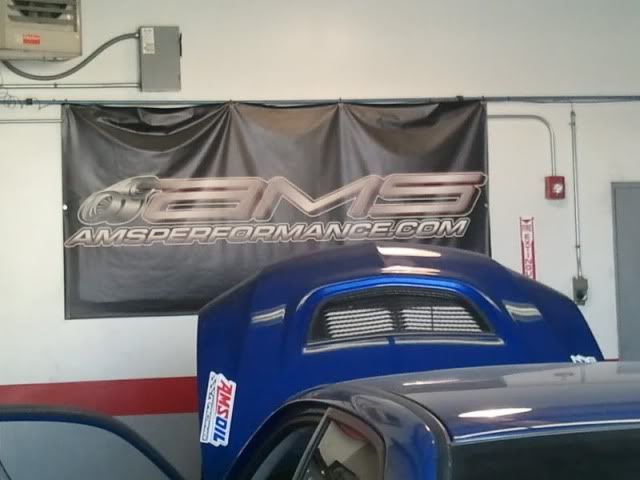 The car was unloaded at 8am at AMS Performance in Chicago Friday Jan 28th. I had AMS replace some leaking injector seals and the valve cover gasket (and install a wideband) – then retune the car. AMS last tuned the car in mid 2008, and there's been some parts switching so an updated tune was in order. I also wanted to verify the boost leaks were the only reason my traqmate logs showed me down on power and not something more severe.
The mod list is pretty simple really. The power mods are below, but for a complete list on the car: http://boomn29.blogspot.com/p/car-setup.html
• Stock turbo, short block, head, cams, fuel system etc
• PPI Intake
• K&N Open Air Filter
• AMS MBC
• AMS FMIC
• AMS LICP
• Buschur UICP
• Buschur 3″ Turbo Back w/TP
• Exedy Twin HD Clutch
• AMS 100oct Reflash
Results?
The weather corrected numbers were 352whp/364wtq on their Mustang Dyno! I was very impressed with the numbers and have to send a huge shout out to the entire AMS team, especially Dan & Eric up front and Chris for the tune.
All-in-all those are stout numbers for a car with stock turbo, cams and fuel system. Chris really outdid himself with a really meaty tune with the top of the hp from 5500-6800rpms and peak torque at 3400rpms. Because the car competes mainly in NASA TT, it's restricted by the number of 'mods'. I'm not sure I'm going to run this full config during the season as I'll be testing a few different setups, but stay tuned for more updates. I've got my new suspension on order and picked up a few aero pieces to try out as well. What'll be the best combo; it's hard to say! The goal this year is a National Championship with NASA in TTA.