The AMS Performance MKVII Golf R Project
We're very excited to be pushing the limits of the sport compact scene once again with our AMS Performance Golf R. The high-output third generation EA888 2.0T motor is a sturdy and efficient platform that has been responding well to everything we've thrown at it. The overall fit and finish is fantastic. Acceleration is swift, the DSG transmission shifts in the blink of an eye, and the power seems to be planted firmly into the pavement through the fifth-generation Haldex coupling. However, we've noticed areas that need improvement that fall right into our wheelhouse and a plan has already been set in motion with the release of the AMS Performance Carbon Fiber Intake Kit, Downpipe/Midpipe combo, and Front Mount Intercooler upgrade.
The Golf R Carbon Fiber Cold Air Intake Kit
Our AMS Performance VW Golf R MKVII Carbon Fiber Cold Air Intake Upgrade was designed to draw a higher volume of cold air into the stock turbocharger. With this intake installed, bulky air filter boxes are replaced with our carbon fiber tubing and dry media filter. This eliminates clutter within the engine bay while drawing cold air from outside. The MK7 Golf R Cold Air Intake Kit is a vast improvement over the stock intake system and supports power levels up to 600HP!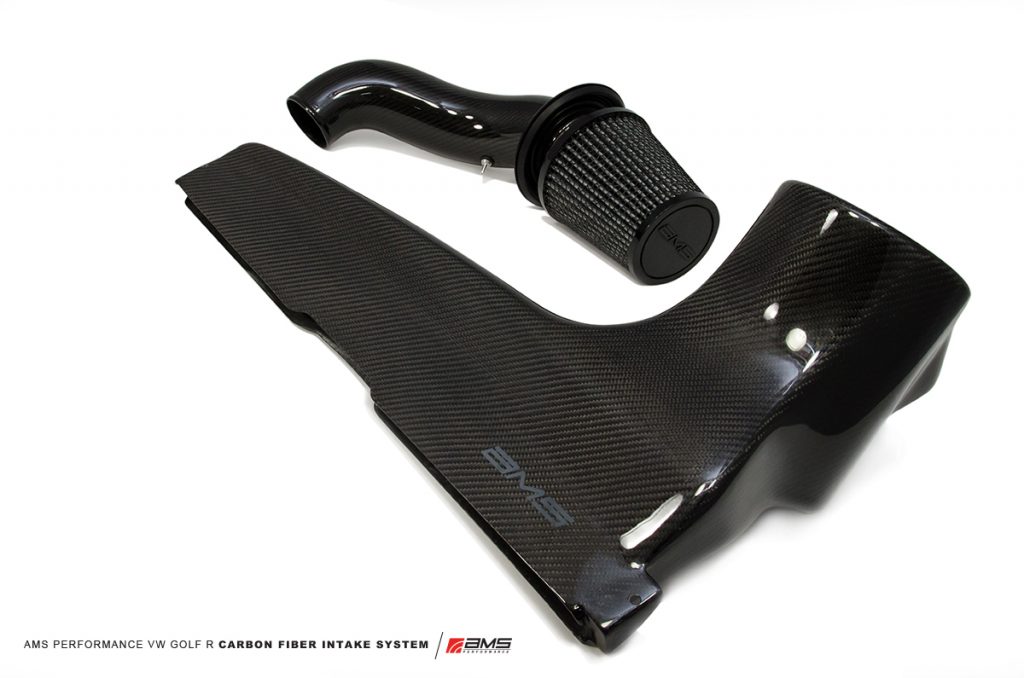 We selected a motorsports grade carbon fiber that is both hand-laid and high temperature resistant. Other options on the market use the typical gloss clear coated carbon fiber prone to discoloration and cracking. Our AMS Golf R MKVII Intake Kit uses 3-layers of 1mm twill weave prepreg carbon fiber capable of sustaining a 240C temperature threshold while maintaining structural integrity and aesthetic appearance with no worry of fading or yellowing over time. The AMS Carbon intake also eliminates the engine bay vents that are found on the factory intake. These vents allow the OEM car to pull in hot engine bay air for startup and fuel consumption requirements to the detriment of performance. By opening up the entire front grill and eliminating these warm air vents, 100% of the airflow is cold air being brought in from the front grill of the car.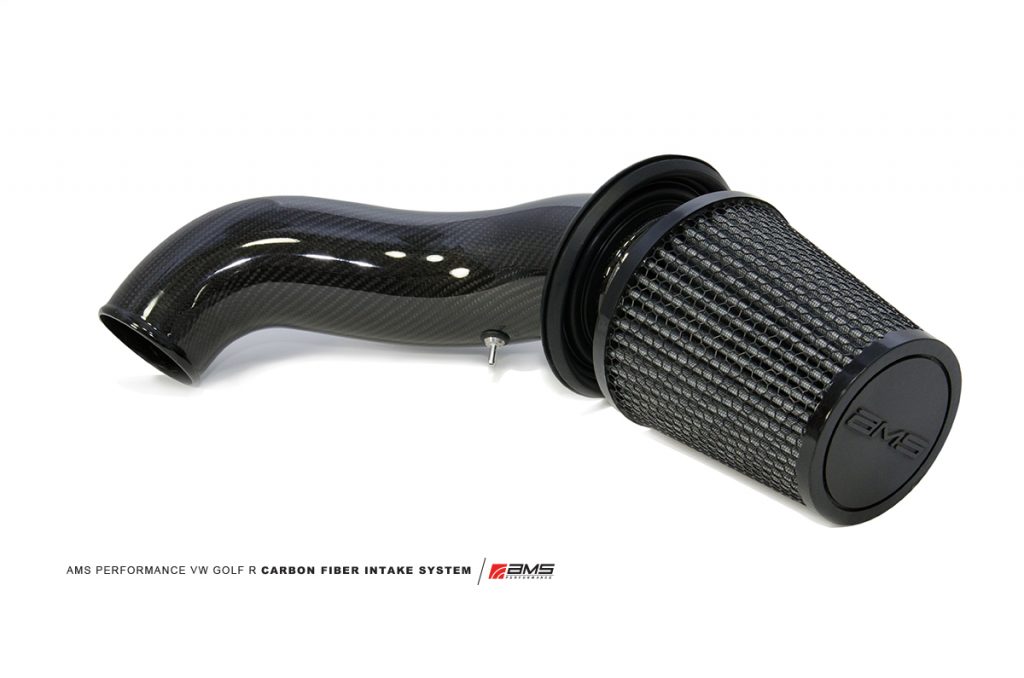 The OEM manufacturer spends a lot of time reducing turbo noise at the expense of horsepower. By allowing the turbo to ingest all the cold air it needs, the AMS VW Golf R MKVII Carbon Fiber Cold Air Intake upgrade boosts power significantly. The use of carbon fiber composites allowed AMS' Snailworks Engineers greater design freedom to enhance performance and aesthetics for your Golf R. The new large AMS front duct was specifically designed to distribute airflow evenly over the entire circumference of the intake filter. This means greater distribution of cold airflow across the filter resulting in lower pressure drops and a longer filter life between cleanings. In addition, it allows you to hear the turbo spool up, something you as an automotive enthusiast can truly appreciate.
The use of carbon fiber allowed a consistently tapered tube and large gradual bend radii, adapting the 3.5″ outlet filter to a 3″ inlet size with no sign of restriction. The tube then simply integrates to your factory turbo elbow with the provided 3″ to 2.75″ silicone coupler. This design allows for an easy upgrade in the near future to a larger turbo elbow or the AMS Performance Turbo Upgrade Kit with only a simple 3″ coupler. AMS designs all of our components with our customers' end goal as our guide. This intake, the AMS Intercooler, and AMS downpipe are all part of a complete system that will work seamlessly with the AMS Turbo kit without having to buy parts twice.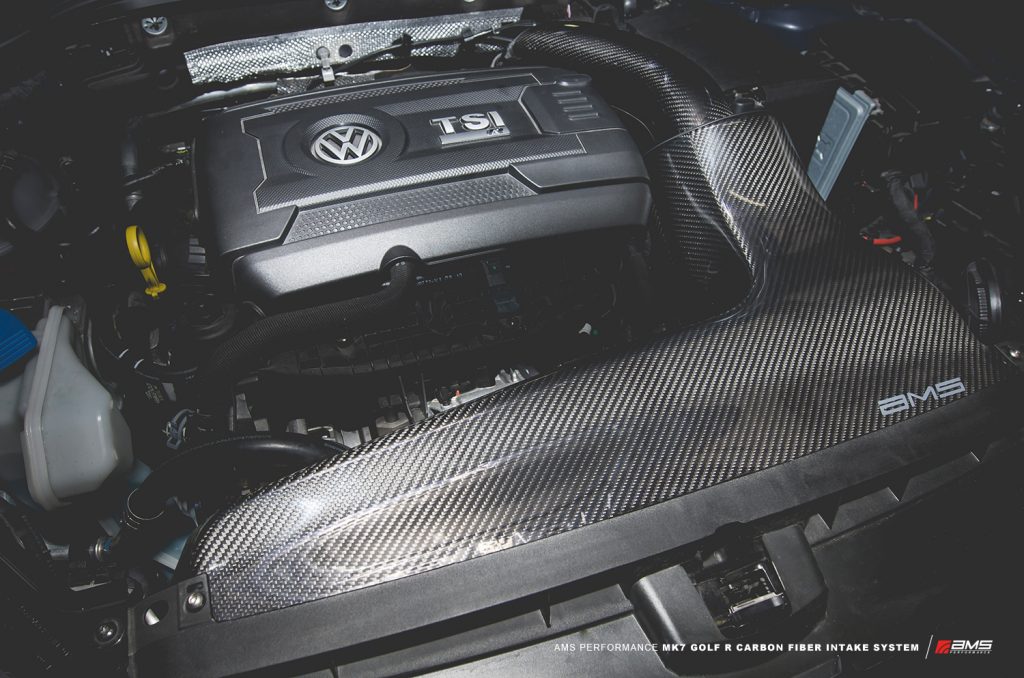 AMS is first in class because of our long history of durability and performance with industry leading engineering. We are thrilled about our 
AMS Performance VW MKVII Golf R Downpipe!
Our downpipe/midpipe upgrade are the perfect pieces to power up the performance of your high-output third generation EA888 2.0T motor!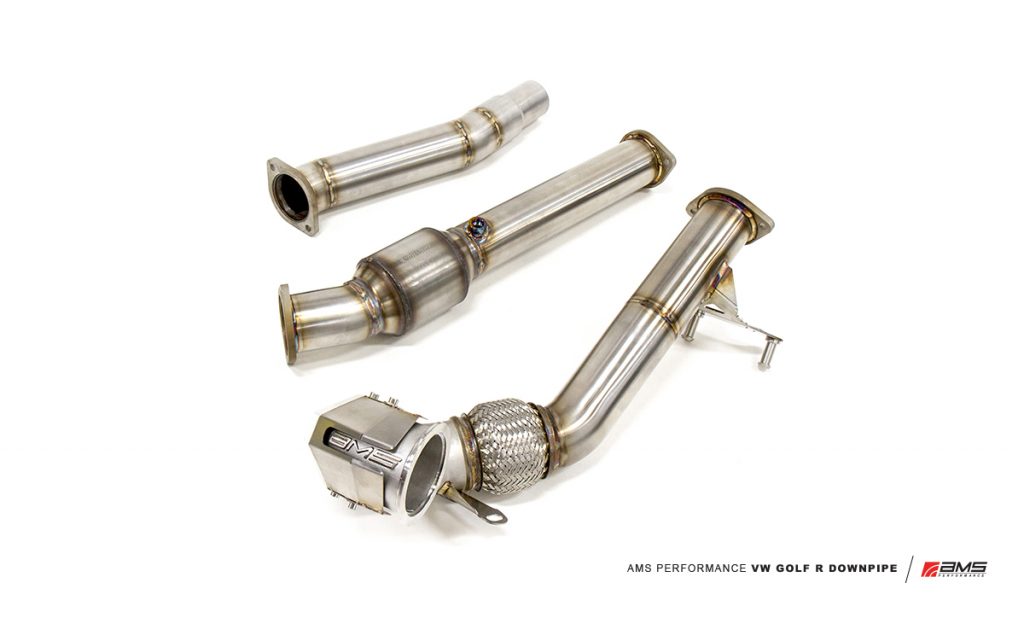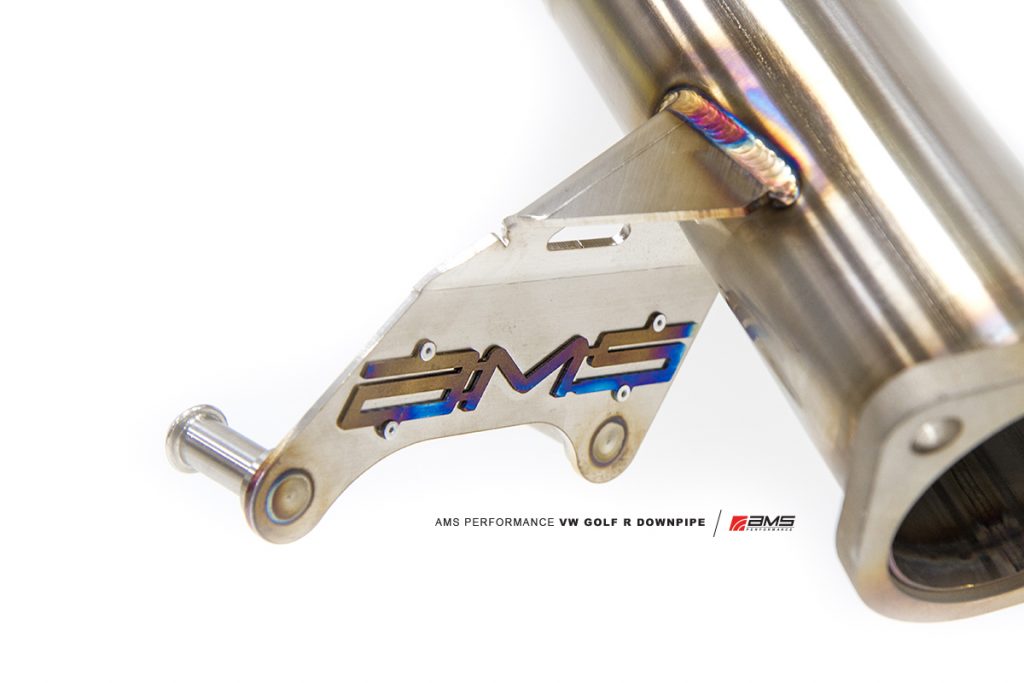 The AMS Engineering team utilized Solidworks© (3D software) to blueprint the inlet and outlets with smooth features and geometry to optimize exhaust flow. They then 3D printed the down pipe to ensure an OEM level of fitment before casting the very first article! The AMS VW MKVII Golf R Downpipe/midpipe upgrade, unlike some of the competition, also comes complete with a laser cut form fitted heat shield to protect critical components that sit close to the downpipe. This includes the ABS module and it's plastic heat shielding. The AMS Golf R downpipes feature 4mm thick cast stainless steel upper section that retains as much heat as possible keeping it out of the engine bay. By casting these downpipes in robust 304 stainless steel we were not limited by the design constraints of hand fabricated construction.
Another unique benefit is our motorsports grade catalytic converter. These GESI brand 300 cell count Ultra High Output (UHO) units provide virtually no disruption in flow providing emissions control with no notable loss in horsepower. For durability these converters feature a staked in design to hold the catalyst cores firmly in place. Many competitors offer a low quality catalytic converter option to keep the cost low and their profits high. These units often fail due to poor construction and inferior materials. When you choose an AMS Performance VW MK7 Golf R Downpipe, you will remain worry-free for years to come.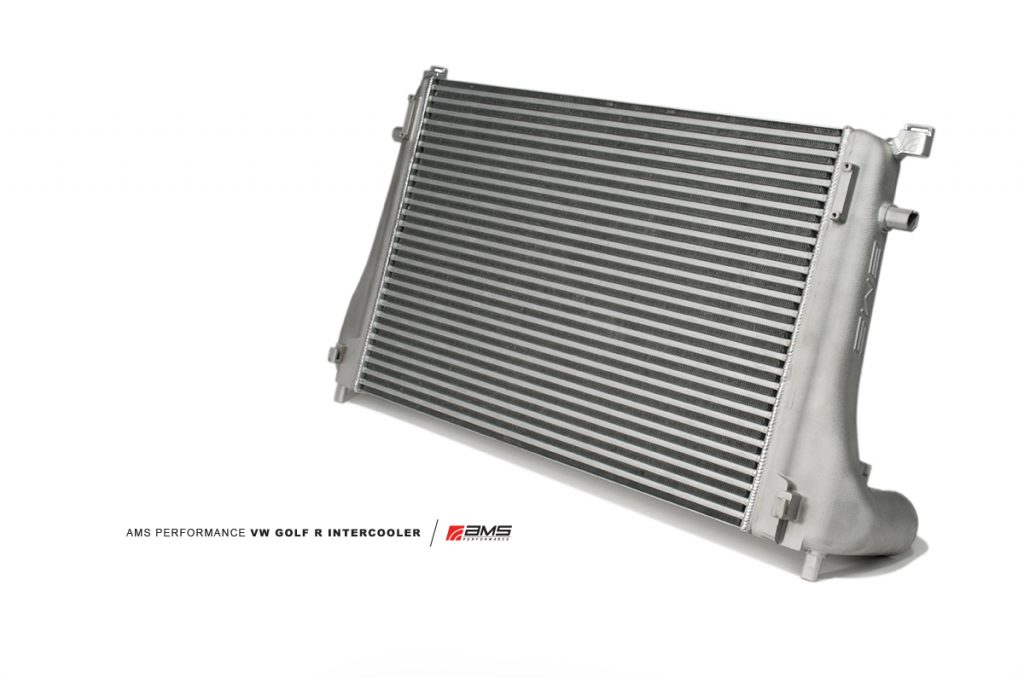 We super excited about our 
AMS VW Golf R MK7 Front Mount Intercooler!
Our intercooler upgrade kit is a direct bolt on utilizing your stock mounting points with purpose built aluminum cast end tanks for the Golf R. This intercooler has over 64% more core volume than its restrictive stock counterpart. The AMS Golf R intercooler is the ultimate choice to keep your "Hot Hatch" cool!
Our Engineering Team utilized Solidworks© (3D software) to blueprint the inlet and outlets with smooth features and geometry to optimize flow. The inlet side of the core has been designed using CFD software with directional vanes to ensure even airflow and pressure spread across the height of the core. The AMS Golf R Intercooler features a high quality, high efficiency, tube and fin core imported from the UK. Some of our competitor's cores are substandard pieces that require user modification to work with both types of stock radiators and cannot be easily put back to stock if necessary. By casting the AMS VW MK 7 Golf R Intercooler endtanks in aluminum we were not limited by the design constraints of hand fabricated construction.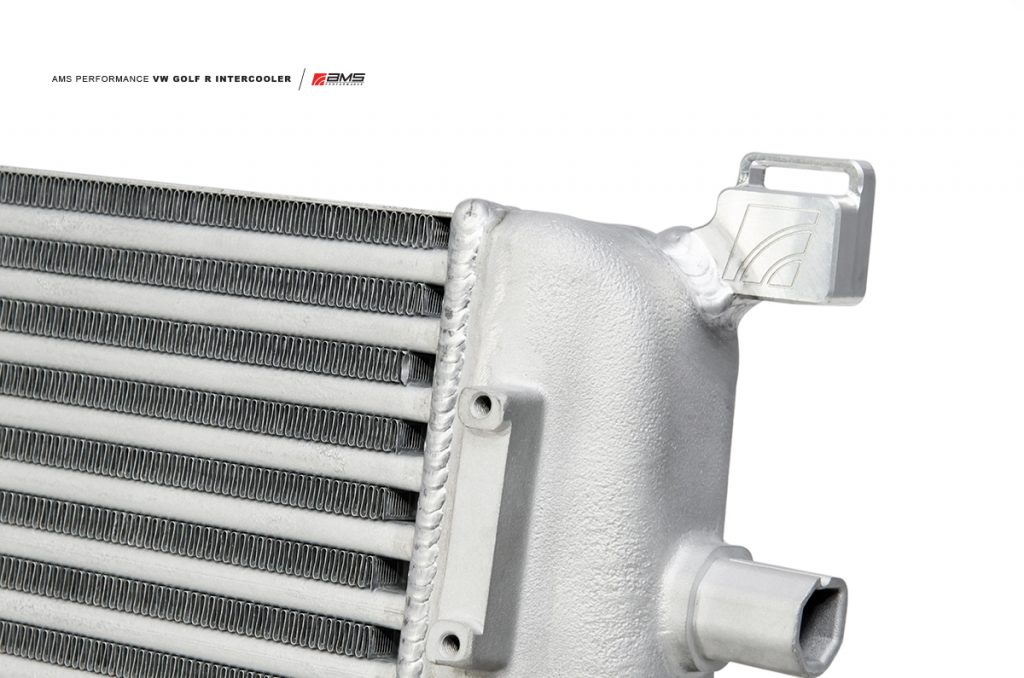 The performance gains offered by the AMS design are second to none. The AMS MK7 Golf R Intercooler upgrade kit uses the best performing core available. The tube & fin style core is over 16″ tall, more than 24″ wide, and greater than 2.25″ thick! Our Golf R intercooler is an amazing 67% thicker (50mm vs 30mm) than the stock piece. The AMS MKVII Golf R Intercooler retains the factory crash beam, uses all factory mounting points and requires no cutting or trimming! The intercooler in the Golf R is the backbone for the entire cooling system. The car's A/C condenser and radiator attach to either side of the intercooler so engineering this correctly is extremely critical for ultimate performance, fit, and durability.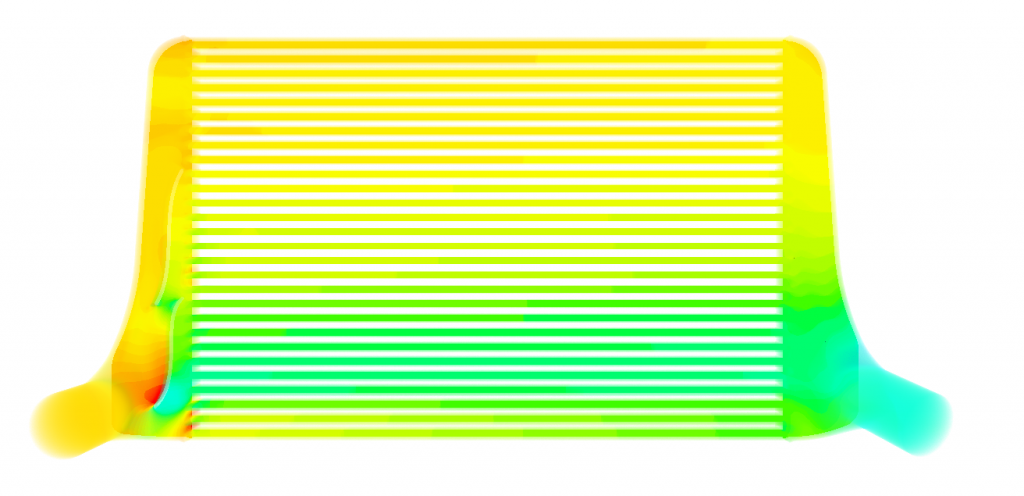 More Exciting Performance
Ams Performance is just getting started with the MK7 Golf R. We plan to offer a turbo upgrade in the coming months. With our turbo upgrade you will still be able to use the Downpipe, Intake, and FMIC without having to buy these parts twice. When you choose the AMS Performance line of MKVII Golf R products you can be confident that you are getting the best products on the market that are engineered with your end goal in mind. Stay Tuned!