Summit Point is a race course that both Marty and I know very well.  It is one of two courses (VIR is the other) that we started our Driver's Education at with the Audi Club nearly eight years ago.  We've both raced many regional and Enduro laps on this course, but hadn't run the newly paved circuit in just over a year.  We were lucky to get a couple short yet damp test sessions in on friday.
Saturday morning came and the weather had cleared, it looked to be a beautiful day.  Marty needed to recover his RV from his brother's house in the mountains and unfourtunately his GPS wasn't cooperating and delayed him getting to the track in time to mount his qualification tires.  The VIP Crew prep'd his car using the old R6s that were used for practice the day before.  My car was ready to go on a set of well used A6 qualification tires.  Marty and I procedded out to qualify and we quickly realized that our plan to draft each other wasn't going to work as Marty's car was just sloppy with those old hard tires.  After running a bunch of laps I decided to pull in to let things cool and after then grabbed a clean lap at 1:24.5.  Marty had braking issues, when combined with the hockey puck hard tires held him to a best lap of 1:25.9.  The early grid had me in 3rd and Marty in 6th.  We knew this would change in the afternoon sesssion.
By the afternoon session the VIP guys (Marti, Ryan and Soap) were able to swap both of Marty's front calipers with spares I had in the trailer as well as mount up a set of brand new Hoosier A6s.  Although the temperatures had increase ~25 degrees from the morning session Marty was able to hammer down several good laps with a best of 1:24.1.  I tired to improve on my laptime but quickly realized the track had slowed.  I felt smoother and faster but the Traqmate was reporting laps .2 off my morning best.  After a couple laps I could feel that my A6s were all but gone and an inspection later would provide that I had corded them 🙁  At least I got my money's worth out of them 🙂  Final qualifications placed Marty in 3rd and me in 4th, with Bill Z. in a GXP on Pole and Rob H. in a 350z on outside pole.  This was shaping up to be a battle!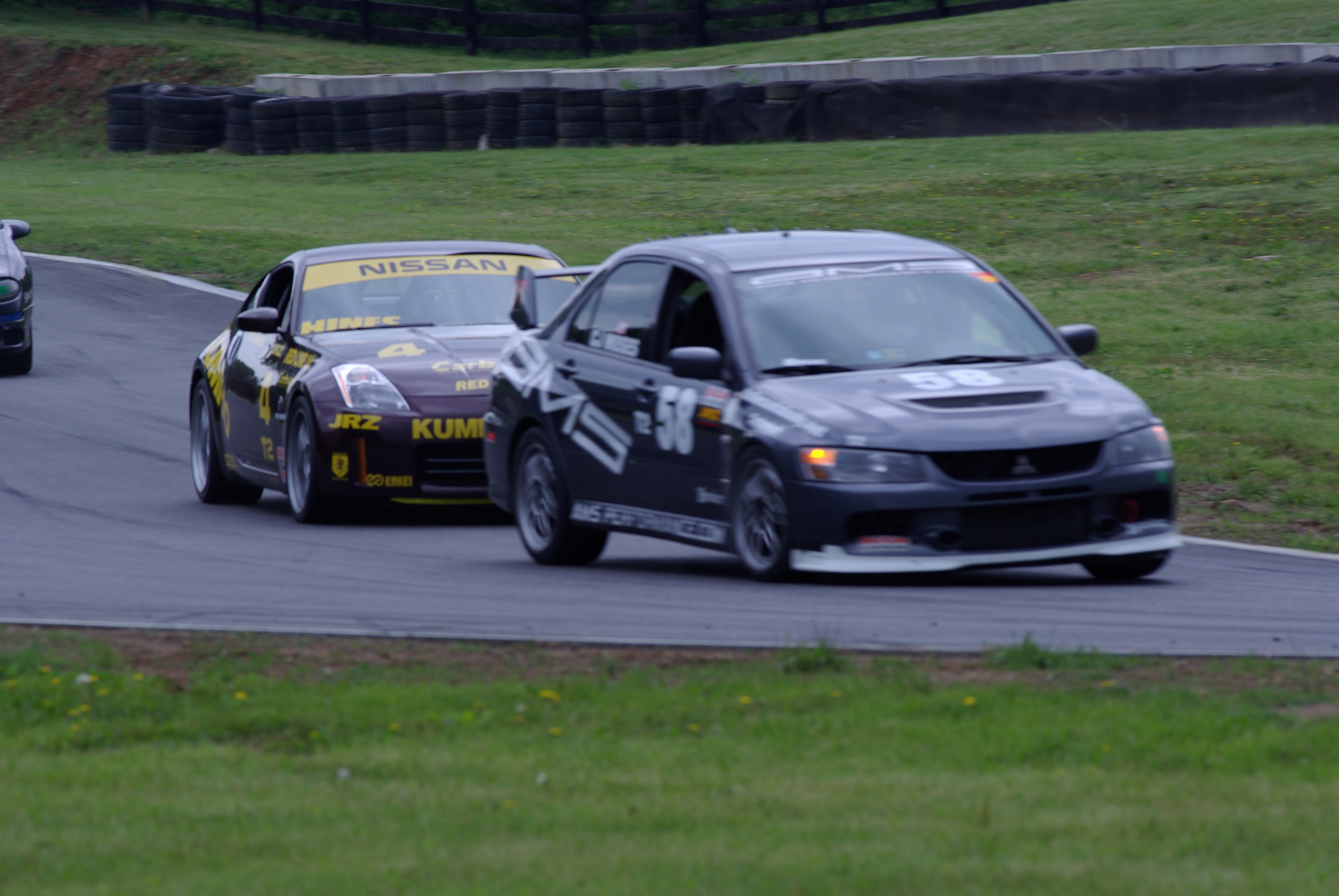 Sunday morning brought with it an uncertainty in the weather, it looked clear, but reports were that showers were likely about the time we were to start our race.  The rain held off while we assembled on the grid.  With Marty and I on the 2nd row we knew that we had to beat the front row guys to turn one or they would be able to walk away with their better handling cars.  The green flag dropped and Marty dove for the inside line while I took the outside, both of us cleared the front row cars and lined up with Marty in the lead and me just off his bumper.
The start went perfect now all we had to do was get away from the hungry pack we had on our heels.  For the first lap Marty and I hammered away, but I was forced to assume a defensive line in order to keep the GXP and 350z from diving inside and taking away track position.  Going in to turn one I left too much room and Bill in the GXP did a late braking run and took me on the inside with Rob in the 350z following behind.  This let the GXP up to play with Marty, but I wasn't done running with Rob and about a lap later I was able to overtake the 350z.  Marty battled the GXP while I fought it out with the Z car for what seemed to be a week, but really was only about 12 laps (of 23).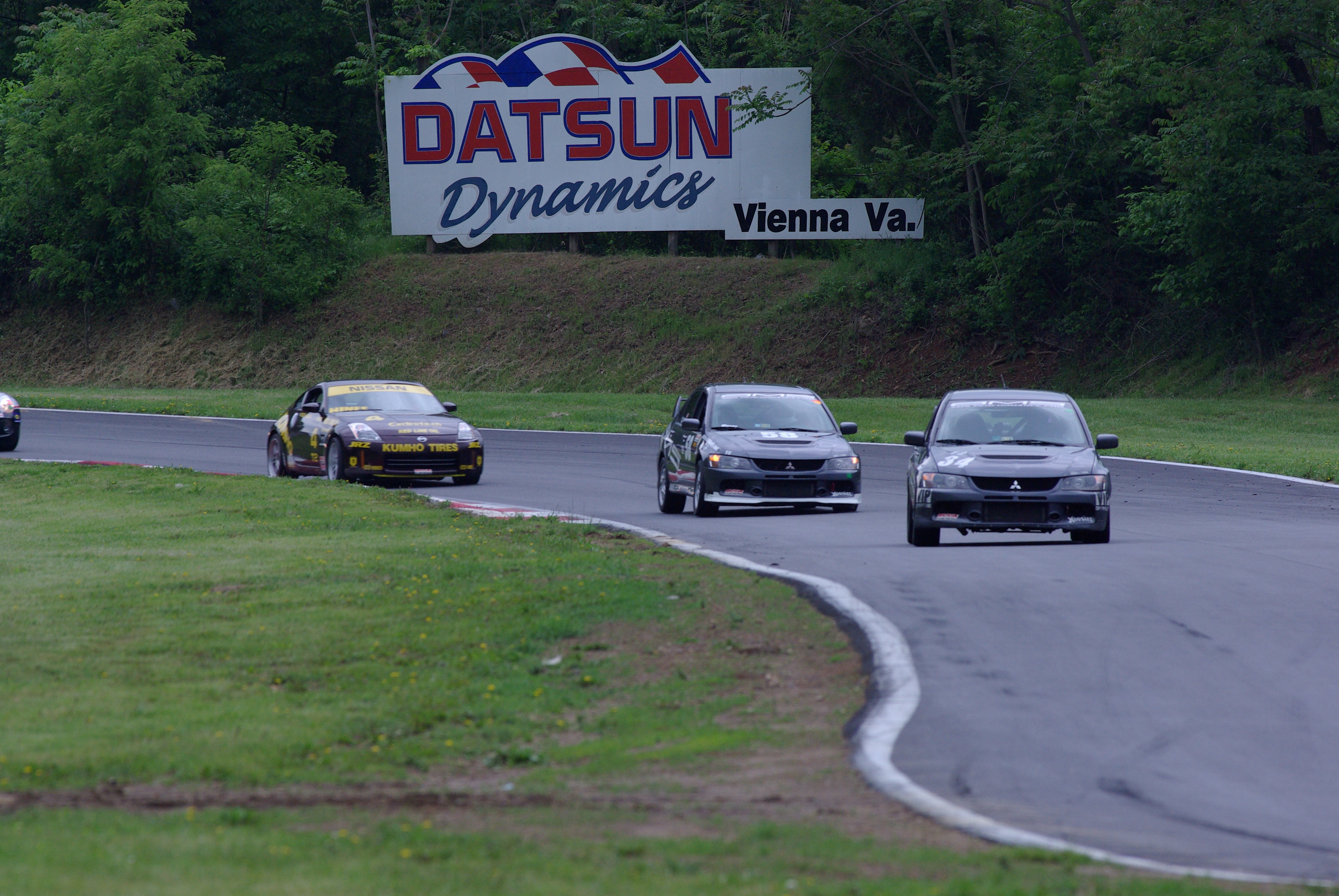 Around the 12th lap I noticed that the GXP had slowed and we were slowly catching up.  Apparently the GXP had a front brake issue and had lost the ability to continue at speed.  With the GXP slowing and lap traffic intermixed the 350z found a hole to get by me.  My car was not prepared to run the defensive line for the entire race and the front tires were loosing grip quick, not to mention the brakes needed some extra pre-pumping to build pressure before any real use.  So Marty would have to deal with the 350z while I let the car cool down for a late race attempt at retaking 2nd place.  That is what I thought, but Seg in his Camaro decided to make it a race for the podium and we began a battle back and forth that had me in 4th place for several laps waiting for my car to come back.  After a while the tires regained some grip and I got used to pumping the heck out of the brakes and regained 3rd place.  Soon after taking 3rd back the weather we had been told about earlier started to occur.  It began to lightly rain in spots on the track, but not enough to change the race as we were all still pushing as hard as the cars would go.
Marty was up front battling to maintain the lead with very similar tire and brake issues.  His rally driving really came in to play as he was sideways most of the time driving really wide and keeping the 350z behind.  In the end Marty was able to take the checkered flag less than a second ahead of the 350z, with me just a couple more back from him.  This was the battle we thought it would be and we're glad that the AMS Evos were able to pull off a 1st and 3rd place finish!
Next it is back to Road Atlanta in a couple weeks as I have unfinished business there 😉
The great photos are courtesy of Phillip Ackley, Audi Club Chief Instructor and fellow SCCA racer…Thanks Phil!