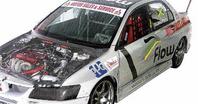 AMS uncloaked – Mario James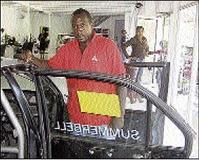 Bobby Marshall posing between the gutted doors of the AMS Evo.
IT IS probably the most capable track Evo ever constructed. Built by American Motor Sports (AMS), the car was built for a new racing genre known as Time Attack (TA), a racing series which has its origins in Japan. The competition pits car and driver against time and track. In this series, the racing is done in three lap stints; a warm up, timed and cool-down laps. Just driver, his right foot, machine and God.
AMS Racing, with a two year learning curve, built this beast of a car. Unleashed in 2006, this 2004 EVO III was the product of countless hours of wrench time, testing and experience. Right out of the box it was a winner. It won outright pretty much every Time Attack trophy there is in the US, and against much more heavily financed opposition.
multiple awards
It has won the following events:
2006 Car & Driver One Lap of America third place overall.
2006 Redline Time Attack – Summit Point first place AWD unlimited.
2007 Modified Magazine Tuner Shootout – first place overall.
2007 Redline Time Attack – VIR Grand Champion & first place AWD unlimited.
2007 Redline Time Attack – Summit Point first place AWD unlimited.
2007 Redline Time Attack – St Louis Gateway Grand Champion and first place AWD unlimited.
2007 Redline Time Attack – Autodrome St-Eustache Grand Champion and first place AWD unlimited.
2007 Redline Time Attack California Speedway first place AWD unlimited.
So, what'll she do? "The car, as currently geared, will do upwards of 170 mph," according to Stephen Gunther, Summerbell's crew chief. "At Dover, we had boost set at 24 1/2 lb ; the AMS guys when they run at 25lb dyno at 520 whp, so we were making slightly less. We ran the car with an 8,000 rpm redline." The engine, according to the spec sheet posted by AMS, has a company designed stroker kit that bumps up displacement from 1997 to 2,270cc. It runs Jun 272 cams and has 1200 cc injectors nestled in a special AMS built manifold. Spent gasses are exhausted through a Tri-Y format high riser bunch of snakes which dump into three inch collectors and a shorty exhaust tube which directs hydrocarbons track-ward round amidships. The H-pattern gearbox is by Shepherd and has five forward cogs and reverse, with a swappable fifth gear. In Time Attack mode – spooled up with 30 lb boost – the 4G63 makes over 600 whp, and has been timed at 10.5 sec in the quarter. All up weight without driver is 2730lb power to weight at TA spec is more than 500 hp / ton!
total package
In the quest for speed, AMS did not ignore the total package. And here the experience of that shop comes to the fore. As David intimated in a television interview, his main rival (Gore) is already close on power. But the tuneability of this package – and the team's talent for determining the proper setup for most any track – gives the Summerbell team an almost unfair advantage. Front brakes are six pot Stop-Tec callipers clamping on 13″ discs. The combination is so large and so powerful that only 18″ rims will clear. The back wheels house the standard Evo Brembo setup. Dampers are adjustable in both rebound and compression. In addition to a very precise rebound adjustment mechanism, this special shock absorber has a remote reservoir with compression and gas volume adjustment. The suspension stampings are works of art, and actually lower the car without compromising suspension travel.
little touches
But it is the little touches that really set this car apart; the attention to detail that sets apart the winners from the also-rans. The intake down tube, for example, is not just held together by common hose clamps, but is actually wired together by steel strips bolted to each bit of pipe (when your engine is huffing on 30 lb boost, forces inside the intake tube can exceed tonnes). The rather spindly rear wing is not bolted to the trunk lid, but actually is attatched to the rear chassis leg under the trunk lid. It is very strong in compression, belying its size. The guy wires lend a lot of support. The front fenders, doors and bonnet are made from carbon fibre; the back door is made from steel, but the door bulkhead has been cut away for lightness. And the execution of these little touches is flawless.
With this package and Summerbell's talent, victory in the Caribbean Circuit Championship should be a forgone conclusion!


Clamped and wired.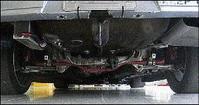 Rear suspension and sway bars setup.