AMS Sponsored boomn29 – Double NASA TTB wins & Track Record @ Gingerman!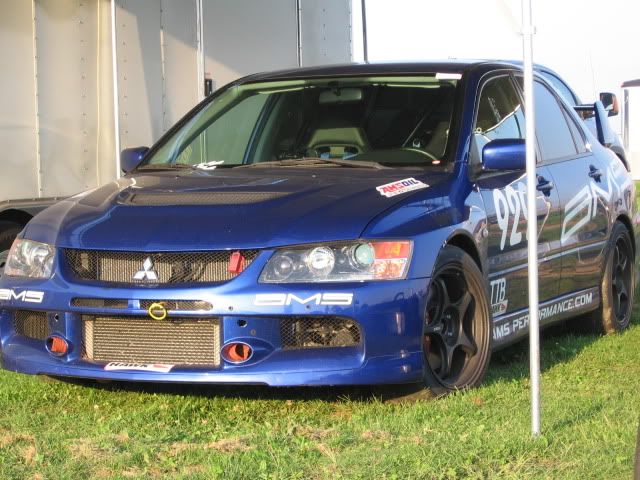 First ever trip to Gingerman Raceway in South Haven, MI. The TT group had around 30 entries, so there was going to be a lot of cars on track!
I ran a little on Friday at the test-n-tune day just to get a feel for the track. I actually cracked some exhaust brackets and had to head to the trackside shop for some welding!
Saturday I started out in the 1:36x range. I made a few suspension adjustments to help dial in the car. After my lats event, I spent some time talking with John Mueller about 3rd gear mid-corner hop and he had some rebound and tire pressure suggestions. These are really the first adjustments I've ever made! They made a huge difference and I was shaving time off even as the track got greasier. So greasy by my 4:30pm session that I rolled back one of my earlier changes as the car was oversteering through a carousel section. Ended with 1:34.2 and 1st in TTB.
Sunday morning I took a NASA Instructor (drives a TTS Mustang which is 2 classes up from me) out to showcase the Evo to him. His exact words "the car has phenominal grip for 245's" …. oh yeah! Track felt pretty good for 8:45am in the morning. I decided to toss on my new tires and go for my best lap in the noon session. Came away with a 1:32 flat even though I blew a corner by overbraking and had to downshift and probably lost a good .02. That time was good enough for the 2nd fastest TT time of the day – out of 23 cars.
Again, huge thanks to AMS for a 93oct pump tune that just churns out gobs of usable power in every gear I've got! It's just so awesome to not have to worry about those kind of things and with AMSOIL in the engine and brake fluid all is good and safe! Also thx to Mueller for the suspension suggestions that helped out a ton. Also to Hawk, Hoosier and KNS Brakes for awesome products.
Video uploaded! 2nd lap is my best of the weekend even though I overrun T10 and have to make an extra downshift.
[youtube]http://www.youtube.com/watch?v=xikpt4stpVY[/youtube]