AMS Sponsored 929 Evo – NASA MW @ Gateway Report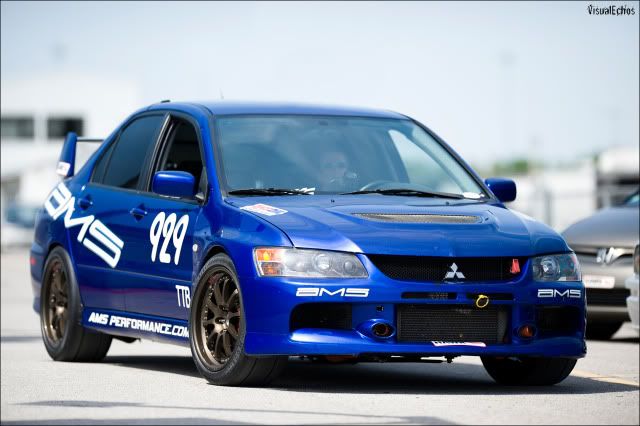 The first NASA Midwest region event was held last weekend at the Gateway Int'l Raceway 'Roval' roadcourse. It incorporates nearly 1/2 of the nascar track with an infield to form a 1.6 mile 'roval' roadcourse. It's pretty easy on the brakes but a lot of people have difficulty with all the walls as there's very little/no runoff room around the track.

Edit: Here's the official TT review from NASA: http://nasamidwest.com/pdf/press_rel…GIRTTApril.pdf
– Saturday I ran TTB and set the new track record with 1:08.75. Unfortunately there was some oil spilt on the track and we all had to take different lines through T2 to avoid the oil slick they put down so I feel there's more time to gain here.
– Sunday I jumped up 2 classes to TTS for a few different reasons. I had leftover tires from last year I wanted to use up (weren't legal for my TTB setup anymore), I wanted to test out some other changes and also simply for some more competition as there was a small turnout for the event. I quickly found out that A6's I stored from last year with ~8 heat-cycles weren't up to the challenge. I ran a few scary sessions with them and was about 1.5 seconds slower while really have to be careful on the brakes as the car wanted to trail-brake if I wasn't 100% straight under hard braking. In the 4th session I actually spun a near 180 between T5-T6 which is pretty hairy to say the least and then decided to ditch the old A6's and go back to my setup from Saturday. So I put my TTB R6's back on climbed to within .012 seconds of Jeff's sweet silver Evo. It was nice have 2 Evo's at the top of the TT class with the 2 best times of the day! We both had to go out for the last session to try and squeeze out some more time and in the end I squeezed out a narrow victory in the very last session of the day!
As for changes in my TTB setup from last year, the list isn't long but it wasn't cheap! The biggest change was having AMS do a preemptive replacement on the stock clutch after 22k miles and nearly 45 days on track with an Exedy Twin HD which performed flawlessly. I also had them roll the rear fenders to allow for some wider treads, run a new gauge, do some bushings…etc. As always, top notch work with absolutely ZERO issues. The new clutch is a little heavier and does have some chatter when engaged but I like it. I decided to rotate out all of my 17×9 5Zigen cast rims and am replacing them with 18×9.5″ forged rims. In the attached pics you can see my newest babies which are 18×9.5″ Forgeline ZX3R's. More pics and info HERE! I also switch to f/r slotted & directionally veined powerslot roters which I believe are made by Stoptech – worked great but Gateway isn't all that difficult on brakes. Other than that, AMSOIL in the engine and the brake fluid as always – terrific products.