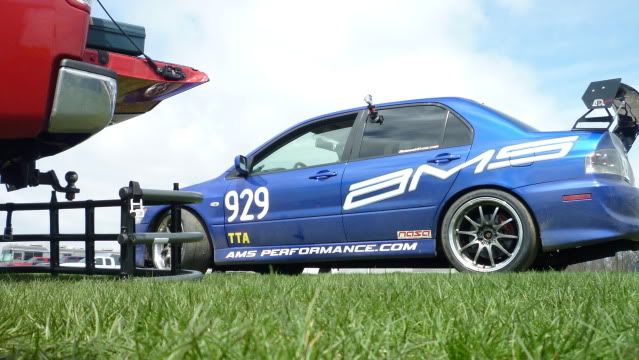 1st Place in TTA & Track Record!
I had big plans for this weekend. I know Autobahn pretty well and I planned to test 2 different configs in 2 days – weather dependent…
We drove up Friday night after work. And by 'WE' I mean myself, my wife (married 6 months ago) and our 3 yr old puppy. It's about 3hrs to Autobahn up by Chicago, IL. The plan was to camp out Fri & Sat at the track. We leave the driveway at 5:07pm. About 5:45pm my wife hears they spotted a Tornado in our hometown at 5:15pm – so we juuuussssttttt missed it. Everything to the W of us looked dark and nasty so we kept heading N to the track with NO plans to stop!
Saturday
After spending the night in the tent in 30+ mph winds and temps in the low 40's we awoke to…. more of the same. We were cold but we stayed dry all night. The forecast was for rain most of the day; maybe clearing up late afternoon…maybe
. Having my Dunlops StarSpecs mounted I head out for several drift-athons and have fun. I'm at the front of the entire TT pack; but with street tires and AWD and some nerve; it's not all the difficult. The rain broke around noon; just in time for the lunchbreak so we ate in just wind (no rain). At this point I had a best lap of 2:03x – still the top of TT but nothing fantastic. I think I ran a 1:57 last year at the Redline event in a downpour so I wasn't killing myself out there.
We had 2 sessions left in the late afternoon yet. Checking the radar there was a small break so I decided to mount up the newest Hoosiers (I carried 2 sets in). I figure I'm already in the lead with the rain setup; might as well prep for possible dry conditions right! While I'm loosening lugnuts the rain comes; then the sleet; then the snow. No joke; right about 2:30pm. Keep in mind NASA does not shut down for this and there's a race going on during this crap!
Once again checking the radar and forecast we see nothing better for the next few hours. We also see Sat night dipping into the high 30's so I say screw camping and we book a hotel! The time for our 4th session comes and being it's still raining and I now have slicks mounted I skip it. No change for the 5th session so I painfully skip it and we head for the hotel and a warm shower.
My time held up for 1st in class as well as FTD overall in TT. Here's some non drifting-aton vid – and you'll be happy to note I have a new camera finally
Saturday WET Vid –>

Sunday
Sunday morning the TT group was the first ones on track at 8:30! I decided to go out and defend my gridspot – as we grid by time and all the Sat times were in the 2:03-2:35 range. So I asked a buddy to go with me for the hell of it because I like to scare people! As it was in the 40's it took a bit for the tires to warm up, so the rear was pretty loose for several laps which is quite fun! Eventually we played a few laps of cat-n-mouse with a TTB 350Z and had some fun running mostly 1:38's to keep at the front of the grid.
S2 I went out and hammered it. The car felt good but I was getting held up by a TTR C6 Z06 (check out the vid below). Unfortunately he ruined 2 of my laps and after that the tires were out of their prime. I did manage a 1:33.5 to regain the #1 gridspot so I'd be in front of that C6 Z06 the next session! I was also just .2 off my TTA track record from 2010 and knew it was well within site.
S3 was probably going to be my last as there was a 2.5hr gap afterwards and it'd been a long cold weekend for the wife and dog. I led the group out, took 1 lap to warmup everything and ran a pair of 1:32's with the last being 1:32.1 and breaking my own TTA track record from 2010. That time also held for FTD overall in TT; and 2nd fastest car including the racegroups!
Apart from a few sloppy lines; that was pretty much everything this current config had in it. That in itself was some great knowledge to have. I only wish we could have done all that on Saturday instead of Sunday. As I had a different config I wanted to test; but it'll have to wait.
All in all I ran 1.1 seconds faster that last year and reset my track record. I also had FTD both Saturday and Sunday over the entire TT group. I didn't get to test the multiple configs; so that was a bummer to say the least. But with zero changes to the suspension, the car is already rotating better on the setup than it ever did last year. I have to thank Aaron from Winning Formula for the setup, AMS Performance for the power delivery and Sheppard Racing for the trick rear diff. Enjoy the dry vid…
Sunday Record Vid –>