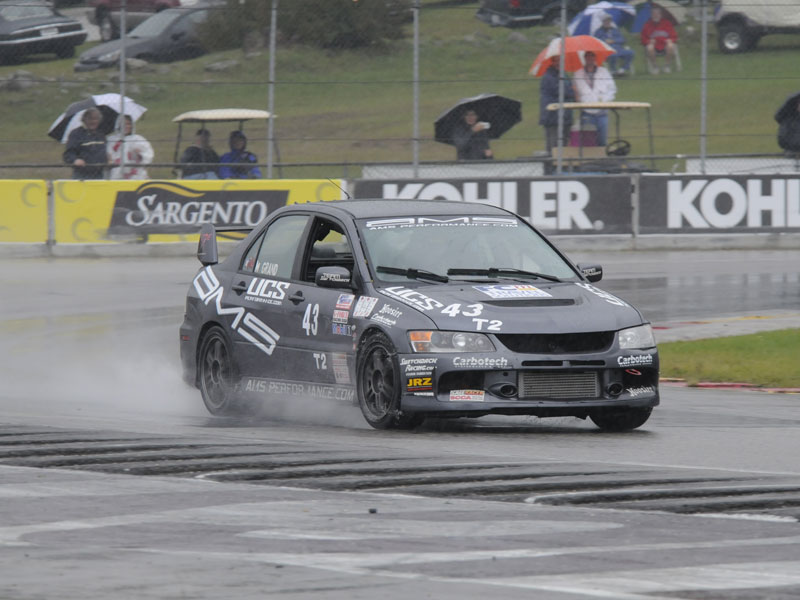 "I just want to thank AMS for all the support that helped us win our second straight SCCA T2 National Championship!!. The car ran perfectly all week and allowed our heavily restricted Evo to battle toe to toe with the 2011 5 liter Ford sponsored Mustang GT driven by Grand am cup Pro Andrew Aquilante and the Nissan sponsored 370Z driven by World Challenge Pro Tony Rivera as well as many others.  With a slightly damp track and clouds looming, we chose to go out on rain tires where most of the front runners went out on dries. Once the track dried up we slipped back a few places until the rain finally hit as we had planned. The advantage swung back in our favor and we were able to get back to the lead and the win."
Marty Grand
ELKHART LAKE, Wis. (Sept. 25, 2011) – Marty Grand, of Manassas Park, Va., captured his second-consecutive Touring Two title in a downpour at the 48th SCCA National Championship Runoffs at Road America. Chad Gilsinger, of Marysville, Ohio, and Brian Kleeman, of Baltimore, Md., completed the podium after many of the competitors crashed on the final lap.
The course was damp but drying at the start of the Black Magic Touring 2 race scheduled for 13 laps around the four-mile circuit. Gumout polesitter Andrew Aquilante battled intensely with Grand in his No. 32 Phoenix/Hoosier/Hawk Ford Mustang GT in the opening laps. Grand's No. 43 AMS Performance/TRE/Hoosier/Carbotech Mitsubishi Evo IX had the advantage of all-wheel drive, while Aquilante's Mustang had the power down the straights.
On lap six, Aquilante had pulled out a gap, and Grand fell into the grips of second-starting Tony Rivera's No. 11 Brass Monkey Racing/Nissan/Hoosier Nissan 370Z NISMO and Jay Patel's fourth-starting No. 12 Fall-Line/Porsche Exchange/Weathertech Porsche 996. Grand started the race on wet tires, while the others at the front of the grid were on dries.
By lap seven, rain began to fall. Mark Boden, who changed cars and started 25th in the No. 78 Fall-Line Motorsports Porsche 996 worked his way through the slippery conditions up to third, behind Aquilante and Rivera. The rain helped Grand's resurgence, and as it began to pour and puddle, he and Boden worked past Rivera. On lap 10, Boden slid off course multiple times, and Aquilante, ahead by 12 seconds at one point, spun in turn 12 and brushed the wall.
Aquilante pitted with damage, promoting Grand to the lead and Rivera to second. Rivera skidded off, through the turn three gravel and into the tires, and was later joined by the cars of Jason Ott, Kris Von Sydow and David Muramoto. The mess brought out a full course caution and race control elected to checker the race three laps early due to the treacherous conditions.
Under caution, Grand won with a margin of victory of 1:35.754 over Gilsinger, averaging 79.614 mph.
"We watched radar so much that my buddy's probably sick of hearing 'What's it say now, what's it say now?' And you still don't know," Grand said of the tire choice before the race. "It didn't look like it was going to rain there for a while. We were guessing right up to literally the last minute, and I had to rush to get on the grid because we were trying to decide what tire to use. We guessed right and went with the Hoosier rains, and that worked out. At first the track was half wet, half dry, so Andrew and I had a great battle back and forth. Then it started drying up and I went back a little bit.
"I said to my crew, I could really use some rain right now. About that time, it started raining. So I was just trying to be patient and let the track come back to me. It feels great to get the second win in a row."
Gilsinger, the 2010 Touring 3 National Champion, started 15th in his No. 07 BFG/HPD/H&R/Recaro/BRM Acura TX-SH AWD and survived the conditions to finish second.
"When we started the race, we went out on slicks," Gilsinger said. "I ran the T3 race yesterday, and we had similar conditions at the beginning. We went out on rains for that race and it was the wrong call. We decided to go out on slicks, and knowing we had the all wheel drive gave a little bit more comfort.
"At the beginning, it was wet enough to where I was able to take advantage. Then it started to dry out a little bit, and our power to weight is not quite there. So we started to move a little backwards when it was drying out. I saw the rain drops on the windshield and started to get a little bit excited again, but then it downpoured and there were puddles everywhere, and that's when it got bad for everyone. You have to work really hard to keep it on the track in those conditions.
"Turn 3 and between the Kink and Canada Corner, there was just standing water in a lot of places. Under acceleration, braking, it didn't matter, you had no control. Especially people on slicks. There was zero grip. I don't think I've ever been so happy to see the checkered flag."
Kossoff was running 10th in his No. 2 Kossof Motorsports BMW M3 when the rain came, and gained several positions each lap as cars slid off or pitted. He crossed the finish line in third place, but was penalized three positions after the race for passing under a yellow flag.
Brian Kleeman, of Baltimore, Md., started last in his No. 88 ICS Learning Group/DWW Motorsports Nissan 350Z and was elevated to third after Kossoff's penalty to earn the Sunoco Hard Charger award.
Bill Baten, of Indianapolis, Ind., was scored in fourth on the final result in his No. 98 Hoosier/Marks ADR/VanWinkle Chevrolet Camaro. Todd Napieralski, of Chelsea, Mich., was scored in fifth in his No. 33 Total Performance Racing Chevrolet Camaro.
Aquilante earned the Hawk Fastest Race Lap with a best time of 2:38.015 (91.131 mph)
For Speedcast video of the race click here.  Skip to the 180.00 mark for the T2 race